EHF European League
Irun leave it late to snatch win on tension-filled day
If you like entertaining European action and want to be known as a bit of a handball hipster, then best mark Tuesday evenings in your calendar as this is the place you want to be.
The EHF European League Men made its bow in its new Tuesday slot and it here is to stay. With nine absolute battles among the 11 games, it was an evening to really get the handball juices flowing and we were there to report on it throughout the evening.
Skjern scrape over the line against Montpellier 31:30 in our first feature game
Bidasoa Irun turn the tables late to beat RK Nexe 30:27 in our second feature game
Also victories for Berlin, Löwen, Bjerringbro, GOG, Kristianstad, Metalurg and Benidorm
Second leg matches take place on Tuesday 29 September
Brian Campion and Chris O'Reilly reporting
23:20
A lot of questions have been answered tonight, many more asked, but one remains unanswered in Mateo Rodin's mind...
"Why, oh why, did I buy pink shoes." Goodnight!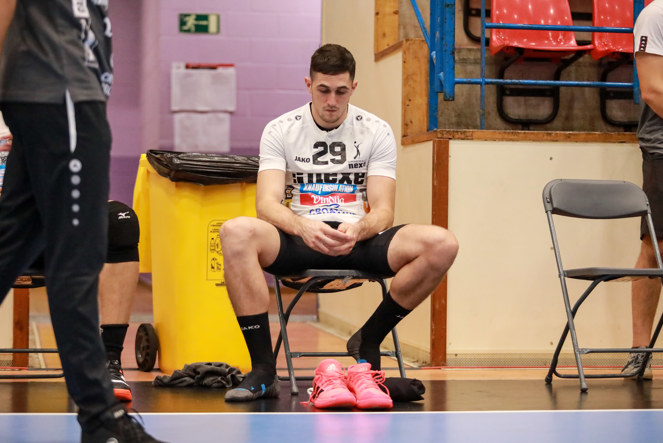 23:10
At the end of a truly fascinating day in the European League, here's how the 11 matches turned out.
Two draws in there, both of them in Romania as the home sides put it up to their more heralded opponents.
Only two runaway victories as well, GOG taking a comfortable cushion away to Switzerland for the second leg, while Rhein-Neckar Löwen will be confident of getting the job done at home next week.
All in all, a truly entertaining evening of handball in the competition's new Tuesday slot. And with 10 ties hanging in the balance, you'll definitely be joining us again next Tuesday as we discover who makes it through to the group phase.
HC Dobrogea Sud Constanta 27:27 Sporting CP
HEDO-B. Braun Gyöngyös 23:25 Füchse Berlin
TTH Holstebro 22:28 Rhein-Neckar Löwen
Bjerringbro-Silkeborg 26:23 HC CSKA
GOG 33:24 Pfadi Winterthur
KS Azoty-Pulawy SA 24:25 IFK Kristianstad
Skjern Handbold 31:30 Montpellier HB
Bidasoa Irún 30:27 RK Nexe
HC Metalurg 26:24 HC Kriens-Luzern
BM Benidorm 34:31 Fivers
AHC Potaissa Turda 35:35 Fenix Toulouse Handball
23:00
Which of tonight's performances impressed you most? Share your opinion with our poll below.
22:50
Check out some of the top shots snapped across Europe tonight.
22:25
BM Benidorm celebrate victory on their European debut, beating a spirited Fivers side 34:31. Mario Lopez ran the show for the home side with eight goals but plenty of credit has to be given to 20-year-old Lukas Hutecek, who scored 9 goals from open play for Fivers to keep them in the contest ahead of next week's second leg. Considering what the Austrian side did to Benfica in the previous round, nothing is certain at this stage.
22:13
2018 Challenge Cup winners Potaissa Turda have just pulled off one hell of a comeback against FENIX Toulouse!
Five goals down midway through the second half, the Romanian club clawed their way back and suddenly had the lead with minutes left on the clock.
Toulouse do manage to draw level again and have a chance to snatch victory at the end, but the final shot from top scorer Nemanja Ilic hits the crossbar and it ends 35:35 - a famous result for the many bearded men of Turda.
21:56 - Result: Bidasoa Irun 30:27 RK Nexe
How important will those final 10 minutes be in both of these club's European season?
Bidasoa Irun go on an 8:3 run in the final stretch of the match to turn the tie on its head. Nexe will be kicking themselves after that, but still have next week's return leg in Croatia to set the record straight. 

Janko Kevic and Zivan Pesic were the heroes for the guests with 6 and 7 goals respectively, while Dan Emil Racotea and Kauldi Odriozola fired in 6 each for the home club.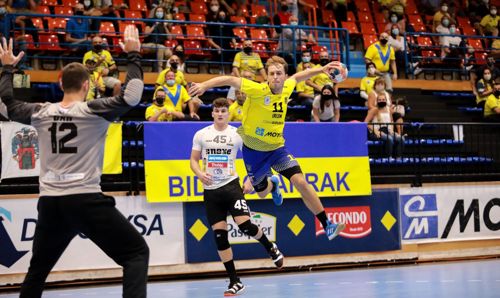 21:48
The ninth two-minute suspension, including one red card, for Nexe hits them hard again as Adrian Crowley scores a penalty to make it a two-goal game. Ill-discipline both in defence and attack with 13 turnovers will be the key factors for Nexe if they end up losing this.
Halil Jaganjac continues to fight for the guests with two quick goals to keep things interesting in the final minutes. 29:26 to Irun with two minutes remaining.
21:43
For the first time in the second half, Irun have the lead and it's come through a full-court shot from goalkeeper Xoan Ledo. The home side hold a 25:24 advantage as we go into the final five minutes of this brilliant contest.
21:39
The other two matches on at the moment are too close to call as well. Metalurg and Krienz-Luzern are level at 14:14 early in the second half, while Benidorm hold a narrow lead over Fivers at the brek
21:35
Nexe still with the upper hand as we approach the final 10 minutes, but only just. Irun switch to 7vs6 in attack with Julen Aguinagalde in there and it pays dividends immediately as Jon Azkue cuts the deficit to 23:22.
21:22
The intensity boils over as Marin Jelinic receives a direct red card for Nexe, allowing Irun a way back into the game. It hasn't calmed things down, however, the pace is frantic, the hits are big and the score is 19:18 to Nexe after 40 minutes.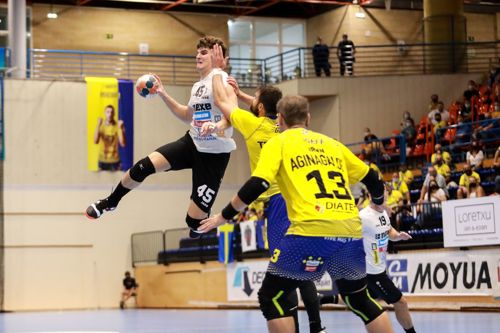 21:14
Early doors in the second half of Irun vs Nexe and the intensity has been ramped right up. An early goal and a big hit has gotten young Croat Halil Jaganjac properly pumped up as his side hold a 17:15 lead.
21:02
Here's a little moment of history for you, BM Benidorm's first goal in Europe tonight, scored by James Lewis Parke! They've added a few more in the meantime and currently hold a solid 9:5 lead over Austrian side Fivers after 13 minutes.
20:55 - Half-time: Bidasoa Irun 14:14 RK Nexe
This match is beautifully poised for the second period. The lead switched hands on a number of occasions and a draw is fair scoreline at the moment. Neither side will be delighted with what they've produced so far, but the Croatian guests will probably feel the more satisfied with the position they are in. Second half coming up soon, live on EHFTV.
20:44
Skjern look pretty delighted with themselves after the win over Montpellier tonight and you can't blame them. But you can't help but think what might have been as the Danish club held a six-goal lead midway through the first half and their one-goal advantage will be seriously tough to defend next week in France - but that's a worry for another day.
20:39
A blast from the past as 42-year-old Jose Manuel Sierra enters the goal for Irun to face a Nexe penalty. It didn't look like he touched it but he did enough to see the shot hit the crossbar and go wide. Nevertheless, Nexe lead 10:9 after 20 minutes, thanks largely to Zivan Pesic running the show with his four goals so far.
20:32
This is how the rest of the games in the early throw-offs panned out - tightly contested battles all around. There are more on the way at 20:45, but for now we have Irun against Nexe and it's level at 8:8 after 15 minutes.
RESULT: Skjern Handbold 31:30 Montpellier HB
A tight game but you were left with the feeling the both sides were hiding their cards somehow, with only one goal between then it is all the play for the return leg. I expect a totally different Montpellier side to show up in France. It took them a long time to get into the game today and while we had moments of brilliance, they didn't look totally at the races just yet. It will be a top return leg.
20:17
With less than two minutes to play I think it is fair to say that the player of the match would have to go to Jesper Konradsson. Not only did he net five of his own goals but he really pulled the Montpellier defense at times. Great performance (31:29 to Sjkern)
20:12
Skjern's shooting has been really on point today with seven of the Skjern players shooting 100%. And their backcourt work to open space for the line has been a joy to watch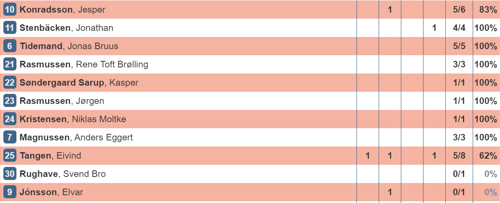 20:10
6 minutes left and Skjern lead 27:25. Montpellier switch to a 5:1 defence to try and disturb Skjern's attack. 
20:04
Tangen with the clutch shot! Refs hand up only one shot left and he hit an underarm shot from way out with his feet planted to the court! He's four from seven so far. 25:22 to Skjern.
20:00
It is neck and neck between Gyöngyösi and Füchse Berlin. This is Jaron Siewert's first game in charge for Füchse. The 26-year-old coach must be feeling the pressure! Watch it here! 
19:52
We never promised making it to the EHF European League would be easy! 
19:49
Skjern have weathered the storm very well. Two goals from Tangen time, one from Kondradsson and a lovely broken wrist from a tight angle from Rasmussen, restores their three-goal lead. (19:16 to Skjern)
19:43
Montpellier out in from for the first time in the game, thanks to a goal from Borges (2/2). Track it here!
19:41
Game on in Denmark! Montpellier have pulled it level against Skjern (14:14). They netted two quick goals from fast breaks. You gotta love that Montpellier speed!
19:30 
We are at half-time around Europe, and it looks like we have still a lot to play for nothing too clear cut so far. 

We will stick with the Skjern vs Montpellier game here on the live blog. It was a much better last 10 minutes for the French side. Richardson with his 3/3 will be happiest with his input in the first 30 minutes. Why not check out what happens in the second half here. 
19:17
Skjern will be delighted with the opening half Jesper Konradsson hitting the net most for the Danish side with 3/4. Just 5 minutes left in the first half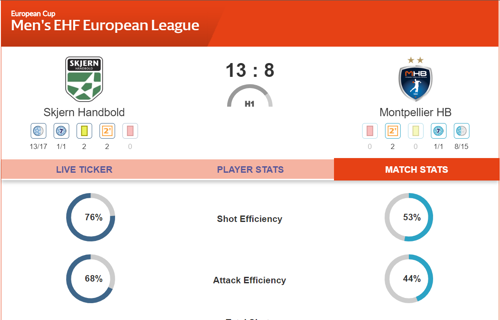 18:58
Very little between the sides in the opening minutes here. Watch four of the ties on EHFTV and everything on our live ticker above!

18:53
Good start by Skjern, the built up a nice three-goal gap at the start of their tie. Follow the scores on our live ticker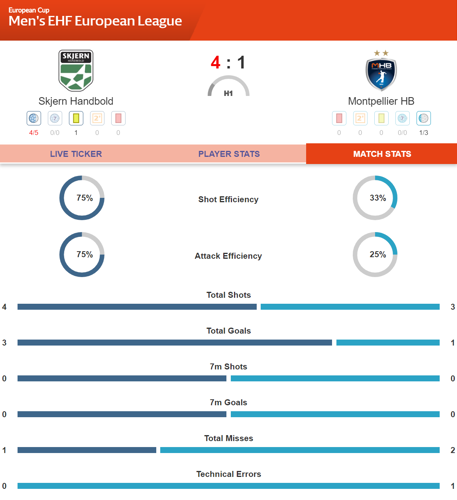 18:43
Lovely, right in time for throw-off! Did you know about EHFTV new feature? You can now watch four games at once, now that's proper handball nerd town!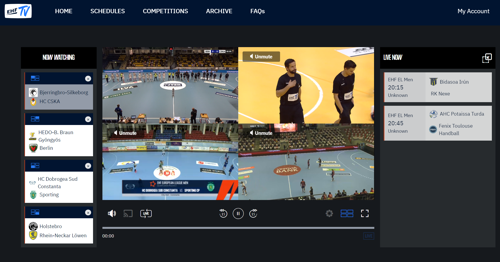 18:03

Throw-off to our first matches is only 45 minutes away! Tune into EHFTV tonight and you see plenty of familiar faces. Pull up a chair, as we have some seriously mouth-watering clashes coming your way.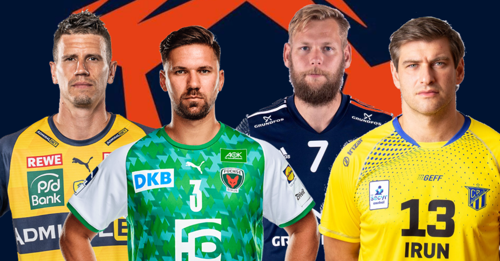 15:25
One of the surprise packages of qualification round 1 were Fivers, as the Austrian side eliminated SL Benfica. After limiting the damage in the away game in Portugal (28:26), Fivers wrapped up the victory in spectacular fashion at home in Vienna (38:34).
Fivers' tactics for round 2 have not changed: again they aim for a result in Benidorm tonight that will give them a decent chance for the return leg on home court next week.
13:45
Only five more hours now until seven of tonight's 11 matches will throw off. Get ready for our action-packed night by reading Chris O'Reilly's round preview on eurohandball.com.
12:45
Speaking of EHF Champions League winners, the 1995 champs Bidasoa Irún impressed on their return to the top flight last season and are expected to do big things this season in the EL, particularly with the arrival of hometown hero Julen Aguinagalde over the summer.
After overcoming PAUC in a very tricky first round clash, the Spanish side's road to the group phase does not get much easier as Nexe are their next opponents. They are the only sides to meet at 20:15, so no excuse to not watch at least some of it live on EHFTV. 
12:00
Only two years ago, both Skjern and Montpellier were setting the handball world alight and turning the EHF Champions League's hierarchy on its head.
Both clubs progressed from groups C and D that season and Skjern were the first to cause a shock as they dumped out Veszprém in the last 16, before losing out to Nantes in the quarter-finals. Montpellier, on the other hand, went all the way to the final in Cologne, where this happened...
10:40
Among the early throw-offs, TTH Holstebro vs Rhein-Neckar Löwen and Skjern Handbold vs Montpellier HB stand out to me. Bidasoa Irún vs RK Nexe at 20:15 should be fascinating as will BM Benidorm vs Fivers and AHC Potaissa Turda vs Fenix Toulouse Handball in the late games. They will be the focus of today's blog but we will, of course, update you on all 11 matches and potentially switch our attention if other matches turn into instant classics.
10:20
The tie between RK Trimo Trebnje and Balatonfüredi KSE in the second qualification round of the European League Men will be decided only over one match played on Tuesday 29 September in Slovenia. The first leg, originally planned for Tuesday 22 September, will not take place as a consequence of a positive Covid-19 case in the delegation of Balatonfüredi KSE. Besides that, we have a packed schedule with 11 games taking place.
10:00
Good morning European League fans and welcome to the start of our round 2 coverage this morning. We'll keep you ticking over for the next couple of hours before we really get going this evening. Here is what we have to look forward to.
18:45 CEST:
HC Dobrogea Sud Constanta vs Sporting CP, live on EHFTV.com
HEDO-B. Braun Gyöngyös vs Füchse Berlin, live on EHFTV.com
TTH Holstebro vs Rhein-Neckar Löwen, live on EHFTV.com
Bjerringbro-Silkeborg vs HC CSKA, live on EHFTV.com
GOG Vs Pfadi Winterthur
KS Azoty-Pulawy SA vs IFK Kristianstad
Skjern Handbold vs Montpellier HB
20:15 CEST:
Bidasoa Irún vs RK Nexe, live on EHFTV.com
20:45 CEST:
HC Metalurg vs HC Kriens-Luzern
BM Benidorm vs Fivers, live on EHFTV.com
AHC Potaissa Turda vs Fenix Toulouse Handball, live on EHFTV.com