Melvyn Richardson making a name for himself
When your dad has been named World Handball Player of the Year and handball player of the century by the French federation, you know it is going to be hard to make a name for yourself.
But with only 19 years, Melvyn Richardson does not make a fuss about the comparisons with his father Jackson Richardson, whom you probably know already.
In his first EHF Cup campaign for Chambéry Savoie Handball, he has already scored impressive 47 goals in eleven games and many more in the French league. "For me, all of this is new, this is my first time playing the EHF Cup and I don't take time to think," the young right back explains.
"To me, it's a dream come true, I try to enjoy myself and I think it shows when I'm playing. I want to thank my coach and my teammates for trusting me."
"The road has been a rocky one"
After taking his first baby steps in the professional handball world last season, he is now a regular fixture and one of the brightest hopes of French handball. In fact, he is one of the three high profile French right backs who all of Europe want, together with Nédim Rémili who will be playing for Paris Saint-Germain Handball next season, and Dika Mem.
"The road has been a rocky one though. I was thrown in at the deep end early and it hasn't all been easy," Melvyn Richardson recalls.
"Physically, I've had to work a lot, I wasn't quite prepared physically last season, but this one is, I think, me finding my way."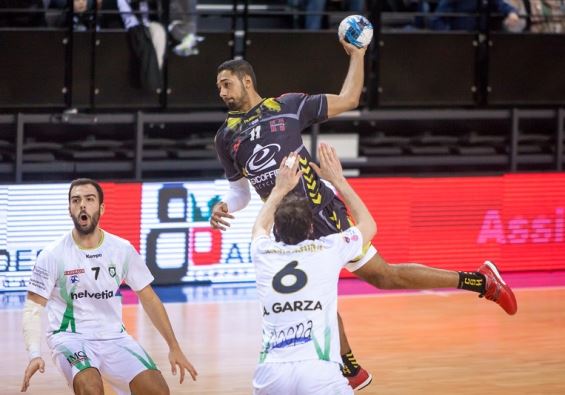 And when he talks about negative moments, he does not mention the expectations that the media and spectators might have towards him because of his name. "We don't play in the same position, my dad is right handed while I'm left handed, really, there is nothing to compare handball-wise," he explains, while still admitting the two talk a lot.
"We call each other a lot, but no more than any other dad and son, I guess. He gives me a lot of advice and I guess I have to listen to him, he wasn't bad at handball," the youngster laughs.
Result more important than personal performance
And to show how much Melvyn has listened to his father's words, you just need to watch the end of the EHF Cup Quarter-final first leg against Saint-Raphaël Var Handball. Even though his team lost 25:30, the right back was pretty impressive, scoring five goals and not hesitating to take the responsibility when the temperature rose.
But even though he played well, he says the result is more important. "There's nothing to be happy about, we lost," he firmly declares.
"We played well for 45 minutes before losing it a little bit. We were tired, we missed some important shots and they didn't, and now we're five goals behind."
Does he think the story is over yet? "It will be hard, but not impossible. We've got our fans on our backs, and we want to give our best to try, we don't want to end up with any regrets," Richardson junior explains.
"We must set the court ablaze"
Speaking of the quarter-finals, Chambery suffered their first European defeat this season last weekend against Saint-Raphaël. No one has managed to grab a win in Le Phare in Chambery until now.
"We've had a nice run, for sure, but we want to forget about that. Everything will be decided in one game and in order to reach our goal, we must set the court ablaze, quite literally," concluded Melvyn Richardson. No doubt that the atmosphere will be boiling hot on Saturday evening and that Saint-Raphaël have to be strong if they want to reach the EHF Cup Finals in Nantes.
Fans can watch the second leg of the quarter-final between Chambery Savoie Handball and Saint-Raphael Var Handball on Saturday 30 April, 20:30 hrs. local time live on ehfTV.