EHF EURO
Montenegro welcomes EHF EURO champions
Montenegro welcomes EHF EURO champions
Six months after Montenegrin side Budućnost Podgorica won the Women's EHF Champions League and four months after the Montenegrin women's national team claimed silver at the London 2012 Olymic Games, handball fans in Montenegro are celebrating yet again.
And again it is because of another outstanding performance of their women's national team which beat defending champions Norway 34:31 in a double extra-time thriller in the the EHF EURO 2012 final in Serbia on Sunday.
More than 7,000 fans waited for the team at the Morača Sports Center for almost four hours. At 2am on Monday night the team finally arrived from Belgrade, to the great delight of everyone present.
"These girls are great heroines. Thank you for everything, we love you," said head coach Dragan Adžić to present crowd.
Following Adzic, his coaching staff and all the players, one by one, took to the court.
"Well folks, two medals within four months ... But it's never too much," said line player Ana Đokić.
"The gold is here, we have gone for gold this year. Thank you, you have been with us from the beginning till the end of the year.
Thanks also to my teammates, who are like my family."
Jovanka Radičević, who had been voted best right wing of EHF EURO 2012, presented the EHF trophy, the golden plate, to the fans.
"Guys, this is for you, this is the golden plate. I love you the most," she exclaimed.
"It's a phenomenal feeling to be on the top of Europe.
"I'm really happy, because we dethroned Norway. We showed them what we are capable of and we can say we're really 'golden lionesses'!"
When Majda Mehmedović was asked how to avoid injuries in the future competitions - she got injured in the fourth game at EHF EURO and missed the remaining games - she started joking.
"I bring luck that way," she said with a smile, referring to her injury ahead of this year's second leg of the Women's EHF Champions League final against Győr, which she also missed, but which Budućnost also won.
Predrag Bošković, President of Montenegro's handball federation, also addressed the fans.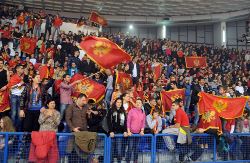 "Thanks to all the wonderful people who have come so late to welcome us in this way.
"We are even more grateful to those 4,000 fans who enthusiastically supported us in Belgrade.
"We believed in success from the beginning to the end. Now we can have a little celebration, but then we have to go back and start working for future victories," Bošković said.
Filip Vujanović, President of Montenegro, had already met the team when they arrived at Podgorica airport.
"I was convinced that they will win one of the brightest medal, gold or silver. The women impressed us, they made us proud and have shown that a small country like Montenegro can have great sports results," he said.
"Thanks to them. We had, indeed, a brilliant sporting year, the most illustious (in our history) so far. We can only hope to repeat these results."