EHF European Cup
New name but Herning-Ikast Handbold remain strong
New name but Herning-Ikast Handbold remain strong
From this summer, the public have had to get used to a new name for one of the strongest women's handball teams in Denmark.
After new investors took over the team from Central Jutland prior to this season, the club that used to be known as FC Midtjylland is now named Herning-Ikast Handbold.
However, with the club's objectives of finishing in the top four in the Danish league and reaching at least the quarter-final in the Women's EHF Cup, the change in set-up has not resulted in a reduction of the Danish club's ambitions.
Filling the gap after Veronica Kristiansen
Kristian Kristensen is still the head coach – as he has been since September 2016 – and one of his biggest challenges this season has been filling the gap created by Veronica Kristiansen's departure.
The Norwegian international left back, who joined back-to-back Women's EHF Champions League winners Györi Audi ETO KC after last season, was the backbone of Midtjylland's back court line.
Tonje Loeseth and Helene Fauske, two Norwegian back court players, have been sharing the demanding duty, with the pair achieving a certain amount of success so far.
At right back, Danish international Louise Burgaard has had some extra work after Norwegian newcomer Stine Skogrand became pregnant, which has also created an extra challenge for Herning-Ikast in defence.

Herning-Ikast aiming for quarter-final
Having reached the group phase, the first objective for Herning-Ikast is to progress to the quarter-final, although the head coach realises that this will be a tough task in Group B with Siófok KC from Hungary, Swedish champions IK Sävehof and TusSies Metzingen from the German Bundesliga.
"The expectations are that we will get six international matches at a high international level. Sävehof is well-known and that will be a classic Scandinavian clash. Metzingen is a strong team with a lot of international players, so it will be a nice challenge as well. And, finally, Siófok from Hungary is one of the strongest teams if you analyse the line-up," said head coach Kristensen.
Kristian Kristensen wants to use the competition to prove that he still has a team capable of performing at a high level internationally.
"Still, our goal is to go through to the quarter-final.
"It's important that this new team will get as much experience as possible. We have a lot of young players who we want to develop on the international scene. It's also important for our new brand Herning-Ikast Handball to show that we have still got the level to participate at the top internationally," he said.
Favourites from Hungary
He believes that the winner of the EHF Cup this season will be found in his own team's group.
"Siófok from Hungary is my favourite.
"They have the strongest and most powerful line-up," said Kristian Kristensen.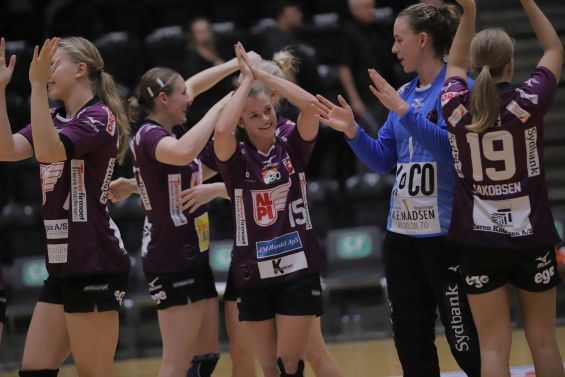 Herning-Ikast Handbold (DEN)
Qualification for the EHF Cup 2018/19 Group Phase:
Round 2: 52:45 aggregate win against Metraco Zaglebie Lubin (POL)
Round 3: 43:35 aggregate win against SCM Ramnicu Valcea (ROU)
Newcomers: Stine Skogrand (Silkebrog-Voel KFUM), Sarah Iversen (Nykøbing Falster Håndbold - NFH), Michaela Elsberg Møller, Emilie Steffensen (both Herning-Ikast Handbold U-19)
Left the club: Veronica Kristiansen (Györi Audi ETO KC), Sabine Pedersen (Randers HK), Linn Blohm (Kobenhavn Handball), Louise Ellebaek, Helene Kindberg (both Silkeborg-Voel KFUM)
Coach: Kristian Kristensen (since September 2016)
Team captain: Stine Skogrand
Opponents in the group phase: Siófok KC Hungary, IK Sävehof and TusSies Metzingen in Group B

Women's EHF Champions League records:
Women's EHF FINAL4 (1): 2013/14 (finishing fourth)
Semi-final (1): 2002/03
Quarter-final (4): 1998/99, 2004/05, 2016/17, 2017/18
Main round (3): 2008/09, 2011/12, 2015/16
Group matches (1): 2003/04
Qualification tournament (1): 2014/15

Women's EHF Cup records:
Winner (2): 2001/02, 2010/11
Runners-up (1): 2006/07
Semi-final (2): 2007/08, 2012/13
Quarter-final (1): 2005/06

Other European Cup records:

Champions Trophy:
Winner (1): 1997/98
Runners-up (2): 2001/02, 2002/03

Cup Winners' Cup:
Winner (2): 2003/04, 2014/15
Semi-final (1): 1999/00

City Cup:
Winner (1): 1997/98
Runners-up (1): 1996/97

Danish league: 4 titles
Danish cup: 7 titles
Read about the other Group B clubs featured in the Women's EHF Cup countdown series here:

#1 Siófok KC Hungary
#7 TusSies Metzingen
#14 IK Sävehof