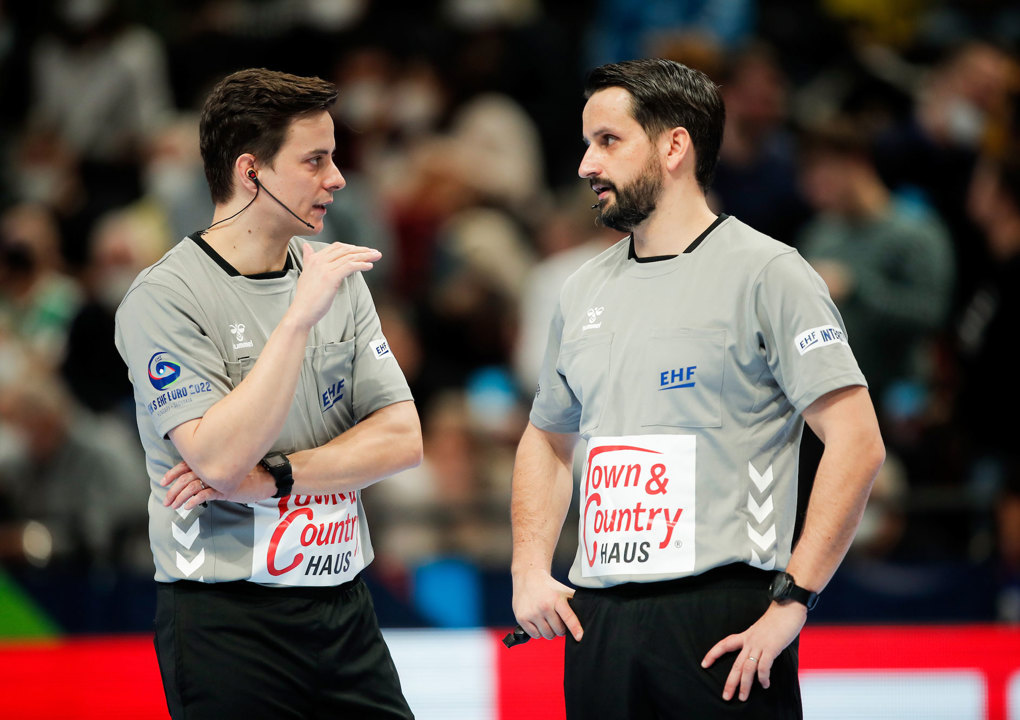 Referee nominations for Men's EHF EURO 2024
The European Handball Federation has published the referee nominations for the Men's EHF EURO 2024 in Germany. The championship takes place from 10 – 28 January next year.
It is the first EHF EURO with 24 teams that is hosted by a single country.
The preliminary round is played in Düsseldorf (opening matchday only), Berlin, Mannheim and Munich with each city hosting two preliminary round groups.
All 18 pairs will be officiating matches at that stage of the competition, with the number of pairs being reduced for main round and the final weekend.
The following pairs have been nominated:
Amar Konjicanin / Dino Konjicanin (BIH)
Vaclav Horacek / Jiri Novotny (CZE)
Mads Hansen / Jesper Madsen (DEN)
Andreu Marín Lorente / Ignacio Garcia Serradilla (ESP)
Charlotte Bonaventura / Julie Bonaventura (FRA)
Karim Gasmi / Raouf Gasmi (FRA)
Maike Merz / Tanja Kuttler (GER)
Robert Schulze / Tobias Tönnies (GER)
Jonas Eliasson / Anton Palsson (ISL)
Vaidas Mazeika / Mindaugas Gatelis (LTU)
Igor Covalciuc / Alexei Covalciuc (MDA)
Slave Nikolov / Gjorgji Nachevski (MKD)
Ivan Pavicevic / Milos Raznatovic (MNE)
Lars Jorum / Havard Kleven (NOR)
Daniel Accoto Martins / Roberto Accoto Martins (POR)
Bojan Lah / David Sok (SLO)
Arthur Brunner / Morad Salah (SUI)
Mirza Kurtagic / Mattias Wetterwik (SWE)
World record in Düsseldorf
The Men's EHF EURO 2024 starts with a world record attempt with more than 50,000 inside the MERKUR Spiel-Arena in Düsseldorf – the highest ever attendance for a handball match.
The group A encounters France vs North Macedonia at 18:00 hrs followed by Germany vs Switzerland at 20:45 hrs will open the tournament.
The six preliminary round groups being played in four cities:
Group A (Düsseldorf/Berlin): France, Germany, North Macedonia, Switzerland
Group B (Mannheim): Spain, Austria, Croatia, Romania
Group C (Munich): Iceland, Hungary, Serbia, Montenegro
Group D (Berlin): Norway, Slovenia, Poland, Faroe Islands
Group E (Mannheim): Sweden, Netherlands, Bosnia-Herzegovina, Georgia
Group F (Munich): Denmark, Portugal, Czech Republic, Greece
The first two teams of groups A, B and C qualify for the main round which will be played at the LANXESS arena in Cologne. The main round matchdays are scheduled for 18, 20, 22 and 24 January.
World-class handball will also be on offer at the Barclays Arena in Hamburg, the second main round venue of the EHF EURO. In case of qualification, world champions Denmark, European champions Sweden and Norway will be among the six teams travelling there. Matchdays are 17, 19, 21 and 23 January.
The final weekend will be held in Cologne, where the semi-finals will be played on 26 January and the finals on 28 January.
The full tournament schedule is available at heretoplay.com.