EHF European Cup
Rock Feliho: "Reaping the fruits we sowed in the winter"
Rock Feliho: "Reaping the fruits we sowed in the winter"
At 33, Rock Feliho is playing in his sixth season with HBC Nantes. A former left back, he is now exclusively on defence, where his charisma and his qualities have allowed him to become the team captain. Almost three years after stumbling on the last step in the EHF Cup Finals, he now wants to lift a second trophy with Nantes.
eurohandball.com: Rock, you are in a high-level group with Team Tvis Holstebro and Frisch Auf Göppingen. What can people expect from you?
Rock Feliho: Right after the draw we knew we would be competing with these two teams as, with all due respect, OCI-Lions seem a little bit behind us. It will be a tough fight between us, Holstebro and Göppingen to reach the quarter-finals. Since we are organizing the finals at home in May, reaching them is clearly a big goal.
eurohandball.com: Is the EHF Cup the main priority for Nantes this season?
Rock Feliho: I don't like to set priorities but reaching the finals is one of the big, big goals for us. We've had the chance to experience this event a few years ago, and it was something very strong emotionally. But in the meantime this final lost against Rhein-Neckar Löwen remains one of the biggest frustrations of my career.
eurohandball.com: Do you see the fact that you're hosting the final tournament as a chance?
Rock Feliho: We didn't know when we would have the opportunity to host the finals again after 2013. Now that we have it, we'll do everything it takes to reach it. Playing such a big event at home can be an asset, but only once out of three times the home team did win the finals. But first things first, we have to make it out of the group and it won't be easy...
eurohandball.com: The game against Holstebro on Sunday is already very important. What can we expect from it?
Rock Feliho: We played against Holstebro in the semi-finals in 2013 and beat them, but now it will be something completely different. We will have to win both legs, and they have a very strong team. They've beaten Frisch Auf Göppingen for a start, and this clearly shows how hard we will have to fight to dominate them.
eurohandball.com: It will be important to mark your territory as soon as possible.
Rock Feliho: We don't have a choice. We will have to win the home games, which will probably be the most important of all. Then we will have to surprise another of the top teams, either in Germany or in Denmark. The ideal scenario would see us finish first but any way we can avoid the quarter-finals stage will suit us just fine.
eurohandball.com: In order to reach the finals, your club has signed two new players this winter, Uros Bundalo and Sime Ivic. How do they fit in so far?
Rock Feliho: Sime has arrived earlier than Uros so he's had the opportunity to train a little bit more with us. He is a very good player and he's already had the opportunity to prove what he can bring to our team. We are chasing more than one rabbit at a time and in order not to be surprised by injuries, Uros' arrival is also very important. Sadly, we lost our line player Nicolas Tournat, who's an important part of our team but might be out for a month. Uros will have many occasions to prove his value in the forthcoming weeks.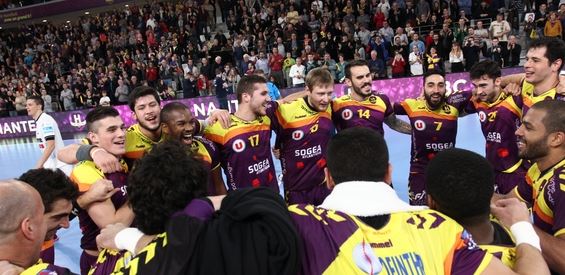 eurohandball.com: You have won the three games you played since coming back from the EHF EURO break. How high is your confidence before such an important week as Nantes will also play in the French league on Thursday?
Rock Feliho: I don't think we have to rush it too much. After the EHF Euro we played against teams while being the favourites. This week might be a little bit different as we won't start this game with a 'favourite' banner above our heads. Winning against Montpellier could allow us to go a little bit further up in our domestic league, while winning our second EHF Cup match against Holstebro would put us in a good position.
eurohandball.com: The French league, the EHF Cup, how do you feel about having so many goals to chase?
Rock Feliho: It's exciting! We practised very well in January with almost all our squad and now we are reaping the fruits we sowed in the winter. We really prepared to be able to be present in all the competitions we are taking part in. It's really nice playing every three days knowing that everybody's pulling in the same direction.
eurohandball.com: This season sees you playing in a brand new arena. Does it feel like your home now?
Rock Feliho: The arena is really beautiful. The old one was starting to become really old. In La Trocardière we have the chance to play in a venue which is 100% dedicated to handball. We had to get used to it, and our fans as well, but more are coming to support us with every game. The best way to sell it out every game is to fight, to show good handball and to win our games. It's as simple as that.
Preview picture credit: Kevin Domas