EHF European Cup
Storhamar celebrate European comeback after eight years
Storhamar celebrate European comeback after eight years
It has been eight years since Storhamar Handball Elite – from the Norwegian town of Hamar – were last in a European Cup competition.
Back then, in the 2009-10 season, the club reached the quarter-final of the Women's Cup Winners' Cup.
This happened a year after the team were eliminated from the Women's EHF Cup in Round 3.
This season, Storhamar are back in European handball, having qualified for the group phase of the Women's EHF Cup for the first time in their history.
With this achievement, the club has already reached one of its main objectives for this season. Another goal is improving upon last season's third place in the domestic league.

A scene for development
"We are a team on the way up and forth, and I'm absolutely sure that matches at this level will make us even better. In addition, we are proud to put Hamar and Storhamar on the European map of handball. I would also assume that interest in the team will continue to grow through participation in this tournament," said head coach Arne Senstad about the importance of being in the EHF Cup.
Senstad expects tough competition in the group phase, but he also views these matches as a great way to mature and develop his players.
"To us, it's a lot about getting the opportunity to play matches at this level, against good international teams. We know it will be tough, but it is through such matches we will develop," said Senstad.
To help the team in the expectedly tough group matches, Senstad has experienced players such as Norwegian line player Heidi Løke, former Norwegian international back court player Betina Riegelhuth and the experienced Brazilian goalkeeper Chana Masson.

Great believer in Siofók
On the negative side, he must make do without left back Anna Sofie Sandberg, line player Kristin Høybakken and right back Tina Engan due to long-term injuries.
When asked which teams he sees as favourites to win the Women´s EHF Cup, the coach looks to Hungary for the answer.
"I'm pretty sure Siofók KC, coached by my friend, Tor Odvar Moen, will be one of the teams in the final. Then it's up to the rest of us to fight to be their opponents," expects Arne Senstad.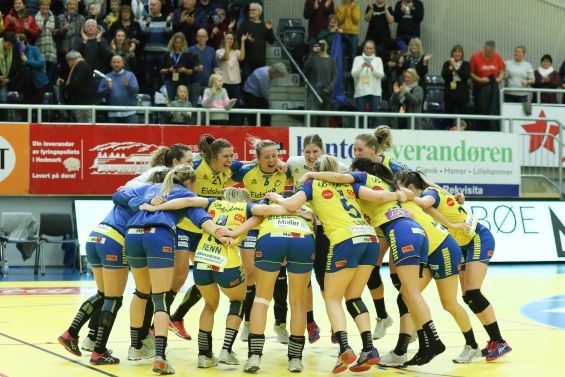 Storhamar Handball Elite (NOR)
Qualification for the EHF Cup 2018/19 Group Phase:
Round 2: 51:34 aggregate win against Byasen Handball Elite (NOR)
Round 3: 60:56 aggregate win against ÉRD HC (HUN)

Newcomers: Kristin Venn (Byasen Handball Elite), Anna Sofie Sandberg (Flisa), Chana Masson (Odense HC), Synne Fossheim (Gjovik), Guro Nestaker (Oppsal), Simona Szarkova (left in December – DHK Banik Most), Stine Liden (comeback)

Left the club: Andrea Næss, Martine Hovden, Hilde Egseth, Anne Kjersti Suvdal (all unknown), Inga Presker (Grane Arendal), Aleksandra Zimny (Volda), Simona Szarkova (left in December – DHK Banik Most), Kamilla Sundmoen
Coach: Arne Senstad (since 2015 and previously 2006-2013)

Team captain: Betina Riegelhuth

Opponents in the Group Phase: Team Esbjerg, Sports Club Magura Cisnadie and SG BBM Bietigheim in Group A

Women's EHF Champions League records: N/A

Women's EHF Cup records:
Round 3: 2008/09
Other European Cup records:
Cup Winners' Cup:
Quarter-final: 2009/10
Norwegian league: 0 titles (4 times bronze medallist in the Norwegian league)

Norwegian cup: 0 titles
Read about the other Group A clubs featured in the Women's EHF Cup countdown series here:
#2 SG BBM Bietigheim
#11 Team Esbjerg
#15 Sports Club Magura Cisnadie