This is me: Domagoj Duvnjak
Domagoj Duvnjak. You know him. Kiel's superstar and a Croatian handball legend. He's come a long way since patiently watching his father coach in the halls of Djakovo as a seven-year-old. This is where his story - that he tells here - starts. Having turned his hobby into his profession, Domagoj left his homeland for Germany and he's been writing history ever since.
This is me: Domagoj Duvnjak
My father was a handball coach in Djakovo, my hometown. At the age of seven, I started going with him to the hall. As I was watching older players and him at the court, handball started to grow on me. Before his coaching career, my father was also a player in Medvescak, my mother was playing handball and sister too, up until she went on college. Even my uncle was a player and my coach, all of my cousins used to play. So, there was not really a big chance I would miss out. That's how my handball path started and led me to where I am today.
As a child, of course, I tried to shoot on the basket and score goals, but I have never played any other sport for real. Handball was my first love. I was lucky enough that in Djakovo, my local club, were playing in Croatia's first division. Conditions were good and my whole family was there. That was another important thing for me as a young player. I played in first division already at the age of 14.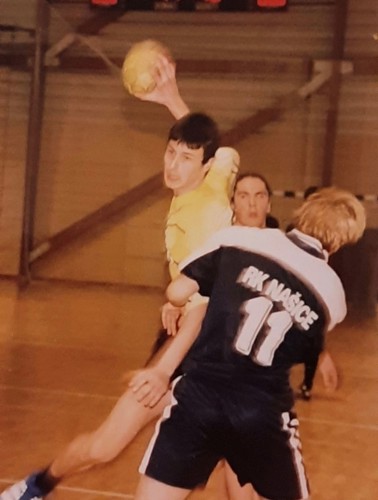 For me, at the time, handball was just a hobby. I never thought it would be my job. It was hobby I loved and school was my number one priority. I used to have vision of my life without handball, back in the day. Education was always important topic for me, and I had a wish of going to the Faculty of Kinesiology. So, even if there was not handball in my life, I would still do something around sport. For example, like my dad, a PE teacher in school. But everything changed when I was 18…

My style of play and talent was recognised very soon. I was part of successful Croatia youth national team and later got invitation for senior national team. All of a sudden, before last year of high school, I joined PPD Zagreb. 
Adjusting high school obligations and tasting a professional level of handball for the first time was hard for me. Moving from Djakovo to Zagreb was a big step for me. You are leaving your family, girlfriend, friends, everything you know, and moving to the capital. Moving to Germany later wasn't that hard as this was. You are young, still a teenager and have a lot to learn but on the other hand you have to be an adult.
Being in PPD Zagreb was my first connection to the professional world of handball. I started to get a feel what professionalism is about and how difficult it is to set priorities, learn, train and play at a high level handball in parallel. I decided to fully focus only on handball and all that was soon behind me.
Leaving Zagreb for Hamburg was much easier. I really believed I was ready to play in the Bundesliga, even though some people were sceptical. For me, the Bundesliga was always number one. Since I was little, the Bundesliga was on TV in my home most of the time. I grew up watching it and when I was given an opportunity to be a part of it, I didn't think for a second. It was a big challenge for me.
My transfer to Hamburg was all over the news, especially in Croatia. Euphoria and love for handball was at the peak at the time in the country. Breaking transfer limits is not something I was thinking about. I just wanted to play and enjoy the game I love.
I was lucky enough that Blazenko Lackovic and Igor Vori were in Hamburg. When you are a young player moving to another country, not knowing a language, it can be hard to fit in. Hamburg had different approach to handball, situated in big city and another big change in life. I had to put all of that aside because I just wanted to have fun at the court. And the club supported that. They didn't put any pressure on me.
Being part of Hamburg, a club with so many world class players like the Gille brothers, Krzysztof Lijewski, Hans Lindberg, many German national players, was an honour for me. I was learning something new each day and how to be professional on and off the court.
Later I joined Kiel, for me, one of the best clubs in the world. Just when you see how many stars have played here, what the club has achieved and to be part of that, for this long, I feel privileged. There are not enough words to describe how I feel about the club. I have responsibility and honour to be team captain, my family is happy and I feel like home. We have full stands, 10,250 fans, supporting us on every match, no matter who the opponent is. That's the true meaning of sport and I feel fulfilled here.

Lots of my favourite memories in club competitions are tied to Germany. I raised the EHF Champions League trophy twice, with Hamburg and with Kiel. All successes I achieved with clubs have a special place in my heart but you always remember the first one. That is EHF Champions League trophy with Hamburg.
We came as underdogs to EHF FINAL4, we needed two perfect games to win it and we were lucky enough to have everything on our side that year. 2013 is one of the best years in my career.
The title with Kiel was amazing too, not to underestimate it. Raising a European trophy is one of the things that are indescribable and it's not always easy to talk about it and express feelings with words.
With Kiel, what I remember the most is season 2020/21 in the Bundesliga. It was a challenging season after the Covid-19 pandemic, without fans in the stands in many games and after all that, everything was at stake in the last round. We had to earn at least a point to became German champions. We played against Rhein-Neckar Löwen and it was a tied match. Löwen had last attack of the match, having a chance to score and to crush our dreams. It was a nail-biting finish: you are watching that one ball, one shot, deciding your whole season. When they missed, it was an eruption of emotions. 
Those same emotions I feel every time I play for Croatia. I always dreamed to be part of the national team. To be like players that have started medal path in 2003. They were my role models while I was growing up. 
That's why I'm so happy that I can say I have eight medals with Croatia. Each of them having a special story behind it. Now, when I look back on them, the bronze medal from the Olympic in 2012 is one of the dearest ones. Being part of the Olympic team is every player's dream and winning a medal is the cherry on top. In my opinion, at the tournament, we played our best handball ever and unfortunately, one bad day against France took our chances to play for gold. That's never easy. 
At the beginning of my professional career, defeats were really hard on me. I used to relive them and it was really stressful for me. I wanted to win, I was giving beyond maximum on the court. Today, I am much calmer even though I believe my passion can still be seen. Off the court, I am a different person: much more calmer, down to earth and easy-going. That also helped me when I was going through injuries. 
Unfortunately, they part of every players life. Professional sport has a tight schedule and it's really hard to keep your health. I suffered numerous injuries, both easy and serious ones. But one injury put me through one of the hardest periods of my life.

Croatia hosted Men's EHF EURO 2018 and we were ready to start another quest for the missing gold. Before the tournament, I already had knee surgery and there were some inputs I'm coming back to the court too soon. But I wanted to get back and be ready for the EURO. I took the risk to be able to wear the famous red and white checks again. Playing in front of your fans, in your country is something special and not many players have an opportunity to feel the atmosphere.
It was the first match of the EHF EURO against Serbia and I tore my calf muscle. Since that day, I was giving all my efforts towards rehabilitation, trying all methods with strong belief I will get back for later stage of competition. I wanted to be on that court no matter what. Unfortunately, my wish didn't come true, the injury was too severe to make another comeback.
Every injury is some sort of trauma for a player. Not being able to help your teammates, not to be able to do what you love. I always set my mind it's another step, another obstacle I need to overcome. to come back even stronger. And with time, I learned to listen to my body.
As I said, when I was in Hamburg, I thought I could do whatever I wanted to my body, always pushing myself over limits. With time and experience you learn how to play at top level while still having respect for your body. As time passes, you can't give 100 per cent anymore and it took me some time to learn and acknowledge that. No matter that, I still play with passion and love, both in defence and attack as the first day.
That is a sum of hard work and persistence. I want to say to all young players that, when you hit the bottom, just stand up and push even harder. After the rain, always comes the sun. That is what handball taught me: Hard work pays off. I am grateful I can be a role model to younger generations and to be able to teach them something. I think that sport is one of the best things that can happen to you. A good way to learn about the world, to get away from omnipresent technology, make new friends and visit new places. If you ask me, sport should have big part of every children's life. 
I am happy that my family had that influence on me since I was little. My family means the world to me and to this day have always been my biggest supporters. Today, maybe in a little bit different aspect as our family grows.
I have to say that my wife Lucija is know one of the most important people in my life. We are high-school sweethearts and she was there for me from the beginning. For all those defeats, victories, injuries, ups and downs during my career. I am extremely lucky that she is next to me. Lucija has always gave me different perspective on what I was going through and was my pillar while I had to be fully concentrated to handball. She was, and still is, a big influence on me.
Our life became even better after our son Šime came to this world. Becoming a father is a most beautiful thing in this world and only then you realise what's the true meaning of life. Handball was my life but after his birth everything turned around. He became our epicentre. You don't have time to think about handball, defeats, matches, anything, because when you come home and see his smile, when he comes to you, you forget about everything.

Now I see even better how my father was my role model and that he is the one to blame for who I am today. Therefore, when our family gets together in Djakovo or anywhere else, it's always interesting, as we all have ties in handball.
When you add my brother-in-law, Marko Kopljar, to the equation, it's never boring. Marko is an amazing person, very funny and interesting, maybe people even don't know that. There is always teasing and pranks, talking about handball, especially as we still play at the top level. The whole family is a part of that. 
And they were part of my path from early age. Just like my grandfather. He was one of my biggest fans. When I started to play youth league in Croatia, he promised me 50 Croatian kunas for every stolen ball. That was a small, additional motive for me on each match. I believe he never regretted it even though I cost him a lot of money! Maybe that trick of stealing balls while playing centre-half in defence stayed with me to this day, so thank you grandad. 
And I will try to do that and score as many goals as I can, for as long as I can. I still dream of new trophies. My biggest dream is to win a gold medal with Croatia. To listen to Croatian anthem after the final match and I really hope I will accomplish that.
I still don't think of what will come after my last match. I just want to play and enjoy on that 40 by 20 meters court. Handball has given me a so much and I would like to give back one day. I don't think I will ever leave handball. It's part of me and always will be and whatever my job will be in the future, it will be connected with handball in any way.
For now, my focus is to enjoy the game and my life. We shall see what the future brings.
Domagoj Duvnjak
April 2022