EHF Champions League
This is me: Holger Glandorf
Holger Glandorf is a family man. A man with a strong desire to keep himself to himself. A man who holds a strong sense of home. Of belonging.  He's a man who knows where he comes from. He was never born for the spotlight. He always appreciated the quiet times off the court. But he's also a man who wrote himself into handball folklore. Who steered Flensburg to EHF Champions League glory. Who helped Germany become world champions. But just as the curtain was about to come down on his illustrious career, Covid came along and stole his final matches from him. Here, in his own words that appeared exclusively in EHFCL Weekly, the man, who scored more goals from open play than any other player in German Bundesliga history reflects on his time on court and the peace off it.
THIS IS ME: HOLGER GLANDORF
Home is where the heart is
I was born into a handball family. My father, my brother, my uncle all played handball. I accompanied them so often to their matches to the arena in my hometown of Osnabrück in northwest Germany that eventually I started to play at the age of nine, even though my first sports had been basketball and tennis.
The day when it clicked and everything fell into place came when a teammate of my father, who was coach of the youth team of our club, came to us, said: "We always can make use of a left-hander!" He brought me to training and finally I had realised how much fun it is to be a team sports player.
It was so much fun for me, my mates, my club, we were all really close friends, all of them. My talent was discovered even though I was a bit of a lightweight. Even during my professional career everyone joked that my bones were the hardest of all, because they were not covered by anything.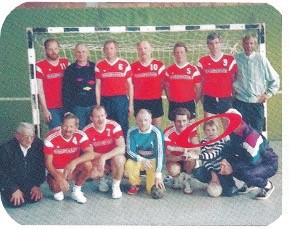 As those early years went by, I made it to Germany's youth national team. Honestly, we had an unbelievable number of brilliant players in this age group. Johannes Bitter, Dominik Klein, Michael Haaß, Lars Kaufmann and Michael Kraus were all of later part of our 2007 World Championship squad. There was also Silvio Heinevetter, who was younger than us at the time, and current Magdeburg coach Bennet Wiegert. But despite those big, big names, we did not win a title in the Younger Age Categories. We finished only finished 13th in the Under-21 World Championship - a tournament I had missed due to a foot fracture.
When I was 16, I had to make a decision. Where did my future take me? I felt I needed to join a club playing in the highest German youth division - something my home club did not. So I went to HSG Nordhorn, not far from home – an hour's drive. Looking back now, I have to say: if Nordhorn had not become insolvent I still would be there today. And I say that knowing it would have meant I would have missed out on lifting so many trophies.

In the first two years at Nordhorn, a taxi driver took me and dropped me off at all the training sessions. However, even though at that time it was clear for me and my family that handball was the number one thing in my life, I knew the importance of finishing my studies at school. I also started an apprenticeship in a logistics and freight forwarding company at the same time when I began my professional handball career. After all, you never know when an injury can come along and end it all. It was important for me to have something other than handball to fall back on.
At Nordhorn I was fortunate that one of our right backs was injured in my first Bundesliga season and I got a lot of playing time as a youngster. The time at this club imprinted my career the most, it was the start for something great; something I could not expect and I could never imagine before. I really can't say which way my career would have gone if I hadn't stared playing at Nordhorn. It was my second home. They trusted me, and I needed this feeling of trust. This was my world. My place to be.
For my character and personality I always needed to have the perfect surroundings. And I had it in this little town in countryside. The people had a heart for handball and for the club. I could develop calmly and not stand in a huge spotlight. This is what I like. Playing at Nordhord I felt like 'Once there, always there'. It was perfect.
Then in February 2009, two years after Germany won the world championship and a year after Nordhord won the EHF Cup, the owners of Nordhorn told me financial problems had grown. They were in trouble. They became insolvent. As I looked at my options knowing I would have to leave, I felt I needed to repay the trust and faith they had shown in me. So, the last act of support I could give Nordhorn was to find a new club within three days – which meant they would receive a transfer fee. With this money, they could at least finish the Bundesliga season and pay the remaining players.
Some days later, I signed for TBV Lemgo. However, I was quite unlucky in the years that followed with a long-term hand injury and a few other niggling injuries. In terms of finding new friends it was okay, but from a handball perspective I was not that happy and eventually, in 2011, the club and I decided to go our separate ways after two-and-a-half years, by which time I won a second EHF Cup title of my career.
I wanted to start something new. After Nordhorn and Lemgo I found another tiny place with lovely, calm people with a lot of nature. It is a place I now call my home: Flensburg.
I had some other offers, but finally manager Dierk Schmäschke and I agreed quite quickly that SG were my new handball family.
It was funny how many well-known faces from Nordhorn I met again: Ljubomir Vranjes and Maik Machulla, who were my teammates and later on became my coaches, plus our defence boss Tobias Karlsson. All of them and the whole familial mentality at Flensburg made my start so easy.
I will always remember the day when I entered the office of the manager at Nordhorn to renew my contract when I ahead of me in the queue was a new player. It was Maik and we became friends from this very first moment standing at the door and we still are.
But I knew that Flensburg, from the very first time I visited, was the right place for me. When my wife and I came to town for the first negotiations it was raining cats and dogs. She just said "Great, here we stay."
And we stayed.
For me, it is always important that my wife and my two sons – who have also started playing handball – and feel comfortable where I play and where I live. When we settled at Flensburg, we immediately felt like coming home. It was and is a perfect match for us.

In terms of trophies and titles, the best time of my career started with Flensburg. In 2012, we won the EHF Cup and two years later we won the EHF Champions League. Since then, I have a very special relationship with the LANXESS arena in Cologne. I won my both of my most important trophies there: the EHF Champions League and the World Championship.
So it goes without saying that I truly, truly hope that we beat Aalborg in this season's quarter-finals and make it to the EHF FINAL4 again. Perhaps now, in my role at the club, I can be a good omen for the club. In these very special times, it would not only be a reward for the team, but for all people working for and around the club.
When I look back at Cologne 2014, we were the biggest underdogs. We were just happy that we made it there, as the quarter-finals in Skopje were only decided with the last throw of the second leg. It meant we arrived in Cologne completely without any ambitions. In the semi-final against Barcelona, ​​we were six goals behind with just eight minutes left. That's when Ljubomir gave our young players their chance to play.
Then, finally, I scored the goal to level the result after 60 minutes, which propelled us into extra-time. I scored so many goals in my career, but this was definitely one of the most important. In extra-time and in the final against Kiel we had the momentum on our side.
Many people asked me, which trophy was the most important one. To be honest, I do not have an answer, there is no ranking. Every title has its story. When I became German champion for the first time with Flensburg in the very last second of the very last Bundesliga match of the 2017/18 season, it was something huge and to defend the title a year later after an almost perfect season as well.
Nobody could predict that we would manage to win the EHF Cup with a club like Nordhorn. But an EHF Champions League title obviously means a lot, even more. I mean it is the biggest one you can win in club competition.
Obviously playing for the national team is special but becoming world champion is a dream – and of course the greatest thing for your home country. These are pictures you never forget. There's just no way I can compare or rank titles.

Playing handball is not only for the titles and trophies. It is even less for the money - I always played handball for fun and for this special feeling of team spirit. Of course, it feels good when you can earn your money playing the sport you love.
To be honest, for me personally, the experience to travel around the world, playing handball is priceless. I met so many people who became my friends. I got to know so many countries and cultures and I learnt how important the ability to work in a team is like a school for your life.
And from high-performance sport you learn how to crucify yourself and you learn to push your personal borders. This is what handball taught me: Team sports are the best way for integration, to bring people from many countries and cultures together, to form a team from a group of completely different individuals.
This is what I also try to teach my sons. They play handball – as when you live in Flensburg or nearby you cannot escape it. But my wife and I do not push them. They should make their own experiences and learn for life from team sports.
The current pandemic shows us, how important sports is for children. We spent so much time at home with them, normally they should meet their friends and just play, play, play.
The pandemic ended my player career. I had to realise it in a quite hard way. There was no kind of farewell match, but only a little internal celebration. Then I started my new life in the same club. I saw it all very pragmatically, I wanted to do it pretty quickly. After all, I had dealt with the fact that it was over. I prefer to look ahead in a positive way.
Now I contribute my experience in a different way and I am highly pleased that Flensburg give me the chance to do so.  
I am what I am – only in a new position.
This is me: Holger Glandorf.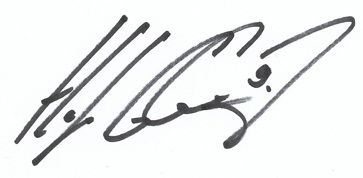 HOLGER GLANDORF IN THE EHF CHAMPIONS LEAGUE
Place of birth: Osnabrück, Germany
Date of birth: 30.03.1983
EHF Champions League wins: 1 (with SG Flensburg-Handewitt 2013/14)
Goals: 460
Milestones:
Debut: 27.09.2011 for SG Flensburg-Handewitt (vs Montpellier Agglomeration HB)
First CL goal: 27.09.2011 for SG Flensburg-Handewitt (vs Montpellier Agglomeration HB)
100 goals 01.12.2013 SG Flensburg-Handewitt vs Aalborg Handball @ Aalborg
400 goals 03.10.2018 SG Flensburg-Handewitt vs Motor Zaporozhye @ Flensburg
Last CL goal: 26.02.2020 SG Flensburg-Handewitt vs Celje Pivovarna Lasko @ Flensburg
Last CL game: 26.02.2020 SG Flensburg-Handewitt vs Celje Pivovarna Lasko @ Flensburg