EHF Champions League
This is me: Manu Mayonnade
There are not many stories as compelling as Emmanuel Mayonnade's. And that's not even taking into consideration he was the youngest ever coach to win the IHF World Championships. No, his story - starting in a village in south-west France - is one fueled by family. It's tinged with tragedy, too. But you don't become one of handball's most respected coaches by sitting back and giving up when the going gets tough. It's an emotional and inspiring story, where Manu tells us just how important family is.
This is Me: Manu Mayonnade
I wish I never had this career.
I wish I never had to have this career.
That is what I tell myself every single day.
Not because I hate my job, far from that. But because it started with a traumatic accident.
I started my handball coach career because my uncle Dominique passed away. He was 52, and I remember vividly every detail.
He was coaching the women's team in Mios, the club my whole family has evolved around for half a century. My uncle was some kind of myth there. He helped the team, based in a village with just 3,000 inhabitants, move to the French first division.

Mios-Biganos, as it was called, was a family business. My grandpa Roger was running the affair. He had met my grandma at handball and they had three sons together. One of them was Dominique, the second was Gérard.
Gérard, who would later become my dad, played handball in Mios and met Monique, my mum, at the club. From their union came three children; my two sisters and myself, Emmanuel, the second of the three siblings.
For years, Saturday nights were spent courtside, watching the cousins, the uncles, the dads and the mums play.
That was eerie, in a way. When I was a child, I thought I would never leave the place. I had everything I needed: my family, my passion… Everything.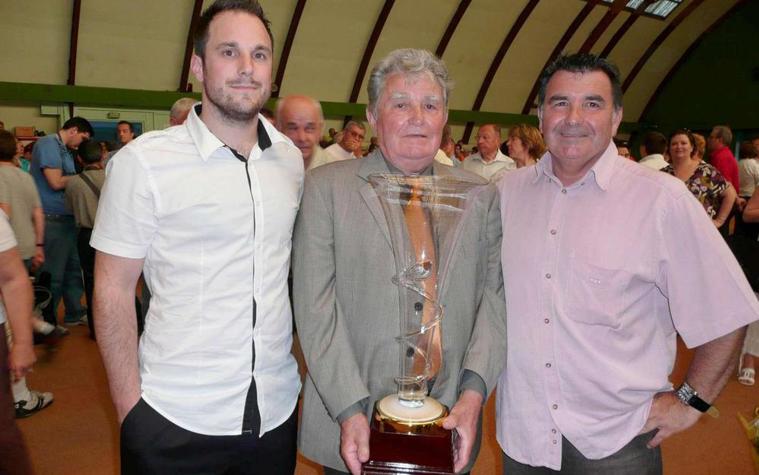 Manu pictured with his grandad and dad after Mios won their first ever trophy
When I was 21, I decided to take coaching courses, so I could make a living out of it. I had no ambition but to perpetuate what my family had done since the 1950s.
And I succeeded, in March 2005, by graduating to become the latest of the Mayonnade with a coaching degree. I remember everything about that day.
I remember coming home at night with the degree in my hands, feeling like I was ready for an adventure. I also remember that the following night, exactly a few hours after I became a professional coach, my uncle passed away.
The whole family was devastated. It was a gigantic blow to the club, too. Dominique was a person everyone knew and loved. His passing left the club in a state of shock.
So much so the girls did not win a game in the three months after the tragedy. The following summer, my grandpa asked me if I wanted to coach the team. I had no choice but to accept.
And that was the start of my journey.

There was a lot of pressure, of course. But I tried to enjoy it the most I could. We finished third in the league at the end of my first coaching season and I often say that, had we finished last, that would have been the end of my career.
Luckily, I guess, it was not.
A lot of people ask me what it was like to be coaching in the first division at 23. And the truth is boringly disappointing: it was normal.
Yes, none of my players were younger than me. Yes, some of my players were mums, had day jobs alongside handball and probably knew a lot more about life that I did. But I used to laugh about it.
In Mios, I crossed paths with a player that changed my coaching career: Myriam Borg-Korfanty.
As a left back, she became world champion with France in 2003. And she was so clever that every game I imagined, every exercise I set up, she would find the trick to unfold it and not make it work.
I would spend days on exercises that she would deconstruct in a matter of seconds. She was not mean, by any means. But it made me progress so much as a coach. And she was such an amazing player as well.
This dramatic start always made me appreciate what I had. I sometimes find myself diving deep into pathos when it is not needed.
When Mios won their first ever trophy, the French Cup in 2009, I was so happy, but I also adopted a mantra that I still stick to this day. No matter what may have happened after that title, I achieved something. The club achieved something.
And that has stuck to me until then.
I also thought that when we won the World Championship with the Netherlands in 2019. I may have become the worst coach ever afterwards, but then, I was on top of the world.
I guess this mantra comes along naturally with the feeling that I have that my players, my staff and me, are lucky to be doing what we are.
Back in Mios, I used to start training at eight o'clock in the morning. That was tough for some. But as much as I understood their tiredness and as I cared about them, I felt like I could find 500 jobs more difficult than playing handball at 8am.
If waking up to play handball at that early might seem like a problem to a player, then I suggest she can find another way to earn money.

Moving to Metz in 2015 was, of course, a big change in my career. If Mios-Biganos had not gone bankrupt maybe I would have stayed there forever. But it felt like it was the right time and now it feels a little bit like Mios away from Mios here.
Here, I discovered the EHF Champions League: maybe the only thing that made me dream as a young coach, 15 years ago. I remember back then, watching 10 EHF Champions League games a week and being completely fascinated by it.
When we became French champions with Metz in 2016, all I could think about the following summer was, "I'm going to coach in the EHF Champions League". I was thinking about all those players I had never ever seen but on TV, all these crazy arenas and the anthem and everything…
The EHF FINAL4 2019 was also one of these crazy moments I had with Metz. I am not the kind of man who will travel to a handball competition if I am not involved in it. So this was the first time I had been to Budapest for an EHF FINAL4.
And, excuse my language, f*ck, that was something. A massive slap in the jaw.
I guess these new experiences, just like the Olympics last summer, help not tiring out or taking things for granted. I know, not even being 40, that would happen, but not once did I feel bored by handball.
But there was only one time I thought about quitting.
It was in the early days of 2018. We were on the train to Bourg de Péage with Metz. I got the phone call.
Grandad had passed away.
"Why carry on? What's the point?" I asked myself.
He was the be-all and end-all of my professional career, as well as being a family member I was really close to.
I really felt like nothing was worth it anymore.
I do not remember anything about the game anymore. Thierry Weizman, the Metz president, offered that I went straight to Mios to be with my family. However, I wanted to be there with the girls. Had I been in a structure less accommodating than Metz, I probably would have thrown in the towel. But Thierry helped me in the most human way that it helped me come back after a few days.

Family helped me back on track as well. I think we all tried to become a little more present for each other after that. I still see my two sisters often and rare are the days when we do not call each other.
Right now, the only purpose I really follow in life is to enjoy it. I hate when people moan and are unhappy with no real reasons. As long as your family is healthy, you have to keep smiling, especially in our position.
We are playing handball, after all. There is nothing to complain about.
Talking about family bonds, I know my mummy and daddy watch every single Metz game, and my sisters come to visit me when we play home games.
No matter the distance, we stick to each other, because family remains the most important thing ever.
And the ones that are gone are not forgotten.
My uncle and my grandpa are now the two people I think about before every game. I still get teary-eyed when the memories flood back, and I am sure they are happy to see me from where they are now.
I owe them everything.
And given the choice, I would give up every good moment I had in my career for them to still be with us.
Manu Mayonnade
January 2022