EHF Champions League
This is Me: Rogerio Moraes
Rogerio Moraes has become a household name in handball ever since he set foot on Europe's courts after arriving from his home in Brazil. Yet his life could have been all very different. So very, very different if it wasn't for the support of his mother and grandmother. In his own words, Rogerio explains how those close to him steered him away from a life of crime. It's a story of how handball can save lives. It's a story about family. About glory. About a boy 10,000 km from home winning the EHF Champions League twice. So click the link and read one of our most compelling stories yet.
This is me: Rogerio Moraes
Started at the bottom - now I am here
Brazil is not the easiest place to grow up. Well, it is a beautiful country, with warm people and beautiful landscape. And the weather's pleasant. The hardest thing to be accustomed with in Europe is snow and low temperatures. But the weather, while it might be an icebreaker for fresh acquaintances, is not what I want to talk about.
I want to tell you the story of my journey; about my life, about how an underprivileged kid grew up to be a man. A successful one, some might say. This is not really about handball, but a life lesson I learnt the hard way. Grinding my way to the top. I can already tell you the most important take from this: hard work always pays off. Trust me.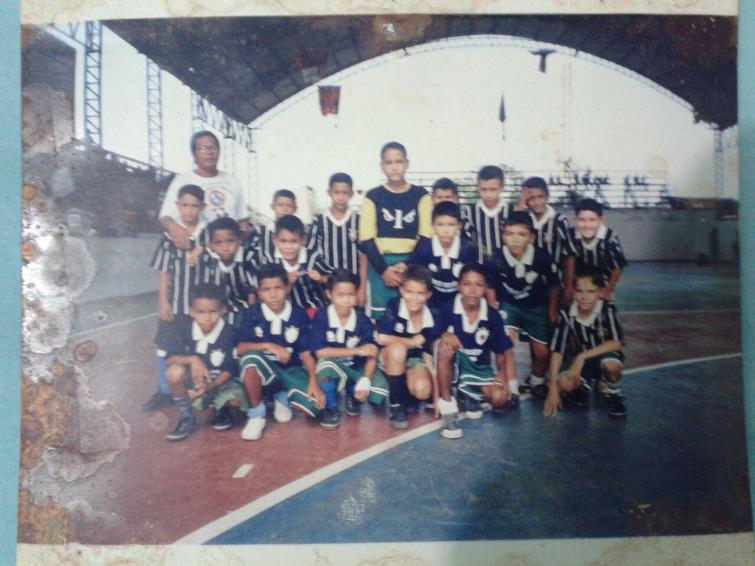 I was born in Abaetetuba, a small city, of 150,000 people, in the North of Brazil, in the Para State. For myself and a lot of Brazilians, life is not easy. I will not say it was impossible, but it is quite tough.
You see, life toughens you. And were it not for my mother and my grandmother, who raised me, well… let's say things would have turned out different. I was lucky to have them in my life because they worked hard for me to have everything I needed to get by.
I said before that life is not easy, but the matter of fact is that life in Brazil and in Abaetetuba is dangerous. It was dangerous back when I was child and it is still dangerous now. There is a lot of violence, there's drug dealing. People were - and still are - involved in this.
It would have been easy for me to be sucked into the vacuum, into a dangerous life, into a life of crime. But I had some guardian angels: my mother and my grandmother who put a lot of effort in to my education.
I could have been a criminal. It would have been easy. It was just a step I could have made. But I became the good guy.

I became the good guy because that life was not for me. And because I had some guidance, my mother and grandmother were all over me every time.
They would say "You have to do this, you have to do that, take care of yourself and, always, but always, be good. And your future will be bright." These are words that are in my head right now. I can hear them every time, clear as day.
I decided to be the good guy. We were not rich. There were times when we were really, really poor. Making ends meet was hard. But to become better, I needed to work hard. And this is one of the first lessons I really learned by myself. Work hard for everything, because the rewards will be much sweeter.
Before handball, school was everything for me. I dreamt of being a teacher, because I always wanted to share the knowledge and, you know, try to be a model for others. But something changed. As I continued to study harder and harder I did not want to be a teacher anymore. I wanted to be a lawyer.
Luckily, or unfortunately, depending of your point of view, my dreams changed a bit when I started to play handball. The story goes like this. Handball is not a professional sport in Brazil, therefore the chance to earn a living of it is difficult. So, we had these state championships, and Abaetetuba was always a hotbed for young players, therefore I started playing for fun, when I was 12.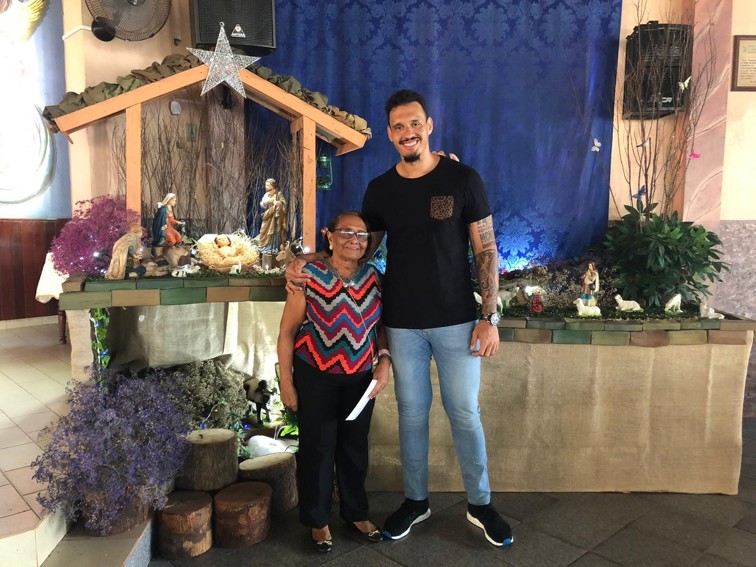 Before handball, like every kid in Brazil, I played football. On the pitch, on the streets, on the beach, it did not matter. But you know me, or you can see me on the court and in pictures. I was a little bit fat. I was also very tall, and I was always a goalkeeper. I got a little bored. So I made the switch to handball.
My plan was to be a goalkeeper, but my first coach told me that with my physical qualities, there is no chance I would be between the goalposts. No, it was either back or a line player. Therefore, I tried it a bit and when I saw people cheering for the goals I scored, feeling that rush of adrenaline, it just convinced me it was the right thing to do.
Getting better meant that I was moving throughout my state, but, as I told you before, handball is not professional in Brazil. This is why I made the move to THW Kiel in 2015, when I was only 21 years old.
But before my European adventure, I want to tell you about my first steps in handball in Brazil. This was a hobby for me at first, I was playing with friends and just having fun.
We usually went to YouTube before practice sessions and watch top players, like Nikola Karabatic and Luc Abalo, then try to recreate what they were doing.
Especially Abalo. He had such a technique. We would always copy his moves and score in-flight goals or whatever he created on the court. It was our way to learn handball, to try and become better and better, but also have a bit of fun. But let's go back to my journey.

First of all, moving to Germany was a shock. The dangerous life I had in Brazil was all gone. Gone were all my mates and everything I was accustomed to. It was something new, something not as dangerous as I felt on my skin back home. However it was something I was a little bit afraid of. When I went to Kiel, I only spoke Portuguese, not a word of English. It was a shock, but I did what I knew best. Work hard, grind even harder and take it on the chin.
Homesickness was something I instantly felt when I got the Germany. The culture is different, the people are different. There was a lot I needed to absorb. Luckily, I had Joan Canellas there, maybe you have read his own story in the previous columns, who helped me. Joan was as close as a father figure as I could get in Kiel. He speaks a lot of languages, including Catalan, which is similar to Portuguese. We spoke half-Portuguese and half-Catalan, half-Spanish, and it was a lot of help.
Step by step, with Joan's help, I started to get on better and learn some English. Now, I speak it very good. It's not the best in my opinion but everybody tells me it's good enough.
I missed my family a lot in those early days at Kiel, but we were Skyping every hour and they gave me the whole motivation I needed to continue. Without my mother, I would probably concede the defeat and get back to Brazil.
But I remember those words: work hard, until you have achieved what I wanted. In fact, I was playing against Nikola Karabatic, the player who I was watching on YouTube in Brazil. And I put in the work. It was not easy, as my adventure in Kiel ended after one year. But I did not give up. Not now, not ever. If you do not take the chance, it may never come your way again. This was just part of my learning curve.
My path led me to Skopje. I signed for Vardar in 2016 and one year later, we won the EHF Champions League. I kept in touch with my friends from Brazil, whom I started playing handball with, and when I turned on my phone after we won the final, the group with them just lit up.
It was a barrage of messages of congratulations and some of them just got me emotional. "Hey, Rogerio, remember when we watched handball videos on YouTube? You just beat those guys and won the biggest trophy there is!"
I just stared at the screen for a couple of minutes and it just sunk in. I am now on the top of the world. I am with the best, after a few years back I was not even a professional in Abaetetuba. What an awesome feeling. To think that I am where I am, while handball was just a hobby. I am a really lucky guy.
Winning the EHF Champions League was a special feeling, one of the best I felt my entire life. I even got a tattoo of the date I won the trophy. It's one of a lot of tattoos I have, including my year of birth in Roman numerals.
There is also a small message to Saint George, my patron Saint. "Dressed and armed with the weapons of Saint George," it reads. Because, you know, I am a religious guy.
Every Sunday, when I was a kid, I used to go the church with my family and pray. When I did not know what to do, I always said a prayer. Even now, I pray to Saint George, the one I chose when I was little. And it really helps me.

I feel like I have told you a lot already – but I am not done yet.
Being from Brazil, you know, we are laid-back and, I like to think, funny. Therefore, when I got the nickname 'Samba', I just embraced it. Rogerio is not a usual name in Europe, apart from in Spain and Portugal. In Germany, they called me 'Roger'. So, for everyone to know me better, my assistant coach in Vardar, who is now my coach in Veszprem, David Davis, asked me if I had a nickname.
They came up with 'Samba', which is 100 per cent Brazilian. You know, it's the famous dance, usually performed at the Carnival. Unfortunately, while that is my favourite period of the year, in February, we are playing important games here, so I did not attend it as much as I would have liked.
But I liked 'Samba' and everyone knows me as 'Samba' now. And because of it, I always put on some Brazilian music in the locker room, both at Vardar and now at Veszprem. I love Brazilian music. I always listen to it at home and on the road. It just feels a little bit like home.
Because of the current health situation, it is very hard to go home. I got used to Europe, but I still need that Brazilian vibe. That warmth, that feeling, that laid-back attitude which I grew up with. But business is business and I am trying to do whatever is best to keep everything professional both in training and during games.
I am only 27 years old – surely, I look older, tougher and meaner on the court – but I am thinking about going back to Brazil when I finish my career. I know that it looks more dangerous, but that's my home. However, I would like to stay in handball after my playing career is done.
Hopefully, that chat will stay put for a few more years. And after some more titles. After all, it is an immense pride to be the only Brazilian to have won the EHF Champions League Men twice. Yes, me! I really hope other Brazilian players will do it, who can come to Europe and achieve this. After all, we can always improve and beat the odds.
So, for the circle to close, I would just like to say one more thing. Work hard to see your dreams come together. When I will retire, I have only one plan right now. Go back to school and earn my law degree. I told you about my studies and the only regret is that I did not finish them. I would really like to do that and complete my journey.
Because, now, at 27, I am just realising what I did. Starting from scratch, putting in the work, reaching the top.
It would not have been possible if it were not for my family. Motivation is really nothing without education. The education, my family, and hard work ethic got me here.
And if I got here, everybody can do it. You just need to put some love and thought in everything you do.