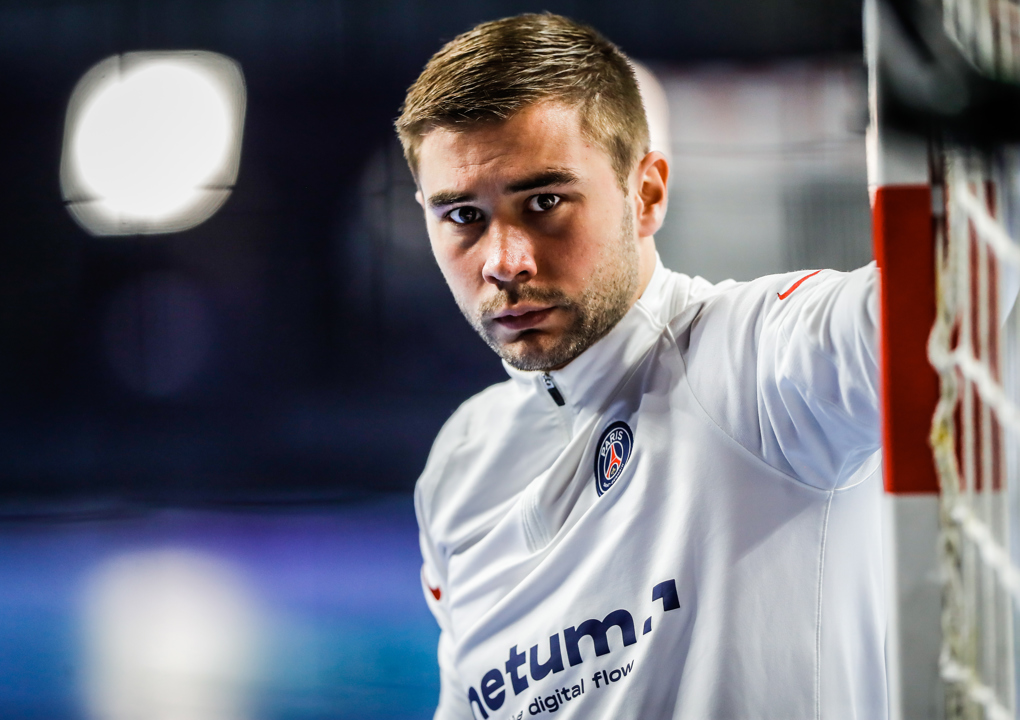 This is me: Luc Steins
Maybe we should call him 'Le Petit Prince.' At 1.72m, Luc Steins is one of the smallest playmakers in the top of European handball. But also one of the biggest, just how you look at it: MVP of the French league last season, All-star centre back of the EHF EURO 2022. Like a conductor, he directs the play at Paris Saint-Germain Handball and the Dutch national team.
In this episode of our This is Me… series, 27-year-old Luc Steins takes us with him on his handball journey from Voerendaal, a small village in the south of Netherlands, all the way to Paris.
This is me: Luc Steins
I grew up in a family where my parents played handball, my grandparents, an aunt. From a young age, my brother Ivo and I went with our parents to the arena. Before and after their games and at half-time we always tried to get on the court and throw a few balls. Played as much as possible with the ball. And we really started to like it.
Ivo was the first to join the local club in Voerendaal, HVG. I went with him secretly, already took part in a few trainings, even before I had my swimming certificate. So, we just enrolled in it, and we never left.
Ivo is 2½ years older than me, he was always one step ahead. I could use him as a reference to see what was needed to get to the next step. I have always followed him that way, until we started playing together at (Dutch Eredivisie side) Limburg Lions in Sittard-Geleen. Ultimately, Ivo and I have been playing for the Dutch national team together for a few years.
In 2016, I moved to France. We had a very good season with Lions in the year before I left, won the triple. So, we qualified for the EHF Cup and shared a group with HBC Nantes, Holstebro, and Göppingen. Those games put Lions on the international handball map. When we played away at Nantes, Massy coach Benjamin Braux attended the match and thought I was an interesting player. So, he asked me for a test training at Massy. It went well and I signed my first contract as a pro there. After that season, I had finished my study, so it was the right moment to take that step.
At some point it had become my dream to become a professional handball player. I felt it went all well in Netherlands, I was important for the teams I played for, but I had to go abroad to develop further.

It was a very good move. Massy were a rather small club in France, second division, not a big budget, a very familiar club. It was easier to get going there than joining a bigger club right away. The coach helped me a lot, did additional trainings with me individually, so I could develop faster.
The club did everything to help me raise my level and I am still grateful for that. In the end we even won the play-offs with Massy and were promoted to the first division – but before I knew that I had already signed for Tremblay, who had earned promotion just before as they were the champions. I wanted to play in the first division as the next step.
In Tremblay we played against relegation in the first season but finished eighth or ninth the following year. I am always looking for opportunities to improve myself, on every level. I used the time in Tremblay to do an online master course in sports management.
The club wanted me to stay but Toulouse came along in 2019. I spoke with Philippe Gardent once and I was sold right away: I knew I had to make this step. Toulouse turned out to be the right decision. I really got the keys of this team in my hands, got a very dominant role. That gave me a podium to present myself in the first division.

At every club, I had an important role, was responsible for the attacking play. Everybody looked at me in important phases of a match. If you get that feeling, you become a better player automatically, learn to read the game better, know how to develop a game plan. Only then, you can lead a team on the highest level.
I have had times in my career where coaches told me: 'Luc, you won't make the next step as a centre back. Today you practice with the wing players.' I did that, but after one or two trainings with the wings, I knew that this was nothing for me. I didn't get the ball enough times, I didn't have enough influence on the game. I liked it much, much better to be in the centre and to be more determining for the team.
I am 1.72 – sometimes I just add a centimetre and say 1.73 – but I have never had a problem with it. I could stand the jokes about it. But it is satisfying to show them all that they were wrong. They could say what they wanted, I have just gone on all the time and always worked towards my own plan. I dared to go for targets that others deemed impossible for me. Also at the national team, where some people thought I would not be able to play a significant role. Well, from my very first training with the team, I have never been away. That has given me extra motivation.

When I was with Toulouse, rumours came up that PSG wanted to get in touch with me and maybe talk about joining them in the future. I had heard that as well. So, when (Nikola) Karabatic got injured and they called me, it came not completely out of blue for me. But then, when it became clear that they really wanted me to join them right away, it was still an honour and a surprise.
I was a little bit nervous. I am a person who needs some time to settle in, to feel at ease in a new environment, but I didn't have that time in Paris. I arrived in the middle of the season, had to guide the team on court right away and play for 60 minutes as there was no one else for centre back.
So, there was not much time, but in the end that turned out to be an advantage as I had to focus on our game right away, on what had to happen on the court. I hardly had time to think about anything else. The players welcomed me with open arms and wanted me to take the lead from the beginning. They have always supported me in that. That was a good feeling.
I heard a French newspaper recently called me 'la nouvelle star de PSG'. I don't know… There are already playing so many stars in this team, we don't need another one. I don't see myself at the same level with Mikkel Hansen, Nikola Karabatic, Luka Karabatic, Nedim Remili. Those are guys who have achieved a lot more in their careers and are way bigger stars than I am. I feel like I have just arrived at this level, so I definitely don't see myself as the new star of PSG.

The pressure to win matches has never been bigger in my career than here at PSG. At Tremblay there was a certain pressure as we should not be relegated, but that was a completely different pressure. If we get back from Elverum with a draw, people start frowning and asking how that was possible.
In the French league play a lot of strong teams and, so far, we have not lost one match. And in the Champions League, we only play against teams that are on the same level and also want to win the trophy. So, I try not to worry about it and stay calm under the pressure. I rather see it as a nice opportunity to win the first Champions League for Paris. There are maybe eight to 10 teams that have the same goal to win the Champions League, but each year only one team can hold the trophy.
It is nice to see that handball is gaining more and more interest in Netherlands now. Three years ago, we qualified for the EHF EURO for the first time. The women's team had already been successful for quite some years then, but the men's team went step-by-step to work our way up. Some players moved abroad at a young age and have developed very well. We are getting the results now. Finishing 10th at the EHF EURO was a good achievement, we can be proud of that. There was only one goal missing, or we would have been eighth.
That was one time, now we have the task to show we can do it consistently. To make the All-star Team made me proud and was a confirmation that I had done well, but it is not the reason I play a final tournament. The most important is to get as far as possible with the team.
Apart from handball, I love cycling. Once I heard that riders always eat pancakes before a race, it gives good energy for their performance. So, Ivo and I tried it out for fun when we were playing at Lions, and it became a kind of tradition for a while. But once I started playing twice week, and certainly now at PSG: If I would eat pancakes twice a week, my career wouldn't last for much longer.
Luc Steins
April 2022