Media Releases
VELUX EHF Champions League ready to make history again
VELUX EHF Champions League ready to make history again
Europe's elite are gearing up for the 26th season of top-class club handball as the VELUX EHF Champions League returns: new sponsors, record TV interest and a special anniversary beckon for Europe's premier club competition.
The stars of handball will be back on court from Wednesday, 12 September as Europe's premier club handball competition returns for a new season.
28 teams from 20 different countries will start on the long road to the final weekend - the VELUX EHF FINAL4 in Cologne's LANXESS arena on 1/2 June 2019 – an event which promises to be the biggest and best yet as European handball marks the 10th edition of this mega sports and entertainment highlight.
Commenting on the start of the new season, EHF President Michael Wiederer said: "Following last season's celebrations around 25 years of EHF Champions League, we are delighted to be able to mark another milestone in the competition's history – 10 years of the VELUX EHF FINAL4. "
"I am extremely proud of what we have achieved with this event over the past nine seasons. For all players, officials and fans it is the highpoint of the club year - an event you simply must experience for yourself - and for the EHF it has become a real showcase, highlighting the very best that the sport has to offer."
New sponsors announced
Ahead of the start of the competition, EHF Marketing GmbH has already announced growing interest in the competition from both sponsors and TV partners.

A new premium sponsor, Nord Stream 2, has been signed up as has a new regional betting partner, Betano. The partnership with Cashback World, which started back in 2017, has also been extended for a further two years.

"The VELUX EHF Champions League has undergone a tremendous development over the last years and has found its position in the global European sport market. Together with our long-term partner and title right sponsor VELUX we are delivering a premium competition to the world of sports which serves as an attractive platform not only for sponsors but also TV partners, fans and spectators. Hard work and recent achievements in managing a set up with increased quality allowed us to build up a strong brand and develop ourselves in a positive way in the wide field of the on-going digital transformation," said David Szlezak, the Managing Director of EHF Marketing GmbH.

"Ahead of the season we welcome Nord Stream 2 and Betano as new sponsors. Being complemented by Gorenje, who have been on board since 2017, long-term partner UNIQA, our suppliers, Salming and Select, event partner Cashback World and last but not least our charity partner Plan International we are presenting a more or less sold-out partner portfolio for the EHF Champions League which enables us to look into a bright future of European club handball."
Growing TV interest
A total of 38 stations covering more than 80 territories have also been confirmed ahead of the new season for the group phase. With more stations yet to be announced as the competition progresses, the 2018/19 season already looks set to reach new heights in terms of coverage. The growth comes on the back of new development last season including the sport's first UHD/4K production.
In Match of the Week, Tom O'Brannagáin and Chris O'Reilly will once more provide commentary on selected matches throughout the season directly from the halls around Europe. Hannah Jackson and Markus Floth will complement this season's coverage by delivering live, behind-the-scenes material for our Social Media Channels, inviting our fans to be part of the game.
A list of TV stations that are broadcasting the action can be found below.
10 years of VELUX EHF FINAL4 – tickets on sale from 11 September
With more than 8,000 tickets already sold for the 10th edition of the VELUX EHF FINAL4, fans from across the world have already secured their place at this special anniversary event.
Further tickets for the 10th edition went on sale from 11 September as the next allocation of tickets is released.
Fans looking to make the trip to Cologne on 1/2 June 2019 will be able to buy their tickets in all price categories via the event's ticket shop at ehfCL.com from 10:00 hrs on Tuesday, 11 September.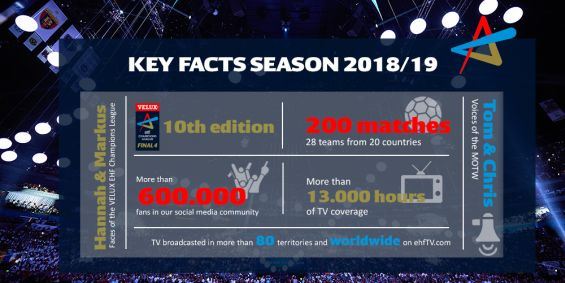 No favourites as champions face tough challenge
There's a tough challenge ahead for the reigning champions, Montpellier HB. And not only because no team has as yet defended their title at the VELUX EHF FINAL4. They have been drawn in Group A against a formidable line-up including the eight-time champions from Barça Lassa, the 2017 winners HC Vardar and the 2016 trophy holders PGE Vive Kielce.
In Group B, the challenge is no less daunting with two previous winners of the EHF Champions League SG Flensburg-Handewitt and Celje Pivovarna Lasko competing alongside last season's runners-up HBC Nantes and semi-finalists Paris Saint-Germain Handball as well as the brand new Hungarian champions MOL-PICK Szeged.
Everything is also wide open in Groups C/D as all of the 12 teams including eight national champions have a good chance of following Montpellier's example from last season and making it through to the knock-out stages.
While Tatran Presov from Slovakia, Denmark's Bjerringbro-Silkeborg and Wacker Thun from Switzerland return to the VELUX EHF Champions League after a break, there is also a first for the competition with the addition of the Finnish champions Riihimäen Cocks to Europe's elite.
​Where to watch?
Handball fans will be able to follow the action on TV stations worldwide, on the EHF's own OTT streaming platform ehfTV.com as well as on the official website ehfCL.com and social media channels including Facebook, Instagram and Twitter.
The current list of TV stations can be found below and weekly updates are available at ehfcl.com TV Partners broadcasting the VELUX EHF Champions League 2018/19 (as of 10/09/2018)
ARG - DeporTV
AUT – Sky Sport
BIH – Arenasport
BLR – Belarus 5
CAN – beIN Sports
CRO – HRT and Arenasport
CZE – SportTV
DEN – DR and TV3 Denmark
ESP – RTVE, TV3 Catalunya
FIN – YLE, TV2
FRA – beIN Sports (including Monaco, Andorra, Luxembourg, Mauritius, Madagascar and French overseas territories)
GER – Sky Sport
GEO – Silknet
GRE – OTE Sports
HUN – Sport TV
ISL – Sport TV
ISR – Sport1
KOS (Kosovo) - RTV21
MAC (Macau) - TDM
MENA Region – beIN Sports (23 terrritories in total)
MKD – Arenasport
MNE – Arenasport
NOR – NENT Group
POL – NC+ and Eleven Sports
POR – Sport TV, Sporting TV (Including Angola, Mozambique and Cape Verde)
ROU – Digi Sport, Telekom Sports
RUS – Match TV
SLO – Sport TV
SRB – Arenasport
SUI – MySports, Sky Sport
SVK – Sport TV
SWE - NENT Group
TUR – Dsmart
UKR – Xsport
USA – beIN Sports (Including US' territories and possessions)
Worldwide - ehfTV.com (geo-restrictions could apply)