EHF European Cup
All is set for the maiden group phase draw in the Women's EHF Cup
All is set for the maiden group phase draw in the Women's EHF Cup
Following the last weekend's Qualification Round 3 matches in the Women's EHF Cup Group Phase all is set for the premiere edition of the group phase.

Twelve teams from the qualification will now join four bottom ranked teams of the Women's EHF Champions League Group Matches (Glassverket, HC Leipzig, Rostov-Don and IK Sävehof) as the draw at the Gartenhotel 1 in Vienna on Thursday 24 November at 11:00 hrs local time will determine all four groups.
The first round of the group phase is scheduled for 7-8 January and the last round will take place on 11-12 February. Only the top two teams of each group will make it to the quarter-finals.

The Women's EHF Cup is played in a new format after the old EHF Cup merged together with the Cup Winners' Cup last summer.
Neither the defending holders Dunaujvaros Kezilabda Akademia DKKA, not the winners of the last Cup Winners's Cup season TTH Holstebro made it to the group phase from the third round.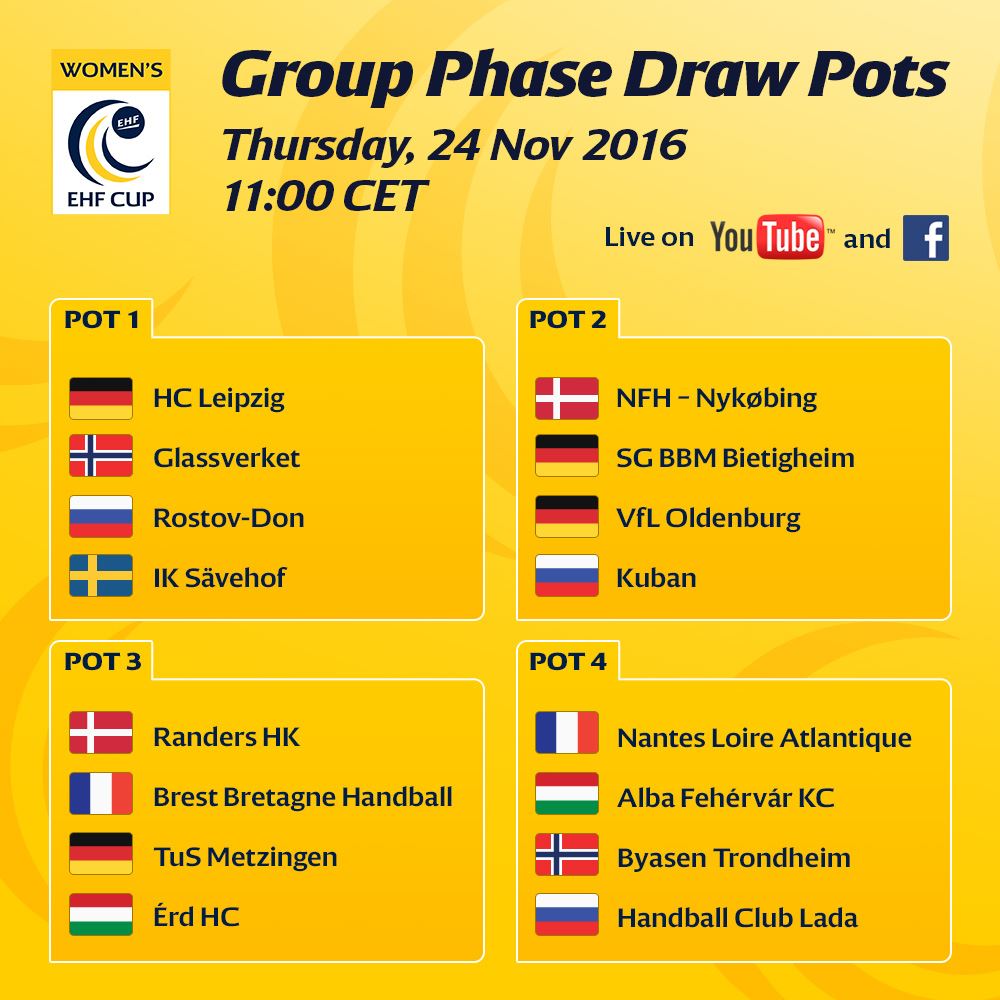 Draw procedure
DRAW PROCEDURE
As there will be country protection applied in the group phase draw and there are Sweden is the only country with a single team, the draw has to be conducted in a rather complicated way. See below the explanation of all steps.
STEP 1
Teams from Pot 1 are drawn to Row 1 to Groups A to D
=>
STEP 2
Two German teams from Pot 2 are drawn to possible groups in Row 2 avoiding a group with HC Leipzig
=>
STEP 3
a., If neither Oldenburg nor Bietigheim go to group with Rostov-Don, then Kuban are directly allocated to the only possible group to avoid Rostov. Nykøbing then go to the only remaining group in the Row 2.
b., If either Oldenburg or Bietigheim go to group with Rostov-Don, then both Kuban and Nykøbing are drawn to the remaining two groups in Row 2.
=>
STEP 4
In Row 3 Metzingen are automatically allocated to the only remaining group with no German team
=>
STEP 5
a., If Metzingen in STEP 4 can go to the group with Nykøbing, other three teams from Pot 3 are drawn in Row 3.
b., If Metzingen in STEP 4 cannot go to the group with Nykøbing, Randers are drawn to the group with either Oldenburg or Bietigheim in Row 3
=>
STEP 6
Brest and Érd are drawn in the remaining two groups in Row 3
=>
STEP 7
Teams in Row 4 are not drawn but directly allocated from left to right to the first possible group with no team from the same country.
Live coverage
All fans will be able to follow the live streaming of the draw on EHF's Facebook page and on youtube.com/ehfTV.

In addition the draw will be covered with a live ticker and reports on eurohandball.com as well as live tweets on @EHF.
Women's EHF Cup Group Phase draw:
POT 1
HC Leipzig (GER)
Glassverket (NOR)
Rostov-Don (RUS)
IK Sävehof (SWE)
POT 2
NFH – Nykøbing Falster Håndbold (DEN)
SG BBM Bietigheim (GER)
VfL Oldenburg (GER)
Kuban (RUS)
POT 3
Randers HK (DEN)
Brest Bretagne Handball (FRA)
TuS Metzingen (GER)
Érd HC (HUN)
POT 4
Nantes Loire Atlantique HB (FRA)
Alba Fehérvár KC (HUN)
Byasen Trondheim (NOR)
Handball Club Lada (RUS)