EHF European League
Summary: Ruiz flies in to claim late win for Plock, Fivers and Leon in thrilling draw
The group phase of the EHF European League Men is beginning to take shape and the nine games on Tuesday threw the odd surprise and some late drama. This is how the evening unfolded.
Plock score a late victory over Toulouse, more straightforward wins for CSKA, Kristianstad and Berlin
Leon snatch a draw against Fivers, victories for Montpellier, Magdeburg, Trebnje and Nimes
Rhein-Neckar Löwen got the week started with a 32:26 win over Tatabanya on Monday
Chris O'Reilly reporting live
23:10
We'll wrap up the blog for today with the best pictures of the evening. Fellow EL blogger Brian Campion and I have been full of praise for the pictures provided by Fivers so far and now CSKA have come into the mix over the last two weeks. Will anyone other teams emerge as contenders for the top table of European League photography? Find out next Tuesday!
22:58
Below you'll find an overview of tonight's results across the European League.
In group A, Plock are top of the pile with six points from three games, Leon have one point fewer and played one match more.
It is tied at the top of group B with Berlin and Kristianstad both on six points though Füchse have two games in hand.
Similarly in group C, Montpellier and Magdeburg have six each with the German club having played one more match.
Group D has Rhein-Neckar Löwen alone at the top with three wins from three, although Trebnje are not far behind with two wins from two.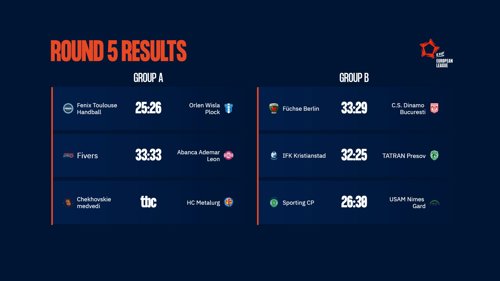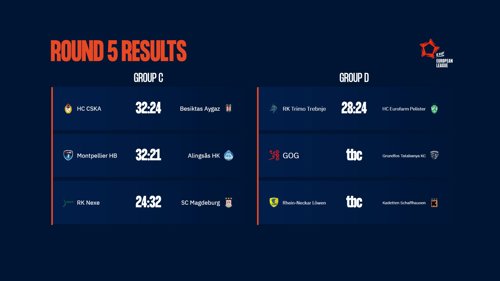 22:40
Some absolute crackers among the nine matches tonight, which did you enjoy most? Vote below!

22:23 | RESULTS
Fivers 33:33 Abanca Ademar Leon
Sporting CP 26:30 USAM Nimes Gard
RK Nexe 24:32 SC Magdeburg
Montpellier HB 32:21 Alingsas HK
RK Trimo Trebnje 28:24 HC Eurofarm Pelister
Astonishing scenes from Vienna! Fivers' young guns have the ball and sit a goal up in the final minute but it's stolen and Leon's Jaime Fernandez scores the equaliser. Brilliant performance from the hosts, who pick up another valuable point and Leon will be happy to get outta there with something - their third draw of the group phase.
22:10
We have a couple of early results in with Montpellier beating Alingsas 32:21 and Magdeburg winning 32:24 away to Nexe. That means both are clear at the top of group C with 6 points, though Montpellier have a game in hand.
21:55
While Magdeburg and Montpellier pull clear of their opponents, the other three matches remain tightly contested. Sporting are making a comeback against Nimes and currently trail by three and just one goal separates the sides in the other two matches. Exciting times as we hit the business end of the day.

21:39
The second half has begun in most of the matches and Montpellier have started well, opening an 18:14 lead over Alingsas, who are still very much in this game and will have the confidence of last week's win over Magdeburg to keep them going.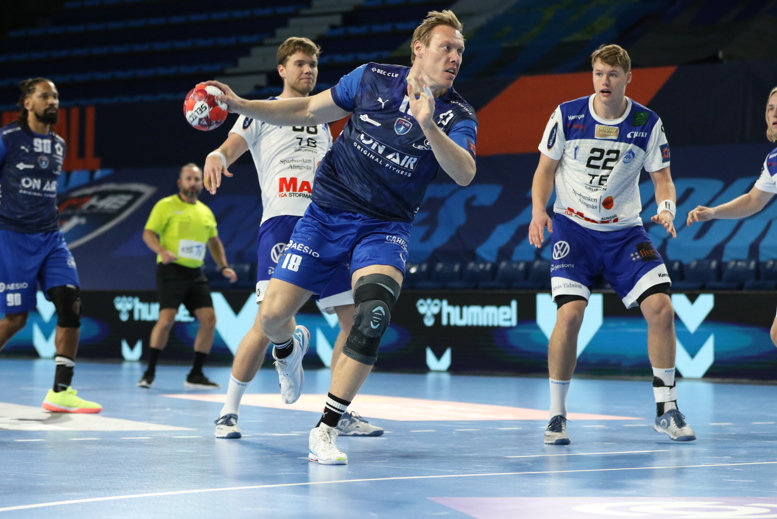 21:27 | HALF-TIME
Fivers 19:20 Abanca Ademar Leon
Sporting CP 12:15 USAM Nimes Gard
RK Nexe 8:15 SC Magdeburg
Montpellier HB 16:13 Alingsas HK
RK Trimo Trebnje 14:12 HC Eurofarm Pelister
A wide variety of games on display here, from the one-sided game with just 23 goals in the first half to a super tight one with 39 scored!
21:18
Sporting and Nimes are engaged in a fun scrap, with Nimes just ahead 11:10 after 26 minutes which has already seen five two-minute suspensions. There have been some very bright moments as well though.
21:09
Magdeburg are aiming to bounce back from their surprise defeat to Alingsas last week and it's so far so good against Nexe.
They lead 12:7 after 22 minutes and Jannik Green is on a brilliant 50% save rate.
21:02
There is no crowd at the Fivers vs Leon game but I'm delighted to report that the ghost of Hollgasse in Vienna is back! The ghost won't be too displeased with what its seeing so far as Fivers are going toe-to-toe with their guests after 13 minutes.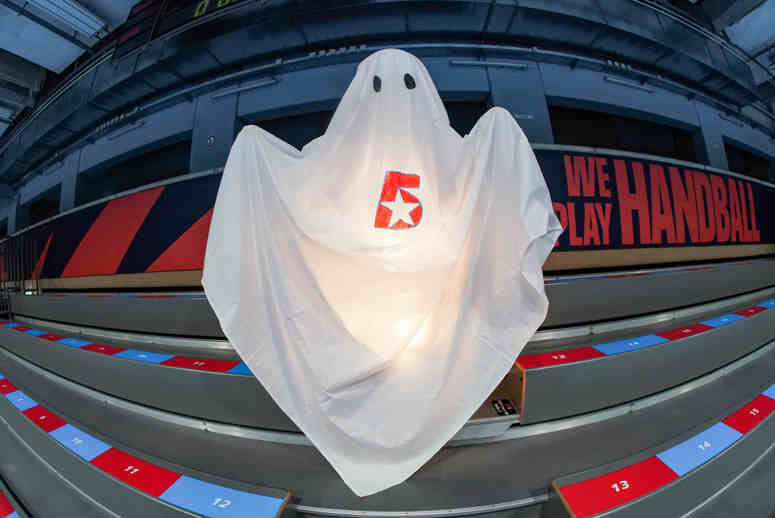 20:54
Early doors in our late throw-offs and there is very little to choose between the 10 teams involved.
In case you missed the game-winner from Ruiz for Plock, here it is in all its glory, what a way to grab victory at the death.
20:36
No rest for the wicked as we move on to our second batch of matches this evening and I have a feeling there is more drama on the way.
Fivers (AUT) vs Abanca Ademar Leon (ESP)
Sporting CP (POR) vs USAM Nimes Gard (FRA)
RK Nexe (CRO) vs SC Magdeburg (GER)
Montpellier HB (FRA) vs Alingsas HK (SWE)
RK Trimo Trebnje (SLO) vs HC Eurofarm Pelister (MKD)
20:22 | RESULTS
Fenix Toulouse HB 25:26 Orlen Wisla Plock 
Füchse Berlin 33:29 CS Dinamo Bucuresti 
IFK Kristianstad 32:25 TATRAN Presov 
HC CSKA 32:24 Besiktas Aygaz
Toulouse are fast becoming the go-to team for late drama in the European League! After finding themselves 24:22 down, they go on a 3:0 run in three minutes to lead with just over a minute to play. 
Alvaro Ruiz equalises for Plock while drawing a two-minute suspension for Toulouse, who are now a man down in their final attack, they lose possession and now Plock have the chance to snatch back victory...
And it's Ruiz again! This time on the end of an in-flight goal to secure a 26:25 victory for Plock, giving their understrength squad a third win in the group phase.
20:06
Final six minutes of the game in Toulouse and Plock have regained control, just about, leading 24:22. Still plenty of time for things to change and so more saves like this will be welcomed by the home side.
Meanwhile, Füchse and Kristiansand look to have wrapped up victory and CSKA still look comfortable despite an improved effort by Besiktas.

19:57
We're into the final quarter of our early throw-offs and it looks like Toulouse and Plock is going down to the wire. Ntanzi has now scored 7 this evening and helped Fenix take a 21:20 lead.
19:49
Things are getting tight in Berlin as Dinamo cut the deficit to 19:18 eight minutes into the second period. Füchse's Twitter account is getting antsy, telling their players to wake up and play their own game...
19:44
Kristianstad seem to have grabbed the game by the scruff of the neck and now lead 18:14 after 38 minutes. The key in defence for Ljubo Vranjes' men seems to be keeping big Oliver Rabek quiet and they're doing it well in this second half.
19:33
I do love a good behind-the-back finish and this one from Edouard Kempf did not disappoint. This is the best of his four goals so far for Fenix.
19:23 | HALF-TIME
Fenix Toulouse HB 12:14 Orlen Wisla Plock 
Füchse Berlin 15:12 CS Dinamo Bucuresti 
IFK Kristianstad 14:13 TATRAN Presov 
HC CSKA 21:9 Besiktas Aygaz
Three tight contests so far and one blow-out as Besiktas look set for another humbling defeat, this time at the hands of the ever-improving CSKA.
Berlin raced ahead early on against Dinamo but have been pulled back somewhat into a real battle. The other two games are too close to call so far, all the more reason to stay with us on the blog and on EHFTV.
19:18
Sadou Ntanzi is taking to life at Toulouse very nicely. Four goals already for the young playmaker on loan from PSG and he has helped bring Fenix back into the game against Plock. The hosts trail 13:12 after 27 minutes and it looks like another tense evening is in store for them and their fans.
19:10
Brilliant saves like this are keeping Presov in the hunt against Kristianstad this evening. The Swedish side lead 11:9 after 24 minutes in one of the tighter games so far today.
18:53
The action is underway, just a few minutes in and we've already seen a couple of teams open big leads. CSKA are wasting no time against Besiktas, racing into a 7:1 advantage and there is goals galore in Berlin, with Füchse scoring most of them and holding an 8:4 advantage.

18:15
We're back for the build-up to this evening's European League fun with nine matches on the way. Here's a quick reminder of the four matches throwing off in just 30 minutes.
Fenix Toulouse HB (FRA) vs Orlen Wisla Plock (POL)
Füchse Berlin (GER) vs CS Dinamo Bucuresti (ROU)
IFK Kristianstad (SWE) vs TATRAN Presov (SVK)
HC CSKA (RUS) vs Besiktas Aygaz (TUR)
13:03
As for the later throw-offs, it has to be 2018 EHF Champions League winners Montpellier playing host to last week's giant-killers Alingsas. In case you missed what happened in their game against Magdeburg last week, you're in for a treat.
We'll be back with coverage of the evening's action from 18:15 CET!
12:52
One of the games I'm most looking forward to in the early games this evening is Toulouse vs Plock, a top of the table clash in group A. Plock are without a number of players for the clash, including Michal Daszek and Niko Mindegia, and have travelled to France with a squad of 13.
Fenix have already treated us to two entertaining draws with Leon, so expect more drama today.
12:30
Rhein-Neckar Löwen and Grundfos Tatabanya got the European action off to an early start on Monday evening, playing a rescheduled match. The German side came out on top and sit pretty on three wins from three in Group D. Read more about the game below.
12:00
Good afternoon and welcome to the live blog for round 5 of the European League Men. Another fairly packed schedule today so we will have plenty to keep you entertained throughout the evening.
18:45 CET
Fenix Toulouse HB (FRA) vs Orlen Wisla Plock (POL)
Füchse Berlin (GER) vs CS Dinamo Bucuresti (ROU)
IFK Kristianstad (SWE) vs TATRAN Presov (SVK)
HC CSKA (RUS) vs Besiktas Aygaz (TUR)
20:45 CET
Fivers (AUT) vs Abanca Ademar Leon (ESP)
Sporting CP (POR) vs USAM Nimes Gard (FRA)
RK Nexe (CRO) vs SC Magdeburg (GER)
Montpellier HB (FRA) vs Alingsas HK (SWE)
RK Trimo Trebnje (SLO) vs HC Eurofarm Pelister (MKD)