SUMMARY: Trophy goes to Magdeburg as enthralling season ends
The final day of the TruckScout24 EHF FINAL4 2023 brought the European club season to an end on Sunday, as SC Magdeburg edged Barlinek Industria Kielce 30:29 after extra time in the final to become the new EHF Champions League titleholders, hours after Barça defeated Paris Saint-Germain HB 37:31 in the match for the third place.



















21:30
And so we face the final curtain of the Machineseeker EHF Champions League 2022/23 season. An intriguing season, with a memorable ending at the TruckScout24 EHF FINAL4 this weekend – and with SC Magdeburg as our proud new champions.
It has been my pleasure to guide you through those final days of the 2022/23 campaign. Like in any live blog during the season, I want to leave you with some of the best pictures of the day, and this time, also with a quote from the man who reached for the stars – and touched them at LANXESS arena this weekend.
Thanks for joining us here, take care and until next season! Auf Wiedersehen aus Köln!
I didn't even know if I would play 24 hours ago. The doctors already told me that this injury could last until next year. But our physio team and the doctors managed to get my shoulder back on track so I could play tonight. They are the real MVPs tonight.
21:19
The season finishes with an absolutely stunning TruckScout24 EHF FINAL4. You can now watch the highlights of the final and the third place game on our YouTube Home of Handball channel:
<p
21:06
Two matches that bring the Machineseeker EHF Champions League 2022/23 season to an end. Barça end on a high note against PSG by claiming third place; and Magdeburg win their second European title in three seasons (after the EHF European League in 2021) and become our new champions.
Here are the reviews from EHF journalist Kevin Domas:
20:58
And here is the moment of the season: Magdeburg are crowned EHF Champions League 2022/23 winners and receive the trophy:
20:51
What a story for Gísli Kristjánsson!
Initially he was expected to miss the entire TruckScout24 EHF FINAL4 after sustaining an ankle injury in May. He came back just in time to make it to Cologne, but then dislocated his shoulder in Saturday's semi-final with a reported recovery time of "several months"... but the next day he is back again, steps on court, and helps Magdeburg win the final against Kielce.
Just a fairy tale, isn't it?
Wait, that is not all... he is now also named MVP of this weekend!
20:33
Yes, Magdeburg have got it! EHF President Michael Wiederer hands captain Christian O'Sullivan the trophy that 15 other teams also wanted to win when the Machineseeker EHF Champions League season started all the way back in September.
The spectators in LANXESS arena cannot get enough of this. Magdeburg are the first German winners of the EHF FINAL4 since THW Kiel won it in 2020. 
20:27
The awards ceremony is running, so not long now until Magdeburg can lift that coveted trophy finally again after 21 years. Well, the trophy as such is a different one compared to 2002, but the title is the same! Herzliche Gratulation!
20:25
The decisive moment of the final, a free throw after the final buzzer:
20:23
What a weekend for Kay Smits! He scores 12 times in the the semi-final and eight in the final to help Magdeburg win their second trophy... and he himself is now the first male EHF Champions League winner from the Netherlands. Let's hear hist first reaction:
An unbelievable fight. A dream come true! My emotions? I don't know how to describe them. It feels unreal right now.
Incredible scenes on the court and the stands in LANXESS arena! Magdeburg return to the throne after 21 years. Daniel Duijshebaev has his free throw after the final buzzer blocked by the wall of Magdeburg players as the German side hold on to their 30:29 lead.
What a weekend, what a final, and what a winner!
20:11 +++ Magdeburg are the new champions +++
20:02
Gísli Kristjánsson sets up Michael Damgaard as Magdeburg go two up now, 29:27, with four minutes left.
20:01
Magdeburg switch sides with an advantage of one goal: 28:27 after Kay Smits converts yet another penalty, his time for inside defending.
Five enthralling minutes left. Who oh who is going to lift that trophy soon?
19:58
Szymon Sicko with an inflight goal for 27:27, with one minute left in the first half of extra time. Good stuff!
Yo, here we are again! The final goes into extra time as Kielce cannot convert their last chance in regular time.
60 minutes have not separated Magdeburg and Kielce; will the additional 10 minutes?
19:48
20 seconds left, 26:26, and Kielce have the ball. Of course, Talant Dujshebaev calls a timeout now. Does he have the tactical masterplan to help his team win this?
19:46
Wow, Christian O'Sullivan gets the red card (his second of the weekend) after a faulty substitution. Magdeburg are down one player for the remaining of regular time. How important is that going to be?
19:42
Both teams swapping leads now, but never more than one goal in it anymore. Two minutes on the clock and it is 25:25, who is going to be the cleverer, or the luckier, one?
19:40
After those semi-finals yesterday, we are enjoying another match that is going down to the wire. What an energy, what a thrilling action here at LANXESS arena.
19:34
Magdeburg are back level: Matthias Musche makes it 22:22 with his fourth of the game. What a final this is, with seven minutes left to play!
19:29
Yes, we are running again, and Michael Damgaard finds the net right away to open up this final again. Only one goal in it now: 22:21 for Kielce!
19:27
Round of applause from the crowd as the person receiving medical attention is transported out of the arena. Let's hope the person in question is OK, and we expect play to continue soon now.
19:15
Play has been interrupted since someone in the stands needs medical attention.
19:08
Here is that Nikola Portner penalty save which helped Magdeburg get back on track. 
19:06
The atmosphere at LANXESS arena is a guarantee for goosebumps!

19:02
Magdeburg respond well. Nikola Portner brilliantly saves an Arkadiusz Moryto penalty and Magnus Saugstrup reduces the deficit to two: 18:16.
18:58
That is the first four-goal lead for Kielce this final, it is 18:14 to the 2016 champions.
Backed by a confident Andreas Wolff in goal, they certainly have the momentum on their side now.
18:55
High-pace start to the second half with three goals in the first 90 seconds – and Kielce extending their lead to three goals: 17:14.
18:46
Let's hear from EHF journalist Kevin Domas, following the final as close as possible: courtside in LANXESS arena:
"Magdeburg are obviously high on adrenaline after their qualification yesterday, and it seems to be motivating them through this final. But how much fuel is left in the tank? After a bad start, Kielce took the momentum, led by an amazing performance from Alex Dujshebaev. If SCM want to turn things around, they will have to be as energetic as they were early in the first half. That will not be easy !"
18:41
Kielce lead and Alex Dujshebaev is superior, but the story of the first half is the miracle comeback of Gísli Kristjánsson for Magdeburg. Knocked out and shoulder dislocated on Saturday, but playing the EHF Champions League final on Sunday. And scoring three times on top of that.
"Who needs a shoulder?" EHFTV commentator Chris O'Reilly asked in his commentary.
What a first half! Arkadiusz Moryto beats the buzzer to give Kielce a two-goal advantage at the break, after they had to come back from three goals down early on.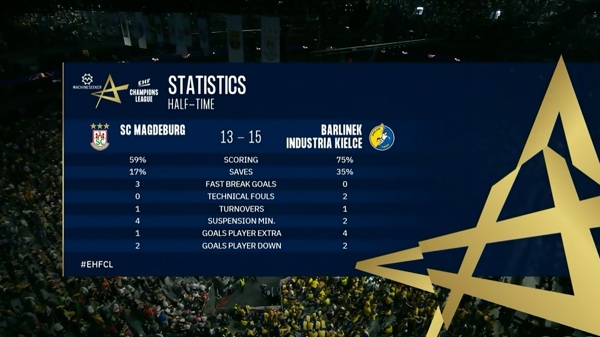 18:34
Team timeout Magdeburg. They had their flying start into this final but Kielce have taken over control, led by an impeccable Alex Dujshebaev.
14:12 to Kielce and less than a minute on the clock.
18:27
First two-goal lead for Kielce 11:9, by Alex Dujshebaev, who is already on five goals this final. Six minutes left in this intense first half.
18:19
17 minutes, 50 seconds played and Gísli Kristjánsson steps on the court. And he scores right away! What a story this is!
18:17
First lead for Kielce, 7:6 after 15 minutes. Nice finish from the right wing by Benoit Kounkoud. Kielce are gaining some grip on this final now.
18:14
Kielce slowly but steadily getting into this final as goalkeeper Andreas Wolff clicks into gear. Dylan Nahi from the left wing makes it 6:6 after 12 minutes of play.
18:09
These opening minutes clearly belong to Magdeburg. They have a flying start, even though Kay Smits just has his penalty saved by Andreas Wolff, which would have given them a 5:2 lead over Kielce.
18:05
Quick start for Magdeburg and they are 3:1 up in three and a half minutes. Gísli Kristjánsson obviously beginning on the bench, let's see when, and if, Magdeburg will need him.
18:01
Magdeburg have thrown off, the final is underway. Enjoy!
17:56
The players are being called onto the court. Lots of cheering for Gísli Kristjánsson, less than 24 hours after dislocating his shoulder. Will he really play?
What an atmosphere here in LANXESS arena!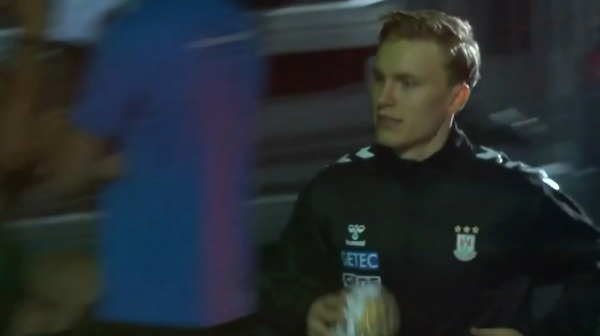 17:45
As promised, here are the results of our poll who you see as the new EHF Champions League winners. While 60.5 per cent this morning expected Kielce to lift the trophy, 15 minutes before throw-off the result is way more in the balance: 52.2 vs 47.8 per cent.
Just what you expect for what should be a close and exciting contest.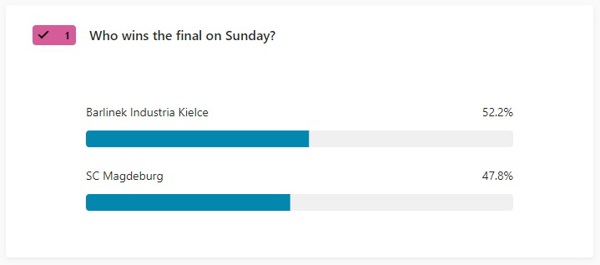 17:28
The many, many Kielce fans stuck to their tradition to walk from the Cologne Cathedral to LANXESS arena prior to the match of their heroes. Look at the stunning pictures of their march through the city and over the bridge, making sure everyone in Cologne, even non-handball fans, knows what is going on today.








17:19
Well, do we see that right? Gísli Kristjánsson was of course a surprise name on the roster for Magdeburg released earlier today since suffering what appeared to be a really severe shoulder injury against Barça yesterday. OK, so he is with the team, but now he is even throwing a few balls during warmups...
17:15
The fans are in the stands, the teams are on court for their warmups... only 45 minutes now until the biggest men's club handball match of the year throws off here in LANXESS arena.
The final between Magdeburg and Kielce brings together two teams that showed nerves of steel when they came through the closest possible semi-finals on Saturday.
Each aiming for their second title – who will get it?
16:52
Barça settle for bronze, PSG leave empty-handed. Let's hear from Blaz Janc and Kamil Syprzak right after the third place match here at LANXESS arena:
I am really happy. After yesterday, we today showed our character. We are a true team. I am happy and proud of this team that we won today.
If you are playing against the best team in the world, you must bring your best handball. The first 20 mninutes we were not there. In the second half it was the PSG from the whole season.
Barça leave no doubt! They failed to live up to their billing as title favourites again, but a day after that dramatic loss to Magdeburg, they have been sharp and motivated to at least end the season with a win and third place at the TruckScout24 EHF FINAL4.
Blaz Janc with seven goals their best scorer; Kamil Syprzak and Sadou N'Tanzi both had also seven for PSG.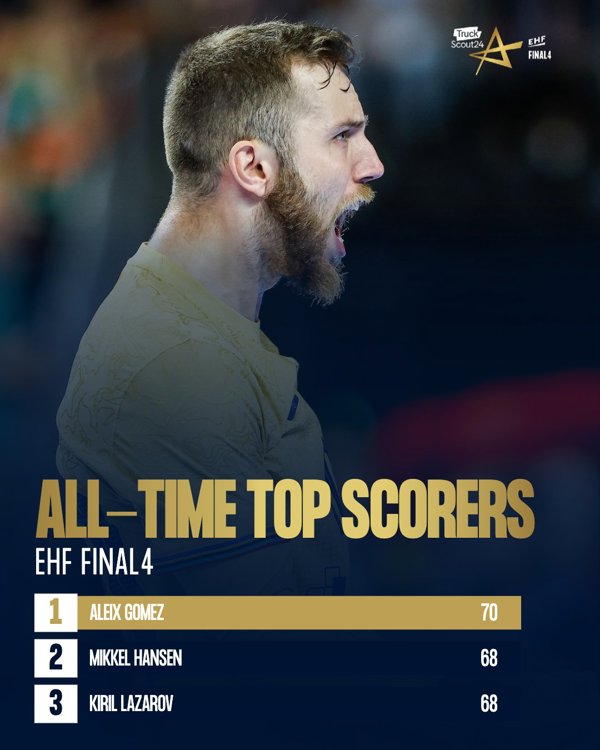 16:34
Talking about milestone goals: PSG's Polish line player Kamil Syprzak has passed the 100-goal mark for the season. Not an everyday achievement, even though he would rather have seen PSG winning here in Cologne... 
16:28
Barça cruising towards the third place. PSG have closed the gap, which has been 10 at one point, to five goals again (32:27) but still hard to see a different outcome created in the last 10 minutes.
16:22
There you go, a true piece of handmade history: Aleix Gómez scores his third of the match and 69th of his career at the EHF FINAL4 to become the sole all-time top scorer of the annual event. Congrats, Aleix!
15:56
A pretty one-sided affair with Barça carving out a nine-goal lead over PSG. Let's hear from EHF journalist Kevin Domas who is here courtside:
"Placement matches at the EHF FINAL4 are always about the team that recovers the best from their semi-final loss. And it appears clear that Paris' heads are still set to yesterday at the moment. With Luc Steins sitting on the bench, it appears the French team is without ideas, while Barça are firing on all cylinders. And you can count on them not to let anything go after the break."
Barça have been clearly up for this a lot more than PSG. Both teams with some changes in the lineup, but Barça playing it like a proper competitive match.
And with Aleix Gómez netting for 22:13 in the last minute of the first half, that makes him the shared all-time EHF FINAL4 top scorer with 68 goals. Pretty sure we are going to see at least No. 69 after the break, which would put him in outright first position past Mikkel Hansen and Kiril Lazarov.
15:46
PSG finding their stride a little bit, closing the gap to five at one point, also thanks to Jannick Green. Indeed, not every Barça attack is a goal:
15:33
Well, Barça showing PSG all sides of the court in LANXESS arena so far, already going eight up (15:7) after 16 minutes. Kind of unreal feeling after those closer-than-close semi-finals Saturday...
15:30
Talking about season top scorers earlier, we might see a new all-time top scorer at the EHF FINAL4. Currently Mikkel Hansen and Kiril Lazarov have netted the most goals in total in Cologne: 68.
Barça's Aleix Gómez has scored once today to raise his career EHF FINAL4 tally to 67, which leaves him just one short of matching those two legends of the sport on 68 goals.
What an achievement!
15:26
Meanwhile, Barça have opened a three-goal lead (9:6) over PSG within 11 minutes. The moment for PSG coach Raul Gonzalez to call his first team timeout.
15:17
PSG and Barça have thrown off the third-place match. Just before that, the official closing press conference took place, and the EHF and its main partners drew very positive conclusions of the event and the EHF club season as such – even with two important matches still coming up.
EHF journalist Kevin Domas visited the press conference here at LANXESS arena:
14:15
We are one hour away from throw-off for the third place game. Of course, both Barça and PSG were bitterly disappointed after losing those close semi-finals less than 24 hours ago. But both teams are eager to finish the season on a high.
Warmups are in full flow here at LANXESS arena and no doubt: they are going to give it their all one more time – not just for themselves, but also for the fans in this once more sold-out arena.
13:46
With two more matches coming up to wrap up the season, let's have a look at the top scorers' standings. We are in a special situation here, since the most likely No. 1 is not even playing at the TruckScout24 EHF FINAL4: GOG's Emil Madsen (photo courtesy of Lau Nielsen).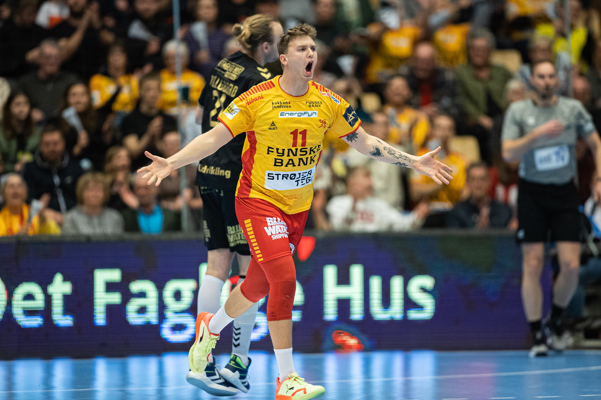 GOG have had an excellent campaign in the Machineseeker EHF Champions League, which was only ended by Barça in the quarter-finals. Madsen ended on 107 goals, a tally that can only hardly be broken in Cologne this weekend.
In fact, there are basically two players, who have an outside chance to still catch up with Madsen:
Kamil Syprzak is on 96, so the PSG line player would need to score a stunning 11 times in the third-place match against Barça this afternoon;
Arkadiusz Moryto is on 95, so a 12-goal outing for his Kielce in the final against Magdeburg would not only see him win the EHF Champions League trophy but also the (joined) top scorers' title.
Interestingly, Moryto is the player with highest efficiency rate (nearly 82 per cent) of all players in the current top 10 top scorers, which looks as follows:

13:07
Barça wanted to keep their streak going, PSG wanted to lift the trophy for the first time. Both not happening, we know since Saturday's drama-filled semi-finals.
The teams meet today at 15:15 CEST to play for the third place. Looking at the head-to-head stats, Barça look strong favourites this afternoon, having won seven of their nine previous duels with their only defeat dating back to November 2016, and they triumphed the only time the teams met in Cologne before – in the 2020 semi-final. 
But then again, what do stats from the past say about the present at an EHF FINAL4?

12:32
Since last night, the Big Question in handball is: who wins the EHF Champions League trophy, Magdeburg or Kielce?
We started a poll on the live blog right after the second semi-final yesterday, and so far, Kielce have received the most votes, leading with 60.5 pet cent compared to Magdeburg's 39.5. You can still vote below, so let's see who is the favourite once we get closer to the throw-off at 18:00 CEST.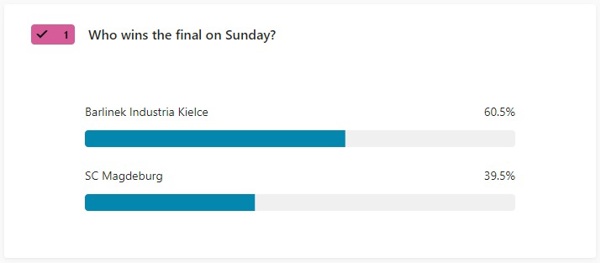 11:34
LANXESS arena exploded during the two semi-finals on Saturday. Here is how both winning clubs reacted on Twitter:
11:07
Two more matches and the Machineseeker EHF Champions League 2022/23 season is done and dusted. What a season it has already been, and the most important match is still coming up.
Here is Sunday's preview from EHF journalist Kevin Domas:
10:34
To get you in the mood for today (well, you probably already are!), watch this:
10:23
While our colleagues on the Twitch show speak German at the moment and will switch to Spanish (12:00 CEST) and Polish (13:30 CEST) later, we stick with English on the live blog here.
What a day we have in prospect! After those thrilling semi-finals, this is the schedule for today: 

10:10
Guten Morgen aus Köln!
It doesn't get much more exciting than today: we are going to witness the final at the TruckScout24 EHF FINAL4 2023 at 18:00 CEST between SC Magdeburg and Barlinek Industria Kielce. Before that, Barça and Paris Saint-Germain HB contest the third place match from 15:15 CEST.
If you are a Magdeburg fan, or support any other team but understand German, then make sure to tune in to our Twitch channel right NOW as we have just started our daily show – in German language.