EHF Champions League
Gros dominates coach choices for All-star Team
With only the title-deciding weekend in Budapest remaining in the DELO EHF Champions League 2020/21, voting for the season's All-star Team, presented by the Delo Group, will soon be launched here on eurohandball.com.
We begin with an exclusive sneak peek at the nominations, which will ultimately include six options per position and a total of 60 individuals from which fans will decide the final selection for 2020/21.
The first 10 nominees — one per position — are those chosen by the coach vote, which saw participation from all head coaches of the 16 clubs that played the season.
The coaches were in overwhelming regarding some positions, while others saw far more divided opinions.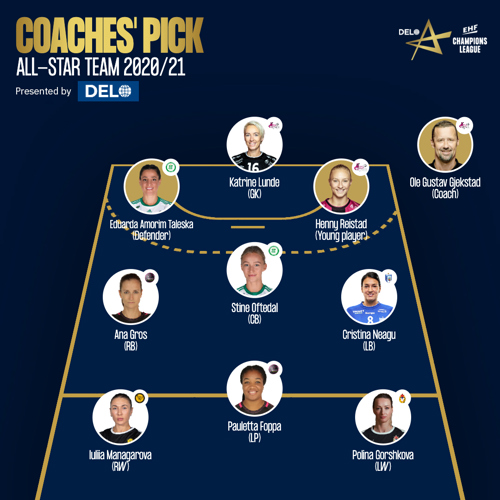 15 out of 16 head coaches chose Ana Gros as the All-star right back, making the top scorer of the season far and away the favourite choice in any position as she gears up for her first DELO EHF FINAL4, with Brest.
Behind Gros with the second most votes, 11 apiece, were two Norwegian playmakers: Györ's Stine Oftedal as best centre back and Vipers' Henny Reistad as best young player.
With nine votes, Brest line player Pauletta Foppa was the favoured choice of the coaches in her position, while CSM's Cristina Neagu was picked by seven coaches as best left back.
Regarding their own position, seven coaches nominated Vipers head coach Ole Gustav Gjekstad as the standout of the season.
For the season's best goalkeeper and left and right wings, the coach opinion was far more divided.  
More names on the list of nominees will be revealed next week, so stay tuned, follow the EHF Champions League on social media and keep visiting us here eurohandball.com.