Legendary players enter the Hall of Fame of European handball
The season 2022/23 of European handball has put the spotlight on the history made over the past three decades, with old handball records being broken and new ones set. The culmination of the year, in which the European Handball Federation celebrates its 30th anniversary, is set for Monday when the EHF honours legends of the game and introduces them to the first Hall of Fame of European handball.
The induction to the Hall of Fame takes place at the EHF Excellence Awards in Vienna on the same day. The inaugural edition of the Awards honours the best players of the season and presents the MVP of 2022/23.
For the Hall of Fame, 60 legendary players – two for each competition season organised by the European Handball Federation – will be honoured for their outstanding performances on and off the court and their overall contribution to European handball in the last 30 years.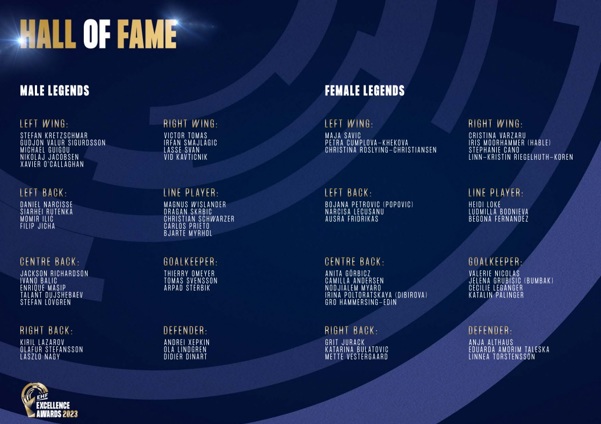 The illustrious list includes among others seven-time EHF Champions League winner Andrei Xepkin, goalkeeper legend and Olympic, World and European champion with France, Thierry Omeyer, six-time EHF Champions League winner Bojana Popovic, and three-time European champion Gro Hammerseng-Edin.
Michael Wiederer, EHF President, said: "We are delighted to honour the legends of our game at the culmination of the 30th anniversary of European handball. Introducing the EHF Excellence Awards and the Hall of Fame puts the spotlight at the best players of the season and pays tribute to those who have left a mark on the sport of handball. Their sporting achievements speak of their greatness and we are proud to give recognition to players who have shaped our game."
An overview of all 60 players can be found here.