Soon-to-be 'European Handball Managers' look back at successful first week
19 participants have started their journey to become 'European Handball Managers' (EHM) as the course's third edition kicked off at the German Sports University last week.
The EHM is a joint project of the German Sports University in Cologne and the European Handball Federation aiming to provide handball-centred knowledge in the fields of economy, law and communication.
It takes place on an annual basis, with the course language alternating between German and English.
After former German internationals such as Henning Fritz, Holger Glandorf and Grit Jurack successfully attended the first edition two years ago, this year's German intake again attracted some household names in handball: Rhein-Neckar Löwen managing director, Jennifer Kettemann, and former Austrian international and long-time Bundesliga player Viktor Szilagyi, who has become his former club's, Bergischer HC, sports director, among them.
"What has been particularly important for me was the strong reference to practice when it came to topics such as working laws and handball management. The theory was part of the powerpoint; the examples came from handball. Hence everything was always up to date and very close to reality," said Jennifer Kettemann after the first week.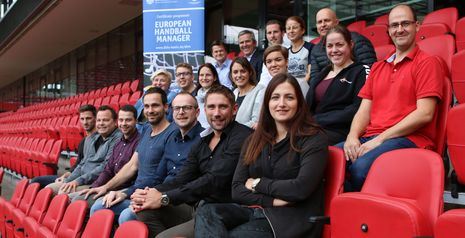 For handball coach and former German international Heike Ahlgrimm the first opened up new perspectives.
"It was very interesting for me to get to know more about the theoretical backgrounds – and, of course, to network with the other participants. The lecturers were good and I'm taking a lot of new inputs home with me," she said.
Among the lecturers was Gerd Butzeck, the managing director of Forum Club Handball, who spoke about team sport governance as well as strategic handball management on Thursday and Friday.
"The lessons on strategic management have been particularly important for me because they touched on questions that we are currently asking ourselves at HSG Wetzlar," said Wetzlar's marketing director Alexander Finke.
"In which direction do we want to develop? How and where do we position ourselves compared to other clubs in the same region? There has been a lot of knowledge which I can transfer perfectly into my daily job," he said.
The soon-to-be European Handball Managers will gather again in Cologne early next year for the course's next modules.
Also early next year the application phase for the next English intake will start. More information is available at
https://www.dshs-koeln.de/en/department-of-further-education/master-certificate-programmes/certificate-programmes/european-handball-manager/