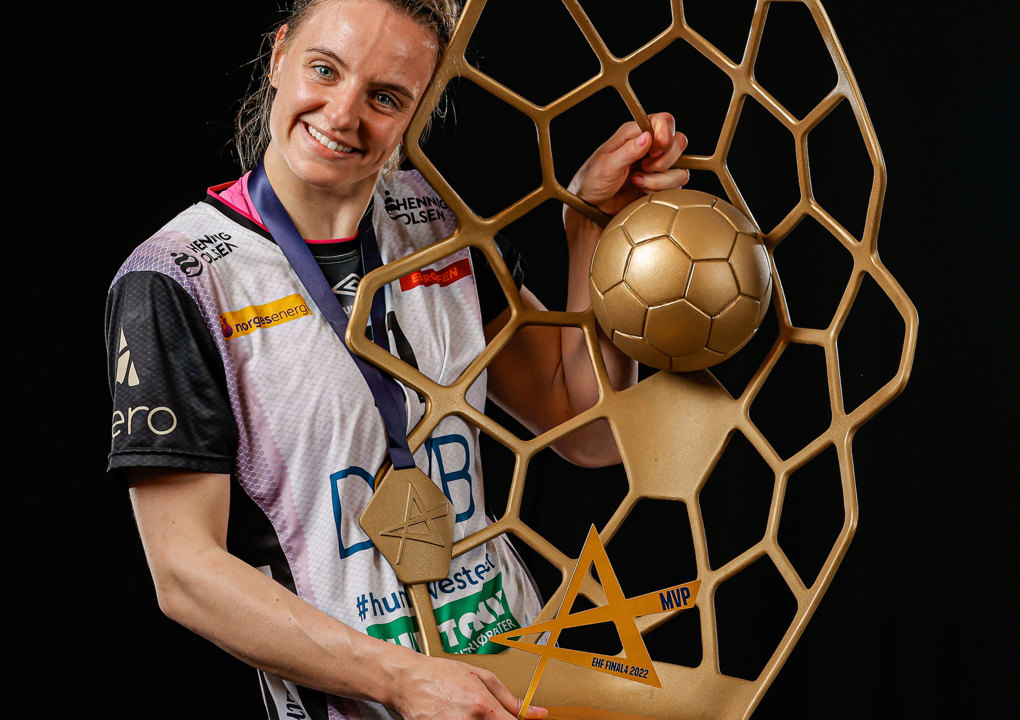 This is me: Marketa Jerabkova
In a team boasting experienced players like Katrine Lunde, Nora Mørk or Isabelle Gulldén, few would have bet that Vipers Kristiansand's top player at the EHF FINAL4 would be a player that has just recently signed for the Norwegian powerhouse.
Czech back Marketa Jerabkova had never played in the EHF Champions League Women before 2021/22, but after a sensational season she finished on a high. Jerabkova scored 19 goals in two matches in the EHF FINAL4 to become the first-ever Czech MVP of the competition.
She now tells her story, going into detail about her beginnings, the struggles and the role models she had until reaching handball's pinnacle.


This is Me: Marketa Jerabkova
I was born in Plzeň, a city known better for its beer, rather than handball. But it was written in my destiny to play sports: my father was a football player, who had games in the Czech first league, while my brother is also a professional ice hockey player.
I guess it just runs in the family. But handball? Well, that is a different story. For me, it first started with gymnastics, but soon I got addicted to handball. It is a team sport, I like being part of a team, I always liked to get on with others.
And now, now I am the MVP of the EHF FINAL4 and a winner of the EHF Champions League Women. Never in my wildest dreams, when I was 12 or 13, and playing in the Czech Republic, would I have thought I would be here, on the biggest of stages, with these trophies next to me.
But do not get me wrong, I am not boasting. I am just thinking about the past, about the sacrifices I made, about the rivers of tears that were flowing from my eyes, whenever I thought about home.
At the age of 17, I left Plzeň for Most, to play for one of the best teams in the Czech Republic, DHK Banik Most. It was difficult and I was feeling a bit homesick, but I kept telling myself that it was all worth it, that soon everything was going to be better.
What I was missing the most was, of course, my family, and, especially, my brother, Jakub, who I have already told you is a professional ice hockey player. He was my idol, the one I was always looking up to and trying to copy him to be the best I could.
I followed his games wherever he played in the Czech league or even in the NHL, in the United States. But soon, I understood that I had to improve, to become a better version of myself, if I wanted to succeed.
This is why I took another important decision, after I made my debut in the national team of the Czech Republic at the EHF EURO 2016: if I were to hit the mark, I needed to try to play handball in a foreign country.

I knew that it was going to be difficult, but I already knew a bit how it is going to be. Remember, I left home when I was only 17 years old and it was difficult.
But moving to Hungary, to play for Érd, was also difficult. There was another language, a different culture, a different way of playing handball. I learnt to adapt, like I have been doing my whole life.
And it worked pretty good, I must admit. After two years in Hungary, I felt like I needed to make another step forward and I went to Germany, to play for Thüringer HC. Another few months to adapt, but the journey was worth it, I also learnt a lot there.
But the best decision of my career, probably, was to come here to Norway, to play for Vipers Kristiansand. They were already the winners of the Champions League and had big ambitions.
But was I good enough to make it here? Doubts were on my mind, especially as I had never played in this competition, at this huge level before. But I finally moved there and I immediately adapted. I feel at home here in Norway and I think it is clear from the way I play there are no problems.

So, enough about me and how I got here. What about this amazing EHF FINAL4? Did I think it would go this way? Probably not exactly this way, but I envisioned myself and my teammates lifting the trophy, despite playing against the best teams in Europe.
And, yes, this was one of the best evenings, if not the best, of my entire life. Like I told you before, when you are 12 or 13 years old and you make some sacrifices and you cry a lot, you can only dream about such a happy ending.
But dreams do come true sometimes. At least mine did. Because in the past two days, we played some amazing handball, I felt that we were great and we constantly got the chance to reset whenever things were not necessarily going our way.
Scoring 19 goals on such a big stage was also amazing, but it would have not been possible without the help of my teammates, who played a huge part in my performance. Because this is what I am thinking about – putting the team ahead of myself.

These two wins against Metz and Györ have been spectacular and sometimes I have to pinch myself to see that everything is true. But every time I did it, I saw it was not a dream, it was reality.
Something that helped me grasp everything that was happening was looking into the corner of the stand where the 'Pink Wall' was sitting. Our fans have been amazing, but that section of the MVM Dome also contained our friends and family.
Seeing Jakub and my family there was just an amazing feeling, a moment that I will never forget and that I will cherish every time in my life. We hugged for a few moments, which seemed like an eternity and it felt like it was never going to end. Or, at least, this is how I felt it.
It was just superb seeing so many people proud of what we did and of everything we pulled off. Winning is amazing and can bring you a lot of adrenaline and it is truly rewarding both the work we put in throughout the season, but also the sacrifices made in life.

Oh, I nearly forgot. The MVP award? Really? For me? I never thought about it and when I was announced, I was a bit shaken. Of course, humbled and honoured to receive it and a big motivation to keep it up.
What am I thinking about now, just moments after I won my first title in the Champions League? Pretty much nothing, really. I just want to enjoy the moment. But because the question gets asked a lot of times, I am also thinking about handball in the Czech Republic.
Will it get more popular? I hope so. It is an amazing sport and it deserves to have many more fans.
Will the Czech Republic also eye better results? Surely, my dream is to play at the Olympic Games one time.
But for now, I just feel I love handball and this sentiment has never been so strong for me than this evening.
One of the best of my life, one that I will never forget. I am proud to be part of this amazing team and to have clinched this trophy.
Marketa Jerabkova
5 June 2022