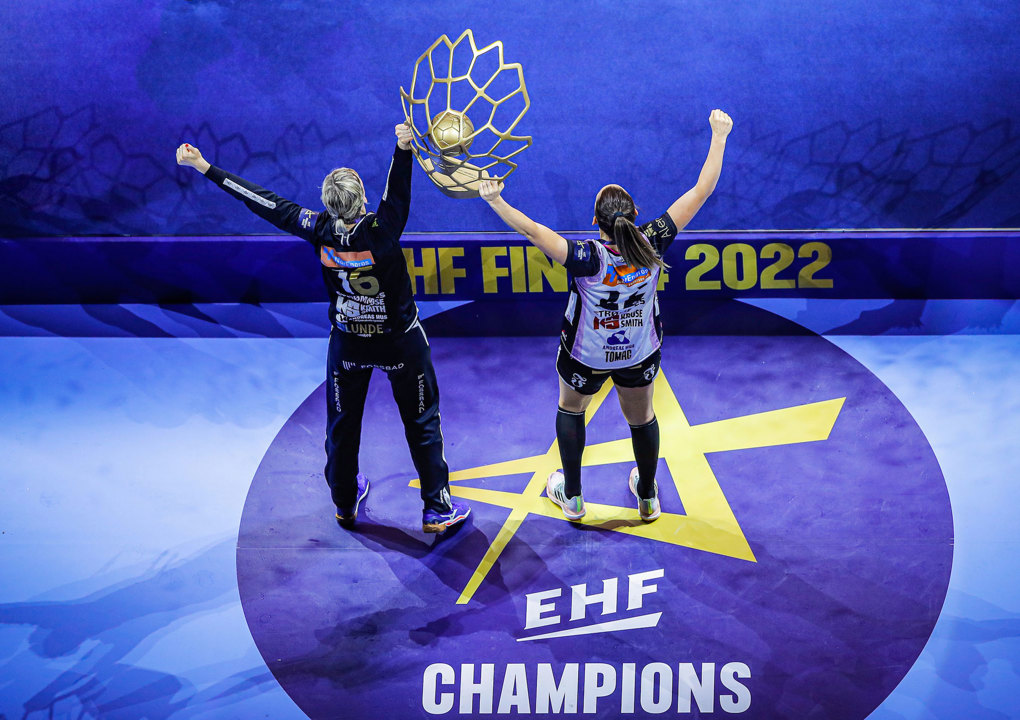 Summary: Vipers retain EHF Champions League title
Vipers defeated Györ to claim their second straight EHF Champions League Women 2021/22 title on Sunday night. Metz beat Esbjerg for third place.







21:40
That's all from us in Budapest. It's been a superb festival of handball with four teams playing to their maximum - a brilliant way to end the EHF Champions League Women 2021/22 season. 
We hope you've enjoyed all our live coverage. Check back to the website and social media in the next few days for reaction and more exclusive content.
I think it's a little bit crazy to take this challenge, and be crazy not to stand there and wait. We know that most of the crowd are cheering for Györ, and we need to step up and be there.
20:45
As the army of staff and volunteers clear up the court, we've got the highlights of the final ready for you.

20:28
Today's match set a whole raft of records - check out the match review to find out which ones, and how Vipers managed to defeat the favourites in front of the huge crowd in the MVM Dome.
20:19
Isabelle Gulldén's little boy is on stage with her, along with Marta Tomac and her daughter, all having a glorious time playing with the pink confetti that showered down on the players during the ceremony.
20:12
As Vipers celebrate, a word about Amandine Leynaud - she played astonishingly well yesterday and couldn't quite replicate that today, but what a legend she is. She might not be ending her career with the second title she wanted, but she has definitely made her mark.
Isabelle Gulldén is also a legend of the sport and also leaving the EHF Champions League - ending her fifth EHF FINAL4 the same way her first one did, with a defeat of Györ in the final. 
19:59
CSM Bucuresti's Cristina Neagu has held on to the top scorer trophy, with 110 goals across the season. Vipers Kristiansand's Markéta Jerábková is named MVP of the EHF FINAL4 after scoring 19 goals across both matches this weekend.
19:52
Sheer joy from Vipers, and rightly so after an impressive performance.
VIPERS RETAIN THE TITLE! 
They forced Györ to make mistakes, and stayed strong throughout. It's a sixth title for Nora Mørk and Katrine Lunde - denying Györ their sixth title in the process.
19:32
Ana Debelic puts Vipers up by four for the first time. Surely this is it now - one minute left.
19:28
We're into the last five minutes, and Vipers are keeping hold of that three-goal lead - now at 32:29. 
At least the home fans will have someone to cheer for, whatever the result!

19:22
Still two goals separate the sides. Ole Gustav Gjekstad has used his second timeout.
Ryu Eun Hee receives a two-minute suspension to roars of disapproval from the fans.
19:18
Györ are not going away, but neither are Vipers. The reigning champions are forcing errors from the record champions, and every time Györ score, Vipers answer. Just over 10 minutes left in this.
19:13
Vipers are playing seven-on-six in attack now. 
19:10
Laura Glauser is in fact now on court, but Vipers are still in the lead by three goals - 25:22 - with about 16 minutes to go. Ambros Martin is using his second timeout. Don't rule Györ out ...

19:06
Silje Solberg is in goal for Györ now, but hasn't yet made any saves. Still, she played superbly yesterday - and if she is struggling, Ambros Martin has the luxury of swapping her for Amandine Leynaud or Laura Glauser. 
Ole Gustav Gjekstad is choosing to stick with Lunde. 
19:02
After a slightly poor start to the game, Katrine Lunde has clicked into gear; and after a poor start to the half, Vipers' attack has also clicked and they're back to a three-goal lead. 
18:58
That didn't take long; a 3:1 run bring Györ back level at 16:16, with a couple of mistakes by Vipers opening the door to the record champions.
18:56
And we're back underway. 







18:45 HALF-TIME | Györi Audi ETO KC 13:15 Vipers Kristiansand
With the last second Nora Mørk manages to get the ball past Amandine Leynaud - it's reviewed by the referees before being given. That gives Vipers a two-goal buffer at the break, but they're playing the record champions ...
EHF journalist Adrian Costeiu gives his assessment of the first half:
For the 15,400 fans in the MVM Dome and millions watching at home, on TV, this has surely been a roller-coaster ride. For the first 13 minutes, Györ's attack has been nothing short of superb, as the Hungarian side scored 10 times and looked to be in the clear. But in the next seven minutes, the Hungarian powerhouse scored only three times, with turnovers and misses piling up unexpectedly.
It was both of a case of Vipers really upping the ante on the defence, but also Györ's inability to create and convert clear-cut chances in front of experienced goalkeeper Katrine Lunde, who finished the first half with a 33.3 per cent saving efficiency.
In the EHF FINAL4 era, Györ have been only once down at half-time in five finals before today's game against Vipers. The final result back then? A painful loss on penalties against CSM Bucuresti.
However, the Hungarian side still have broad support in the MVM Dome, and their fans have really made it noisy when it mattered. Adding that the attendance is a world record for women's club handball, it will definitely be difficult for Vipers in the second half. But they made it last year in Budapest.
18:35
Ole Gustav Gjekstad calls his first timeout, to steady his side's nerves as Györ edge back to 12:14. There's less than three minutes to go in this half. 
18:30
A 6:0 run from Vipers gave them a 13:10 lead, with Györ not scoring for nine minutes and 40 seconds. The drought is ended with a penalty, successfully taken by Anne Mette Hansen. 
18:27
This match is being played in front of another record crowd for women's club handball - 15,400 people inside the MVM Dome. 
18:25
And the match is level at 10:10!
Vipers had a chance to take the lead but Isabelle Gulldén's penalty hit the posts. A couple of minutes later, Jana Knedlikova does score and Ambros Martin instantly calls a timeout.

18:20
Györ hold on to a two or three-goal advantage but Vipers are bringing some good play, and are just now in a better patch which could help them get closer again.

18:15
Györ take an 8:5 lead. Katrine Lunde hasn't had the same start to this match as she did yesterday, while Amandine Leynaud has saved three shots from eight. Györ look to have a bit more speed and efficiency right now, but it's still early days.
18:08
It's been a high-octane start to the game and so far the teams are playing on an equal level, wasting little time in taking the ball back at the start of each attack. 
Vipers concede their first penalty and Andrea Pedersen is brought on to defend it - but Veronica Kristiansen scores, giving the Hungarian team a 3:2 lead.
18:05
We're starting with Amandine Leynaud and Katrine Lunde in goal. Vipers defended well in Györ's first attack, and Lunde did not have to do anything - at the other end, Isabelle Gulldén made scoring her 50th goal in the EHF FINAL4 look easy.
18:03 | THROW-OFF
Sixty minutes remain to decide the EHF Champions League Women 2021/22 season. 
17:55
The teams are being introduced, beginning with Vipers. It's set to be the last appearance in the Champions League for several players, including Isabelle Gulldén and Amandine Leynaud - the former going to Lugi in Sweden, and the latter retiring.
17:49
Kristina Liscevic of Valcea has appeared to sing - she's as an accomplished singer as she is a handball player! 
17:45
The noise in this amazing arena is going to be crazy. The court is being prepared for the pre-show, but the Györ fans are already in full voice.
17:30
Half an hour until the big event! Adrian Costeiu is back with some pre-match facts:
Everybody loves goals, right? Well, there is a battle for the top goal scoring award too before the last game of the season and it surely will go down to the wire.
At this point, CSM Bucuresti's Romanian left back, Cristina Neagu, is leading the standings, with 110 goals, ahead of Esbjerg's Henny Reistad, who has 104 goals and Slovenian back Ana Gros, also with 104 goals.
But the only player still active who can turn the standings upside down is Vipers' right back Nora Mørk.
Mørk has one game in hand, the final against Györ, and will need eight goals to leapfrog Neagu and win her first top scoring award in the EHF Champions League Women.
Should Neagu secure the title, it would be her third top goal scoring title, tying Natalia Morskova and Nataliya Derepasko as the player with the biggest number of such titles.








17:05
Here's the match review from that placement match. 
Meanwhile Anja and Nedzad are live again on Twitch to preview the big final, which throws off in less than an hour!
Metz make it a best-ever finish in the EHF Champions League, beating Esbjerg to finish third. It's been a typical third-place match in many ways, with end-of-season fatigue showing in both teams. 
Esbjerg can go away looking positively on the future; this was also their best-ever finish in the competition, and another EHF FINAL4 is surely within their sights. 
16:40
A lovely goal from Adriana Cardoso puts Metz up by six goals (29:23) once more, with six and a half minutes to go. Jesper Jensen calls a timeout. Esbjerg are showing good fighting spirit, but Metz are simply playing better at the moment.
16:34
Esbjerg have not been able to really capitalise on a power play period with Tamara Horacek suspended, scoring only once in the two minutes. Metz lead 26:23, with nine minutes on the clock.

16:25
Metz responded quickly to Esbjerg's comeback and in a 4:1 run have pulled away again, to a 24:19 lead. 
The goalkeepers have not had a good afternoon, although this double save from Rikke Poulsen was excellent. But Poulsen has saved just three shots, Dinah Eckerle one, and Ivana Kapitanovic four - Poulsen's save efficiency of 21.4 per cent being the highest.

16:20
This is much better from Esbjerg, and Henny Reistad in particular has stepped up - scoring four times in under eight minutes, to bring her game tally to seven. She's now on 101 for the season, and is chasing Ana Gros (104) in the standings.
That's helped Esbjerg get back to 18:20.

16:14
In these early minutes of the second half, Esbjerg have stepped up their defence and just now successfully held off the Metz attack. The gap has narrowed to four goals.
16:08
The second half has started. What energy have Jesper Jensen's 14 women got left?




15:58
A statistic that won't please Esbjerg fans: Esbjerg have not conceded 18 goals in the first half of an EHF Champions League Women game since October 2020, when they lost to... Metz Handball, 29:31 (14:18).
15:55 HALF-TIME | TEAM ESBJERG 12:18 METZ HANDBALL
It has not been the first half Esbjerg would have hoped for, and Metz are capitalising on it, as Adrian Costeiu reports:
Turning the ball over seven times in the first 16 minutes of a game is hardly a recipe for success in a competition as fierce as the EHF Champions League Women. This is why it was surprising to see Team Esbjerg, a side that had conceded a single loss on their way to Budapest, make so many mistakes in the first half of the 3/4 placement match against Metz Handball.
As Jesper Jensen's side failed to score for 10 minutes and 58 seconds in the first part of the game, Metz doubled down on their superb defence with an efficient attack and used a 5:0 unanswered run to open up a 7:2 lead.
In what turns out to be her last game for Metz Handball before moving on to other side this summer, centre back Grace Zaadi had a flawless first half, putting up superb numbers, six goals from six shots, to lead the way for the French champions.
It might turn out to be Metz's first win in the EHF FINAL4, so that could be an important moment for Emmanuel Mayonnade's side. True, they made a mess of the second half of yesterday's semi-final against Vipers Kristiansand, but this Esbjerg side does not look poised to mount a serious comeback.
15:44
At times in the semi-final it looked like Henny Reistad would win the match single-handedly, and she's not yet on the same form this afternoon. However, this is a trademark shot from the centre back.

15:36
It's 11 minutes since Esbjerg scored and they've had a period with too many mistakes and poor discipline. Beyza Türkoglu manages a lucky goal to make it 3:7, but then Esbjerg concede their third penalty of the match and Grace Zaadi nets it. 
15:28
With Metz streaking to a 5:2 lead after 10 minutes Jesper Jensen calls an early timeout. They've been trying to stretch out the attacks, but Metz's defence is a bit too good and the French side are scoring more easily at the moment. 
15:22
Grace Zaadi also had a quiet game yesterday, but her second of this match comes inside six minutes. It's possibly her last match for Metz and she'll want to end what has been a rather rollercoaster season with a win, after she returned home to France from Rostov-Don in March.
15:17 | THROW-OFF
Metz have the first attack, but it's Esbjerg who score first on their second after the ball goes from end to end with no goal. Sanna Solberg-Isaksen, who had a quiet game yesterday, is the scorer.
15:13
Our Twitter poll suggests that Metz are favourites to win this. Not long now until we find out if Twitter is right.
15:00
Right, attention now turns to the placement match. A win for Metz would be their best-ever finish in the EHF Champions League - Esbjerg have already sealed that record for themselves by making Budapest. However, no Danish team have finished on the podium since Viborg were champions in 2010. 
Throw-off is in 15 minutes.
14:48
Györ have assured fans no players were injured as they played a lively game on their morning walk. We'll find out later how important this sort of team-building can be.
14:30
In the arena, the Metz fans have warmed up their voices as their team came on to warm up - the Esbjerg fans were a little quieter. 
Camila Micijevic and Ivana Kapitanovic spent a bit of time encouraging the fans to keep singing. Micijevic is largely here in a cheerleading capacity because of her injury, but who better than the ever-cheerful back to keep spirits high?
Elsewhere, Crina Pintea refereed as Veronica Kristiansen and Estelle Nze Minko put their drawing skills to our Buda-test.

14:20
The pre-match show on Twitch has started - head over to join Anja and Nedzad and a series of guests!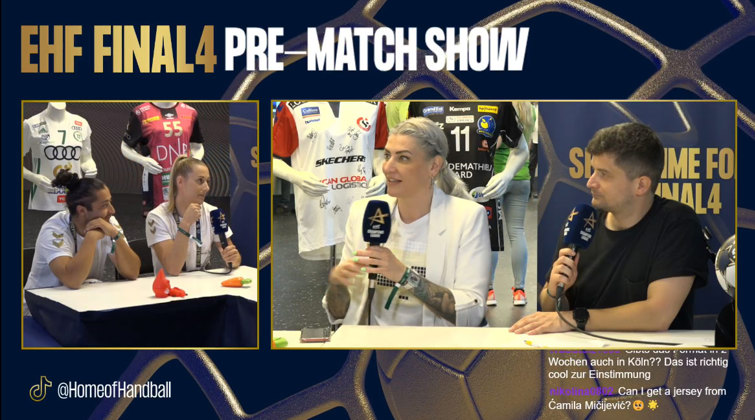 14:00
The teams are in the house, the fans are starting to gather, and they're playing 'The Final Countdown' on the stage outside ...


13:15
Two hours until the 3/4 placement match throws off and here's EHF journalist Adrian Costeiu with a few pr-match thoughts.
Another full card of games in Budapest today and there are just a few hours before the big answer – the winner of this season's EHF Champions League Women.
Until the final, though, we still have a game between Metz Handball and Team Esbjerg, two teams that have never won a game in the EHF FINAL4. Therefore, one of them will have their maiden win in the business end of the European premium competition, yet this looks like another well-balanced game, with both teams boasting pros and cons in their rosters.
While Metz do not count on back Camila Micijevic, who is injured and provides a big blow to their defence, Esbjerg have little depth, which was on display in yesterday's semi-final against Györ, especially in the second half.
The Danish side are also superb in defence, despite conceding 32 goals against Györ, but one of their two losses this season came against a French side, Brest Bretagne Handball. We have an interesting game on our hands, so let's just enjoy handball in the superb MVM Dome.
12:23
Turn your sound on and enjoy some of yesterday's emotion to get yourselves geared up for later on.
We'll be off to the arena shortly, and the blog will carry on live from the MVM Dome.

11:55
No big sporting event would be possible without the work of all the volunteers and staff behind the scenes. The team in Budapest are doing an amazing job bringing the EHF FINAL4 to the MVM Dome. Enjoy a few shots of them busy making the magic happen. 







11:30
The final is at 18:00 CEST, here in Hungary, but if you're wondering what time that is in your part of the world, we've done the time zone maths for you. We'd love to know if anyone's staying up in Asia or Australasia to watch!

11:00
The teamsheets are out for today's matches, and there are no changes in any of the line-ups for these final games of the season.
The final includes Norwegians and Hungarians on both sides - with Silje Solberg, Veronica Kristiansen and Stine Oftedal appearing for Györ, and Zsuzsanna Tomori playing for Vipers. 
Eszter Ogonovsky of Györ is the youngest player on court at just 18, while Katrine Lunde is the oldest, at 42. And four Vipers players (Lunde, Tomori, Nora Mørk and Jana Knedlikova) previously played for and won the EHF Champions League with Györ.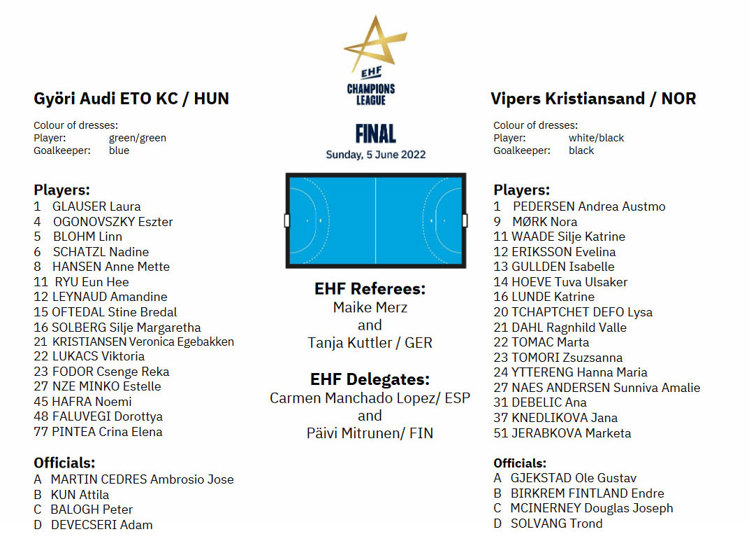 Meanwhile there are also Norwegians in the Esbjerg squad - with Kristine Breistøl, Vilde Ingstad, Marit Røsberg Jacobsen, Henny Reistad and Sanna Solberg-Isaksen part of an otherwise heavily Danish team. Most of Metz's players are French, although Louise Burgaard finds herself lining up against her Danish compatriots, Croatia is represented by goalkeeper Ivana Kapitanovic and the injured Camila Micijevic, and Brazil by Bruna de Paula, who pulled off some incredible shots yesterday.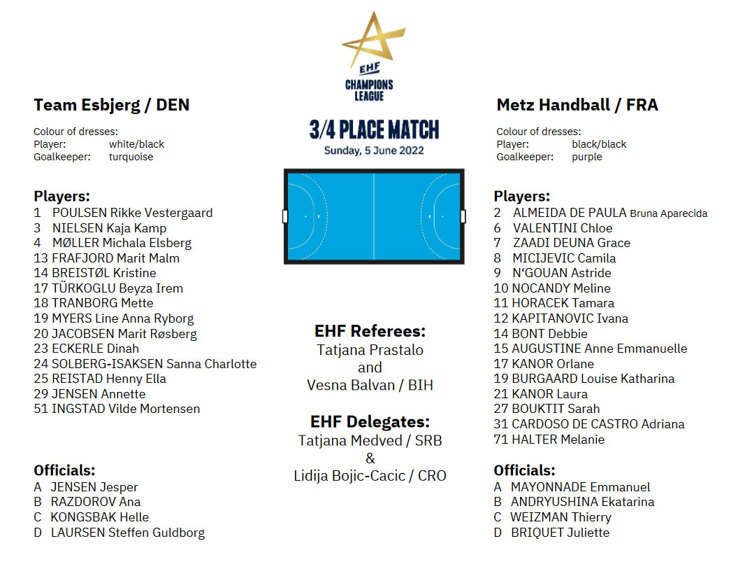 10:30
Here are the highlights of the second semi-final yesterday, between Metz and Vipers. It was a game which started well for Vipers before turning in Metz's favour, before Vipers took control again.
10:15
If you can't wait five hours for more handball, take a look at the highlights of yesterday's games - first up, Györ against Esbjerg.

09:48
Before today's games Anja Althaus and Nedzad Smajlagic will be live from the MVM Dome on Twitch again to talk about what's in store.
If you missed yesterday's shows, catch up with the pre-match show here and the between-match show here.
09:20
Good morning from Budapest, where we're still digesting the excitement of yesterday's games and anticipating the afternoon's drama.
To start off today's blog, here is the preview for both the final between Györ and Vipers, and the 3/4 placement match which begins today's action between Esbjerg and Metz.
Saturday 4 June
20:50
So to close tonight's coverage, a quick poll - who will win the final?
20:20
Here's the second match review, packed with facts and stats about that game - we're set for a cracking final tomorrow.
We had a small blackout after a good start, but we managed to get back from that. I believed in us, and we gave everything in this game. The most important thing is that we reached the final.








19:48
Marta Tomac is still on court, playing with two little kids and a ball, while the Vipers fans remain in the stands. It's really rather adorable.
Vipers' hopes of retaining their title remain alive. They met Metz three times this year, but it was the third time which counted. 
Markéta Jerábková and Katrine Lunde were particularly key for the reigning champions, with 12 goals and 16 saves (38 per cent) respectively. 
19:25
Less than five minutes to go, and surely Vipers now have this - they lead 31:25.
19:22
Did we speak too soon? Metz have rallied, and brought it back to a five-goal game. But Katrine Lunde's still there ...
19:14
With more than 13 minutes to play Emmanuel Mayonnade takes his third timeout. Metz trail 21:27 - it's not over, but the way Vipers are playing now suggest Les Dragonnes have a lot of work to do to catch up.
Katrine Lunde is making save after save.
19:10
The momentum has gone back to Vipers, and Metz are beginning to make costly mistakes. Nora Mørk scores her sixth goal of the game - and her fifth penalty - and Vipers now have a 24:20 lead.
Mørk, by the way, now has 102 goals this season. She needs eight more today and tomorrow to match Cristina Neagu, on 110.
19:01
A sloppy pass is stolen by Metz and taken home by Laura Kanor, giving the women in yellow a one-goal lead once more - but Vipers equalise. 
18:55
Markéta Jerábková is the game's top scorer with seven goals, and she's the first to score as the second half gets underway. Vipers are level again, it's all to play for.






18:43 HALF-TIME | METZ HANDBALL 15:14 VIPERS KRISTIANSAND
What a comeback from the French side! It looked like Vipers were going to romp away with the game, but Metz rallied, as EHF journalist Adrian Costeiu explains:
All the signs pointed to a final between Györi Audi ETO KC and Vipers Kristiansand, after the Norwegian side led by as many as five goals in the first half. The game did not start badly for Metz, but when their attack dried up, definitely helped by a flurry of saves from experienced goalkeeper Katrine Lunde, they did not have the means to stop Vipers' superb attack, which was set up by creative passes from Isabelle Gulldén, who is now playing in her last EHF FINAL4.
But after a well-taken timeout by coach Emmanuel Mayonnade, Metz's defence just woke up and forced mistake after mistake from Vipers' attack, which failed to score in the last eight minutes and 57 seconds of the first half.
A 6:0 run to take back the lead at the break, instilled new life into Metz, with Bruna de Paula and Tamara Horacek each scoring twice. Suddenly, we do have a game on our hands and there is everything to play for!
18:35
Metz are back to two goals and Nora Mørk receives a suspension; she walks off looking disbelieving. The Metz fans are in full song now.

18:30
Bruna de Paula has pulled off another couple of incredible shots, and Metz are back to 11:14 from being five goals down. 
18:24
A glimmer of hope for Metz who win a penalty, once again scored by Tamara Horacek, and it's 8:12. Metz have to get back into the match quickly - currently it's mostly going Vipers' way.

18:17
Metz's coach Emmanuel Mayonnade has called a timeout, with his team trailing 5:8. Vipers have pulled off some incredible shots in the last few minutes - and Katrine Lunde has saved half of Metz's attempts.

18:10
A quick turnaround by Vipers puts them back on terms. After struggling with the Metz defence initially, they're now finding ways past.
18:06 | THROW-OFF
We're off! Orlane Kanor scores first for Metz, and Vipers' attack is repelled. Les Dragonnes take an early two-goal lead as Vipers then concede a penalty, scored by Tamara Horacek.
17:58
The teams are introduced, and the second semi-final will throw off very soon!
17:45
A few pre-match thoughts from EHF journalist Adrian Costeiu:
Only four teams – Hypo Niederosterreich, Slagelse FH, Viborg HK and Györi Audi ETO KC – have retained the EHF Champions League Women title. Now, Vipers could join the club, provided they make it to the final, against Metz Handball.
Yes, Metz are back for the first time since the 2018/19 season, where they conceded two losses. Technically, they are still searching for their first win at the EHF FINAL4.
With two wins against Vipers this season in the group phase, Metz might look like favourites. But the Norwegian champions must not be underestimated, as they peak at the right time, just like last season.
With Nora Mørk playing her last two games for Vipers, before moving to Team Esbjerg, it might be a superb swansong for the Norwegian right back. She only needs 15 goals in these two games in Budapest to pass Cristina Neagu as the top scorer of the competition, after having already scored 96 goals. Can she do it?
17:40
Metz and Vipers are on court warming up. This could be a fascinating contest, and although Metz have beaten Vipers twice this season the French side are taking nothing for granted.






There were some up and down moments in our game, but we finally got the key to unlock Esbjerg's defence in the second half and we took advantage of it. It was a tough game, but we are so happy of what we achieved.
17:09
Hot off the (virtual) press, here's our match review of that first semi-final. Warm-up for the second matches is beginning soon.
Györ book their place in yet another EHF FINAL4 final after a very impressive second half. But give Team Esbjerg lots of credit for a courageous performance throughout in their debut in the tournament. 
16:50
You have to give Esbjerg credit. With only 12 field players, and losing one of them halfway through the second half, they have kept battling. The difference has been Ambros Martin's decision to switch starting right back Veronica Kristiansen for Ryu Eun Hee, and the stellar performance of the Györ goalkeepers throughout. 
But Györ are now on the cusp of victory. 

16:42
Another save from Amandine Leynaud, a goal from Viktória Lukács, and Györ open the gap to five. Jesper Jensen calls his last timeout, clearly deciding it's now or never. There are seven minutes to play.
16:36
Silje Solberg has had a superb match - 11 saves from 32 shots - but she's now off and resting, and Amandine Leynaud has come on. She made a great start by saving a Henny Reistad penalty and is now two saves from three shots. 
Jesper Jensen calls a timeout. It's 26:23 with just over 11 minutes to go.

16:32
Mette Tranborg receives her third suspension, and that's her done for the match. How will Esbjerg respond?
The answer is a rocket from Kristine Breistøl, and Esbjerg are back to 24:22. 


16:28
Györ hold only a three-goal lead but the momentum is on their side, after a fifth suspension for Esbjerg and yet another save by Silje Solberg. Then Linn Blohm scores and the Hungarian club have a four-goal advantage.
16:21
Stine Oftedal scores and the TV spends so much time on her celebrations that it misses a great steal by Estelle Nze Minko. She makes quick work of scoring it, and then Crina Pintea's first goal puts Györ up by three - the biggest margin the match so far.
16:17
Györ have started this half very much on the attack, quickly gaining a two-goal lead before Henny Reistad's seventh goal pegs it back to one. 
16:12
The second half begins, and Csenge Fodor scores for Györ.





16:00 HALF-TIME | Györi Audi ETO KC 15:15 TEAM ESBJERG
Here's EHF journalist Adrian Costeiu with his half-time thoughts:
After so much talk about defences, we had a real shoot-out between these two amazing sides. Györ really got going in the last 10 minutes of the first half, after their attack has not been really up to par in the first 20 minutes. It speaks volumes that after 20 minutes, Györ's top scorer was their goalkeeper, Silje Solberg, who scored twice with superb throws in Esbjerg's open goal, right?
But credit where credit is due, Györ's depth really helped them pull through. The introduction of Korean right back Ryu Eun Hee changed the dynamic totally, as she scored three times, but also provided amazing assists to line player Linn Blohm, basically forcing Esbjerg's coach, Jesper Jensen, to take a time-out.
This is a draw now at half-time, mainly due to Esbjerg's great start, as left back Henny Reistad was once again superb, scoring five times. But her productivity started to diminish in the last minutes, as Györ deployed an aggressive 5-1 defence, that morphed even into a 3-3 at times. The second half will definitely be amazing.
15:55
It's Ryu Eun Hee's first EHF FINAL4, and she's the first South Korean player to compete in the tournament - she's now Györ's top scorer with three from three. 

15:50
Esbjerg turn over the ball and Ryu Eun Hee goes on a fast break, but is blocked by Mette Tranborg. She gets the ball off to Linn Blohm, but it's a second suspension for Tranborg and Anne Mette Hansen scores the penalty to make it 13:13. 
15:42
At 10:12 and 20 minutes played, Ambros Martin calls a timeout. He needs it. Silje Solberg, of all people, is joint top scorer alongside Stine Oftedal after another empty-net goal, and Henny Reistad is running riot over the Györ defence. She's scored five of Esbjerg's goals so far.

15:37
Henny Reistad really stepped up for Vipers in last year's EHF FINAL4, and was named MVP as a result. She's making the same sort of impact tonight for Esbjerg, with four goals already. That means she's passed her 2020/21 season tally of 88 goals, and also has the best average score for any player in the EHF FINAL4 after only five games.

15:34
The pressure is showing mostly in poor discipline - Esbjerg have had three two-minute suspensions so far, while Györ have just conceded their third penalty. Silje Solberg saves this one, but Esbjerg lead 7:5.
15:30
Györ concede their second penalty, and although Laura Glauser comes on to take it Kaja Nielsen scores to put Esbjerg up 6:4. It's a good, nerveless start from the debutants.
15:27
Official news just in: attendance for this match is 14,800, a record for women's club handball. 
15:24
Who would have thought that Silje Solberg would score before her sister? Yet with Vilde Ingstad suspended and Esbjerg short-handed, Solberg converts a save into an excellent long-range shot. 
15:21
It's a good first attack from Esbjerg and Kristine Breistøl makes short work to score first. Esbjerg defend well at the other end but concede a penalty, and Veronica Kristiansen converts it against Rikke Poulsen.
15:19 | THROW-OFF
The EHF FINAL4 Women 2022 has started. Vilde Ingstad throws off for Esbjerg.
Györ are playing in white, Esbjerg in red.
15:14
One last bit of administration before we play - the awarding of the All-star Team medals.
15:10
Esbjerg have been introduced, and here come Györ. The noise is absolutely insane and the arena is on its feet.
15:05
Such a cool pre-show - using the court as a giant projector to introduce the teams and the competition. 
14:57
The warm-up is nearly over, the arena is filling up, and the opening show will be starting soon. It's time to grab a drink and snack and settle down in front of the TV - or just keep refreshing this blog if you can't watch live, as we'll be here throughout the afternoon.
Click here for a reminder of how to follow all the action.
14:31
Now Györ are here to warm up, and coach Ambros Martin has rocked out his best Hungarian to thank the fans. We're no experts, but he seemed to do a pretty good job.
14:25
The arena is still filling up, but the cheers and air horns which greeted the first Györ arrivals for the warm-up were pretty deafening. More Esbjerg players are on court right now in actual fact, doing some stretching while the Györ support team make sure everything is ready.

14:15
EHF journalist Adrian Costeiu is here to cover the weekend's games, and he has this to say as the clock ticks down to 60 minutes to throw-off.
Well, we are here! The EHF FINAL4 throw off is just around the corner and we are getting ready for the first game, featuring Györi Audi ETO KC and Team Esbjerg. The two sides have been nothing short of superb this season, conceding a loss each on their way to Budapest.
But who will be the side to clinch the final berth? It looks difficult to decide at a first glance, because Györ have the experience, while Esbjerg are the plucky underdogs.
It will be a battle between two tactical masterminds in Ambros Martin and Jesper Jensen, who engineered the two best defences in the competition. However, the firepower is there in attack for both sides – Györ have the top attack in the competition, while Esbjerg's Henny Reistad – the MVP here in Budapest last season – has scored 86 goals, making a superb pair with fellow Norwegian back Kristine Breistøl.
Will it be a case of Esbjerg's lack of depth becoming crucial? Or Györ will use their experience and go to the final for the fifth time in nine years?
PS. The superb MVM Dome is starting to get greener and greener. Györ will definitely have the advantage in that department.
14:00
Head over to our Twitch channel now - Anja Althaus and Nedzad Smajlagic will be joined by guests including Ana Gros, Kristina Liscevic, Victor Tomas and Mireya Gonzalez as they build up to the matches and then follow the action.
13:55
The doors to the MVM Dome opened two hours before throw-off, and there are already quite a few people in the arena enjoying the pre-pre show. 
The Györ and Metz fans are making friends - will the French fans in yellow have the support of their green-clad Hungarian comrades in the second semi-final?
13:20
Sanna and Silje Solberg are sisters - but today, rivals. Find out more about their relationship in our exclusive video!

12:40
We're about to head to the arena - but first, here are a few shots of it this morning when our influencers visited. Football meeting handball, it's kind of lovely.
The blog will be back well before throw-off, to bring you the final build-up.




12:15
Three hours until the first match throws off!
The opening show will feature the first-ever live performance of Kristina Liscevic's new song, 'Who is the best?' which we're very excited about. It's a proper handball collaboration too, because not only does Liscevic play for Valcea but the video for the song is produced by her teammate Mireya Gonzalez.

11:45
There's lots of great EHF FINAL4 content coming out - we like Metz's wake-up call!

11:23
The teams have now announced their squads for the semi-finals. There are no huge surprises. Esbjerg travelled with a small group, and have named 14 women for today's match. They face 13 field players and Györ's formidable three-strong goalkeeper line-up of Laura Glauser, Amandine Leynaud and Silje Solberg - the latter facing her sister Sanna for Esbjerg.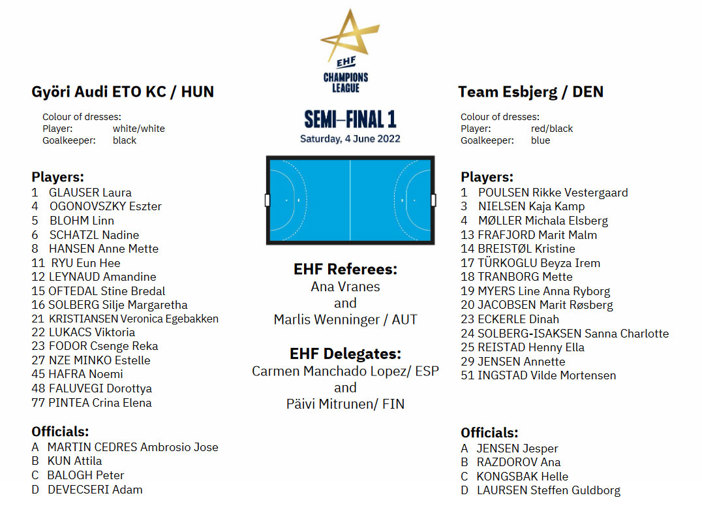 In the second semi-final, it's Vipers who have gone for three goalkeepers, putting all of Andrea Pedersen, Evelina Eriksson and Katrine Lunde in their squad of 16. They will be needed against Metz's efficient attack and scorers such as Grace Zaadi and captain Meline Nocandy.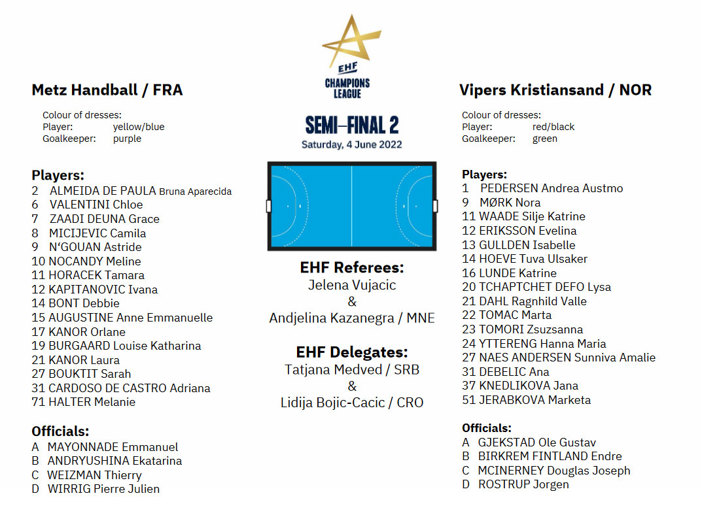 10:53
Fancy yourself an EHF Champions League Women expert? Take our quiz and find out how much you really know about the EHF FINAL4. 
The pictures might not be helpful!
10:35
Györ shared some photos of yesterday's final training session a little earlier on. The pressure is on the record champions to deliver this afternoon. A bit later we'll know the 16 players from each team who will take to the court in the semi-finals.
10:05
As well as all the exclusive coverage on our social media channels to keep you entertained until the 15:15 throw-off, we've got four influencers here in Budapest sharing their experiences of the EHF FINAL4 Women. They've already been to the arena and will be back today for the matches. All their social media handles can be found in our article introducing them.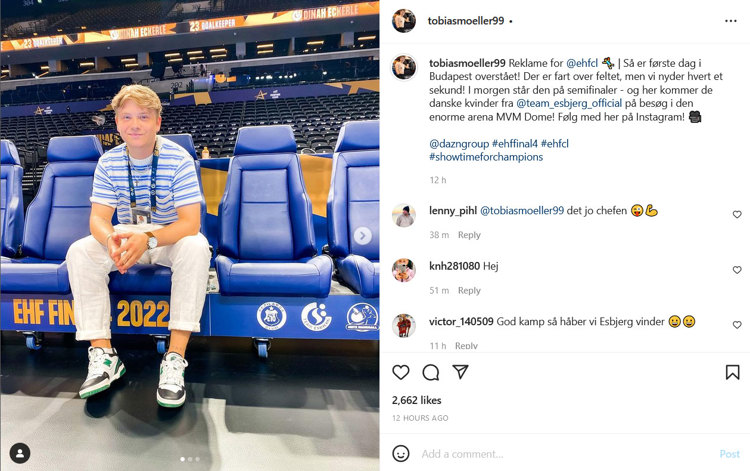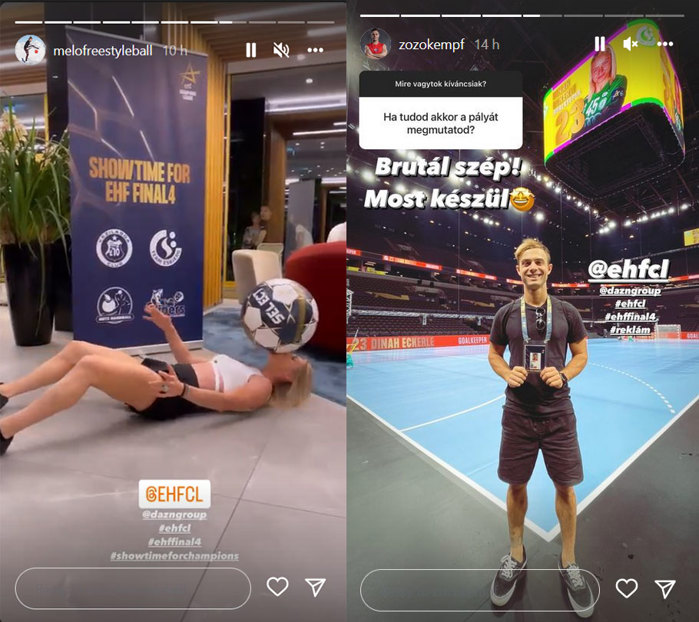 09:40
The opening party and team presentation last night was really a fun occasion, with lots of fans turning out to welcome their sides to Budapest. Our photographers were of course there to capture the occasion.






















09:23
Yesterday Chris O'Reilly and Brian Campion from the (Un)informed Handball Hour sat down with Vipers' Nerea Pena to talk through the weekend. The show was streamed live on Twitch, and you can watch it again there, or if you prefer to listen, click here.

09:00
After 123 matches and 6,712 goals, it's down to the last four teams and the last four games in the EHF Champions League Women 2021/22 season.
Györ, Esbjerg, Metz and Vipers will take the court later today in front of over 12,000 spectators in the magnificent MVM Dome in Budapest in a bid to keep themselves in the running for the trophy, and as usual the live blog is here to keep you on top of all the action.
Let's start with the semi-final preview ...