This is me: Talant Dujshebaev
Twice IHF World Player of the Year, EHF Champions League winner as a player (once) and a coach (four times), Olympic champion, world champion, and, and, and - Talant Dujshebaev has made his mark on handball for over three decades. Since 2014, the 53-year-old former world class playmaker has coached Kielce and even coaches his two sons.
Here, in his own words, Talant Dujshebaev gives an in-depth insight into how it all started in Frunze (nowadays Bishkek) and describes his journey to Poland via Moscow, Santander, Germany and Ciudad Real.

When I was a kid in Frunze in the former Soviet Union, nobody could have guessed that I would even play in the first team of this club, at the top level in my country, never mind make it to a national team or that I would make a career for myself in handball.
But I was lucky. My career includes winding roads and changes, many opportunities and a lot of luck. Partly, I feel like I was in paradise, sometimes I had really hard times. And today, my biggest joy is being the grandpa to little Hugo. This is my story.
My parents had nothing to do with sport, they were workers and worked hard day and night. And my luck began, when we got a new flat in another part of the city of Frunze, now known as Bishkek. For me, this flat meant a new school, new friends and a handball hall nearby. My brothers loved sports too, one was a boxer, the other played football, the third basketball, I choose handball, started playing when I was a juvenile. And I wanted to play an indoor sport, as it was quite cold outside in winter times in today's Kyrgyzstan.
So I found a club, their first men's team played in the first Soviet league, and they were my idols in younger days, such big boys, and then came little Talant to the training. Handball was simply fun for me, I met my friends, it was perfect. No thoughts about becoming a professional or whatever. They were completely different times compared to today - we only had school, sport and home, that is all.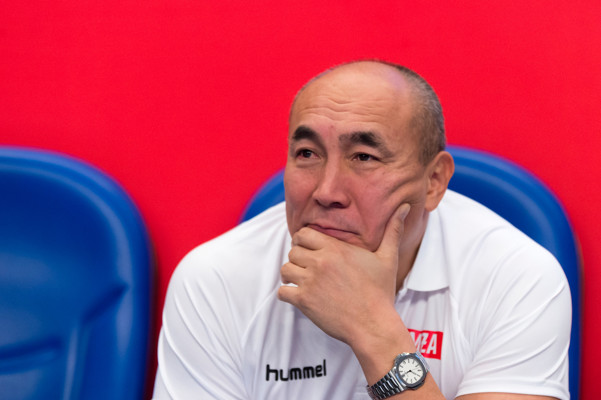 One crucial point for my eventual career was the 1980 Olympic Games in Moscow, we read so much about all the different sports and watched them on TV. When I was 12 years old, I really became a sports fan and I started to like handball players. I never had a real role model for my career, but I still remember Yugoslav player Hrvoje Horvat. I still have videos of his matches at home and, of course, later I had the opportunity to meet him. He was a kind of launching pad for my handball life, I wanted to play like him.
When I was 16, I was promoted to Frunze's men's team as the youngest player in their squad. I learnt so much. But I still never thought that this sport would imprint my life. It took only two years until I was discovered by army club CSKA. First, I played in their youth team, soon after in the senior team. At that time, CSKA were the best handball team in the world, and I was coached by Valeriy Melnik, later Vladimir Maximov in the Soviet junior national team.
I had the pleasure to play and train with some of the globally best handball players of this era, and I felt like a little kid, playing with men. But I made it. And I got to know the most important thing of our sport: individual talent means nothing as handball is a team sport. You are nothing without your team.

Only some years later, the fall of the Berlin Wall and the Warsaw Pact hit all our lives really hard. The Soviet Union did not exist anymore, the whole country was in a full transition, and we did not know anything about our future. Everything was uncertain.
The hardest time was in 1991 and 1992: we trained so hard for our dream to play at the 1992 Olympic Games in Barcelona, but we had no flag, we had no anthem, and we were not Soviets anymore, but still not Russians. We were the CIS, the Commonwealth of Independent States.
But we were young and told ourselves every day: do not care about politics, only focus on handball. And we did! Winning the Olympic gold medal in Barcelona is still the biggest highlight in my career. I would give all trophies I won later for one more gold medal at Olympic Games. But I have one, and this still makes me extremely proud.
One year later, we played our first World Championship under our new name Russia and won the gold medals again, with players such as Andrey Lavrov, Oleg Kiselev or Vasily Kudinov and fabulous coaches Maximov and Spartak Mironovich. It was my first and my last event in the Russian jersey.
One year before, at the age of 24, I felt that the time for something new had come. I left those hard times behind and arrived in a sunny city, which still is my second home: Santander, where my boys Alex and Dani were born.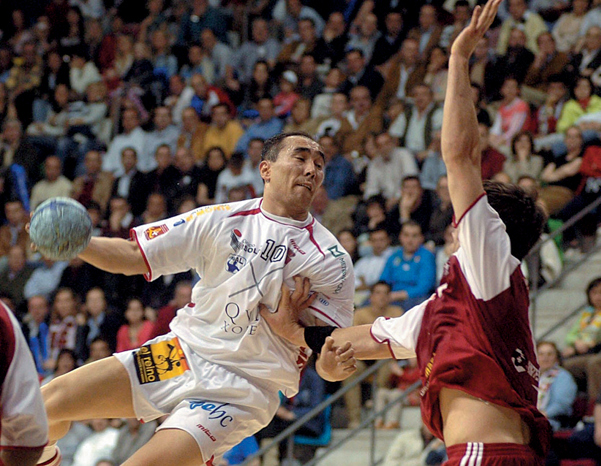 Right in 1992, three new players had arrived in a well-rehearsed and well-balanced team: Mikhail Yakimovich, Mateo Garralda and me. The goals were set high, and the Spanish mentality helped me and Mikhail to integrate very easily. In 1993, we won the IHF Cup, and one year later we made history by becoming the first ever winners of a new competition, which later had a huge impact on my life: the EHF Champions League. It was a steep, rough, and tough way to make it to the winners' podium. Those five years were the best time of my life, and I still have so many friends at Santander.
I received Spanish citizenship and won two silver medals and a bronze at EHF EURO tournaments and two bronze medals at Olympic Games. But I left Spain in 1997 to open another chapter of my handball life, in Germany. One season at Nettelstedt, three at Minden - and looking back, the time at Minden was the most impressive one in terms of life-long friendships. The human side of this Minden project still is what I remember most, on the court we were not as successful as we wanted and due to many injuries, we never had the width in the squad to win a big title.
Playing in the Bundesliga was another important part of my career. Not only because I still speak German. It is a great handball culture, and when Minden was relegated to the second division, my heart was bleeding.
In 2001 – I was 33 – I had to make the next major decision in my life: How long can I still be a player on that level? Will I become a coach later? I had an unbelievably huge offer to sign a three-year contract as a player in Qatar, but then I met Domingo Diaz de Mera, who later became something like a father for me. He introduced me to his project to implement the best handball team ever in a small Spanish city, Ciudad Real. He told me: "Come as a player, play as long as you want, then you will become our coach."

This was exactly the project I was looking for. Sometimes in life, you simply have to say yes. Maybe not all decisions in my life were perfect, but this was the best one. It was a true adventure, like later Kielce became a true adventure for me.
We started the project almost from scratch, and I told Domingo I would play until 2004. In the end, I had my last match as a player in 2007, but I became playing coach in 2005. And already then, BM Ciudad Real was like a family for me.
In those years, I had the honour to coach some of the best handball players, like Arpad Sterbik, José Hombrados, Didier Dinart, Olafur Stefansson, Siarhei Rutenka, Uros Zorman, and later Ivano Balic. For me as a coach, it was my paradise, working only with superstars.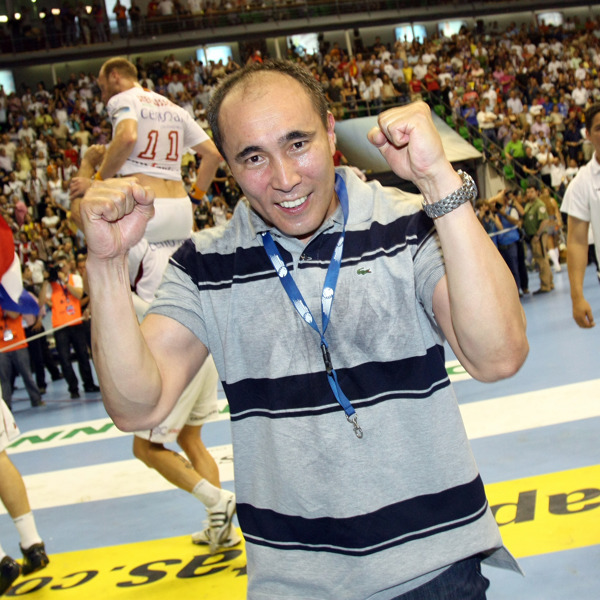 In 2006, we won the Champions League for the first time. For me, it was completely different to 1994, when I won the trophy as a player. We won the trophy again twice, we were ahead of FC Barcelona in the Spanish league, we won the Super Globe, and I am so proud that I was part of this project.
But it was obvious when the financial crisis hit Spain that hard times would come, even our change to Atletico Madrid could not save the club. All players and I fought until the last second, but we shared the same fate with clubs like Santander, Portland San Antonio, or Bidasoa Irun.
And I again had to decide what to do. I needed time to think, but I was absolutely sure that another project would come. And I was right: Bertus Servaas contacted me to join Kielce. Only half a year after the end of Atletico Madrid, I went to Poland.
And right now, I can say: I love Kielce, the handball-crazy city, the club, the team, the staff. Even when we had financial problems some years ago, it was clear to me that I never would leave this club. We managed to stand those challenges, we have won the Champions League already, and it is my dream to win this Champions League trophy again with Kielce.
As a coach in international sports, you can never have long-term plans as everything is connected to success. But I could definitely imagine staying at Kielce until I am 65, when I plan to retire. This is only 12 more years.
Kielce is that special to me, as my boys are here – and family is the most important thing for me. I have never put any pressure on Alex or Dani to become handball players. Even today, being their coach, I feel more like a father and friend than their coach. I did not force Kielce to sign them, it was their performance level which was the reason to join the club.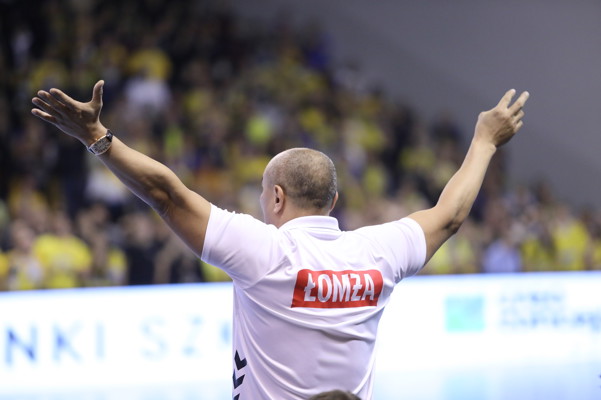 Of course, I do everything for them, but not as their coach, but as their father. Both are highly ambitious; both still can learn a lot. If I can, I help them. To have them both in my team is brilliant. And my little grandson Hugo is the biggest gift Alex could give to his father. I love to be grandfather.
And to be honest, I still see many goals ahead, as I do not want to live in the past: not talking about what happened 10, 20 years ago, but about what can happen in the next three or five years.
One important experience for me was being national team coach in Poland and Hungary. I had always dreamt to coach a national team and to see how it feels when you do not have the players around you every day. Hungary was difficult for me, as I had not been coach in the Hungarian league. Poland became easier, as I was coach here and knew all the players.
In general, by looking back at this point, I can say that handball gave me so much. Though I received many individual awards, handball is still a team sport. I give the two trophies as IHF World Player of the Year for one more Olympic gold medal. And I would never dare to make a choice of the best player of all times. Ask those kids today, nobody knows Birtalan, Wunderlich, Lavrov, Vujovic, Yoon or Wislander, maybe not even Jicha or Balic. But like Karabatic, they all put their stamp on an era. In basketball, you cannot compare Michael Jordan with Kobe Bryant or LeBron James. Was Pelé better than Maradona or Messi?
For me, it is more important to look ahead – as this is my mentality. As this is me, Talant Dujshebaev.
Talant Dujshebaev
February 2022