EHF European Cup
VIDEO: EHF Cup Group Phase draw made in Belgrade
VIDEO: EHF Cup Group Phase draw made in Belgrade
The draw of the Men´s EHF Cup Group Phase was carried out on Thursday in Belgrade on the fringes of the Women´s EHF EURO in Serbia.

The first round of the Group Phase will be played on 9/10 February, with the sixth and the last on 23/24 March 2013. The top two teams from each group will qualify for the quarter-finals, which is scheduled for 20/21 April (first leg) and 27/28 April (second leg).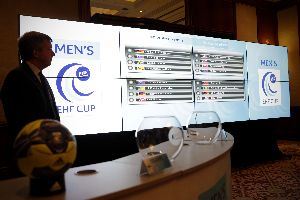 If Nantes, as the organiser of the Final Tournament, win their group or finish among top three second ranked teams, they will receive a direct qualification to the Final Tournament. In that case only four group winners and two best second ranked team will qualify for the quarter-finals.
If Nantes finish as the worst second ranked team, they will have to play the quarter-final match. Should the French club rank on the third or fourth position in their group, they will be out of the competition, but they will still organize the Final Tournament.
Nantes will play against Turkish side Besiktas JK Istanbul, Romania´s Stiinta Municipal Dedeman Bacau and the hottest favourite of the Group D and former EHF Champions Legue winners SC Magdeburg.
In the Group A another German team and the winners of the last edition of the old EHF Cup Frisch Auf! Göppingen will clash last season´s quarter-finalists of the VELUX EHF Champions League RK Cimos Koper, Swedish outfit Eskilstuna Guif and Spain´s Naturhouse La Rioja.
And the third German side Rhein-Neckar Löwen in the Group B will meet Danish KIF Kolding, Slovakian champions Tatran Prešov and Ukrainian HC Motor Zaporozhye.
Orlen Wisła Płock should be the top favourite in the Group C (pictured below) with Norway´s Elverum Handball Herrer, Danish Team Tvis Holstebro and Slovenian RK Branik Maribor.

Men´s EHF Cup Group Phase Draw
Group A
Frisch Auf Göppingen (GER)
RK Cimos Koper (SLO)
Eskilstuna Guif (SWE)
Naturhouse La Rioja (ESP)

Group B
TATRAN Prešov (SVK)
HC Motor Zaporozhye (UKR)
Rhein-Neckar Löwen (GER)
KIF Kolding (DEN)

Group C
Elverum Handball Herrer(NOR)
Team Tvis Holstebro (DEN)
Orlen Wisła Płock (POL)
RK Maribor Branik (SLO)

Group D
Besiktas JK (TUR)
Stiinta Muncipal Dedeman Bacau (ROU)
SC Magdeburg (GER)
HBC Nantes (FRA)
The Final Tournament will be played with two semi-finals and third place match and final on 18/19 May. The venue of this event was announced shortly before the draw today, and was awarded to HBC Nantes and the city of Nantes.

The newly formed Men's EHF Cup merged from the former EHF Cup and the Cup Winners' Cup before this season.