Summary: Granollers and Berlin last standing in title race
The semi-finals in the EHF European League Men 2022/23 saw Granollers beat Göppingen and Füchse Berlin defeat Montpellier. Granollers and Füchse will battle for the trophy on Sunday at 18:00 CEST, while Montpellier and Göppingen play for third at 15:30 CEST. 
21:39
We come to the end of the live blog coverage of the EHF European League Men 2022/23 semi-finals after a thrilling day in Flensburg. By this time tomorrow, the new champions of the competition will have been crowned! 
Here's what we have to look forward to on Sunday 28 May:
final: Füchse Berlin vs Fraikin BM. Granollers 18:00 CEST
3/4 placement match: Montpellier HB vs Frisch Auf Göppingen 15:30 CEST
See you tomorrow!
21:35
The first Spanish finalists in the second-tier European cup competition since 2007, their own first European cup final since they won the EHF Cup in 1996, and a dream come true for a young squad led by experienced Antonia Garcia Robledo — there was so much to say in what was supposed to be a quick interview that we had to turn this one into a feature on its own. 
Read Garcia Robledo's exclusive interview with our EHF Finals Men 2023 journalist Björn Pazen below. 

21:32
What did Granollers and Göppingen think about their semi-final this evening in Flensburg? Watch the press conference to find out, featuring coaches Antonia Rama Garcia and Markus Baur, and players Yusuf Faruk and Kresimir Kozina. 
20:24
What a semi-finals day! Wish you could relive it? At least you can read our match reviews below for journalist Björn Pazen's take on how the games unfolded. 
I believed until the last second that we could win. There was no single breaking point in the match — we simply missed too many chances. Granollers kept on fighting, and they have the heart of a champion.

I am very, very happy for this result, for the club and the history of the club. It was a very tough match and hard for us. Göppingen have powerful players who are difficult to defend. In the second half, we defended better than before. Our goalkeeper Rangel [da Rosa] helped us and we could run a lot and run more and score better. My players are so young, but today, they played like experienced players.
An incredible finish to a thrilling match. Göppingen reduced to one in the last minute and still had plenty of time to equalise, but Granollers scored on their attack with Jan Gurri netting his ninth from nine shots to secure the win. 
46 seconds until the final buzzer and Granollers line player Esteban Salinas may have just netted the match winner. Let's see what Göppingen can throw at their opponents in this final stage...
75 seconds remain and it's a semi-final just the way neutral fans like it: A true on-the-edge-of-your-seat finish is coming up for sure — or perhaps we can start to smell extra time. 
With eight minutes on the clock, it's turning into a real nail-biter. What is going to separate the teams in the end? Every error is punished quickly and the ball is a precious, precious possession right now, but both teams are losing it occasionally due to errors. The pressure is on big time. Who will overcome it? 
Are Granollers going to make Flensburg their second home? After their incredible quarter-final victory over Flensburg in the German team's own arena, the Spanish side are certainly enjoying themselves now. One goal in it so it's far from over, with just over 10 minutes to go, but the comeback success has clearly inspired the team to new heights. 
Below, enjoy a gorgeous goal from Göppingen's Jon Andersen as Josip Sarac helps open a big gap. 
And they're back in the game! Granollers are rewarded for their efforts as they score two quick goals in a row, in between which Göppingen hit the post with their shot, taking the score from 20:22 to level in a matter of seconds in minute 40. 
It was a superb fast break combination between Rangel da Rosa and Sergi Franco that did it, underlining da Rosa's importance for his side yet again, although his save rate has dropped off since his miraculous period in the first half. 
One factor is clear: neither side can match Berlin when it comes to depth, as rotation in this match has been far less frequent than in the first and both Göppingen and Granollers are clearly led by a few key individuals. The top scorers for each side are backs: Antonio Garcia Robledo for Granollers and Josip Sarac for Göppingen, while Jan Gurri has netted five from five for the Spanish team. 
Three minutes played in the second period and Göppingen are fending off Granollers so far.
Should Göppingen win, it will add to an interesting series that started in 2015: Every second year, the final in the second-tier European cup competition has featured two German teams. In 2017, it was even Göppingen versus Berlin in the EHF Cup final, won by Göppingen. 

Göppingen maintain their two-goal lead as we go to the half-time break in the second semi-final. 
Despite the huge effort from Da Rosa in particular, this match has seen the second highest half-time score in the second-tier European cup semi-final — just one goal less than when Berlin led Rhein-Neckar Löwen 19:16 in 2021. 
It's absolutely tight in every way, but Göppingen are beating Granollers in one key area: firing off way more shots than their opponents and increasing their scoring chances by doing so. 
Da Rosa was very clearly winning much of the battle against Göppingen, but he cannot stop everything — although this one below is an instance where it seemed like he could.
We come to the end of the first quarter with Granollers just having fought back from a deficit to see an equal game. The Spanish side's comeback was clearly thanks in considerable part to one man — just like in the first semi-final, it is a goalkeeper: Rangel da Rosa. 
Da Rosa currently sits on a phenomenal rate of 50 per cent, having made six saves, including two out of two on penalties. 
After the score of 2:2, Göppingen scored three in a row to create a dangerous situation for Granollers, but da Rosa inspired the recovery and the Spanish team now find themselves back fully in the game. 
Another fast-paced opening in Flensburg, with four goals scored in two minutes of play. 
Below, we have Berlin's celebration from their semi-final win — who will join Füchse in the trophy match? 
17:58
We are minutes from the starting whistle in the second semi-final, as Granollers and Göppingen complete their last sprints following the pre-match procedure and gather for a final team huddle. 
Join us now on EHFTV to find out who will play Berlin tomorrow for the title. 
17:38 
So Füchse Berlin are confirmed as the first finalists, and now await their opponents! Granollers and Göppingen are now on court in Campushalle in the early stages of their warm-up, with throw-off coming up at 18:00 CEST. 
Below, watch the post-match press conference to hear what Montpellier and Berlin thought of the first semi-final. 
Füchse Berlin fully deserved the victory and the spot in the final, when you see the whole match. It was a difficult match for us. In the first half we played on a good level, equal to Berlin — unfortunately the score did not reflect our play. In the second half our level went down physically and mentally, and it is the second half which counts. We will try to recover well to play this important match for third place.

We had a completely different energy in the second half. We were running fast breaks — this was decisive. Montpellier played an amazing season and have shown today how strong they are. I am proud of my team and our fans and happy for them that they can see us in the final.
What a second half from Berlin. The German team power through the second 30 minutes to reach their sixth European cup final.
Montpellier switch to a more offensive defence as the clock ticks towards full-time (minute 54) and Berlin stay clear in front. Hope is not lost yet for the French team, but they must reduce the gap now, and by several goals quickly, if they are to make a comeback. 
Below, check out some of Milosvavljev's top saves, as he emerged as a crucial factor for Berlin this half. His co-keeper Victor Kireev has now come into goal for the final minutes. 
48 minutes gone as Füchse wing Milos Vujovic nets for his side's 500th goal of the EHF European League season. Only four other teams have reached that milestone in 2022/23, including Berlin's semi-final opponents Montpellier and fellow EHF Finals Men 2023 participants Göppingen. 

At the 43-minute mark, the match seems to be getting away from Montpellier. Two suspensions for key attackers Kyllian Villeminot, unrelated to tough defence or attacker fouls — incorrect substitution and a hit to goalkeeper Dejan Milosavljev's face — do not help. Six minutes without a goal from the French team open the door for Füchse to pull further away, while Milosavljev keeps thwarting MHB's attempts. 
Füchse have really got their motors running now, outclassing Montpellier in every area — their shooting accuracy has jumped 19 per cent compared to the first half, while MHB's has dropped by the same amount. In goal, Dejan Milosavljev keeps getting stronger, counting four saves at a massive rate of 57 per cent for the second period. 
65 seconds is all it takes for Füchse to show they made use of the half-time break. Goal Mathias Gidsel, save Dejan Milosavljev, goal Mijajlo Marsenic, and suddenly Berlin had not only their first lead of the match but their first two-goal gap. 
There is plenty of time to go yet, but this explosive opening from the German team may be telling regarding their rhythm in this second period. 
16:22
Two clubs, two countries, two foxes — bravo to the team mascots, who do such a wonderful job around the arenas throughout the season. Which fox will be celebrating at full-time?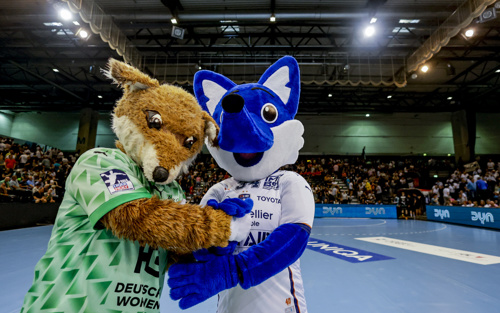 Füchse Berlin draw level just in time for the break thanks to their two left-handed Danes. Wing Hans Lindberg netted for the first equal score since minute five, before Kyllian Villeminot pulled MHB in front again — but Mathias Gidsel had the last say, striking right before the buzzer to give us a completely open game ahead of the second period. 
The half-time buzzer nears and Berlin have drawn too close for Montpellier's comfort. Again we can point to an improved goalkeeper performance as one factor, as Dejan Milosavljev has made some great stops for Füchse. 
Below, enjoy one of Mathias Gidsel's superb goals of the half for the German side. 
20 minutes played and Montpellier are holding on to their edge. Berlin have pulled it back to a one-goal gap twice, but aside from that, the French team have stayed steady in front by a two- to three-goal margin. 
Prior to the match, one might have thought the absence of injured Diego Simonet in particular would be a problem for Montpellier — one from which Füchse might benefit considerably. But so far the Argentinian back's teammates are doing just fine compensating. 

After 10 minutes, Montpellier have created a tentative two-goal gap, thanks in part to the fact that goalkeeper Rémi Desbonnet has started to cause problems for Berlin, with two saves in the last few minutes. 
Below, check out one of the French side's best goals so far, courtesy of Valentin Porte and Arthu Lenne. 
Five minutes in, six goals scored. It's a fast-paced opening with only one shot missed so far, as Berlin have scored on all three attemps while Montpellier have a rate of 75 per cent. 
15:30
It's time! The teams are taking the court. Throw-off is seconds away. 
15:23
Favourite photo of the day so far — thank you to all the fans who have journeyed to Flensburg to support their teams and give us such a great event! 









15:14
The teams are leaving the court for their final pep talks before they return for throw-off. 
It's time to grab your popcorn and join us live on EHFTV.
15:07
Last fact hit before we get going with the semi-finals. 
In yesterday's live blog I talked about the season's top scorer title, which looks pretty well locked up by Kadetten's Odinn Thor Rikhardsson, as he is 29 goals clear of the next player still in the competition, Granollers' Antonio Garcia Robledo. 
What we do have on court in Flensburg at the EHF Finals Men 2023 is the goalkeeper with the most saves, Granollers' Rangel da Rosa. The Brazilian goalkeeper has made 159 saves at an impressive average of 32.58 per cent across the whole season. 
We also have the player with the joint-third highest number of assists, ready to take the court in this first semi-final: Berlin's Fabian Wiede, who has recorded 44 assists in the season. 
In the ranking for most blocks in the season, we have Göppingen's Blaz Blagotinsek and Berlin's Mijajlo Marsinec, who sit joint-second with 18 blocks apiece. Blagotinsek is nominated for best defender of the season in the EHF Excellence Awards and you can vote for him right now on the Home of Handball app. 
That brings me to the end of the roundup of leading individual stats. See all of them here. 
15:03
We are into the closing stages of warm-up for the first semi-final, Montpellier vs Berlin — both teams and fans alike. While the players get their shooting eyes in, the Füchse Berlin and Montpellier fans are making their voices and various cheering instruments very well heard. 
It looks set to be a fantastic atmosphere in Campushalle for the penultimate day of the EHF European League Men 2022/23. 

14:29
Semi-finalists are in the building — Montpellier and Füchse Berlin have arrived at Campushalle, as fans also trickle into the arene, and the atmosphere starts to build towards throw-off. 












13:39
Looks like Füchse Berlin had a great start to the day, judging from the clip below. Ah, that springtime end-of-season, time-to-decide-a-title feeling that is just so European cup...
13:32
It's about to get very serious in Campushalle, where Montpellier and Berlin will soon be arriving for their semi-final and taking the court for warm-up.
Before they do, look on the lighter side of the weekend with some of the fun content available on the EHF European League social media channels, like this clip of Yanis Lenne and Rémi Desbonnet below. 
13:24
Ahead of the semi-finals, the team lists for each of the four EHF Finals Men 2023 clubs have been confirmed. Each club is able to include 16 players on their start list and they can change the list for Sunday's matches if they like.
Check out the finalised start lists for the semi-finals by clicking the links below:

12:14
Time for a closeup on the second semi-final, Granollers vs Göppingen, examining the teams' seasons so far. 
Göppingen are the joint-record holders in the second-tier competition, having won the EHF Cup four times (2011, 2012, 2016 and 2017). Granollers are joint-second ranked in this list, having taken two EHF Cup titles, but those were almost three decades ago, in 1995 and 1996. 
Both teams arrived in the semi-finals thanks to quite clear aggregate wins in the quarter-finals, with Granollers' elimination of Flensburg arguably one of the biggest shocks of the season, as they overthrew the German club in Flensburg's own arena. After a 30:31 loss in the first leg, Granollers managed to conquer Flensburg in their own fortress 35:27. 
Prior to that, they had beaten Skanderborg-Aarhus 62:59 in the Last 16, with exactly the same scenario: a loss at home before a clearer win on the away court. 
Granollers reached the knockout round after ranking third in group C, following six wins, one draw and three defeats. 
Göppingen were in the same group as fellow semi-finalists Montpeller, placing second behind the French club with a record of eight wins and two losses. In the Last 16, Göppingen defeated Valur in both matches for an aggregate win of 69:60. The German team also enjoyed wins in both legs of the quarter-finals, earning a 63:50 aggregate victory over RK Nexe. 
11:54
Want to learn more about Flensburg, their iconic arena nicknamed the "northern hell", the teams or the organisers of the EHF Finals Men 2023? That plus plenty more can be found in the official magazine of the event, which you can find here. 
11:30
Excitement is building in the handball world as the semi-finals approach, with some big names vocalising their support for their teams. 
Former Montpellier player, Ludovic Fabregas, who joined Barcelona in 2018, right after winning the Champions League with the French club that formed him, tweeted his support for the side. Now 26, Fabregas has gone on to win the Champions League another three times since raising the trophy with MHB. 
As for Montpellier's semi-final opponents Füchse Berlin, they unsurprisingly have the support of iconic Germany wing Stefan Kretzschmar, who is the club's sports director. Kretzschmar won the second-tier European cup competition three times himself, raising the EHF Cup with SC Magdeburg. 
10:45
The semi-finals are fast approaching, so it's time to take a closer look at the details — what are the key factors we know ahead of the matches?
Let's start with semi-final one: Montpellier vs Füchse Berlin. 
Neither side had an easy task in the last stages before reaching the EHF Finals Men 2023. In Montpellier's case, their quarter-final against Sporting CP was decided by just one goal on aggregate, 63:62 in favour of the French team. 
Their win in the Last 16 was far more dominant, as Montpellier defeated Hungarian club FTC 79:59 on aggregate. In the group phase, MHB won eight games and lost two, finishing on top of group A. 
Berlin had a superb season that saw them take a perfect run of 10 wins in the group phase before beating Skjern in the Last 16 66:55 on aggregate. Füchse ran into their first big challenge in the quarter-finals, as they lost the first leg to Kadetten Schaffhausen by four goals and left themselves with a comeback task — but it was one they accomplished, to take an aggregate victory of 63:61. 
On the injury list in this match are MHB's Argentinian back Diego Simonet and Berlin's German back Paul Drux. 
Montpellier are the only French men's club to win any European cup competition, as they raised the EHF Champions League trophies in 2003 and 2018. Berlin never won the top tier, but claimed the title in the second-tier competition twice — the EHF Cup in 2015 and 2018. Füchse have reached the final five times in the last seven editions. 
10:05
Good morning and welcome to the most exciting day of the EHF European League Men 2022/23 so far — semi-finals day! 
It will not be long until we know which teams will vie for the trophy on Sunday, when the EHF Finals Men 2023 in Flensburg conclude.
Here's your schedule for the day: 
Semi-final: Montpellier HB vs Füchse Berlin 15:30 CEST
Semi-final: Fraikin BM. Granollers vs Frisch Auf Göppingen 18:00 CEST
Below, read the match previews to learn all the important background information on both games and check where you can watch in your country.