EHF European League
Drama aplenty upon conclusion of round 1 qualification
On Saturday, six spots were snatched up for round 2 of the EHF European League Men Qualification. While on Sunday, a further five have been ticked off. With boarding complete, we now await the draw for the next round on 8 September.
Aguinagalde makes his international debut for Bidasoa Irun with a win

Pfadi Winterthur and Bjerringbro-Silkeborg win their double-header ties in Kassel

Seven goals for Zhukov help CSKA pass SKA in Moscow 
Skjern, Metalurg, Luzern, Turda, Trebnje and Fivers booked their round 2 spots yesterday

All three Croatian clubs took an exit in round 1 along with Melsungen and Benfica

Brian Campion (@DrCampion) reporting...
The draw for qualification round 2 of the EHF European League Men is on Tuesday 8 September 11:00 (CEST). Full details of the draw will be available online on eurohandball.com Monday morning.
Qualification round 1 is in the books, here is how it unfolded...
Incredible to think the past two days have been just round 1 of qualification for the EHF European League, each game felt like a cup final. You can just imagine how in the next round we will see the level go up yet another notch. The level of the final league will be immense. For me personally the story of the weekend has to be Fiver's win over Benfica. On a personal level I didn't expect such a mature performance by Bidasoa Irun tonight, so that was a treat to witness. I hope you enjoyed the coverage over the weekend and until the next time!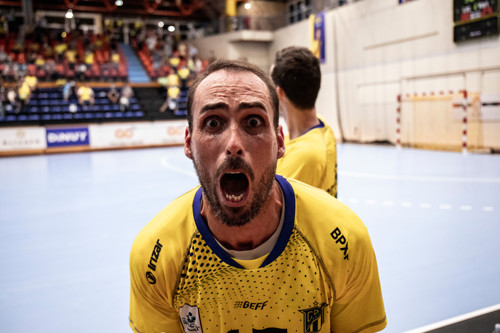 22:37

RESULT: Bidasoa Irun 30:25 PAUC Handball
Well, I love being proven wrong and Irun did just that tonight. I wasn't sure if they had the bottle when things would get tough but hey had it in spades. Player of the match would have to go to Odriozola with his eight goals he was essential in the win tonight. An honorable mention should go also to Ledo the Irun keeper who made some key saves. On the PAUC side of things Accambray was shooting 100% until he missed his last shot, he scored seven. 
22:27 Irun have pulled away again we are now 29:25 with Odriozola playing out of his skin netting for his eight.
22:15 TTO for Irun! What a match we are back level again at 23:23. Getting into crunch time now so the big question for me now is do Irun have the characters to call upon when the going gets tough? Time to find out...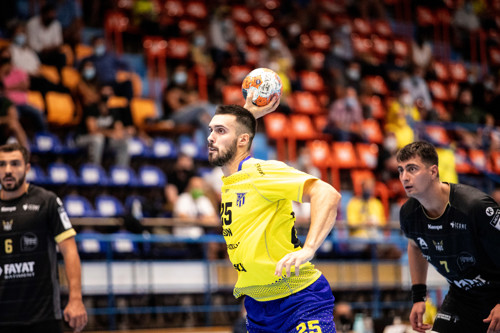 22:03 
Aguinagalde scores his first international goal for Irun from the penalty spot to make it 21:17. Irun are just 20 minutes away from securing that final spot in the pot.
22:01
TIME OUT PAUC with 37 minutes gone! And well needed after yet another goal from Odriozola to make it 19:16. That's his sixth goal of the game. He is one hell of a tricky customer. Thierry Anti will need to get control of his PAUC squad now and not let Irun run away with this. Plent of time left.
21:53
15:15! And we are back level again thanks for a Accambray goal
21:35
Very hard one to call this. I have the sneaking suspicion that PAUC's experience may prove vital in the latter stages, but that's just a hunch. Irun are very well prepared for this tactically. Join me for the second half and you can see if my hunch was right. Click HERE.
21:25
This is going to be a great game. The quick, nimble Irun squad has the slight edge at the moment leading 12:10 after 22 minutes. Going to be very interesting to see if the Spanish side can up such a pace for 60 minutes and if PAUC's physicality will start to pay dividends later on. Keep your eyes peeled...  
21:20
Aguinagalde was subbed in at the 15-minute mark to big cheers from the crowd, but the most surprising thing here is that he's playing in defence. I guess a lot of people reinvented themselves during quarantine, good on you Julen!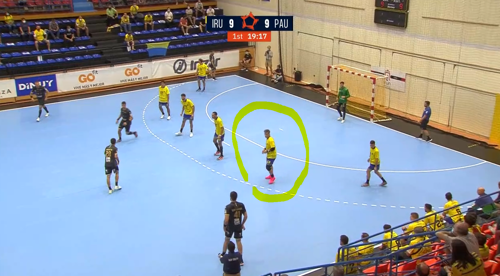 21:15
Nervous start by PAUC Handball scoring only 50% of their shots. But it could be a lot worse as they are only one down at 6:5.
21:05
Let's go! Watch it HERE 
20:03
Our final match of the day and of qualification round 1, is a very intriguing one. At 21:00 (CEST) Spanish side Bidasoa Irun will take on French team PAUC Handball.
This will be a one-off tie with no second leg, so the winner takes it all. This French side are one to watch with the likes of Nicolas Claire, Samuel Honrubia and William Accambray in their ranks while Irun will see Spanish line legend Julen Aguinagalde make his first international appearance. Talk about a proper goodnight story!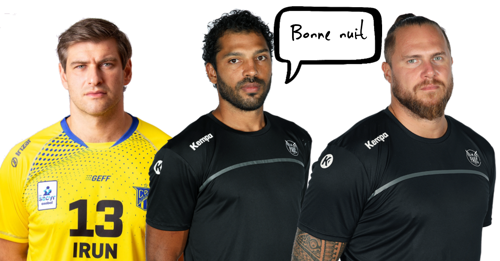 19:30
RESULT: HC CSKA 31:24 SKA
CSKA were far too good today. You just gotta love their "all gas, no breaks" one-against-one style; every team physio's nightmare but very entertaining. I reckon this CSKA side will be trouble for any team in round 2, will be very interesting to see how they develop.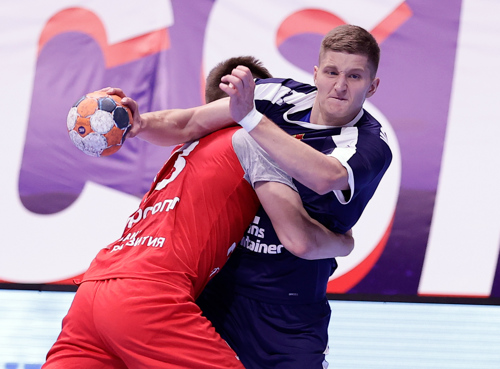 19:19
Red card for Aleh Astrashapkin of CSKA for his third two minutes 
19:15
CSKA are running away with this now; they are six up and have caught SKA sleeping a few times with open goals. Didn't SKA get the memo? 7 vs 6 isn't cool anymore. Just under nine minutes left to play. 
19:00
32', 35' & 36' Stanislav Zhukov knocks out a hattrick at the beginning of the second half. He is a terrifying man when he gets up to full speed, I am not envious of the SKA defenders trying to tackle him. 21:17 to CSKA
18:37
Half-time: HC CSKA 14:11 SKA Minsk. The Russian side have taken their shots well and boast a 70% shot efficiency ratio. Zhukov, Nikolaenkov and Jaanimaa all netting three for the CSKA. While Kryvenka is 5/5 for the Belarusian side. Watch the second half HERE.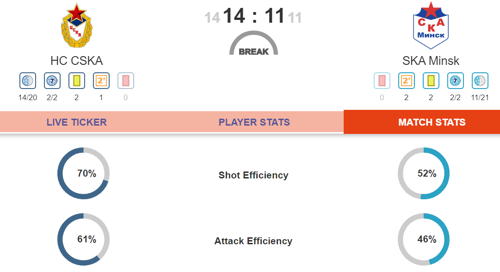 18:23
CSKA really work the ball around nicely; there has been some tasty play into the line. It's nice to see Pavel Atman at the center of attention, suits his style of play when he has a team working around him. We are 23 minutes in and the Russian outfit lead 12:9
18:14
What a crazy pace! There is really no let up from either side. After 12 minutes it's CSKA 7:5 SKA. Brightest stars at the moment have to be Kryvenka (3/3) for SKA and Ukranian Zhukov (3/3) for CSKA.
18:07
Game time! HC CSKA vs SKA Minsk is next up and there was nothing between them in leg one when it finished 25:25 so this will be a cracker. Watch it HERE
17:28
RESULT: MT Melsungen 24:26 Bjerringbro-Silkeborg
So there you have it. Bjerringbro-Silkeborg sign up for round 2 after a solid performance. It really looked like they did their homework after the first leg and applied it to perfection today. Skube was the Danish side's top scorer with 5 goals from six attempts. 
17:24
MT have pulled it back to within two goals. Timo Kastening scores for Melsungen from the spot to make it 25:23 to BSH.
17:19
With 10 minutes (24:20 to Bjerringbro-Silkeborg) left it is impossible to imagine a way back now for MT. They will be disappointed with how they started the game today. Bjerringbro-Silkeborg came with much intensity and creativity in attack. 
16:57
Nielsen for BSH with a peach of an underarm shot to make it 19:13 for the Danish side after 4 minutes of the second half. He looks like he is really enjoying himself out there - that's his fourth today.
16:42
Half-time! MT's task is looking increasingly difficult they find themselves four down. They have missed a lot of good chances and Häfner (20%) and Kühn (33%) will be very disappointed with their shooting percentage after the first half. If they stand any chance of turning this around, we will need a massive improvement in shot selection, faster attacks and - as Gudmundsson mentioned during a timeout that - getting back quicker in defense. Sometimes handball really is as simple as that... 
16:27
Ohhhhh lovely broken wrist shot from Pavlovic bringing the German side shortly within three before Skube breaks through at the other end to make it 14:10. A tall task ahead of the German side when you add the three goals on from the first leg.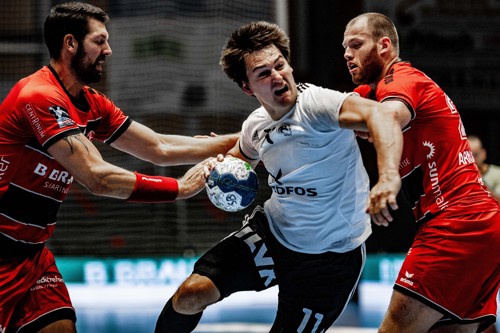 16:21
Julius Kühn is having a bit of a howler in the opening 15 minutes. He's 1/5 at the moment and it's really hurting the German side. MT are struggling to get their attacks set up. While Skube nets at the other end to make it 10:4 for the Danish side.
16:16
Don't forget you can keep up to date with HC Victor vs HC Dodrogea Sud Constanta (6:6) on our live ticker.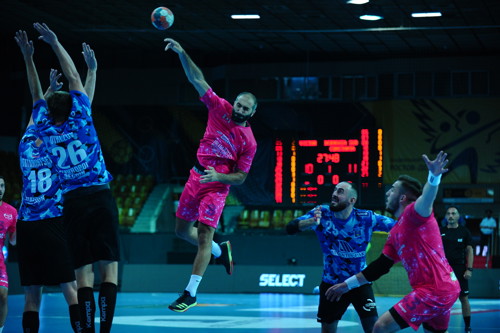 16:12
It's the Danish side that have the better start with a 7:4 lead over Melsungen. Lynggaard nets from the line after a nice set up from Nielsen in left back. Nielson is 2/2 and it looking very lively. Strong start.
16:03
We are live in Germany! Join us now for Melsungen vs Bjerringbro-Silkeborg! Watch it HERE
15:32
Only 30 minutes out from one of today's major clashes and a personal favourite of mine. MT Melsungen vs Bjerringbro-Silkeborg. The first leg had it all, a back-and-forth game that saw the lead change hands and as a neutral I would love to see a repeat of this today. The big news before this game throws of is that start keeper Silvio Heinevetter is back in the squad after testing positive for Covid-19, he has been cleared and will feature today. This will be a massive boost for the squad but can Silvio be a key factor in overturning this three-goal deficit? 



14:01
RESULT: Pfadi Winterthur 33:30 Handball Esch
Esch from Luxemburg did well to reduce a seven-goal gap in the last few minutes to just three but the result never felt in danger. Today, the Swiss side's backcourt was superior with Kevin Jud at center back really dictating the play well and being a threat himself (netting 8/9). Jud fed left back Cohen (6/8) and right back Radovanovic (6/9) and when the space wasn't available for the backcourt shooters Marvin Lier found himself in space on several occasions; Lier finishing top scorer of the day with 11/14. This array of shooting talent to call upon is what Esch lacked today with their overall shooting percentage dropping down to almost 50% at one point in the second half. For the likes of Martin Muller this will be a day to forget as he netted only 28% of his shots (4/14). 

Congrats to Pfadi Winterthur who now progress to round 2 of the EHF European League Qualification
13:38
Timeout for Esch! And well needed after three unanswered goals in a row. It currently stands 23:17 and the Luxemburg side's chance of progressing is slipping away from them with just 20 minutes left. Serbian Radovanovic has sprung up out of nowhere netting four goals in six minutes for Winterthur.
13:15
Half-time in Kassel! The Swiss side find themselves three up after a solid but somewhat nervous opening 30 minutes which saw both sides playing tough defences but missing 11 and 13 shots respectively. Lier for Winterthur netted 7/10 from the left wing while Esch have seen most success through Petiot who has scored 6/8. 
Join us for the next 30 minutes right HERE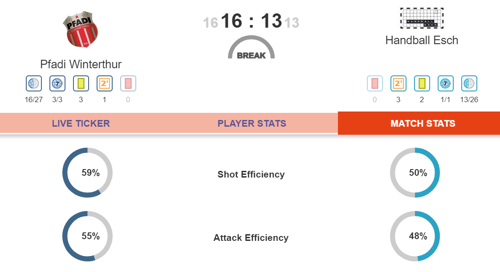 13:05
Handball Esch are really putting on the pressure in defence, a massive improvement. They are coming out much higher on Winterthur's backcourt players. However, they haven't been able to really convert into goals at the other as some silly mistakes in attack as cost them turnovers and easy open net goals. It's 15:11 to the Swiss side after 25 minutes
12:50
Marvin Lier is having a great opening 20 minutes for Pfadi Winterthur, he has added his fifth goal after a picking Handball Esch pocket, very nice stuff.
12:31
Let's go! All to play for here in Kassel so join us HERE
11:30 
We have a double header in Kassel, Germany today! First up at 12:30 is the one-legged tie between Handball Esch and Pfadi Winterthur, it's simple the winner goes onto round 2, no return leg here so we can expect both teams to come bursting out of the gates. Then at 16:00, if that wasn't enough, we have the return leg of one of the highlights from the first leg when Melsungen take on Bjerringbro-Silkeborg. The German side will want another big performance from Lasse Mikkelsen who banged in 11 goals, while newcomer for Bjerringbro, William Bogojevic, will want another good performance after his seven goals in his competitive debut last time out.
Before all the action throws off today make sure to read our
preview 
Sunday's Games 
22:37 
What better way to finish than to leave you with some of the best snaps from today's action... We will be back on Sunday noon, so make sure you too! 
21:56
RESULT: Fivers 38:34 SL Benfica
They did it! Fivers cause a huge upset by beating the big favourites Benfica 38:34 and going through to the next round. It's a massive night for the club and a huge performance by the whole squad. A night to remember for the club from the 5th district in Vienna, Austria. Where does this leave Chema & Co. with Benfica? It's an interesting question as it is a club that is aiming high and this will surely be a catalyst for some change.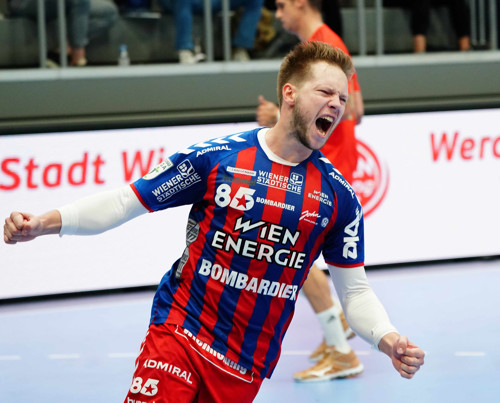 21:49
This is really edge-of-your-seat stuff. With only 5 minutes left Fivers find themselves four goals up (i.e. two on agg.). This is where Fivers will need a cool and a cool head. Hard to pick out one character who played out of their skin today for Fivers as you could name four or five. But Martinovic has netted at some key moments...
21:36
We are 15 minutes out from a big upset. If I was totally honest with you I felt like Fivers might blow it at the start of the second half but they really punished Benfica well on the fast break and have really stuck it to them in defence. But a lot can change in 15 minutes and this Portuguese side has a lot of talent to call on. 
As it stands Fivers 29:24 Benfica.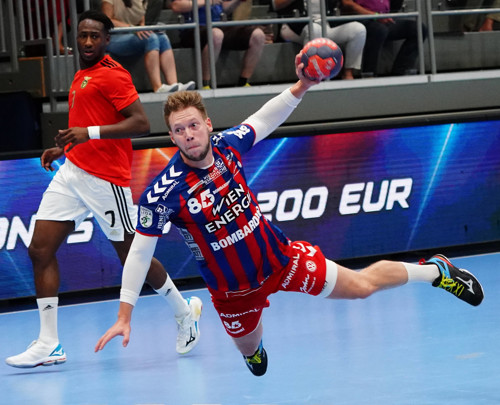 21:12
It's all happening now. 
RESULT: RK Dubrava 19:28 HC Kriens Luzern
The Swiss side cruise to the next round after an extremely commanding performance. 
RESULT: RK

 

Spacva

 

Vinkovci

29:25 HC

Metalurg
This defeat will be somewhat easier to take as Metalurg move on to the next round after their seven-goal win from the first leg.
While in Vienna it is half-time and the Austria side still have a good lead despite letting some goals slip. The opening few minutes of this second half will prove key if they are to cause an upset. 

Watch it here
20:55
Slowly but surely Benfica are finding their feet. As the frantic pace of Fivers eases. Making excellent use of their wings suddenly Benfica are back within three goals at 14:11. With 4 minutes remaining in the half. 
20:48
Clever timeout by Fivers, after Benfica forced two turnovers and netting two quick goals taking it from 13:5 to 13:7 the Austrian side needed their nerves calmed. It's a serious spread of scorers for Fivers so far with 8 of their men hitting the net.
20:42
Chema Rodriguez is NOT happy with his men. We are 15 minutes into the game and Vienna's Fivers are 13:4 up! What on earth is going on? Make sure you don't miss this one. 

Watch it live on EHFTV
20:39
RESULT: RK Trimo Trebnje 28:26 Club de Futebol os Belenenses
The Slovenian side go to the next level thanks to two wins against their Portuguese opponents. Maybe this might even bring a smile to Uros Zorman's lips!
20:32
LIVE: What a start by Fivers! They net four quick goals to continue how they finished the first tie against Benfica. Make sure click here to watch this one. Feels like something special is gonna happen.
20:21
An incredible controlled performance by Slovenia's Trebnje tonight. Their one-against-one ability and efficiency on the break really caused the Portuguese side trouble today. While Belenenses were able to pull it back to within two goals on a few occasions. The Slovenian side never looked in too much trouble. With three minutes remaining it stands Trebnje 26:24 Belenense. 
20:01
It's all happening at the moment, with Luzern and Metalurg leading their ties coming up to half-time. Fivers host Benfica in 15 minutes in Vienna to conclude today's action, so stay where you are plenty more action to come!

19:57
Belenenses will be very disappointed with their shooting today 21 missed shots vs the Slovenian side's 11 so far. For more stats from this tie check out the live ticker.
19:34
MASSIVE moment in Slovenia, just as Belenenses pulled it back to within two (13:11), Luka Florjancic nets right at the buzzer after the Portuguese side had a sitter denied at the other end. Big differences in how both team left the court. Could be a pivotal moment when it's all said and done. 
Watch the second half on EHFTV
19:29
You can follow the other two ties on our live tickers. Now that's called triple screening, good times. Glad to have it again! 
RK Spacva Vinkovci vs HC Metalurg (28:35 first leg, +7 Metalurg) 
RK Dubrava vs HC Kriens Luzern (27:29 first leg, +2 Luzern) 
19:20
It's a fast opening 18 minutes here in Slovenia. Uros Zorman's men imposing their pace on the game. It stands 9:7 at the moment but don't look away!
19:04 
Aaaaaand we are off! Join us now on EHFTV for RK Trimo Trebnje vs Club de Futebol os Belenenses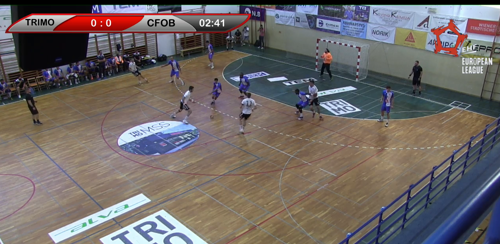 18:51
We will very soon be live with RK Trimo Trebnje vs Club Futebol Os Belenenses on EHFTV 

Remember that it is the Slovenian side, coached by Uros Zorman, that won the first leg by five and are in a good spot to progress. But as we have seen already today, home advantage and a lead cannot be rested upon...
18:31
RESULT: HRK Gorica 32:27 AHC Potaissa Turda
It was a bit of a hairy finish for Turda, but their epic first 40 minutes paid off as they had a massive nine-goal cushion to rest on. Gorica will be massively disappointed coming into this game with a two-goal advantage and playing at home, but you can't have a defensive start like that at this level and expect to pull it back in the last ten minutes. 
17:41
HALF-TIME: The whistle has sounded in Croatia and what a massive 30 minutes for the Romanian side as they lead by seven (18:11) at the break. Meaning they are 5+ on aggregate. The Romanian national team player Radu Cristian Ghita is coming up with the goods for AHC Potaissa Turda netting six. 
17:15
The Romanian outfit AHC Potaissa Turda come storming out of the locker room to take a +1 goal lead on agg. Big opening statement. Will be interesting to see if they can maintain this for 60 minutes.
16:36
RESULT: HK Malmö 25:26 Skjern Handbold 
If this is first round of qualification, what on earth is the level of the EHF European League going to be like? Remember just two years and four months ago the bones of this Skjern team were in the quarter-finals of the EHF Champions League and here they are now being pushed to their limit in qualification; this shows you the incredible level of this competition. There will be no free lunches by the time the league throws off, that's for sure.
16:05
How do you say "just give him the ball" in Swedish? Johannes Larsson with 8/8 so far. Malmö back out in front 19:17. But we are far from done yet folks... 
15:43
HALF-TIME: The Swedish side will be very disappointed having led by three on a few occasions to only let their lead slip at the hands at Anders Eggert right at the buzzer. That's gotta sting! Rasmussen with a tidy four from five shots. Malmö 13:14 Skjern. 
15:25
Wow! Malmö coming flying out of the gates here against Skjern. With 6 of the Swedish side's players getting their names on the board. Do we have an upset on the cards?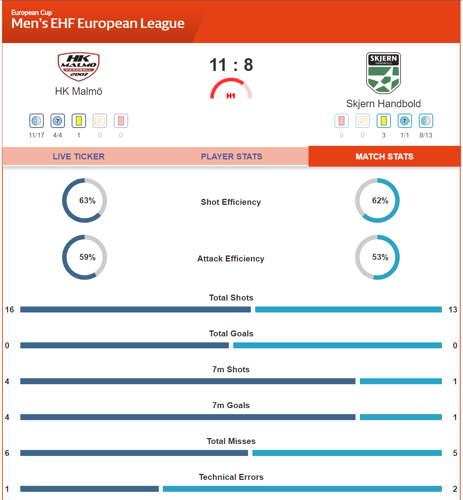 14:03
It's finally time! We are back with some seriously tasty EHF European League Men Qualification Round 1 ties; after last week's tight Leg 1 encounters everything is to play for today, and I, Brian Campion, will happily guide you through today's action here on the official live blog.
And what a way to kick of today's action with a Scandinavian tie that has action written all over it. HK Malmö vs Skjern Handbold throws off at 15:00 (CEST) with the Danish side, Skjern holding the narrowest of leads after their 27:26 win at home in Leg 1. Follow it live here and on our live ticker.