EHF European League
Summary: All 24 tickets booked for inaugural group phase
The EHF European League Men is ready for the group phase of its very first season!
Following CSKA's win in the final qualification round 2 game on Wednesday morning, all 24 teams for the group phase have now been confirmed.
The group phase draw takes place at the EHF office in Vienna on Friday 2 October) at 11:00 CEST.
11:50
That concludes our EHF European League coverage... but not for long as we are already back on Friday morning at 11:00 CEST for the group phase draw.
These are the 24 teams that will be eager to find out their opponents in the group phase, which throws off on Tuesday 20 October:
- directly seeded teams:
ABANCA Ademar Leon, USAM Nimes Gard, SC Magdeburg, Grundfos Tatabanya KC, HC Eurofarm Pelister, Orlen Wisla Plock, Dinamo Bucuresti, Chekhovskie medvedi, Kadetten Schaffhausen, Tatran Presov, Alingsas HK, Besiktas Aygaz
- qualified teams:
RK Nexe, IFK Kristianstad, GOG, HC Metalurg, RK Trimo Trebnje, Rhein-Neckar Löwen, Montpellier HB, Sporting CP, Füchse Berlin, Fenix Toulouse Handball, Fivers, HC CSKA
And here is all you need to know about the group phase draw.
Thanks again for joining and goodbye for now!
11:38
They have done it! CSKA stage a fantastic second-half comeback against BSH in Moscow this morning to book their spot in the group phase.
Starting with a three-goal deficit from the first leg and even dropping a goal further behind in the first half as BSH led 14:13, the Russian side came out all guns blazing in the second half for a stunning turnaround and a 32:24 victory - and a 55:50 aggregate win.
10:39
Half-time in Moscow, and CSKA trail Bjerringbro-Silkeborg by one goal (14:13) - that means four on aggregate, leaving the Russian hosts with a mountain to climb in the second half.
Watch the final 30 minutes of European League qualification live on EHFTV and check the match details in our live ticker here on eurohandball.com.
10:02
Yes, the game has started in Moscow, where CSKA will try to make up a three-goal deficit from the first leg against BSH.
Here is the direct link to the live stream on EHFTV.
09:30
Good morning! It is Wednesday and the EHF European League Men live blog resumes at a rather unusual time...
... but for a good reason! We still have one last game from qualification round 2 outstanding. At 10:00 CEST this morning, HC CSKA and Bjerringbro-Silkeborg Håndbold will start their second leg game in Moscow, with the Danish visitors defending a three-goal lead (26:23) from last week's first leg.
You can watch it all live from 10:00 CEST on EHFTV and follow the happenings in the Dynamo Palace of Sports in our live ticker. 
So either CSKA or BSH will be the 24th team to be part of the group phase draw, which takes place at the EHF office in Vienna on Thursday 1 October at 11:00 CEST.
23:14
We'll leave you with some of the finest shots taken across Europe tonight as we retreat and reflect on what we've all learned tonight.
Hope you enjoyed the matches and our coverage. There's one more game on the agenda and one more place in the group phase left to fight for. Who doesn't like a nice and early Wednesday morning throw-off?
22:59
As you can imagine with knockout rounds, there is a lot of relief after coming through tonight's test and guaranteeing your spot in the group phase. You can feel that in some of the quotes from tonight's post-match interviews.
Olafur Gudmundsson, captain of IFK Kristianstad:
"So glad we could win. It is important for the team, the club and the fans so we go into the group phase with a good feeling. Over two games now we have shown a reliable defence and a very good tactical offence which we were consistent in. International games are always a good thing and we don't want to miss out."
Uroš Zorman, coach of RK Trimo Trebnje:
"Congratulations to the boys for an outstanding victory. Placement in the group stage of the European League is one of the major successes in the history of the club. The team showed an exceptional character with the entire professional staff, they fought until the last second, but we are not staying here. We want to continue to work on a winning mentality."
22:46
The European League continues to deliver entertaining evenings and there are plenty more on the way with the group phase on the horizon.
23 of the 24 teams have been confirmed, HC CSKA and Bjerringbro-Silkeborg will contend the final spot tomorrow morning, and here is who will be in the hat for Thursday's draw in Vienna.
Directly seeded teams:
ABANCA Ademar Leon, USAM Nimes Gard, SC Magdeburg, Grundfos Tatabanya KC, HC Eurofarm Pelister, Orlen Wisla Plock, Dinamo Bucuresti, Chekhovskie medvedi, Kadetten Schaffhausen, Tatran Presov, Alingsas HK, Besiktas Aygaz
Qualified teams:
RK Nexe, IFK Kristianstad, GOG, HC Metalurg, RK Trimo Trebnje, Rhein-Neckar Löwen, Montpellier HB, Sporting CP, Füchse Berlin, Fenix Toulouse Handball, Fivers
That's a fine-looking bunch of teams if you ask me.
22:34
A shout out here to FENIX Toulouse, an ambitious club which has yet to make an impact in European competition. But now, they have an opportunity to do exactly that as tonight's win secures them 10 more matches against quality opposition in what looks set to be a brilliant group phase.
RESULT: Sporting CP 22:21 Constanta
What a delightfully tense game these two teams treated us to! Constanta looked solid for about 50 minutes but crumbled somewhat in attacking prowess and defensive composure, allowing Sporting to take over and claim a one-goal win - booking their spot in the group phase draw on Thursday.
RESULT: Montpellier 33:29 Skjern
The 2018 EHF Champions League winners keep their European adventure alive at the expense of a side which probably would have gone far with a kinder draw.
22:16
Just under three minutes remaining in Lisbon and Sporting have snatched the lead again. Francisco Tavares slots home his third penalty in the final 10 minutes and now Constanta need two goals.
22:14
Jonas Tidemand, Skjern's top scorer, gets himself a third and final suspension and his game is over. Benjamin Bataille makes it a three-goal game and that should be that - but it's not!
Jesper Konradsson gives Skjern a final glimmer of hope before it's extinguished by Melvyn Richardson in the 59th minute. 32:29 and Montpellier should be safe now.
22:11
Berlin and Toulouse have their group phase tickets wrapped up, but all to play for still in Montpellier and Lisbon with five minutes remaining.
22:06
Final 10 minutes in Montpellier and Skjern are still clinging on to the game. It's 28:27 and we're now level on aggregate, but Montpellier currently lead on the away goals rule after the first leg ended 31:30...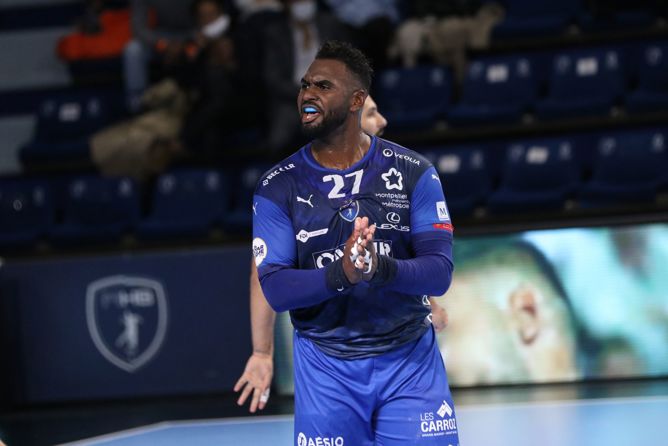 21:56
There are still 15 minutes left to play in Lisbon but you already feel like it's squeaky bum time...
After six(!) missed shots by Constanta, they see their three-goal lead slip and Theo Clarac equalises to make it 17:17.
Seconds later, Frankis Carol gets his third suspension, which sends him to the stands shaking his head. Sporting will be without their top scorer for the final quarter. How big a blow will that be?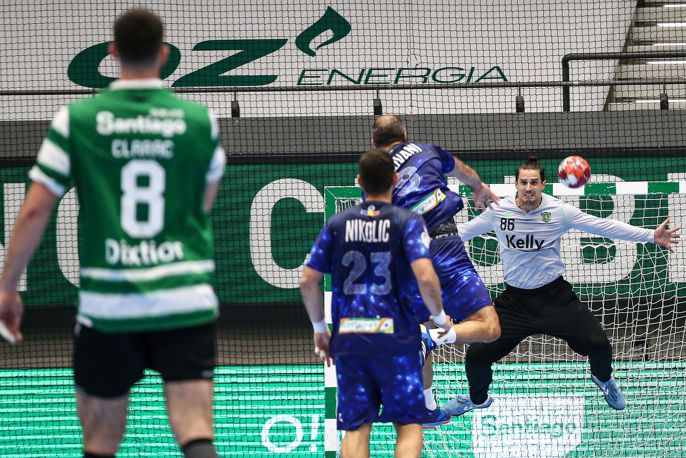 21:46
The Gyöngyös resistance appears to have been broken by Füchse. Berlin burst out of the traps with a 4:1 run and that should be game, set and match.
21:31
Montpellier looked to be running away with their tie against Skjern, leading 15:10 at one stage. But the roles have reversed from last week, when Skjern saw a large lead slip, as the Danish side are now the hunters. A pair of Anders Eggert goals made it 17:15 at half-time and Montpellier have a single goal lead on aggregate!

21:25 - Half-time: Sporting CP : Constanta
Credit where credit is due to the Romanian side, who have dealt with this second leg very well so far. A solid all-round team performance and they are well-worth their lead at the break - it could have been more.
Sporting will need to do some soulsearching in the interval as they figure a route back into this game. Frankis Carol has been the main man for them so far with four goals but he cannot do it alone.
21:15
Füchse are pumped as they extend their overall lead to four goals, leading 13:11 on the night. Two Danes doing the damage for them with three goals for both Hans Lindberg and Lasse Andersson.
21:08
Worry for Sporting as the iconic Tiago Rocha limps off injured. That's followed by Fabio Chiuffa putting Constanta 7:6 ahead with a penalty after 16 minutes.
21:01
As we reach the quarter-hour mark, the French teams Montpellier and Toulouse have opened up two-goal aggregate leads, while nothing can separate Sporting and Constanta in our EHFTV game, 5:5 after 12 minutes of play.

Toulouse's deputy mayor responsible for sports, Laurence Arribagé, is getting behind FENIX tonight!
20:56
If anyone thought Gyöngyös were going to roll over in their first European away game, they are being proved wrong so far. Solid start from the Hungarian side, drawing 6:6, but Berlin lead by 2 on aggregate.
20:45
We're off with four more matches and undoubtedly some drama to boot as all four matches were close in the first leg.
Montpellier HB vs Skjern Handbold (Skjern lead 31:30)
Sporting CP vs HC Dobrogea Sud Constanta (27:27 draw) - live on EHFTV
Füchse Berlin vs HEDO-B. Braun Gyöngyös (Berlin lead 25:23)
Fenix Toulouse Handball vs AHC Potaissa Turda (35:35 draw)
RESULT: Pfadi Winterthur 35:31 GOG
RESULT: HC Kriens-Luzern 22:21 HC Metalurg
RESULT: Rhein-Neckar Löwen 26:27 TTH Holstebro
Despite losing 27:26 on the night, Rhein Neckar Löwen did enough in the first leg against TTH Holstebro to win 54:49 on aggregate and carry on into the European League group phase
RESULT: IFK Kristianstad 24:22 KS Azoty-Pulawy SA 
RESULT: RK Trimo Trebnje 23:22 Balatonfüredi KSE
Well, as expected it went right down to the wire in Slovenia and what a finish. Going a man down for the last 2 minutes really punished Balatonfüredi, but Uros Zorman's men will be delighted with their spot in the European League.
20:20
Cirar scores the pressure penalty! 23:22 for Trebnje!
20:17
Time-out! One minutes and 10 seconds left. Such a key break in the action. We are deadlocked at 22:22 and the ball is in the Slovenian side's hands and they are a man up for 10 more seconds. 
20:15
Red card for Bence Szücs of Balatonfüredi; he will be a big loss in defence for the last few minutes. As it stands it is 22:22 and Uros Zorman's men are a man up in crunch time. 3 minutes remaining.
20:10
Bodies on the line here in Slovenia. Some serious shifts being put in. It is razor tight and all level at 21:21. You don't wanna miss the last five minutes!
19:59
A beautiful double in-flight goal for Balatonfüredi by Boka and Malinovic to pull it level at 18:18, not that's serious confidence to try something like that with everything on the line!
19:42
Now let's get stuck into some more action on EHFTV
In a one-off tie RK Trimo Trebnje are 15:15 against Balatonfüredi KSE. The winner of this game takes a spot in the group phase. No second leg here. Can the Trebnje boys of Uros Zorman make the most of the home advantage? Find out on EHFTV
19:33
RESULT: RK Nexe 29:24 Bidasoa Irún
Nexe do it! They win 29:24 and make as the first team to qualify for the group phase of the European League from round 2. You cannot overlook Radovanovic's saves in the second half they came all at the right times. Congrats to the boys in green! What a comback from being eight down over all in the first half!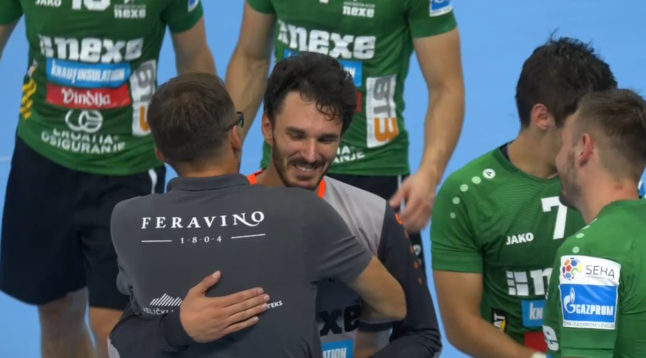 19:32
Just 40 seconds left and Nexe are four up! This is edge-of-your-seat stuff!
19:29
Another save by Radovanovic! He is slowly turning in to player of the match here! Irun playing some really nice switches to open up space to be only stopped by him is tough.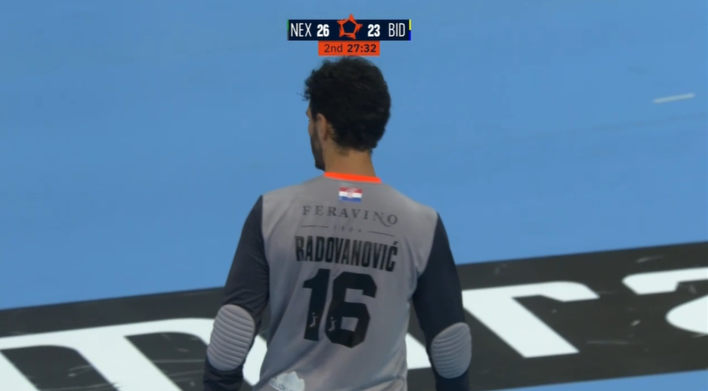 19:25
MASSIVE SAVE by Radovanovic for Nexe! Just when you think they lost their power, here comes the Croatian side once again. The home crowd are really getting behind them tonight and pushing them on. Nexe 26:23 Irun. We are alllllll square on agg. folks!
19:24
19:19

Did Nexe blow all their steam? They look like a different team all of a sudden: pace has dropped, intensity in defence has wavered. Nexe 23:22 Irun
PS. The goal to pull it level 22:22 was the underarm shot of the year by the Chile national team player Munoz
19:17
Odriozola comes up with the good for Irun each and every game and he is no different today! Irun are now back within one. This game just doesn't let up! Nexe 22:21 Irun
19:05
Racotea with a really clumsy tackle gives Nexe a penalty which they score to give them a five goal lead. Incredible turnaround. 
19:00
Now Nexe are flying it! 5 minutes into the second half and they lead 16:12. That puts them one up on agg. 
18:46
For the first 10 minutes I wasn't fully convinced that this would be even a good game but I was wrong. Once Nexe got their confidence up in attack it turned in to a different tie. I expect full drama for the last 30 minutes. Watch it on EHFTV
18:35
Don't forget we have loads more action throwing off over on EHFTV in 10 minutes!
IFK Kristianstad vs KS Azoty-Pulawy SA - live on EHFTV
Pfadi Winterthur vs GOG - live on EHFTV
HC Kriens-Luzern vs HC Metalurg - live ticker
RK Trimo Trebnje vs Balatonfüredi KSE - live on EHFTV
Rhein-Neckar Löwen vs TTH Holstebro - live on EHFTV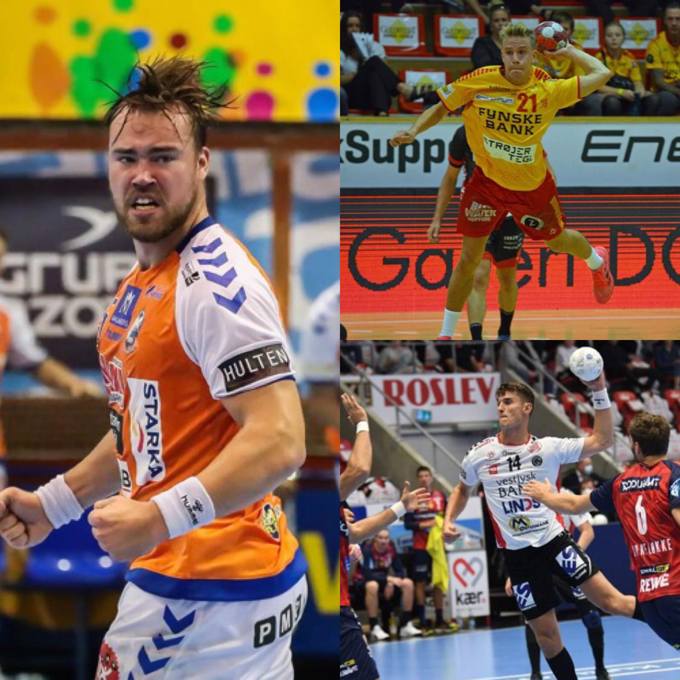 18:30
GAME ON! Nexe go two up and the crowd is pumped in Croatia. Irun are looking a bit rattled. This is fascinating. Time-out Irun! Nexe 10:8 Irun
18:27
Pribetic (2/2) can't be stopped! So much so that Irun tore a hole in his jersey and he had to go off replace it! We are all square at 8:8!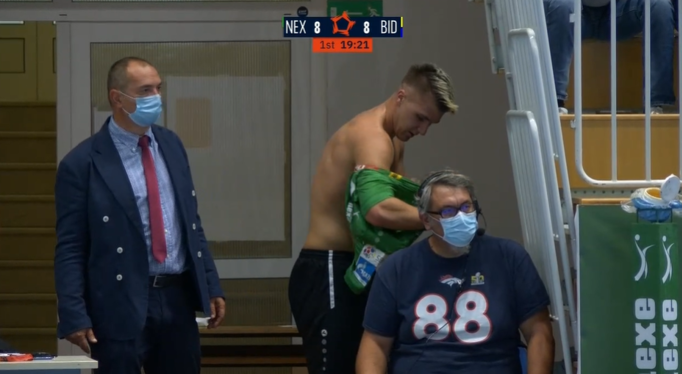 18:19
That's more like it! Pribetic nets a rocket to bring Nexe back within two (7:5). Their attack suddenly looks like it has found its rhythm. Join us here on EHFTV 
18:14 
Irún mean business in defense! Some big hits in the opening 10 minutes. Racotea picking himself up a two-minutes suspension. A chance for Nexe to narrow the gap. 7:2 for the Spanish side.
18:01
Strong start by Bidasoa Irún! Aginagalde makes it 4:1 for the visitors. Nexe will need to settle; they look nervous in their shot selection and Kevic tried to be too fancy trying a spin shot from a peno and hit the crossbar...
18:04
Oh poor Marko Buvinic for RK Nexe! In literally the first action of the game he seems to have twisted his knee and is carried off. Let's hope it is nothing too serious!  
17:30
We are just 30 minutes away from our first tie of the evening: RK Nexe vs Bidasoa Irún! 
The Spanish side are three-goals up from the first leg 30:27. Can Julen Aginagalde & Co get the job done today? Or will we see Nexe take full use of home court? Join us here on EHFTV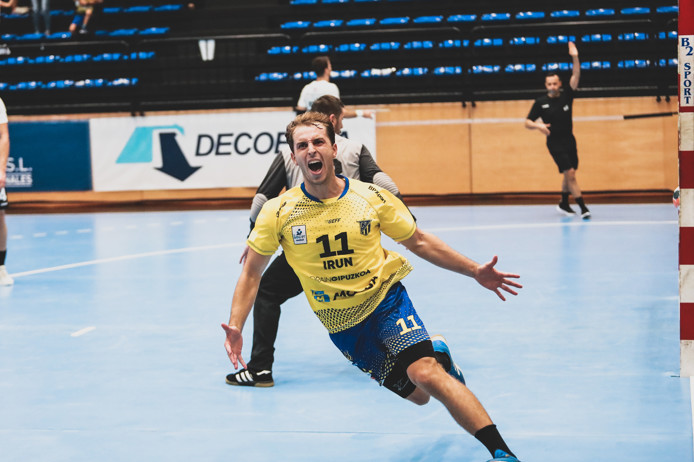 12:01
So many of these games hang in the balance going into the second leg, making this evening's viewing unmissable. I'll break down the games based on the first leg results.
All-square
Sporting CP vs HC Dobrogea Sud Constanta - 27:27 draw
Fenix Toulouse Handball vs AHC Potaissa Turda - 35:35 draw
RK Trimo Trebnje vs Balatonfüredi KSE - one-legged match
One-goal game
Montpellier HB Skjern Handbold - Skjern lead 31:30
IFK Kristianstad vs KS Azoty-Pulawy SA - Kristianstad lead 25:24
Two-goal advantage
HC Kriens-Luzern vs HC Metalurg - Metalurg lead 26:24
Füchse Berlin vs HEDO-B. Braun Gyöngyös - Berlin lead 25:23
Three-goal advantage
RK Nexe vs Bidasoa Irún - Irún lead 30:27
HC CSKA vs Bjerringbro-Silkeborg - Bjerringbro lead 26:23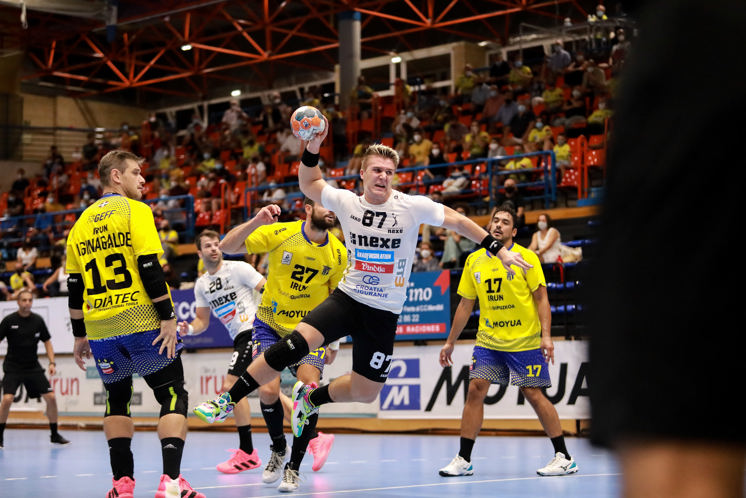 11:35
Some unfortunate news this morning is that BM Benidorm will not be able to fulfil their second leg tie in Vienna against Fivers following an order by the health authorities in Spain that the team's players are confined to their homes for 10 days.
As the game would not take place within the time period foreseen for this competition phase, Fivers will progress to the group phase. Benidorm held a 34:31 lead from their home leg last week.
You can read more about this story here.
11:10
Morning handball pals, how's it going?
This evening, we'll strap ourselves in for a thrilling series of matches in round 2 leg 2 of the European League. Tonight will see 10 teams book their place in the group phase of the new-look competition and this is how our schedule looks.
18:00 (CET)
RK Nexe vs Bidasoa Irún - live on EHFTV
18:45 (CET)
IFK Kristianstad vs KS Azoty-Pulawy SA - live on EHFTV
Pfadi Winterthur vs GOG - live on EHFTV
HC Kriens-Luzern vs HC Metalurg
RK Trimo Trebnje vs Balatonfüredi KSE - live on EHFTV
Rhein-Neckar Löwen vs TTH Holstebro - live on EHFTV
20:45 (CET)
Montpellier HB vs Skjern Handbold
Sporting CP vs HC Dobrogea Sud Constanta - live on EHFTV
Füchse Berlin vs HEDO-B. Braun Gyöngyös
Fenix Toulouse Handball vs AHC Potaissa Turda
Wednesday, 30 September 2020 - 10:00 (CET)
HC CSKA vs Bjerringbro-Silkeborg