EHF European League
SUMMARY: Last-minute thrillers see GOG claim win and Toulouse draw
Round 2 of the EHF European League Men saw a reduced schedule but no reduction in drama as three of the four contests went right down to the wire and we had a live blog to cover the action as it unfolded.
GOG go on late 3:0 run to claim a 30:29 victory over Pelister (Review)
Toulouse find second wind late on to draw level with Leon and survive penalty drama to split the points, 26:26 (Review)
IFK Kristianstad blow Dinamo Bucuresti away in second half to win 31:22 (Review)
Chekhovskie Medvedi's experience shines through to claim 32:30 win over Fivers (Review)
Chris O'Reilly reporting
23:05
And last but not least, my favourite picture of the evening, featuring former Brest player Artsiom Kulak getting his first taste of the rough and rowdy ways of European League handball and not liking it one bit.
I hope you enjoyed the games, which gave us plenty of drama today, and here's hoping we'll have much more to look forward to in round 3 on 17 November. Good night!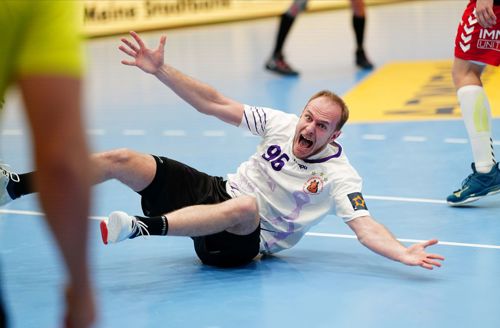 22:43
And giving some love to the other side of the game, a standout goalkeeper moment of the evening goes to Belgium's Jef Lettens, who rescued a point for Toulouse by saving the last shot of the match against Leon.
22:40
Speaking of voting, this gets my vote for the funkiest goal of the night. Fivers right back, Nikola Stevanovic is manhandled by Roman Ostashcenko yet somehow manages to get a wobbly shot away and into the bottom corner.
22:37
Four very different matches with two narrow wins, a draw and just one blowout. Vote for your favourite below.
RESULT: Fivers 30:32 Chekhovskie Medvedi
As I mentioned not long ago, Fivers definitely had their chances to claim something here and you just need to look at the shooting efficiency to back that up - 59% for Fivers, while Chekhov recorded a solid 70%. The Russian side claim their first win of the campaign and sit in a three-way tie for second place in group A.
RESULT: IFK Kristianstad 31:22 C.S. Dinamo Bucuresti 
An excellent second half from Kristianstad makes them deserved winners against a highly-fancied Dinamo side, who now slip to two defeats in the group phase.
We knew group B was going to be a bloodbath, meant in the best possible sense, and it is quickly turning to be that way as Kristianstad signal themselves as contenders for the top four.
22:09
Despite their good efforts, it looks like Fivers will fall short today, having failed to capitalise on plenty of good chances in this second half. Chekhov have been the more clinical side and hold a 31:27 lead with four minutes left to play.
22:01
With an 8:1 run in the middle of the second half, Kristianstad are doing to Dinamo what Berlin did to them last week. Excellent handball from Ljubomir Vranjes' men and a big shout out to Markus Olsson, who has scored four of the last seven goals - 27:16 with 10 minutes remaining.
21:55
Jon is spot on here - 12 two-minute suspensions so far in Vienna, 7:5 to Fivers. That's not the contest they want to be winning though, they trail Chekhovskie Medvedi 25:23 in the one that matters.
21:49
Not much has changed in either game since we resumed after half-time. Kristianstad still looking comfortable as they and Dinamo trade goals, while Chekhov hold a two-goal lead over Fivers at the 40-minute mark.
21:26 - Half-time: Kristianstad 16:12 Dinamo, Fivers 15:16 Chekhov
Looks like we're being treated to a full pot of exciting matches tonight. Kristianstad looking in the most commanding position so far and are good value for their four-goal lead. Former Kiel wing Emil Frend-Öfers leads IFK with four goals among eight different goalscorers, while Valentin Ghionea is the main man for Dinamo with five goals as Amine Bannour has crucially yet to score.
Chekhov's bears have found their rhythm and hold a narrow lead, thanks largely to six goals from Roman Ostashchenko. Fivers are far from out of it, however, and can turn things around if they let their speed do the talking. 20-year-old Lukas Hutecek leads the Austrians in scoring with four so far.
21:17
Serious blow for Kristianstad as Johan Nilsson received a direct red card for a high challenge on Catalin Bizau. The fans don't like it and proceed to jeer at Bizau every time he touches the ball on the next attack - which works, as he throws the ball away...
Despite losing Nilsson, The men in orange take a 14:10 lead as we approach half-time.
21:12
Chekhovskie medvedi may be the more experienced side in terms of age and European pedigree, but Fivers are putting this season's experiences to good use so far. That combined with their youthful exuberance sees them 11:10 ahead after 22 minutes in Vienna.
21:05
Dinamo Bucuresti are getting a foothold in the game at last, but it's still Kristianstad in the lead, 8:6 after 15 minutes. An impressive aspect of the Swedish side's performance so far is that six different players have scored for them so far.
The home side's fans are also making an impact, despite their restricted presence, living up to the club's reputation for fantastic home support.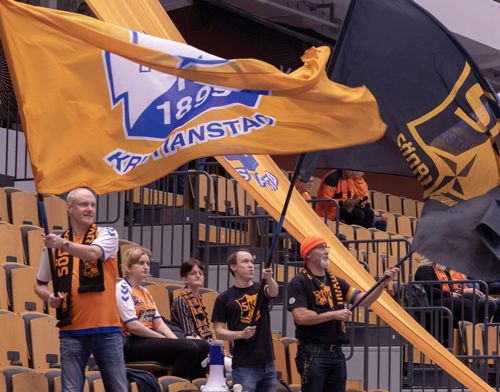 20:54
Early doors in our late throw-offs. Kristianstad have opened up a healthy 5:2 lead in the opening stages against Dinamo Bucuresti, while Fivers are 5:4 up against Chekhovskie Medvedi.
20:42
In a game that was so tight for so long and saw Pelister hold the lead many times in the second half, you have to give the young GOG team so much credit for their composure to turn things around. As well as Pytlick's seven goals, Emil Jakobsen fired in nine and the 22-year-old was ice cool in the final stages.
RESULT: GOG 30:29 HC Eurofarm Pelister
The drama doesn't stop there as GOG come from 29:27 down, scoring three goals in the final stages to snatch victory.
19-year-old Simon Pytlick scores two of those final three, seven in total, as the young Danish side redeem themselves after last week's one-goal loss to secure their first points of the season. Heartbreak for Euroform, reminiscent of many of their EHF Champions League games last season.
RESULT: Abanca Ademar Leon 26:26 Fenix Toulouse HB
Final seconds of the game and Ayoub Abdi gets a red card for preventing Leon from getting the final throw - the hosts receive a penalty.
Philippe Gardent drops to his knees in despair as he feels the hard-earned point is lost for Toulouse.
It's Gonzalo Perez who steps up to take the penalty and claim glory for his team...but it is saved by Belgian Jef Lettens and the points are shared - 26:26, what drama!
20:11
It's far from over in Spain. Toulouse have fought their way back within one from a Nemanja Ilic penalty and there are three minutes remaining on the clock.
20:05

The battle in Denmark rages on! Pelister looking the likelier to come away with the points at the moment, leading 25:24, but GOG are just about keeping themselves in the running with Emil Jakobsen providing the inspiration. 10 minutes left to play.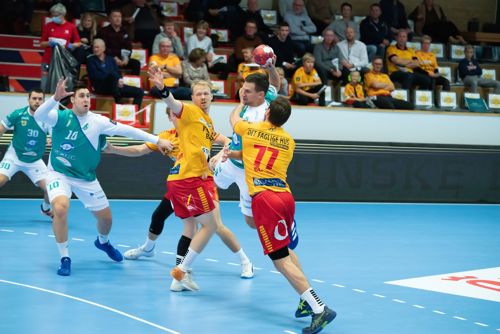 19:58
The house erupts at Palacio de los Deportes de Leon as Ademar take their biggest lead of the evening, 23:19! Although it is cut down to three moments later, this feels like a big momentum shift for the Spanish side as they take control with 15 minutes left to play.
19:49

Both contests picked up where they left off in the second half, remaining tight, a bit nervy at times, but delivering good quality handball.
GOG and Pelister are locked at 20:20, while Leon lead Fenix 20:19. Watch them both now on on EHFTV.
19:29 - Half-time: Abanca Ademar Leon 15:14 Fenix Toulouse HB
Leon keep their noses in front heading into the dressing rooms. It's been a fairly free-flowing game so far, as you'd expect from these two teams, separated by a single goal and perhaps a slight lack of discipline from Toulouse, who have seen three men given suspensions so far.
19:25 - Half-time: GOG 14:14 HC Eurofarm Pelister
We said Stipe Mandalinic would need to be in flying form today and that's exactly what he has been in the opening 30 minutes. 
6 goals from the big Croatian and keeping Pelister well in contention alongside goalkeeper Blagojche Trajkovski with six saves. GOG have spread the love a bit more, with Kaper Kildelund leading their scoring efforts on four goals. GOG look set to have another game to down to the wire tonight.
19:12
We're into the final 10 minutes of the first half in the early games and while GOG and Pelister are level, Leon have opened up an 11:9 lead over Toulouse with Ruben Marchan Criado enjoying himself in front of goal - scoring four so far.
19:00
They are one goal down against GOG at the moment (7:6), but playing well and will Pelister will need Mandalinic on flying from tonight if they want to pick up some points. Watch it HERE.
18:54
After the opening 5 minutes, we are stuck at 2:2 in Denmark, and Leon lead 4:2 over Toulouse. Hard to pick which game to watch, huh? Why not double screen them, using the feature on EHFTV?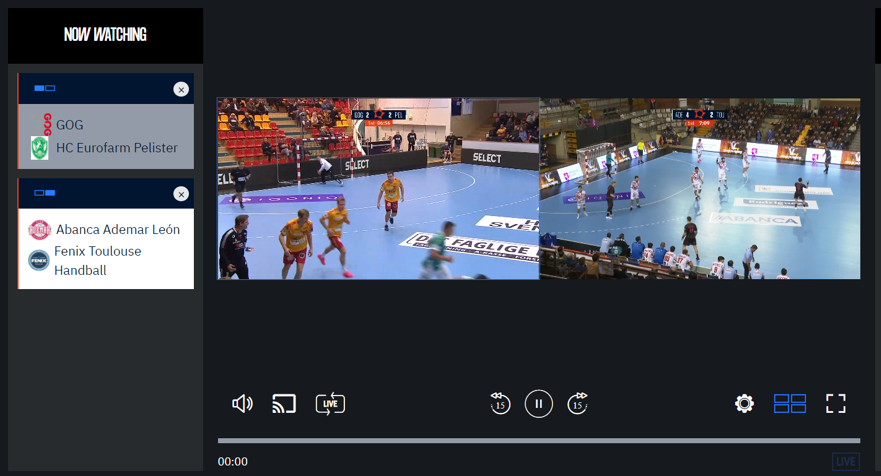 18:45
We are ready to rock and roll here, join us: 
Abanca Ademar Leon vs Fenix Toulouse Handball 

GOG vs HC Eurofarm Pelister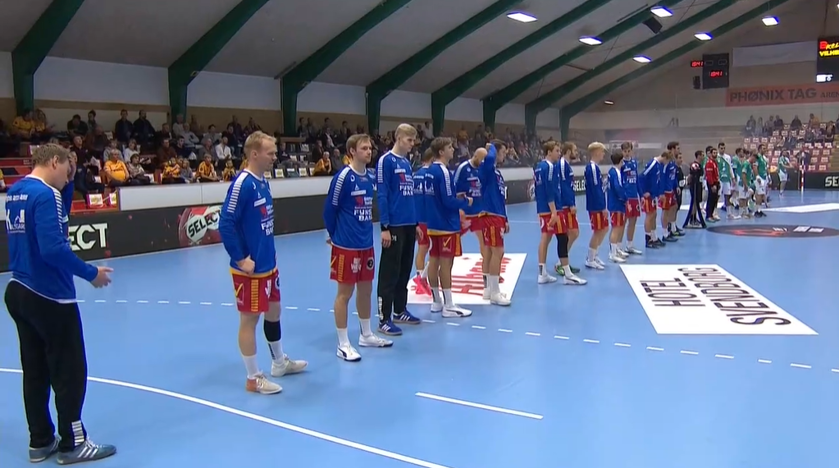 18:35
Warm-up well underway in Denmark for GOG vs HC Eurofarm Pelister catch some of the footage on EHFTV
18:24
We are almost ready for off here. In an interesting tie Abanca Ademar Leon throw off their season against Fenix Toulouse Handball who have struggled domestically but can keep a perfect international record with a win tonight.
13:46
This evening's schedule includes four matches, full of ambitious teams and those with plenty of experience from Europe's elite club competition.
Toulouse seek their second straight win in group A but their visit to Leon promises to be a tough task for them, while in the same group, Chekhov open their campaign with a match at the young guns of Fivers in Vienna.
In group B, both Kristianstad and Dinamo Bucuresti are seeking a first win after suffering a defeat in round 1. And in group D, GOG want to gain their first points after a bitter opening defeat in Schaffhausen last week, but it will not come easy against the ambitious Pelister.
You can read the full round preview here.
13:24
If you missed out on last week's action, you can enjoy highlights from each and every game on the new-look EHFTV, with a section dedicated to the European League here.
13:01
Good afternoon everyone and welcome to our running coverage of round 2 in the European League group phase.
We have four matches coming your way this evening, let's remind ourselves of some of the best action from round 1 with the top 5 goals.