EHF EURO
Summary: Big away wins for Scandinavian teams mark round 2
The Men's EHF EURO 2022 Qualifiers continued this weekend with eight matches in round 2.
The Scandinavian trio of Denmark (+18), Norway (+15) and Sweden (+14) posted the biggest wins of the round, while Germany (+12) also clinched a double-digit victory.
Also, Croatia got the better of Hungary in the second game of the EHF EURO Cup.
Qualifiers are scheduled to resume in the first week of January 2021.
eight matches in round 2 of the Men's EHF EURO 2022 Qualifiers
RESULTS SATURDAY: Russia vs Ukraine 30:28, Finland vs Denmark 22:40, Switzerland vs North Macedonia 23:25
RESULTS SUNDAY: Lithuania vs Portugal 26:34, Estonia vs Germany 23:35, Kosovo vs Sweden 16:30, Romania vs Montenegro 36:27, Italy vs Norway 24:39
tell us in the poll which team impressed you the most on Sunday
RESULT EHF EURO Cup: Croatia vs Hungary 31:27
the qualifiers return on 5/6 and 9/10 January 2021
20:30
The lights in the various arenas have been switched off, so our coverage of this weekend's matches in round 2 of the Men's EHF EURO 2022 Qualifiers ends here. It was a pleasure to guide you through all the nine games.
Oh, and please mark in your calendars that we are scheduled to be back with more qualifiers on 5/6 and 9/10 January 2021!
So it is bye for now and I am going to leave you with the best pictures from today's action.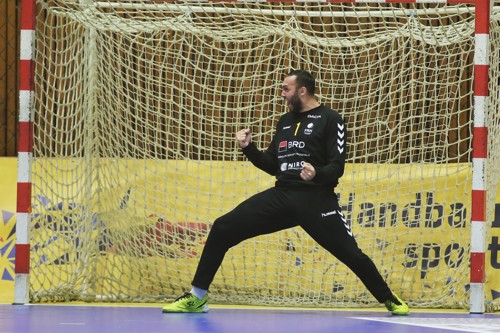 20:04
There is not an award like 'Player of the Round' or so, but if there was, Sweden's Lucas Pellas would be a main candidate this weekend!
Fair to say it has been the day of H-U-G-E victories... but which winning team have impressed you the most? Tell us in the poll!
19:47
With EHF EURO 2020 bronze medallists Norway wrapping up their victory over Italy, this weekend's round 2 schedule is complete. An overview of today's results: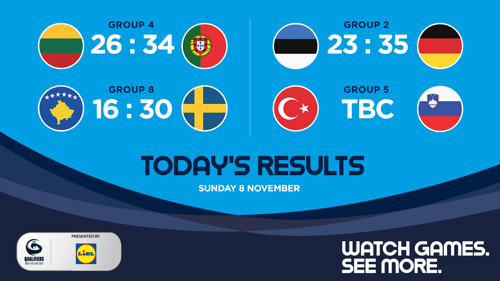 19:36 | RESULT: Italy vs Norway 24:39 (7:17)
Fifth match on Sunday, fifth big win... actually, the biggest of them all! Norway easily take both points in Italy to open their EHF EURO 2022 Qualifiers account with a clear win.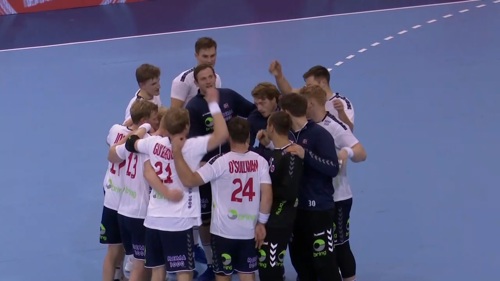 19:22
Some big results today but still, goalkeepers were on fire and Romania's Ionut Ciprian was certainly no exception.
19:02
Even if you dominate the whole court, you still want to rely on a strong goalkeeper. Norway can, on Torbjørn Bergerud.
18:53 | RESULT: Romania vs Montenegro 36:27 (16:13)
What a dominant performance from Romania after their tough start into this match!
Things in group 8 are shaping up nicely now, with Sweden clearly leading on four points, followed by Romania and Montenegro on two each and Kosovo on zero.
18:39 | HALF-TIME: Italy vs Norway 7:17
Just what you would expect from the favourites: Norway have stamped their authority on this match from the throw-off, handing Italy a double-digit deficit already at the break...
...although on Twitter they have missed one goal ;-)
18:34
Romania maintain control as they have opened a seven-goal gap to Montenegro, with 15 minutes left.
On a personal note: This match is not exactly an ideal watch for red-green colour blind viewers...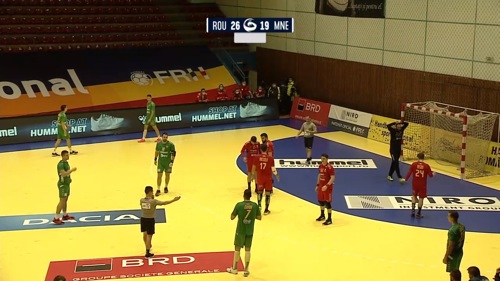 18:28 | RESULT: Kosovo vs Sweden 16:30 (10:15)
Sweet win for Sweden! The 2018 silver medallists cruise to victory in Kosovo and go two-from-two in group 8.
18:17
Team timeout for Italy. The hosts are trailing Norway 6:3 after the opening 12 minutes and want to make sure not to drop behind too far already in the early stages.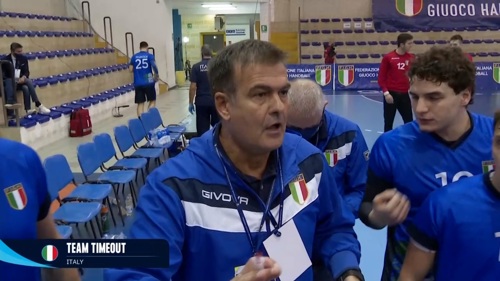 18:10
Sweden are cruising now in Kosovo. They have doubled their half-time lead to 10 goals (22:12) with still 15 minutes on the clock.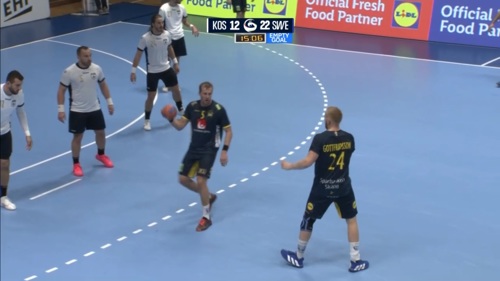 18:01 | HALF-TIME: Romania vs Montenegro 16:13
They needed to warm up a bit early in the match but went ahead of Montenegro as soon as they reached the right temperature: Romania are leading by three at the break, with Nicusor Negro their leading scorer with four goals.
17:54
Nice finish from the right wing, Gabriel Bujor!
17:47
In few minutes we head to Pescara, where Italy and Norway will contest this weekend's last EHF EURO 2022 Qualifier in round 2.
Here is the preview info on both teams:
both Italy and Norway get their qualification campaigns underway with this encounter
EHF EURO 2020 bronze medallists Norway are aiming for what would be their 10th final tournament overall. They have reached every final tournament since 2006, and the semi-finals twice in the last three editions
Italy have qualified for the EHF EURO once, in 1998
the teams have met eight times before, with seven wins for Norway and one draw – but this is the first mutual match since the turn of the century
Norway team captain Bjarte Myrhol has a shoulder injury and will not play
And here is your direct link to Italy vs Norway on EHFTV.
17:38 | HALF-TIME: Kosovo vs Sweden 10:15
With Lucas Pellas scoring four, Sweden are firmly on track for a second straight qualifier win, leading Kosovo by five at the break.
17:27
Sometimes it is the goal that is brilliant. Sometimes it is just the assist.
17:24
This penalty from Lucas Pellas makes it 9:6 as Sweden take an early advantage over Kosovo.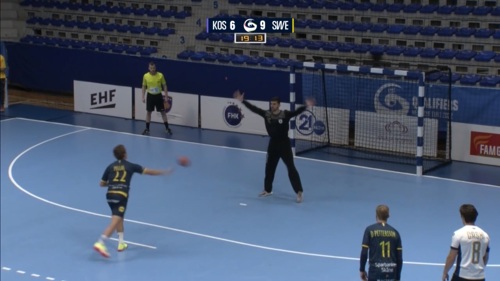 17:19
From the same group as Kosovo and Sweden, we have the qualifier between Romania and Montenegro coming up in a few minutes.
Here are the bullet points to get you up to date on Romania and Montenegro:
Romania started their qualifiers campaign with a defeat to Sweden on Thursday, while Montenegro collected two points against Kosovo
this could already be one of the critical clashes of the group, as Sweden are considered favourites to proceed and the battle for the group's second position is seemingly more open
Romania competed at the first two EHF EURO events, in 1994 and 1996, and have been waiting for a successful qualifier campaign since then
Montenegro made it to the last four final tournaments, as well as the 2008 edition. They have never ranked inside the top 10 however
The teams have met four times before, with three wins for Montenegro and one for Romania. Montenegro snatched a one-goal victory, 28:27, in the last clash, played in Bucharest
Here is your direct link for Romania vs Montenegro on EHFTV.
17:08
Earlier this afternoon I told you the story of German prospect Juri Knorr... and here is the young man himself to show us his skills!
16:59
Briefly back to our first match today: Portugal goalkeeper Alfredo Quintana was named 'man of the match' by local organisers, and saves like this one certainly helped him to receive this honour.
16:54
Just to be well-prepared for this match, here are some facts on Kosovo and Sweden for you:
Sweden have two points ahead of this match, thanks to a 33:30 victory against Romania on Thursday evening
Kosovo lost to Montenegro away in round 1, 32:25
it is a case of the team with the most EHF EURO tradition of any versus the newest contesting the qualifiers: Sweden have missed only one final tournament in history and remain the record title holders (four trophies), while Kosovo are contesting only their third qualification phase since starting independent competition
it is the first official match between Kosovo and Sweden
And here is your direct link to Kosovo vs Sweden on EHFTV.
16:51
Next up are Kosovo and Sweden, in a similar situation like we saw with the previous two matches: The hosts (Kosovo) lost their midweek opener, the visitors (Sweden) won.
16:41 | RESULT: Estonia vs Germany 23:35 (12:13)
In the end Germany will leave Estonia with a double-digit win in their luggage, winning by 12 goals after leading by just one at the break.
16:32 | RESULT: Lithuania vs Portugal 26:34 (14:18)
Portugal have doubled their half-time lead for a convincing eight-goal win in Lithuania. That makes it two wins out of two for the South Europeans!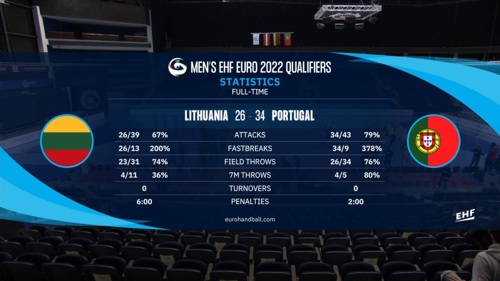 16:22
Not sure what Alfred Gislason has told his players in the dressing room but Germany have certainly stepped a few gears here in the second half, now leading Estonia by nine goals, 23:14.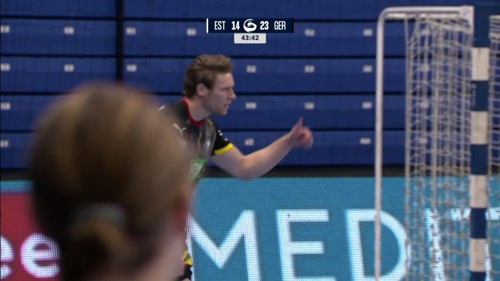 16:17
Team timeout for Portugal, who appear on their way to a decisive victory, leading Lithuania by 29:21 with about 10 minutes left on the clock.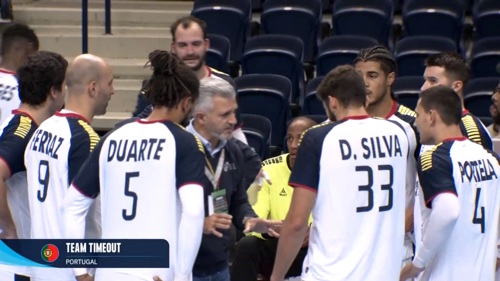 16:11
Estonia dropping a bit behind Germany in the second half now (18:13) but this lovely in-flight from Alfred Timmo from the first half is always worth a watch!
16:02
ICYMI - watch this sidearm beauty from Miguel Martins from the first half of Lithuania vs Portugal:
15:51 | HALF-TIME: Estonia vs Germany 12:13
Well, earlier I said Germany seemed "in control" but I must admit I jumped the gun a but there. Estonia have reduced the deficit to a single goal at the break.
Both Julius Kühn and Kai Häfner scored their 200th national team goal in the first half. It probably will mean nothing to them of Germany would not win this match...
15:39 | HALF-TIME: Lithuania vs Portugal 14:18
Have Portugal taken a first step towards their second straight qualifiers win?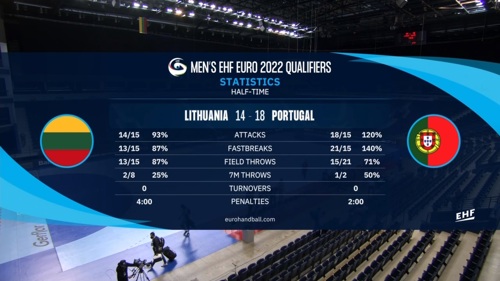 15:31
While Germany struggled big time in the first half against Bosnia and Herzegovina Thursday, they seem in control today, leading Estonia by three (7:4) after the opening quarter.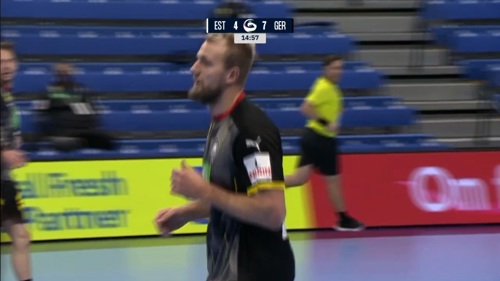 15:20
Team timeout in Lithuania. Portugal are leading by two after the opening 19 minutes, 10:8.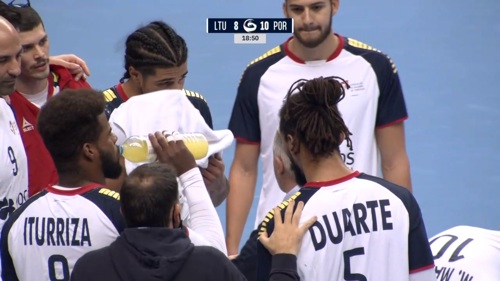 15:12
Some nice-to-know facts about Estonia and Germany:
Germany opened their campaign with a 25:21 win against Bosnia and Herzegovina, but one that required a comeback from the EHF EURO 2016 champions, as they trailed 9:13 at half-time
Estonia started their campaign away, recording a close defeat, 31:28, versus Austria in Graz
Estonia's Karl Toom is among the qualifiers' top scorers after round 1, having netted 10 goals against Austria to rank second alongside Switzerland's Andy Schmid
this will be the first official match between these sides
while Germany have missed only one final EHF EURO tournament (2014), Estonia hope to reach their first
Let's go! Here is your direct link to Estonia vs Germany on EHFTV.
The qualifiers have produced yet another 'handball family' story. Every now and then we see players emerge whose father or mother was a well-known player as well.
This time we have such feel-good story coming from Germany, where Juri Knorr made his national team debut Thursday. Juri's father is Thomas Knorr, who was a key player for Germany in the 1990s and became top scorer of EHF EURO 1996, with 41 goals.
Read the full Knorr family story on the website of the DHB (in German).
15:02
Meanwhile in Tallin, Estonia and Germany are warming up for their clash... 
14:55
So it is Lithuania vs Portugal first. Here are some interesting facts ahead of their clash:
Portugal will be looking to add another victory to what has been a great year on the EHF EURO stage for them, starting with the historic sixth place in January on their return to the final tournament after a 14-year wait
Portugal qualified for five final EHF EURO tournaments spanning from 1994 to 2006 before their participation drought began
Lithuania are fighting for a place at their first final EHF EURO tournament since 1998
the historical balance between these teams stands at one win apiece and two draws, all in EHF EURO qualification. The last encounters, on the path to the 2020 edition, saw a one-goal win for Portugal and a draw
And here is your direct link to Lithuania vs Portugal on EHFTV.
14:40
We start this qualifiers' Sunday in the Baltics, where Lithuania host Portugal in 10 minutes, and Estonia play against Germany 15 minutes later.
For both matches: the respective hosts lost their opening qualifiers this week, while both visitors have started with a win. 
14:32
Let's quickly have a look back to yesterday, when three matches got round 2 underway:
Russia edged Ukraine 30:28, following their draw two days earlier
Denmark reached the 40-goal mark in a 40:22 drubbing of Finland
North Macedonia fought hard and came out on top in Switzerland, 25:23
We did a one-question quiz on the latter match yesterday evening and you check if you know the correct answer...
Apart from the three qualifiers, Saturday's schedule also included the second game of the EHF EURO Cup: Croatia earned a 31:27 win over Hungary, which had defeated reigning European champions Spain in the midweek opener.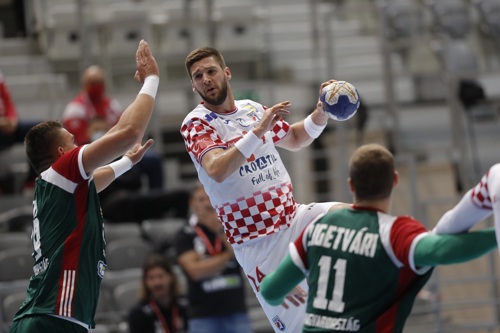 14:15
Good afternoon, welcome back to the Men's EHF EURO 2022 Qualifiers!
After the midweek round 1 qualifiers, we have a total of eight round 2 matches this weekend. Following Saturday's wins for North Macedonia, Denmark and Russia, we have five more qualifiers to look forward to today (all times CET):
15:00 - Lithuania vs Portugal (group 4)
15:15 - Estonia vs Germany (group 2)
17:00 - Kosovo vs Sweden (group 8)
17:25 - Romania vs Montenegro (group 8)
18:00 - Italy vs Norway (group 6)
21:00
Let's call it a night! Thanks for joining, and the live blog resumes Sunday at 14:00 CET for five more qualifiers in round 2.
As always, I am going to leave you with some of the best moments of the day in our picture gallery.
20:43
Before we close today's EHF EURO Qualifiers/Cup coverage, here are the main storylines once again for you:
Russia getting three points from their double-header with Ukraine
Denmark adding another big win, this time against Finland
Croatia starting brightly in EHF EURO Cup, handing Hungary first defeat
North Macedonia getting first win, putting Switzerland deeper in trouble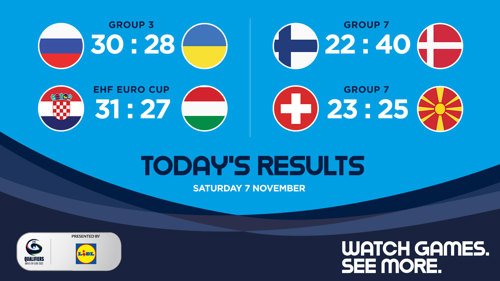 Quiz time! Do you know the correct answer???
20:07
This save by Macedonian goalkeeper Martin Tomovski, to deny Samuel Röthlisberger an equaliser for Switzerland, was one of the crucial moments in the closing stages of this qualifier.
20:02 | RESULT: Switzerland vs North Macedonia 23:25
The legends top the scorers list: Andy Schmid with seven, Kiril Lazarov with six... but North Macedonia win the game in Switzerland to get their first points in the EHF EURO 2022 Qualifiers!
19:44
It is still all to play for in the last match running, as North Macedonia lead Switzerland by one - with 10 minutes left on the clock.
19:33
Immediate match analysis live on Croatian TV from the team's mastermind himself, Lino Cervar.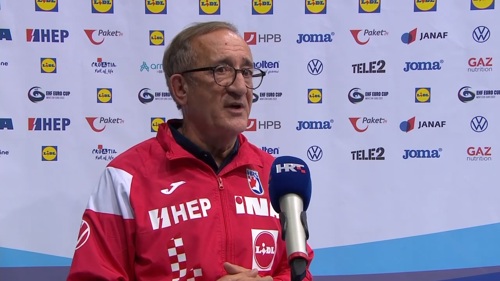 19:27 | RESULT: Croatia vs Hungary 31:27 [EHF EURO Cup]
Well done, Croatia! They quickly lost their four-goal first-half lead after the break but end up winning by just that margin.
Ivan Martinovic and Manuel Strlek each scored six, as did Richard Bodo for Hungary.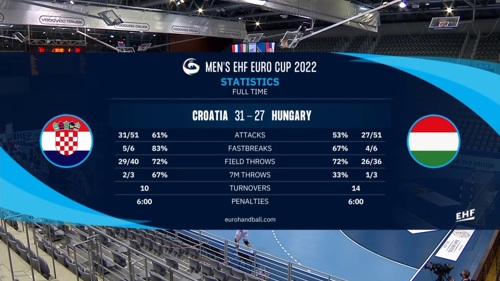 19:23
Lino Cervar calling a last team timeout but his Croatia are not going to give this away anymore, leading Hungary by three going into the final minute.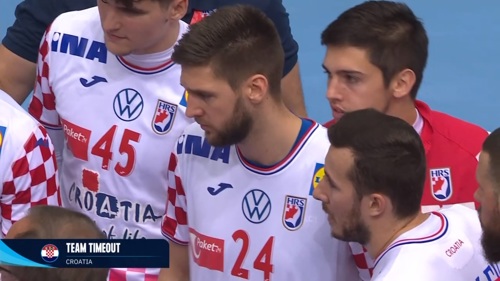 19:18
And THIS is why Switzerland and North Macedonia are level at the break. Watch the master at work:
19:09 | HALF-TIME: Switzerland vs North Macedonia 10:10
Both teams seeking their first win... but at half-time Switzerland and North Macedonia are locked at 10 all.
19:02
At half-time I wondered what Hungary's answer in the second half would look like...
And here you go, they have closed the four-goal gap to Croatia in the first 10 minutes of the second half, 21:21!
18:57
Funny how Andy Schmid can make the game look so easy...
18:50
Time for a team timeout! Switzerland trailing their Macedonian guests by two, 7:5.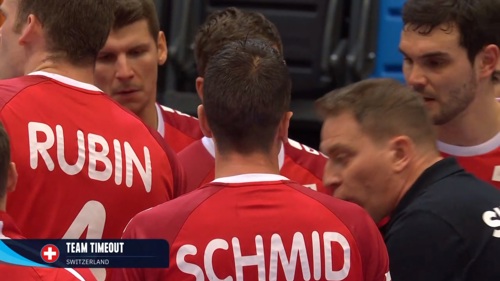 18:47
Wow, unbelievable angle to score from! One of five Manuel Strlek goals in the first half.
18:43
Meanwhile, over in Schaffhausen Switzerland and North Macedonia have started their quest for their first points this qualifiers campaign, with an early lead for the visitors.
Here is some info on both teams for you:
it is a clash between two all-time greats of the game, Andy Schmid and Kiril Lazarov: Lazarov netted 11 goals for North Macedonia to top score overall in round 1, while Schmid scored 10 for Switzerland
North Macedonia are on the hunt for their sixth consecutive EHF EURO berth, while Switzerland aim for a second after returning to the event in 2020 following a 14-year absence
it has been 17 years since Switzerland beat North Macedonia. The Macedonians have won the four encounters since 2003, most recently in 2015 in St Gallen
18:35 | HALF-TIME: Croatia vs Hungary 17:13 [EHF EURO Cup]
Croatia have stretched their lead to four at the break. Will be interesting to see what the Hungarian answer in the second half looks like!
18:28
Looks like Domagoj Duvnjak has done his homework well: Croatia lead Hungary by three with five minutes left until the break.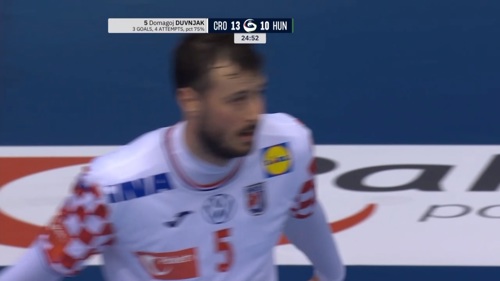 18:06
Andy Schmid netted 10 times Thursday but it wasn't enough for Switzerland to upset Denmark. At 18:30 CET they face another team which lost their opening qualifier, North Macedonia.
Here is your direct link to Switzerland vs North Macedonia on EHFTV.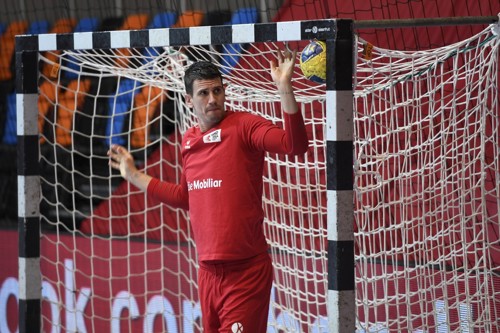 17:58
Some interesting info on both teams just before throw-off:
Hungary will be brimming with confidence after a 32:29 win against the back-to-back European champions Spain in the EHF EURO Cup opener on Wednesday night
Croatia have yet to play an EHF EURO Cup match, and will start their campaign with this clash
Hungary's 21-year-old line player Miklos Rosta is the top scorer for the EHF EURO Cup so far, thanks to seven goals against Spain
while his older brother Marin is playing the EHF EURO 2022 qualifiers for Austria, 2019 Junior World Championship MVP Ivan Martinovic will play his first competitive match for the senior Croatia side on Saturday
17:53
Judged by Domagoj Duvnjak's student-like expression, Croatia have been studying their opponents well before the Hungary game...
17:50
While we have one more qualifier coming up tonight - Switzerland against North Macedonia at 18:30 CET - let's first turn our attention to the EHF EURO Cup.
That competition started with a bang last Wednesday, when Hungary defeated Spain 32:29. So, Croatia will be warned when they host Hungary in a match that starts in 10 minutes.
Here is your direct link to Croatia vs Hungary on EHFTV.
17:41
Typical scene for the match we just saw: Finland giving away the ball too easily and Denmark obviously quick to take advantage - here with Mathias Gidsen.
17:27 | RESULT: Finland vs Denmark 22:40 (11:19)
There has been no doubt from the throw-off who was going to win this match. Denmark ease past Finland (40:22) for their second win in the EHF EURO 2022 Qualifiers!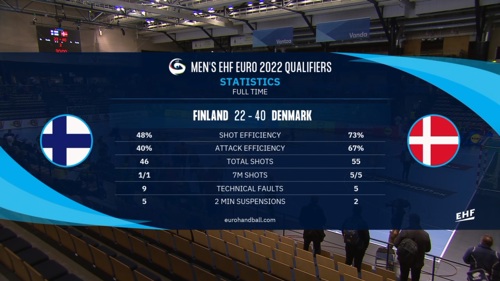 17:08
Back to the match that is on now: Denmark show no mercy with Finland and have increased the gap to 15 goals - with 15 minutes still on the clock.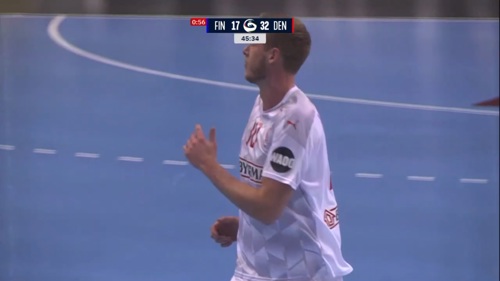 16:56
In just over an hour, the second match in the EHF EURO Cup 2022 throws off. Hungary started with an impressive win over Spain last Wednesday, when they beat the defending champions 32:29.
Can Hungary confirm their strong form with a good result against Croatia tonight? They throw off at 18:00 CET and you don't want to miss that one!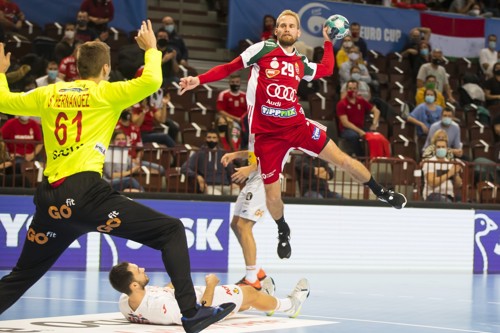 16:38 | HALF-TIME: Finland vs Denmark 11:19
Apart from that beauty I posted here a few minutes ago, Hansen scored seven more goals as Denmark have built a substantial lead over hosts Finland in the first half.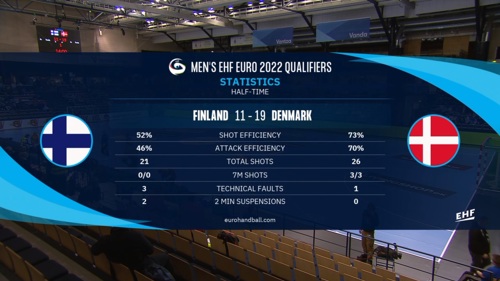 16:32
Never too early in a match to switch into gallery-play mode... well done, Johan a Plogv Hansen!
16:20
"We must also take fouls. We let them play, play, play."
In a team timeout, Finland coach Ola Lindgren urges his men to be a bit more robust against the free-flowing Denmark, who are already up by eight goals within the first 20 minutes.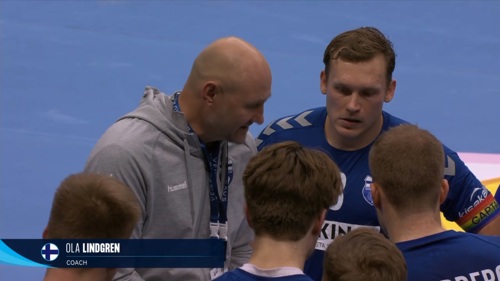 16:13
Denmark not messing around in the opening stages in Finland: They lead 8:3 after 12 minutes.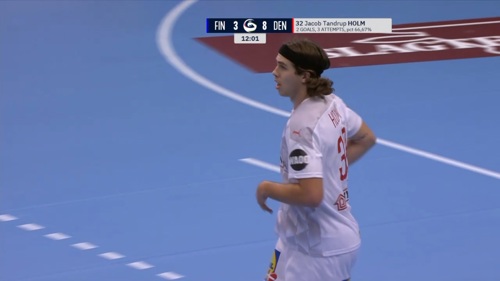 15:57
The EHF EURO 2022 Qualifiers are not only covered here on the live blog, but you can also follow the action on the official Twitter account.
Today Joanne Harris will keep you informed on all what happens. If you want to join in, make sure to use the official tournament hashtags #ehfeuro2022 and #watchgamesseemore. 
15:51
It is an understatement to say that Finland and Denmark have not met for a long time: It has almost been three decades (!) since they last played each other.
Here are some other facts & figures:
in this week's round 1 of the qualifiers, Finland were defeated away in North Macedonia (33:24) while Denmark opened with a win against Switzerland (31:26)
Denmark have won all three previous matches against Finland
Denmark have missed only one final EHF EURO tournament, in 1998, and have a collection of medals from the event – two gold, one silver and three bronze
Finland have never reached the final tournament, but have been consistently present in the final stages of the qualifiers in recent years
15:45
Welcome back as the action resumes soon... and we have the world champions coming up next! Denmark beat Switzerland two days ago, and they will look for another win visiting Finland today.
This is your direct link to Finland vs Denmark on EHFTV.
15:00
Let's take a short break now, as the next match, featuring Finland and world champions Denmark, starts in exactly one hour.
Until then, I leave you with some homework to do... study the round preview!
14:53
Nicely done, this controlled finish by Timofei Maslennikov from the right wing.
14:37 | RESULT: Russia vs Ukraine 30:28 (15:14)
Russia win both halves against Ukraine by 15:14 today, to get three points from their double-header this week following Thursday's draw.
14:18
Cool stuff this! Not one, but two strong saves from Maksym Viunik to deny Dmitry Zhitnikov.
14:03
Team timeout Ukraine! They have now dropped four goals behind Russia (19:15) so it is time for Mykola Stepanets to make some adjustments.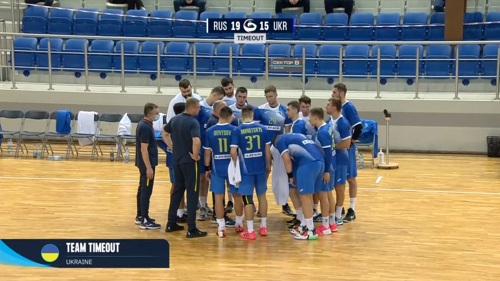 13:50
Russia vs Ukraine is only the first of today's four matches:
13:00 CET - Russia vs Ukraine (15:14 at half-time)
16:00 CET - Finland vs Denmark
18:00 CET - Croatia vs Hungary (EHF EURO Cup)
18:30 CET - Switzerland vs North Macedonia
13:46
While the teams prepare for the second half, I have got some interesting facts about Ukraine and Russia:
both teams qualified for EHF EURO 2020 but missed the main round before finishing in 19th (Ukraine) and 22nd position (Russia) respectively
Russia lead their head-to-head with seven wins from their nine duels, drawing once - last Thursday - and also losing once - by a single goal in a World Championship play-off more than 16 years ago
both teams changed coaches after EHF EURO 2020: Velimir Petkovic took the helm of Russia from Eduard Koksharov; Mykola Stepanets is the successor of Sergej Bebeshko with Ukraine
six Ukraine players nominated by Stepanets play for Russian club
13:41 | HALF-TIME: Russia vs Ukraine 15:14
The first half in Minsk is over and Russia have entered the dressing rooms with a slim 15:14 lead over Ukraine. I can only repeat myself: this is another very close one! 
13:21
Velimir Petkovic calls a first team timeout for Russia, who have opened a two-goal gap over Ukraine, 10:8.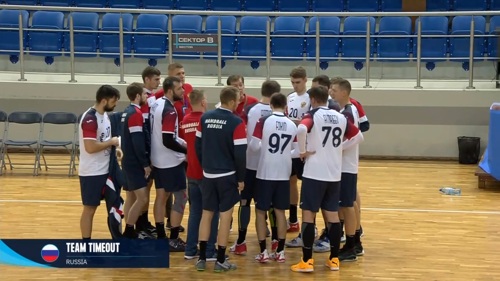 13:08
Looks like Russia and Ukraine are right in another close battle, after Thursday's draw. It is 5:5 within the opening nine minutes.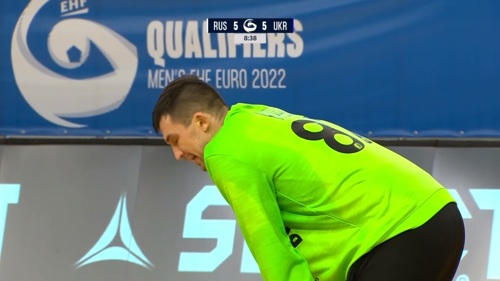 12:58
What?! They also played two days ago?
Yes, that's correct. Russia and Ukraine agreed to play their qualifiers as a double-header this week in Minsk, Belarus. Thursday's game was formally Ukraine's 'home' game, so today Russia have the 'home' right.
By the way, you will find lots more on the round 1 qualifiers in our midweek live blog.
12:51
So, let's quickly head to today's action, as Russia and Ukraine are already about to get the round 2 train running!
Ukraine staged an impressive comeback to get a 27:27 draw last Thursday, when both teams also met in round 1. Will there be a winner this time?
Here is your direct link to Russia vs Ukraine on EHFTV.
Enjoy!
12:30
Good afternoon! The Men's EHF EURO 2022 Qualifiers are back, and so is the live blog.
My name is Eric Willemsen and I am happy to guide you through all that is happening this weekend.
We have two handful of matches coming up: Nine qualifiers plus one game for the EHF EURO Cup 2022, the competition that features the four teams already qualified for EHF EURO 2022: Hosts Hungary and Slovakia as well as 2020 champions Spain and runners-up Croatia.
Before we look into the details of this weekend's schedule, let's get into the right mood by watching the Top 5 Goals from round 1 on Wednesday and Thursday: