Beach Handball
Rewind: The 2013 EHF Beach Handball EURO
As we countdown to EHF Beach Handball EURO 2021, we take a look back all previous events in the competition's rich and colourful history. Today we take a trip to Denmark for the eighth EHF Beach Handball EURO in 2013 in Randers.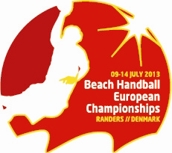 In a nutshell
The eighth edition of the EHF Beach Handball EURO headed to Denmark for the first time in the competition's history.
The city of Randers, with a population of just over 60,000, is Denmark's sixth largest city and lies in the north west of the country – and about 139 miles (224 km) from Copenhagen.
According to our sources (Wikipedia) the main tourist attraction is the zoo, thanks to its artificial rainforest – apparently the largest in Northern Europe and home to 250 varieties of plan and 175 specials of animal.
But in the year 2013, 14 nations descended on this corner of Denmark to play in the EHF Beach Handball EURO 2013.
13 nations played in each event and were represented by: hosts Denmark, Norway, Hungary, Ukraine, Italy, Russia, Spain, Turkey, Croatia, Switzerland, Greece, Poland and Sweden.
From the President
This Beach Handball EURO was the first under the Presidency of Jean Brihault. The President in his notes in an official ebook that covered the event, spoke of the introduction of the newly-formed EHF Beach Handball Commission.
He added: "Their efforts to promote and further develop the sport within Europe. Since then, Beach Handball in Europe has undergone a tremendous revolution and is a staple of the European handball summer; hinged on growth that endures, a vast number of Beach Handball enthusiasts continue to follow the championship events"
Men's winners      
For the third successive men's event the gold and silver medals went to Croatia and Russia. Having won in straight sets in 2009 and in 2011, Croatia made it a hat-trick of 2-0 wins, defeating a Russian team for the third time in a row. The silver for Russia was their fourth in the men's event (2002, 2009, 2011, 2013).
Hosts Denmark were also celebrating a medal, as the overcame Serbia in the bronze medal match.
Women's winners
In a thrilling final, Hungary claimed the women's title and denied Denmark a memorable home gold. It was the first time a Hungarian women's team had medalled in the event and meant Denmark had to settle for silver for the second EURO in a row after losing in the final to Croatia in 2011.
In the bronze medal match Norway secured their third medal in four events by beating Ukraine 2-0. The Norwegians had finished fourth two years before.



















Worth a watch
What's not to watch. There's a whole host of video clips on YouTube from the event which you can watch to your heart's content.
But if it's action you want, it's action you'll get. Here's one minute and 31 seconds of the highlights from the sand.
The best of the best
The All-star Team saw six players and two federations awarded for their efforts and fair play.
Women's event:
MVP – Kitti Groz (Hungary)
Top scorer – Cathrine Korvald (Norway)
Best goalkeeper – Hanne Frandsen (Denmark)
Fair Play – Italy (four suspensions in 11 games)
Men's event:
MVP – Marko Pavlovic (Serbia)
Top scorer – Oleksandr Poltoroatskyi (Ukraine)
Best goalkeeper – Igor Totic (Croatia)
Fair Play – Ukraine (nine suspensions in 10 games)
Stars in your eyes
The competition saw a number of high-profile names from the indoor handball world get sand between their toes and enjoy themselves in Randers
Marko Pavlović (SRB) elected MVP of the tournament – RK Partizan Beograd and CL player
Angel Fernandez (ESP) left wing of Kielce
David Balaguer (ESP) right wing of Nantes and at the 2021 EHF FINAL4
Carlos Molina Cosano (ESP) left back of HC Motor
Lamprini Tsakalou(GRE) left back of HC Podravka Vegeta
A special EURO because…
Two medals for Denmark, a third title in a row for Croatia, a full arena with packed crowds and stars from indoor – what more could you want?