EHF European Cup
Zamet's upset through away goals
Zamet's upset through away goals
HC Zamet pulled one of the biggest upsets on the first match day of the Men's EHF Cup, as the Croatian side won 32:29 in France against US Creteil Handball. On Saturday, Zamet managed to finish the job and proceed to Round 2, sending Creteil out of the competition.

However, not much was pointing in the direction of a Croatian triumph after the first half, which Creteil won 18:13. Still, Zamet managed to execute a comeback in the last 30 minutes to reduce the goal differential to three. With the final game result of 27:24 for Creteil, Zamet entered into the next round based on a higher number of away goals.

While Creteil had to leave the tournament in the early stage unexpectedly, another French team made certain about their access to the next round. Chambery Savoie Handball, who reached the Final last season, seemed stronger away at HV KRAS/Volendam than they did at home against their Dutch opponents. After winning 31:23 at home last weekend, Chambery went to Volendam and won as big as 36:16 on Saturday.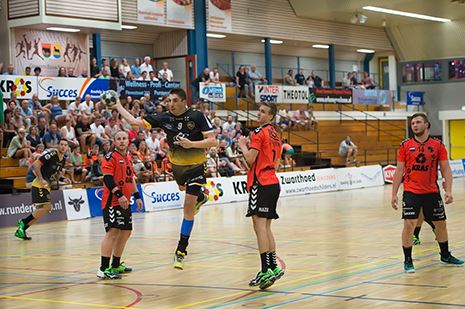 Similarly, HC Dukla Praha appeared to bring a higher performance on the road. The Czech side lost 35:31 at home against KH BESA Famiglia last weekend, but as they visited the Kosovan side on Sunday, Dukla redeemed themselves with a score of 31:23. Left back Daniel Kyvala made his contribution to his team's Round 2 berth by adding 10 goals.

Csurgói KK had a 38:31 lead with them on the journey north of the Arctic circle for their return meeting with Bodö HK. This seven goal lead turned out to be enough for the Hungarian team, but they had to worry about their ticket for the next round along the way, as Bodö were leading by exactly seven goals, 13:6 early in the second half. However, Csurgo managed to cut three goals off the deficit and limit their defeat to 23:19 which was enough to proceed.
"We made a whole-hearted attempt and we really wanted to proceed to the next round of the tournament, but unfortunately, it was not quite enough," Bodö coach Børge Lund told his club´s website.

There was only one double-header in the tournament this weekend. Maccabi Srugo Rishon Lezion hosted the English champions, London GD HC, who were no match for the Israeli home team. Lezion won the first match Friday with a score no less than 38:14 and followed up this win the next day by defeating London 41:22.