EHF Champions League
Summary: Nantes and Barça complete EHF FINAL4 line-up
The quarter-finals of the EHF Champions League Men concluded this week with three of the four ties going right down to the wire. Here's how it went down.
23:07
What a couple of days and what a season it has been so far. Congratulations to our four semi-finalists, we can't wait to see you in action on 12/13 June at Lanxess Arena. 
Thank you all for following and enjoying the blog, we'll catch you again very soon. Goodnight!
22:52
You've seen how the contenders have got here, now who do you think will go all the way?
22:41
Barça have enjoyed a perfect run to this season's showdown, winning each and every game they played. That has earned them a ninth trip to Cologne out of a possible 12, making them all-time leading participants.
PSG are heading for the fifth time, Nantes for the second and Aalborg will make their debut at the event.












22:22
Now that we have our four remaining contenders, we can look forward to seeing who will face-off in the semi-finals!
The draw for the EHF FINAL4 2021 will take place on 25th May 11:00 CEST. More information to follow right here on eurohandball.com.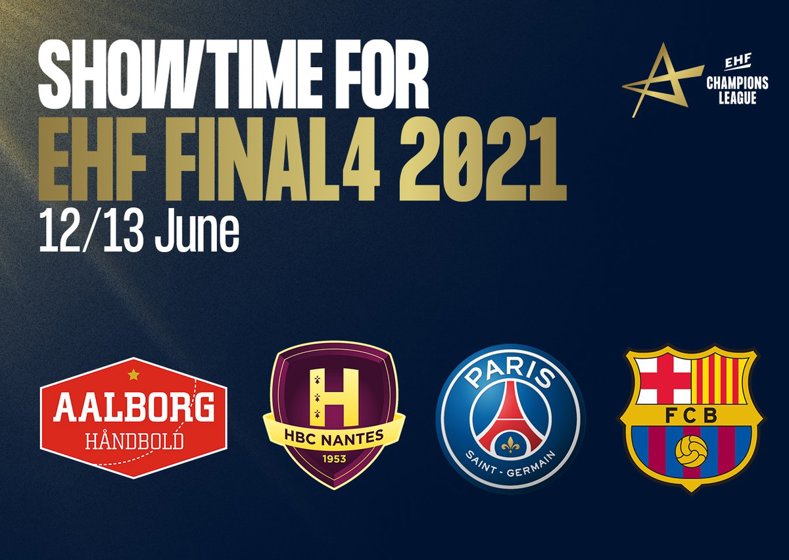 22:09
RESULT: Barça 40:28 Meshkov Brest - Barça win 73:57 on aggregate
Barça are back at the EHF FINAL4!
It was never in doubt for the Spanish champions, who were superior in every department over the two legs but particularly tonight.
And now we have our full line-up for Cologne on 12/13 June - Barça, PSG, Aalborg and Nantes. I can't wait!
21:57
Barça are just enjoying themselves at this stage and letting their creativity and superior skills shine through. Based on this season's showing, they will go to Cologne as favourites once again, a tag which has not been their friend over the years. Can this year be different?
21:47
Gonzalo made seven saves so far, for just under 32%, including a penalty moments ago as the hosts extend their lead to 28:18 with 42 minutes played.
21:26
12 Barça players have already made their mark on the scoreboard and you feel that Xavi Pascual will simply give everyone a run out now, in his final home European game as coach of the club.
21:22
HALF-TIME: Barça 21:12 Meshkov Brest
I reckon it's fair to say at this stage that we have our fourth team for Cologne. A 13-goal lead on aggregate for Barça and there's no looking back now.
21:15
After three nerve-wracking affairs, we look set for a calm end to the quarter-finals with Barça cruising to victory. 18:12 as we near half-time.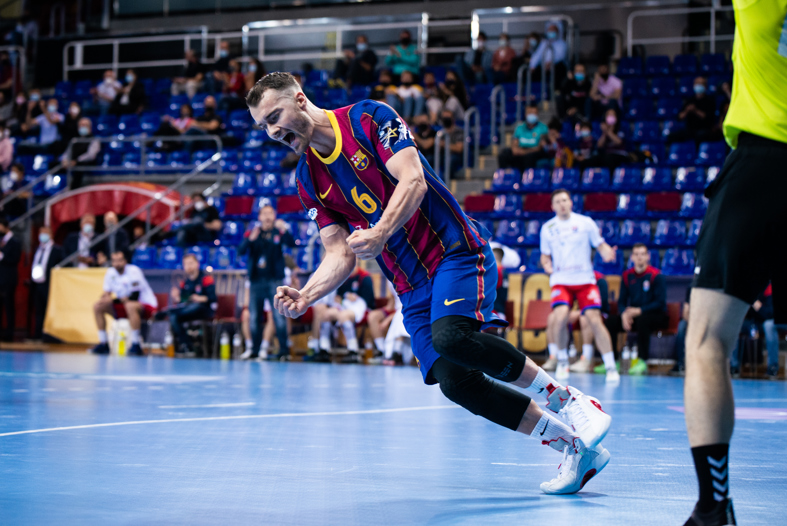 21:05
Brest draw level for a moment but much like last week, the Catalan club look capable of stepping up a gear or two whenever they need it. Luis Frade gets himself a goal on the line and gives Barça a 12:9 lead after 19 minutes.
20:56
Brest are doing their best to stay in touch but Barça are making attacking look very easy at the moment. It's four goals for Mikita Vailupau already but his side trail 7:5 after 10 minutes.
20:47
It's no Veszprém Arena but also a decent crowd in to watch the game and they see a quickfire double from Aleix Gomez to give Barça an early lead.
20:40
Barça hold a 33:29 lead over HC Meshkov Brest from the first leg as we go into our final match of the quarter-finals, live on EHFTV
Here's what you need to know before the game begins in Barcelona.
Barça won the first leg in Brest 33:29. Brest were equal until minute 55, at 28:28
for the Champions League record winners, it was victory number 31 in the last 32 matches of this competition
two left-handers were the top scorers in the first leg: Brest's right wing Mikita Vailupau, who netted 11 and is the second top scorer of the Champions League with 86 strikes now. Barça right back Dika Mem scored nine times and has 80 goals in his tally
both coaches will leave their teams after this season: while Barça's Xavi Pascual has not revealed his future plans, Brest's Raul Alonso will become sports director for German Bundesliga club HC Erlangen
Barça have a run of 47 unbeaten Champions League home matches, with 46 victories and one draw since their last defeat, on 5 December 2015 against Kielce (31:33)
Barça have won all three duels against Meshkov so far
while Barça had to replace Raul Entrerrios, Aitor Arino and Blaz Janc for the first leg due to injuries, Meshkov were missing stars Marko Panic, Alexander Shkurinskyi and Artsiom Selvasiuk
while it is the firstEHF Champions League quarter-final for Brest, Barça are part of this competition stage for the 21st time
Barça aim for their ninth participation in the EHF FINAL4
in the Spanish Asobal League, Barça top the ranking after 30 victories in 30 matches and sit nine points ahead of Irun, but they did not play last weekend
20:28
Incredibly contrasting scenes at the final buzzer as there are tears of delight and utter astonishment from the Nantes players, what an achievement, coming from 6th in group B and defeating Kielce and Veszprém to return to Cologne, where they reached the final three years ago.
We have two French teams and one Danish team heading to Lanxess Arena next month. Who would have thought that?
20:22
RESULT: Telekom Veszprém 32:30 HBC Nantes - Nantes win 62:60 on aggregate
Nantes are going back to Cologne!
The French side hold on tight and stepped up with some huge saves and goals late on to book a spot at the EHF FINAL4 for the second time.
The crowd of 4,355 fall silent for the final minute as it becomes clear that Veszprém European ends agonisingly early.
20:16
Down the other end, Corrales makes a big save of his own, from a Rivera penalty. Nobody wants to score right now...
20:13
We're into the final five minutes and it's truly squeaky bun time at Veszprém Arena. The home side lead 31:28, if Nantes get one more goal, then they need a five-goal win.
He's had to wait a while in this second half but Emil Nielsen makes a save and it's a vital one!
20:05
When it works for Borozan, it really works but his 3 goals from 5 shots betrays the amount of attacks he's wasted with attempts to do everything by himself. 
Marguc slots home another penalty to give Veszprém a 28:26 lead with 11 minutes remaining - Nantes up by 2 on aggregate.
20:00
We're into the final quarter of this match and time will start to slip by from a Veszprém perspective.
They lead 26:25 but with the away goal rule, it looks like they'll need a five-goal win to reach the EHF FINAL4. Who will keep their cool?
19:51
Veszprém haven't really gotten themselves going again in this second half and their lead has been cut short by Nantes' wing duo Balaguer and Rivera. In fact, a Balaguer lob has just given Nantes a 23:22 lead!
19:44
Before the second half began, a crowd of 4,355 was announced, incredible!
Nantes make a switch between the posts with Cyril Dumoulin coming in and the veteran keeper makes two early saves, Nantes win a penalty down the other end and Valer Rivera cuts the gap on the night to two goals - 20:18.
19:35
Moments like this have been a bit of a rarity so far tonight with just 7 saves between the two sides. If one goalkeeper can catch fire in this second half, it could well earn his side a ticket to Cologne.
19:26
HALF-TIME: Telekom Veszprém 18:15 HBC Nantes
A nice connection between Lazarov and Pechmalbec keeps Nantes' noses in front on aggregate but it's safe to say that first half has been Veszprém's.
Nenadic and Omar are doing what the Hungarian champs simply couldn't last week, score regularly, and it's making a huge difference. Both sides seem capable of going on a run in the second half and we're set up nicely for a dramatic second period.
19:20
Petar Nenadic is running the show in attack for Veszprém, scoring three goals and winning penalties with ease. David Davis' constant rotation of the squad seems to have paid off so far as his side look to be in control now - 15:12 with 3 minutes left in the first half.
But wait! Blaz Blagotinsek gets his third suspension, an unnecessary one as well, and his game is over. How big a blow will that be to the Veszprém defence?
19:16
The tide is turning here and Nantes coach Alberto Entrerrios takes a much-needed time out. It works a treat as Kiril Lazarov gets on the scoreboard but Veszprém lead 13:12 after 24 minutes of the first half.
19:06
With four saves in the first quarter, Emil Nielsen has been the difference between the sides so far but Veszprém are enjoying more joy in front of goal and Yahia Omar draws the home side level with his fourth goal of the evening! 10:10 after 17 minutes.
18:57
Nantes have dealt with the situation very well so far and causing a bit of unease among the packed Veszprém crowd. Petar Nenadic comes on and helps a bit with his first goal but it's Nantes leading 6:3 after 9 minutes.
18:49
Solid start for Nantes and that's exactly what they needed. Both sides looking pretty fluid in attack though, creating chances at ease. 3:2 to Nantes after 3 minutes.
18:44
Holy moly, there's quite a crowd in the house tonight in Hungary, looks close to a full house and the arena is buzzing! Both teams will love it but who will benefit most? We'll find out over the next 60 minutes of handball.
18:36
Chasing a four-goal deficit at home with their fans on-site and a wealth of experience to count on, you'd have to consider Veszprém the slight favourites today, should they find their form.
Nantes have been pretty decent away from home this season, however. Out of the seven away games they played this season, the French side lost three, in Aalborg, Barcelona and Zaporozhye. Of their most notable away wins were victories in Kielce and Kiel
Only two sides managed to take the points in Veszprém this season: Barça (37:34) and Aalborg (32:30), showing that it can be done.






18:24
As you can see above, the Veszprém media team is knocking it out of the park with their pre-match photos, adding a nice bit of flavour to the build-up.
18:14
As we look forward to throw-off in about half an hour, it gives you time to read through the latest 'This is me' with Veszprém line player Rogerio Moraes.
In his own words, Rogerio explains how those close to him steered him away from a life of crime. It's a story of how handball can save lives. It's a story about family. About glory. About a boy 10,000 km from home winning the EHF Champions League twice.
There is no better way to form a connection with a player you're about to see in action than reading something like this.
18:00
We're 45 minutes away from the first of our games this evening and it feels like the big one!
Nantes won the first leg last week 32:28, thanks to a brilliant team performance and led by a player of the match performance by Emil Nielsen, who edged Rodrigo Corrales in a brilliant goalkeeper battle.
Veszprém felt way out of tune last week and can count themselves lucky to have escaped with a four-goal loss and will need to be much better in front of a home crowd tonight.
16:42
This evening's fun begins at 18:45 with Veszprém hunting a four-goal deficit against an inspired Nantes side, followed by Barça hoping to finish the job they began against Brest at 20:45 CEST.
We'll begin full coverage on the blog at 18:00!
16:31
Good afternoon everyone and welcome back to the live blog. Ready for more drama?
After we saw defending champions Kiel be knocked out by PSG and Aalborg reach the EHF FINAL4 for the first time last night, what will Thursday evening offer us?


Wednesday 19 May
23:18
That brings us to the end of our live blog coverage of the opening night of EHF Champions League Men 2020/21 second-leg quarter-finals. Who will join PSG and Aalborg at the EHF FINAL4? Join us tomorrow to find out! 
We leave you with this magical moment for Aalborg — the final goal of the match and their celebration of the historic moment. 
23:02
What a night to open the second-leg quarter-finals! Not only did we see the defending title holders knocked out of the race to take the 2020/21 trophy, but Aalborg ended a long wait for Danes to see a club from their country in Cologne. The last — and only Danish club ever — to reach the pinnacle final weekend was AG Kobenhavn in 2012. 
Aalborg are also the 16th different club to reach the EHF FINAL4 since the event's inception in 2009/10. 
23:00
As an exciting night of second-leg quarter-finals comes to an end, it's time for some reading material! Read how PSG secured their fifth berth at the EHF FINAL4 and Aalborg their first in the match reviews below.














22:27
RESULT: FLENSBURG VS AALBORG 33:29 (AGGREGATE: 54:55)
Aalborg add the final goal and celebrate their first ever EHF Champions League semi-final berth! The Danish side join PSG on the EHF FINAL4 2021 lineup thanks to a tense one-goal win on aggregate.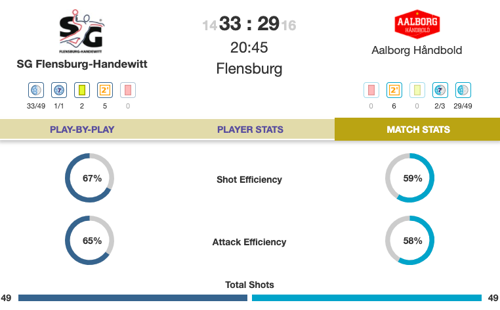 22:24
We are inside the last minute with a five-goal lead for Flensburg, 33:28. If no team scores, Aalborg will go through to Cologne. 
Aalborg have possession and coach Stefan Madsen calls a timeout, where we see the Danish side remarkably calm given the huge stakes in this moment. 
22:20
A lost ball from Aalborg could be the deciding moment, as Flensburg take the chance to reclaim a four-goal advantage, 31:27, after the Danish side closed the gap a touch. 
We still have only a one-goal difference between the teams on aggregate so one side is set to enjoy a huge celebration while the other team sees a devastatingly close loss. 
Here we have a massive crunchtime save from Simon Gade. 
22:16
As we hit the 55-minute mark, it's Aalborg who have Cologne in their sights, as Flensburg lead the game 29:25 but the Danish team nurse a one-goal advantage on aggregate. 
Despite their lead not being enough at present, Flensburg's Johannes Golla and Magnus Rød are on fire with nine goals apiece. For Aalborg, Felix Claar and Magnus Saugstrup count five goals. 
22:11
We enter the final 10 minutes with Flensburg in front 27:23, which means a one-goal aggregate in favour of Aalborg. 
The battle between the posts is heating up, with some great saves from Flensburg's Torbjoern Bergerud and Simon Gade for Aalborg. Check out a critical save from Bergerud below! 
22:04
Bang on the 45-minute mark, Flensburg wing Lasse Svan nets for his side to take a five-goal advantage, 25:20. Less than two minutes later and the German side have the lead they need to proceed to Cologne, at 26:20...but the final whistle is still far enough away for Aalborg to destroy the chance and the aggregate result is too close for comfort. 
Below, a top goal from Svan as Flensburg were chasing Aalborg down. 
21:49
An incredible start to the second half sees the momentum completely flipped, as Flensburg dominate with a 6:1 run that sees them not only the grab the lead but create a clear three-goal distance, 20:17. 
Remember, Flensburg need a six-goal win to take the aggregate victory, after Aalborg won the first leg 26:21. If the aggregate score ends level, at this point it is highly doubtful that result — which would be decided based on who scored more away — would favour Flensburg, as they scored only 21 goals on Aalborg's court and the Danish side already count 18 in their tally with 22 minutes remaining. 
21:45
It does not take long for Flensburg to draw level as the match resumes. Three minutes into the second half, we have a level game at 17:17. 
21:43
The second half of Flensburg vs Aalborg is now live and we are 30 minutes away from finding out who joins PSG in Cologne! 
Below, enjoy PSG's celebration of their big moment. Which team will celebrate at the end of this current clash? 
21:25
HALF-TIME UPDATE: FLENSBURG VS AALBORG 14:16 (AGGREGATE: 35:42)
Although Flensburg were never too far away, this first half was all about Aalborg, who appear very much in control with a two-goal edge at the break and a seven-goal advantage on aggregate.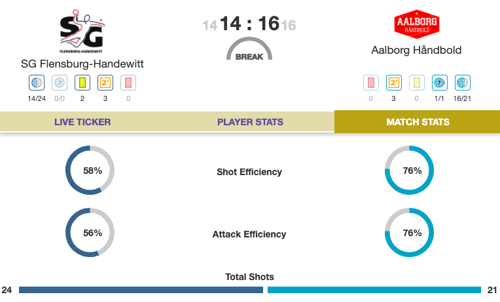 21:22
Check out this move from Flensburg line player Johannes Golla! The German side fought back from behind once before, but now find themselves two goals behind again, at 13:15 in the 29th minute.  
21:18
With five minutes to go before the break, we see no change in the score, at 13:12 for Aalborg. Flensburg have just been hit by two injuries, with goalkeeper Benjamin Buric and back Mads Mensah returning to the bench for treatment. No word on how serious these injuries are and whether we will see the two back on court during the match yet. 
Below, check out a superb goal from Flensburg centre back Jim Gottfridsson. 
21:14
What a night of quarter-finals we are enjoying! As the clock shows 23 minutes, Aalborg have a one-goal edge at 13:12. 
Below, enjoy a top goal from Aalborg's Henrik Møllgaard. 
21:09
We hit the 20-minute mark with Flensburg having just levelled the game, 11:11, with a goal from right back Magnus Rød — the Norwegian's fourth of the game and third inside the last five minutes. 
21:00
A huge start from Aalborg! After 4:3 at the six-minute mark, the Danish side streak ahead to lead by three goals, 9:6, as the first quarter comes to an end. 
Aalborg line player Magnus Saugstrup has already netted five goals from five shots, underlining the outstanding attack from the Danish squad. 
20:45
THROW OFF IN GERMANY: FLENSBURG VS AALBORG
Who will follow PSG to Cologne? Aalborg aim to defend a five-goal lead in the second quarter-final of the night. 
Can't watch? Follow on the live ticker. 





20:36
One last look at the MOTW before we tune in to watch Flensburg vs Aalborg live on EHFTV. 
Several young players really stepped up tonight for PSG, guiding the French side to Cologne, but none stood out so far as Player of the Match Elohim Prandi. What a game from the 22-year-old! 
20:33
Time to turn our attention to the second quarter-final tonight: Flensburg vs Aalborg. Here are some key facts about this clash!
Aalborg won the first leg 26:21 after a spectacular match from goalkeeper Mikael Aggefors (16 saves), and eight goals each from his Swedish compatriots Felix Claar and Lukas Sandell. Two of Flensburg's three top scorers in the first leg were also Swedish internationals: Jim Gottfridsson (five goals) and Hampus Wanne (four, alongside Mads Mensah). 
Since 2012, when AG Kobenhavn made it to Cologne, no Danish club has qualified for the EHF FINAL4. Kobenhavn remain the only team to have done so. 
Flensburg only booked an EHF FINAL4 ticket once, in 2014, and won the trophy by beating Barcelona and Kiel. 
Including the first leg of the quarter-final, Aalborg have won the last three Champions League matches against Flensburg. The previous four games were won by Flensburg, with the latest in 2018. 
Flensburg's top scorer in the Champions League, Gøran Søgard Johannessen (60 strikes), is just three goals ahead of Aalborg's Nikolaj Christensen (57)
Flensburg have six Danish players in their squad. Three of them — Lasse Svan, Simon Hald and Mads Mensah — became world champions in January as teammates of Aalborg's Henrik Møllgaard, Magnus Saugstrup, Nikolaj Christensen and Benjamin Jakobsen. 
Above all, this is the first time Aalborg have contested the EHF Champions League quarter-finals — and they could be about to make even bigger history, as they bring a five-goal lead into this second-leg match and have the strongest chance of any of the first-leg winners to proceed. 
20:30
One second-leg quarter-final down; one huge result that sees the title holders eliminated from the race for the 2020/21 trophy. 
What a match it was from PSG! Below, enjoy a great goal from Dylan Nahi as the French side extended their lead in the final quarter. 
I had a lot of emotions during the match. I had so much fun. I saw our team with a lot of heart. It was a huge pleasure to be on the court with my teammates. I would not change any of them. I believe in us since the beginning and I'm sure we will achieve a lot of things.
















20:18
RESULT: MOTW PSG VS KIEL 34:28 (AGGREGATE: 63:59)
A commanding victory in the MOTW leads PSG to Cologne, as they beat Kiel by four goals on aggregate to clinch the first semi-final ticket up for grabs tonight.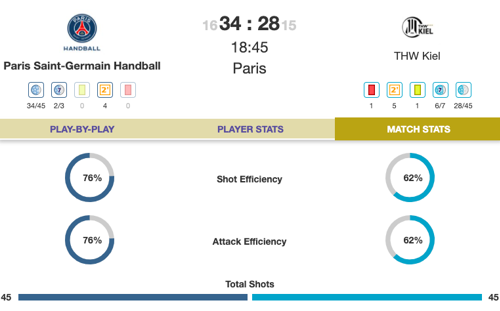 20:13
Just over two minutes to the buzzer and a 33:28 lead for PSG. It seems to be all done and dusted now, and journalist Björn Pazen reminds us of some history that will continue with this result:
Since the premiere of the VELUX EHF FINAL4 tournaments in 2010, not a single team defended their title in the next year. There are only three teams that won the trophy more than once in Cologne: Kiel (2010, 2012, 2020), Barcelona (2011, 2015) and HC Vardar (2017, 2019). With Kiel's elimination in Paris, they are the ninth defending champions to not make the return to Cologne. 
20:11
We are into a nail-biting final few minutes of the MOTW, with the score still at 32:28 in PSG's favour. If Kiel manage to lose by two goals and the aggregate score is level, the German side will clinch the berth based on more away goals scored. 
While Landin has delivered some huge saves in crunch time, Quenstedt played his role earlier. Enjoy one of his best moments below! 
20:09
A huge save from Niklas Landin gives Kiel a critical chance with five minutes left, and Steffen Weinhold grabs that chance with a hammer ground shot that closes the gap a touch, to 32:28. 
20:08
Six minutes remain, and Kiel have six goals to score to draw level. PSG currently lead the MOTW 32:26. 
On aggregate, this means PSG are in front 61:57 — quite a comfortable distance for this stage and it's looking very much like we may be saying goodbye to the defending title holders...
20:00
A timeout is called by Kiel coach Filip Jicha as PSG stretch their lead to 29:24 with 11 minutes on the clock. With all the momentum on the French team's side, Kiel must find an answer now. 
Landin is back on court in place of Quenstedt and the German team are playing seven-against-six in attack as they throw everything they have at PSG. 
PSG's young players have been extremely impressive tonight, with Elohim Prandi and Nedim Remili on fire from the back court and Dylan Nahi delivering from the wing. Below, check out one of Remili's best actions so far. 
19:56
Elohim Prandi is enjoying a huge performance tonight in the MOTW, with seven goals from seven shots so far. The back is playing a big role as PSG stretch their lead to 27:23. Is the dream of the defending champions slipping away? 
Enjoy one of Prandi's best goals below!
19:51
At 24:22 in the 44th minute, Kiel are still chasing to close that pesky distance they cannot shake. Rune Dahmke has earned a penalty for the German side so we could be back to a one-goal game momentarily. 
Below, the goal that has been one of the biggest highlights of the MOTW so far: an incredible spin from Dahmke himself. 
19:49
It has not been the strongest day for either teams' keepers, and both THW Kiel and PSG have made changes between the posts. Dario Quenstedt is now in for Niklas Landin in the German side's goal and Yann Genty is on for PSG in place of Vincent Gerard. 
19:45
With goals like this one below, Kiel are surely glad to have Sander Sagosen back in the ranks! The Norwegian back has scored six goals against his former club as PSG keep the upper hand at 22:21 in the 40th minute. 
19:42
Five minutes into the second half, PSG are still in front, at 20:19, but a great save from Niklas Landin has just opened the door for Kiel to level the game...
Take a look at one of Landin's earlier saves below. 
19:37
The MOTW returns for the second half! We are set for what is sure to be a fiery second period, with Kiel still mounting a comeback they hope will end with them grabbing the upper hand. 
Below, check out one of PSG's top highlights from the first half.








19:22
HALF-TIME UPDATE: MOTW PSG VS KIEL 16:15 (AGGREGATE 45:46)
We go to the break with PSG in front in the MOTW, but Kiel holding the edge on aggregate. With only one goal separating the teams in the race for the EHF FINAL4, there is no doubt we have a nail-biting 30 minutes ahead to see the first ticket to Cologne decided!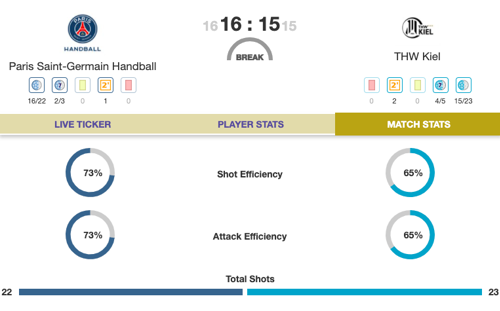 19:19
Inside the last four minutes of the opening half, PSG keep the upper hand as Hansen nets his second to put the score at 15:13. 
Hansen's PSG teammate Elohim Prandi is leading the charge for his side so far, with four goals. On Kiel's side, Niclas Ekberg has notched up five goals so far. 
19:11
20 minutes in and Kiel are still fighting to level the game, with PSG holding the edge at 10:9. 
Earlier, the French side created a lead as clear as three goals courtesy this superb combo from Luc Steins to EHF Champions League 2020/21 All-star Team Best Young Player nominee Dylan Nahi. 
18:53
At the five-minute mark, PSG open a two-goal lead at 5:3 off a penalty from Mikkel Hansen. 
In the first leg, Kiel had to fight back from an early deficit, taking the lead for the first time inside the last 13 minutes of the game. Will we see the same pattern today or will PSG hold on to this early advantage? 
18:46
THROW OFF IN PARIS: MOTW PSG VS KIEL
We have lift off! The second-leg quarter-finals are officially underway, as PSG and THW Kiel start the Match of the Week. 
Can't watch? Follow the live score and all the statistics on the ticker.
18:39
It is almost time for the opening whistle on the MOTW in Paris! Remember, Kiel enter the game with a two-goal lead on aggregate, 31:29. 
Tune in now to watch live on EHFTV.com!
18:24
Eight teams are just 60 minutes from the pinnacle title-deciding weekend, the EHF FINAL4 2021 — and all four quarter-final ties are open, with the clearest score line at just five goals.
Who do you think will clinch the semi-final berths? Choose your four below! 












18:05
Time for a closer look at some key facts surrounding the MOTW! 
THW Kiel won the first leg at home last Wednesday, 31:29, thanks to a spectacular ending and 10 goals from Norwegian right back Harald Reinkind. The first-leg defeat was the first for Paris against Kiel in the Champions League since 2016. 
Kiel have not won a Champions League game in Paris since 2014 (27:25). Only two teams managed to win a European game in the Coubertin arena since that day: Barça and Flensburg. 
Kiel's biggest defeat in the Champions League was in 2017, when they travelled to Paris for the last game of the group phase and lost 24:42. 
Kiel line player Patrick Wiencek suffered a broken fibula in the first leg and will not be playing. 
17:50
The Match of the Week, PSG vs THW Kiel, is less than one hour from throw off — and it will not be long before we know the first semi-finalists of the 2020/21 season! 
One eagerly awaited return expected tonight is Sander Sagosen, after the Kiel back was absent from the first leg. Sagosen aims to return to the EHF FINAL4 with THW to defend the title, but will need to make it past his former team, on their home court, to do it. 
17:00
Oh, and because you will see so many EHF Champions League All-star Team nominees in action tonight and tomorrow, here is a reminder you can still pick your favourite players and coach and take part in the All-star Team vote presented by Gorenje:
16:54
The late game tonight also includes a German team - SG Flensburg-Handewitt. However, contrary to Kiel, Flensburg will start with a five-goal deficit as they lost the first leg 26:21 in Denmark following an outstanding performance from Aalborg Håndbold.
While Aalborg are now in a strong position to earn their first ever EHF FINAL4 berth, Flensburg coach Maik Machulla knows that his team is still in with a chance.
"Aalborg have a top team, I was aware of that, but now we have to strike back. We proved in Bundesliga matches that we can make up a six- or seven-goal deficit," Machulla told EHF journalist Björn Pazen in this feature.
16:45
We throw off in two hours' time with the Match of the Week: Paris Saint-Germain Handball host THW Kiel as the French side try to make up a two-goal deficit against the defending champions from Germany.
PSG young left wing Dylan Nahi, who netted eight times last week, believes that his team can turn the tide in their home arena, which will be partly filled with 800 spectators.
"No matter what, Kiel might be ahead at the break of the confrontation, but we want to be one goal ahead at the end," Nahi told EHF journalist Kevin Domas in this feature.
16:16
Wow, where to start?! Four great matches coming up, nicely spread over two nights so you won't miss a single ball. Read our preview to find details on all four matches.
If you missed last week's first-leg action, here is the schedule with a reminder of how things panned out and what each club needs to go through:
Wednesday:
18:45 CEST - MOTW - PSG vs Kiel > first leg 29:31
20:45 CEST - Flensburg vs Aalborg > first leg 21:26
Thursday:
18:45 CEST - Veszprém vs Nantes > first leg 28:32
20:45 CEST - Barça vs Brest > first leg 33:29
16:00
Four tickets to all EHF Champions League players' favourite travel destination are up for grabs on Wednesday and Thursday: Which teams book that coveted trip to Cologne and which teams will have to stay at home?
Good afternoon and welcome to the live blog! We are going to cover the all-decisive second leg of the quarter-final as we are going to find out the quartet that qualifies for the EHF FINAL4 2021 in LANXESS arena on 12/13 June.
Make sure you don't go anywhere tonight or tomorrow evening, as we are in for a real treat. This is our mouth-watering schedule: