EHF Champions League
SUMMARY: Flensburg beat Szeged in MOTW as all favourites win in round 9
The penultimate round of 2020 in the EHF Champions League Men group phase is done and dusted, with some very tasty games on Wednesday and Thursday.
In group A, SG Flensburg-Handewitt underlined their ambitions by defeating MOL-Pick Szeged in the Match of the Week, while the top-two teams in group B, Barça and Telekom Veszprém HC, also won again this round.
21:45
That wraps up our round 9 coverage here on the live blog. Thanks again for joining us, and see you all next week! Europe's elite clubs will come out all guns blazing one more time before the EHF Champions League heads into its winter break. 
And, you could call it a tradition by now, we are going to leave you again with the best pictures from tonight's action in our photo gallery. Enjoy!
21:25
In the only group B match tonight, Motor made a big step towards the play-offs, while Celje suffered yet another minor defeat.
Find out what happened in Ukraine tonight in our match review:
21:19
A late comeback from two goals down with 10 minutes saved Brest from dropping points against Elverum tonight.
Read in our match review how the drama in Belarus unfolded:
21:12
So Flensburg kept the points at home in the Match of the Week, handing Szeged their fourth defeat of the season.
Read all about the match in our review:
21:04
So you have spin shots.
And then you have super spin shots...
20:58
Three matches, three two-goal wins for the home teams tonight... a day after Barça and Veszprém also won.
So the overview of results from yesterday's and today's games in round 9 looks like this: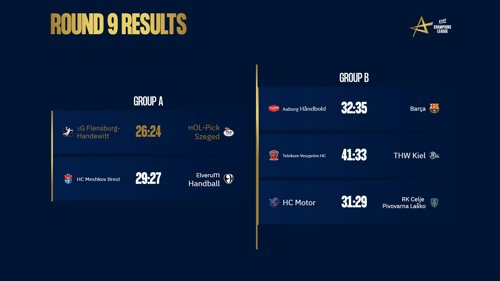 20:47
The Player of the Match award deservedly goes to Gøran Johannessen tonight. Here is what Flensburg's Norwegian centre back said after the MOTW:
"Szeged have an amazing defence, they are probably one of the most physical teams in Europe. We had some issues in the first half, but in the second half we were winning more of the duels. Then we created better chances than in the first half. (...) If you want to win games in Europe, you have to have a good team, but you also have to have great individual players. I think our goalkeeper today, also, made a great game. So, it is important with the individuals but the team is always the most important."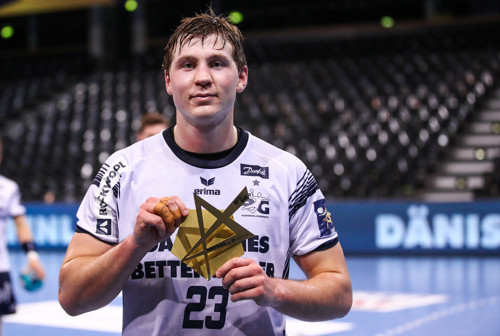 If you want to win games in Europe, you have to have a good team, but you also have to have great individual players. I think our goalkeeper today, also, made a great game. So, it is important with the individuals but the team is always the most important.
20:35
RESULT: Motor vs Celje 31:29 (14:13)
It was close all the way, but the hosts hold on to their half-time lead to hand Celje yet another agonisingly close defeat.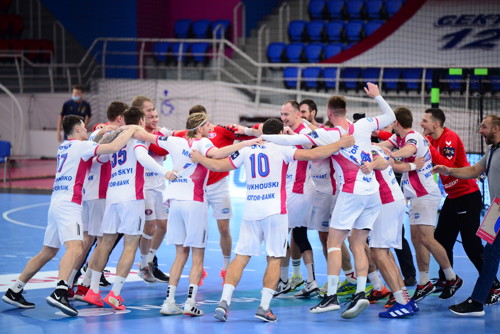 20:32
RESULT: Brest vs Elverum 29:27 (15:17)
It was the second half that did the job for Brest, who avoid what would have been a surprising defeat against Elverum.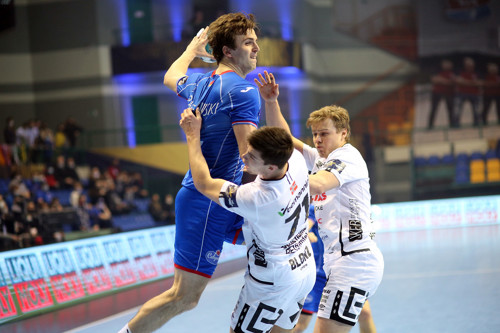 20:21
RESULT: MOTW Flensburg vs Szeged 26:24 (11:10)
Congrats to Flensburg! They have had their nose in front for almost the entire match against Szeged and that is how it ends, as well.
We have three players each leading with six goals tonight - interestingly, two of them were wearing the Szeged jersey...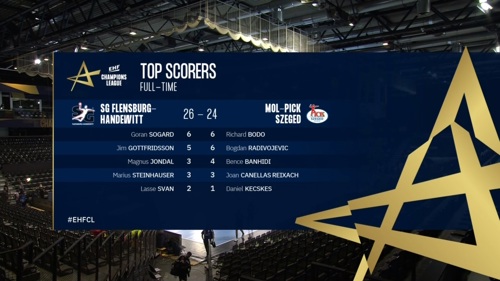 20:13
Up in the air! Great legwork by Flensburg goalie Benjamin Buric.
20:06
Elsewhere, Meshkov Brest and Elverum are heading into some exciting final minutes, tied at 26:26 with five minutes left... Can the Norwegian side take something home from Belarus?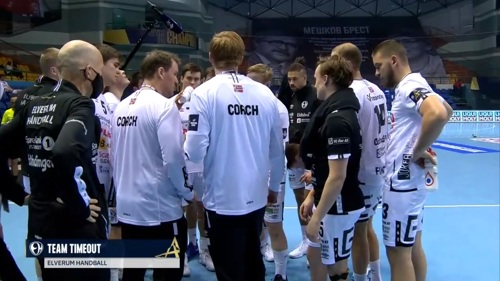 20:01
So, Flensburg are leading MOTW, but here is some Szeged play that gets our handball hearts beat a bit faster!
19:55
An underarm rocket from Richard Bodo and it is Flensburg 18, Szeged 15 halfway through the second half of this MOTW.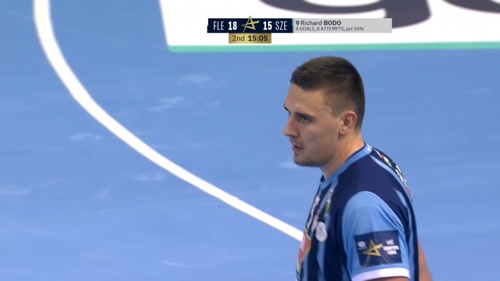 19:43
So far so good for Flensburg? They will need to be careful in the second half against Szeged, but if they hold on to their lead and win this MOTW, they close the gap to group A leaders Kielce to just two points - with a game in hand.
Surely Maik Machulla likes that idea:

19:34
HALF-TIME: Motor vs Celje 14:13
Our only group B match tonight is also tight, with Motor just having the edge over Celje so far.
19:28
HALF-TIME: Brest vs Elverum 15:17
A surprise in the making in Belarus? The Norwegian guests have their nose in front at the break.
19:22
HALF-TIME: MOTW Flensburg vs Szeged 11:10
Flensburg have been three ahead at some point but Szeged are hanging in, and after 30 minutes, this MOTW is pretty much in the balance. Jim Gottfridsson is the most productive player so far, scoring four for the hosts.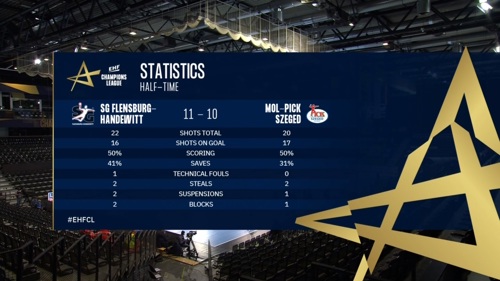 19:07
A quick glance at the other matches, where it is very close as well: Brest vs Elverum 13:12 and Motor vs Celje 8:9 after around 20 minutes.
19:01
Flensburg have opened a three-goal gap (6:3) over Szeged, so Juan Carlos Pastor calls a team timeout.
18:52
So we are off and running in Flensburg. Nothing in it so far, 2:2.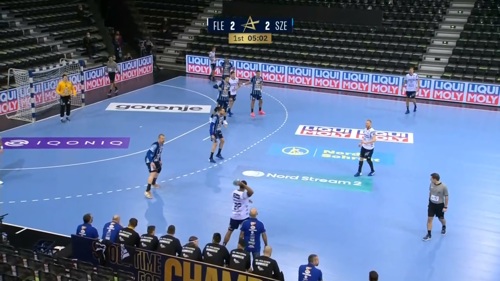 18:40
Our focal point tonight will be the Match of the Week, pitting SG Flensburg-Handewitt and MOL-Pick Szeged against each other.
If you look at this season's numbers, you might think Flensburg are up for an easy night in the Flens-Arena... but I don't think so. Szeged are way stronger than their current ranking in group A suggests and let's hope we are in for a real threat tonight!
Here is your DIRECT LINK TO FLENSBURG VS SZEGED ON EHFTV.

18:34
Over in group B, Meshkov Brest meet Elverum Handball tonight, and they do so for the very first time in a European cup competition.
Here is some nice-to-know info:
the reverse fixture in Norway, planned for round 6, was postponed
Brest are ranked third with seven points from six games
Elverum are bottom of the group with two points, just behind Szeged (two points) and Vardar (three)
Elverum had an easy win in their domestic league this weekend, 33:21 against Fjellhammer IL
And here is your DIRECT LINK TO BREST VS ELVERUM ON EHFTV.
18:28
Our coverage here will mainly focus on the MOTW, but no worries, we are certainly not going to forget about the other two matches going on.
First, in group B, we have Motor against Celje. Some things to know before this game in Ukraine throws off:
Motor won the first match against Celje in Slovenia by a single goal, 32:31
Celje are on two points after six defeats and one win, against Zagreb
a win tonight would bring Motor close to qualifying for the play-offs
the best scorers of both teams are currently on 24 goals: Motor's Aidenas Malasinskas and Celje's Patrik Leban
Motor last won a home game in the EHF Champions League in November 2019, against FC Porto (33:29)
Celje have won an away game against Motor once, 32:29 in October 2013
Here is your DIRECT LINK TO MOTOR VS CELJE ON EHFTV.
18:20
Good evening! My name is Eric Willemsen and it is my pleasure to guide you through tonight's action in the EHF Champions League Men...
... which is approaching fast now, with all three matches throwing off at 18:45 CET:
in group A: MOTW Flensburg vs Szeged and Brest vs Elverum
in group B: Motor vs Celje
17:10
Here is the Szeged roster for Match of the Week against Flensburg. Do not forget that the blog will keep you updated from 18:15 CET with the action from Thursday evening's three matches.
16:20
One other interesting fact ahead of Match of the Week is that right wing Bogdan Radivojevic scored 11 goals for MOL-Pick Szeged against SG Flensburg-Handewitt, the club with which he won the EHF Champions League, last season on 28 September 2019. This is the most that any Szeged player has scored against Flensburg. Will we see a repeat on Thursday evening?
15:15
On Twitter, Match of the Week hosts SG Flensburg-Handewitt are already preparing for the 18:45 CET throw-off against Szeged. 
14:15
Ahead of the Match of the Week between SG Flensburg Handewitt and MOL-Pick Szeged, we have a selection of interesting facts about their respective records. Based on their head-to-head history, it would appear that Szeged have a tough task this evening – but we know that anything is possible in the EHF Champions League.
• This Match of the Week is the seventh duel between SG Flensburg-Handewitt and MOL-Pick Szeged in EHF Champions League history.
• Flensburg won four of the previous six matches against Szeged, including all three home games.
• Szeged's only win came in the 2018/19 group phase.
• The teams first met in the Last 16 of the 2010/11 season, when Flensburg won both encounters.
• Szeged had their path to the EHF FINAL4 also blocked by a German team in 2013/14 and 2014/15, when THW Kiel won in the Last 16 and quarter-final, respectively.
• Szeged's last victory in an away game against a German team was their 37:35 win over Rhein-Neckar Löwen in the group phase of the 2017/18 season.
13:00
While we take a detailed look at Brest vs Elverum and Motor vs Celje closer to throw-off this evening, let's focus on the Match of the Week now.
Flensburg, having dropped just three points so far, would seem clear favourites hosting Szeged tonight. But it is fair to say that their current numbers - three defeats, one win - don't properly reflect the strength of the Hungarian side.
EHF journalist Ola Selby talked to Szeged experienced left wing Jonas Källman, who is confident that his team could reach the EHF FINAL4 in June.
Read the Källman interview below:
12:45
Good afternoon, welcome back to the live blog for round 9 of the EHF Champions League Men.
Many eyes in the handball world today will be on Denmark, where the Women's EHF EURO 2020 throws off. Click here for all European Championship coverage...
... as we will be talking about the men's top continental club competition, with three more promising matches on the schedule tonight, all throwing off in six hours from now:
21:15
Barça continue impressing this season, now counting 16 points in their account after eight straight wins.
Björn Pazen takes you through their game vs Aalborg in the match review below. 
21:09
Just two matches tonight but did they deliver or what? Enjoy the best photos of the opening day of round 9.
21:00
Tonight's victory was the biggest win against Kiel ever for Veszprém, equalling their record set in 2002 (31:23).  
Björn Pazen guides you through how the German side did it in the match review below. 
20:52
Veszprém enjoyed quite the goalfest tonight versus Kiel!
Nenadic top scored for the side with 10 goals, followed by fellow back Vuko Borozan and line player Andreas Nilsson with seven apiece, and Yahia Omar on six. 
Below, enjoy just one of the many, many goals in their commanding victory over Kiel. 
20:40
Barça really held on by the skin of their teeth in their clash with Aalborg tonight. Just a few minutes before the end the score was level and it was a classic moment from Gonzalo Perez de Vargas in the final stages that ultimately helped the Spanish side seal the victory. 
20:18
Full-time: Aalborg vs Barça
Barça maintain their perfect run as they hold on and take the two points from Aalborg.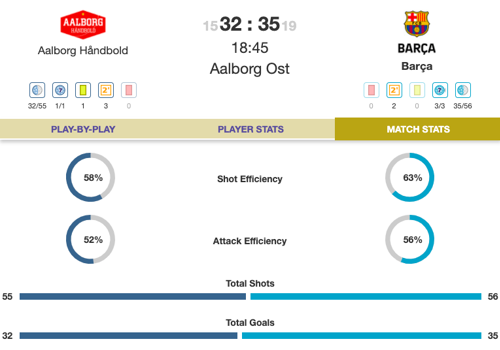 19:42
So far, so good for Flensburg? With Kielce not playing, the German side could close the gap to the group A leaders to just two points, with a game in hand.
Surely Flensburg coach Maik Machulla likes to see that:
20:12
Full-time: Veszprém vs Kiel 41:33
Absolutely no doubt in the end! From a close game with just a few goals difference near the 50-minute mark, Veszprém run riot in the final stages and secure a big win.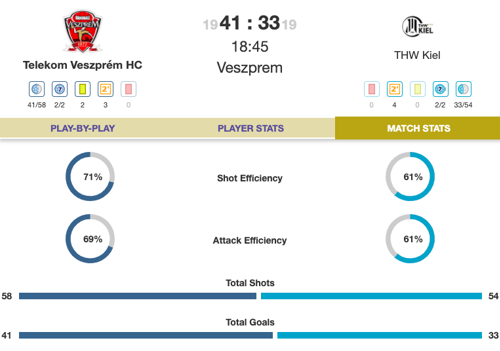 19:54
As we enter the final 15 minutes in Hungary, Veszprém have opened a tentative lead at 30:28 (minute 47). 
Meanwhile in Denmark, Barça stay in front of Aalborg, leading 28:24 right on the 45-minute mark. 

21:04
So you have spin shots.
And then you have super spin shots...
19:42
As the second half gets underway, Kiel temporarily pull away before Veszprém fight back. The score stands at 25:25 as Nenadic nets a hammer shot for the Hungarian side to level. 
Looking back to the first half and a very different kind of game-levelling goal from Rune Dahmke: Check out a superb spin shot from the wing below!
19:32
Presenting some fun facts courtesy of our group B journalist Björn Pazen!
Veszprém vs Kiel
Like in the first clash between these sides this season, 38 goals were scored in the first half. The reverse fixture saw Veszprém with a 20:18 lead at Kiel.
38 is the highest number of goals in an opening half this season. Barça and Aalborg also reached this mark in their reverse fixture, when Barça led 20:18 in Spain. 
Aalborg vs Barça
A total of 20 players scored in the opening half of this clash, with 10 making it onto the board from each side.

19:25
Half-time update: Aalborg vs Barça 15:19
Aalborg kept in touch for some time but their visitors are now pulling away. Three goals each for Aleix Gomez and Ludovic Fabregas make them the top scorers of this clash so far.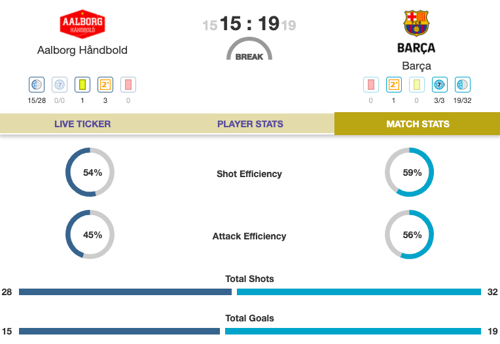 19:19
Half-time update: Veszprém vs Kiel 19:19
After trailing their hosts, Kiel level just in time for the break. Niclas Ekberg and Petar Nenadic star in the first half, with five goals from five shots apiece.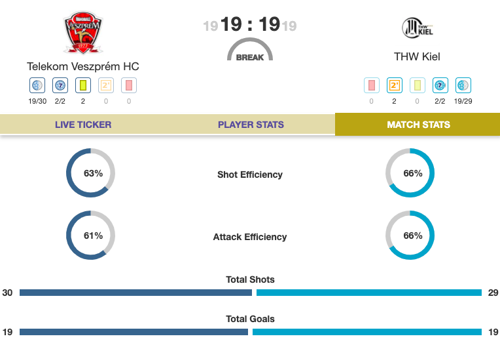 19:10
Barça have taken a narrow lead in Aalborg, at 15:13 with just under 10 minutes left of the opening half. 
But the Danish side are giving the Spanish powerhouse a big challenge so far, helped by saves like this one from Mikeal Aggefors. 
18:56
Reunions galore before Veszprém vs Kiel! Check out some of the pre-match photos below. 





18:39
In Hungary, Veszprém are looking to recover from a loss in the previous round and fend off a hungry THW Kiel, who are chasing the home side on the group B table. While Veszprém are second with 11 points, Kiel are fourth with seven. 
See all the group standings here. 
18:34
Barça are the only team in the current season yet to drop a single point. As they take on Aalborg, the Spanish side will aim to repeat their feat from round 6, when they won the reverse fixture 42:33 at home.
Now playing in Denmark, will it be a different story for Aalborg? Or will Barça continue their rampage? 
18:20
Courtney Gahan here to take you through the big matches we have lined up tonight. 
We are less than 30 minutes away from throw off! While we wait, brush up on all the key facts about these encounters with the round preview. 
12:48
We have a preview for this month's VELUX EHF FINAL4 2020 semi-final between Veszprém and Kiel this evening. 
The sides already met in possibly the best match of the season so far, an incredible 60 minutes which ended in a draw. Watching the highlights is certain to get you excited for the big game today.
11:32
The focus is on group B today as we see the top four teams take each other on.
Barça have enjoyed a perfect start to the campaign with seven wins from seven, sitting top of the group, while Aalborg have proven that they not to be messed with and deserve their third place at the moment.
Barça won the high-scoring reverse fixture on home ground 42:33, which you can see the highlights of below. After three straight defeats, Aalborg bounced back last week and beat Veszprém 32:30 away from home, giving them plenty of confidence for tonight.
11:00
Good morning, one and all, and welcome to another exciting week of EHF Champions League action. 
There has been a recent shakeup in the schedule as PSG vs Kielce has been postponed, due to a positive COVID-19 case, and Flensburg vs Szeged has been chosen as Match of the Week.
So there are five matches on the way this week, here they are:
Wednesday 2 December (18:45 CET)
Aalborg Håndbold (DEN) vs Barça (ESP)
Telekom Veszprém HC (HUN) vs THW Kiel (GER)
Thursday 3 December (18:45 CET)
HC Motor (UKR) vs RK Celje Pivovarna Laško (SLO)
SG Flensburg-Handewitt (GER) vs MOL-Pick Szeged (HUN)
HC Meshkov Brest (BLR) vs Elverum Handball (NOR)