EHF Champions League
Summary: FTC beat Vipers in Monday night handball
After a big weekend featuring eight round 13 DELO EHF Champions League matches in the penultimate round of the group phase, Vipers and FTC locked horns in their rescheduled round 2 match. Here is how the action unfolded
Monday 8 February
19:50
As we say goodbye and thanks for following us, here is one last quick pick...
19:47
Go to our Facebook page to see some love snaps from this evening, like this one: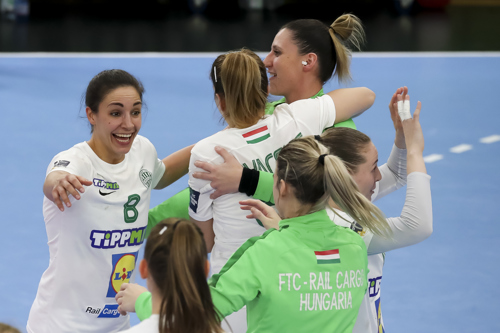 19:30
Go over to our Match Review to read all about it, see the stats and some lovely photos.
19:00 | FULL-TIME - Vipers Kristiansand 26:31 FTC-Rail Cargo Hungaria
18:40
Lovely stuff from the Dutch wing wizard Angela Malestein.
18:35
There does not appear to be any way back for Vipers as FTC still hold a four-goal (21:17) lead in the 42nd minute.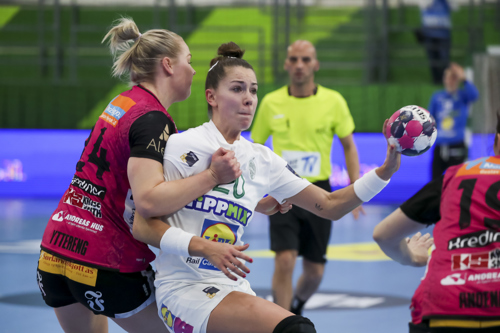 18:10 | HALF-TIME - Vipers Kristiansand 11:15 FTC-Rail Cargo Hungaria
FTC have the big lead at the break - can the Norwegian side come back in the second?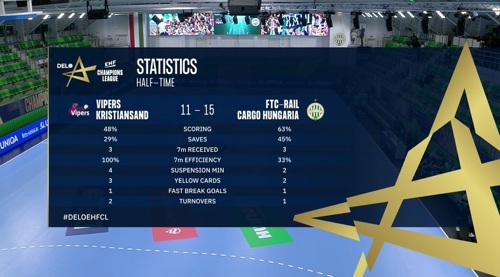 18:00
Lunde in action at the very start.
17:48
Time for a time out for Vipers - they are 4:7 behind in Hungary, against FTC.
Halfway through the first half.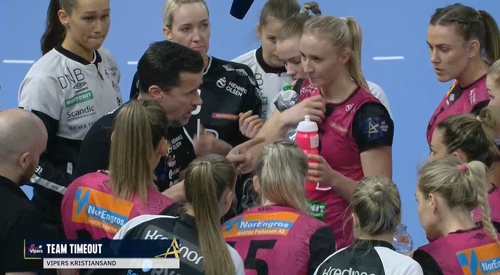 17:32
The G.O.A.T. doing what she does best - saving a penalty shot.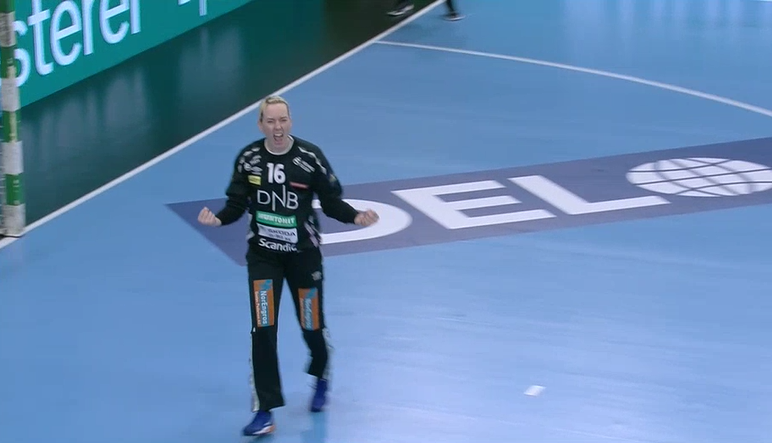 17:20
Get yourself over to #EHFTV now! 10 minutes to go.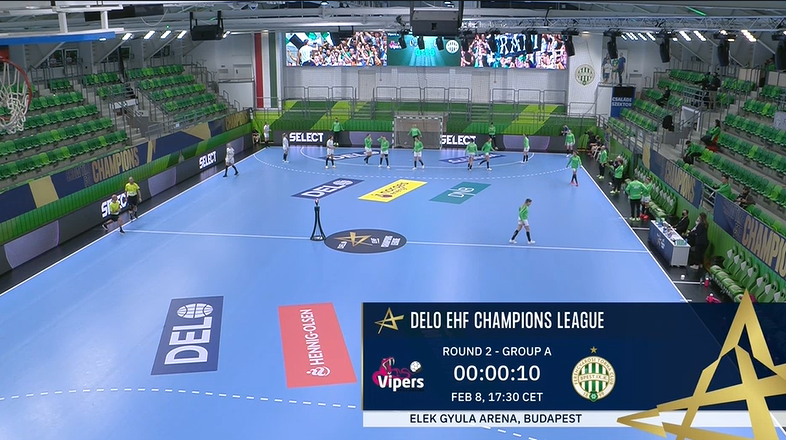 17:15
Time to get ready for some Monday night handball #MNH.
You've been reading, seeing and hearing a lot about Tom Brady winning the Super Bowl at the age of 43 and being called 'The Greatest of All Time' or G.O.A.T., but we have our own G.O.A.T. on show tonight - the Norwegian goalkeeper Katrine Lunde.
At the age of 40 Lunde is right at the peak of her game and has won everything there is to win in handball - and something Brady never will: Olympic Gold.
Watch the G.O.A.T. and her Vipers teammates take on FTC-Rail Cargo Hungaria tonight at 17:30 (CET) on #EHFTV.
Sunday 7 February
19:05
Whilst round 13 in the DELO EHF Champions League has been completed and our live blog coverage for Sunday has now concluded, do not forget to rejoin us for the rescheduled round 2 match in group A between Vipers Kristiansand and FTC-Rail Cargo Hungaria on Monday evening.
18:45
Our poll question this evening asks: which result was the most surprising in round 13 of the DELO EHF Champions League? Was Valcea's win against Odense enough to secure your vote? 
18:35
A look at the DELO EHF Champions League group B standings confirms the value of Sunday's win for Valcea. They are now in sixth place and have played fewer games than their closest opponents in group B, while Odense and Buducnost's losses ended their chances of finishing any higher than where they were situated prior to Sunday.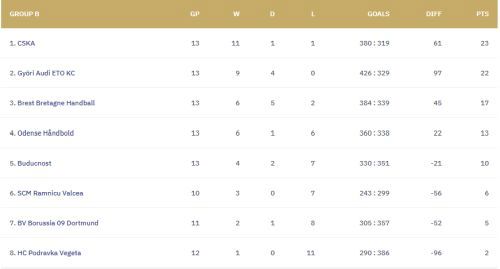 18:30
Here is the overview of the DELO EHF Champions League round 13 results. 
18:25
The match reviews for Metz's win against Bietigheim and Valcea's important win versus Odense are now online and available to be read.
18:20 
Enjoy the best photos from Sunday's three DELO EHF Champions League matches in our image gallery below. The quality of Bietigheim's photos was impressive.












18:05
Some post-match reaction from the two 16:00 CET matches – Metz coach Emmanuel Mayonnade was pleased with his side's win against Bietigheim, particularly as it means that they are now top of group A.
"It was important for us to win today – to go to the first place in the group. Bietigheim has a lot of good players," said Mayonnade.
In contrast, Odense head coach Ulrik Kirkely acknowledged that his side "did not deserve to win" against Valcea.
"Congratulations to Valcea for a deserved win. They showed us that if we are not 100 per cent focused we are not going to get 2 points. We did not deserve to win today," said Kirkely.
17:50
Before we move to the match reviews from the two 16:00 CET matches, here is Orlane Kanor at her best from nine metres for Metz. 
Metz enjoy a four-goal run to finish the second half strongly and claim an eight-goal away win against Bietigheim. Metz are now top of group A after the victory, but as we said earlier on Sunday's blog, Rostov-Don now have two games in hand and FTC face Vipers on Monday evening.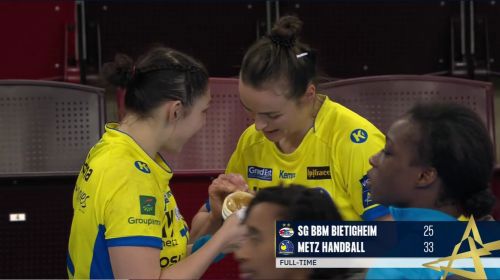 In the final seconds, Lois Abbingh's pass on Odense's final attack misses its connection with the line player, which means that Valcea have defeated their Danish opponents in Denmark 26:25.
17:27
Kristina Liscevic breaks through, scores and Valcea are now ahead 26:25. Odense call a timeout of their own, but with under 20 seconds remaining, this is it... they have to score.
17:25
One minute to go and Odense vs Valcea is level at 25:25. The Romanian side have possession but have called a timeout.
17:22
Metz lead 30:25 against Bietigheim, but the German side have continued to give their best throughout the second half and have shown no shortage of skill, as was typified by Amelie Berger's goal here. 
17:14
With just under 10 minutes to go, a thrilling finish may be in store in Denmark. Odense and Valcea are locked at 21:21 – and Odense even led 20:18.
17:08
Tjaša Stanko is flying for Metz – at least in a metaphorical sense. A penalty followed by a fast break for Stanko, who is now on eight goals, has moved the score to 26:19 in Metz's favour after 15 minutes in the second half. 
17:05
No sooner than we say that Højlund is joint top scorer for Odense, Groot scores an empty net goal, her fifth of the game in total. Valcea still lead – but the margin is down to one, 17:16, and they have called a timeout.
17:04
After 42 minutes, Mie Højlund (four goals) is joint top scorer for Odense. Here is her in action helping Odense fight back in the first half. 
16:59
Eight minutes gone in the second half between Odense and Valcea. Valcea lead 16:13, so there has not been any significant change on that front, but Odense are enthusiastic in defence. A couple of missed chances at the other end for the Danish side, including a fast break, have proved costly. 
16:49
It is easier to understand why Althea Reinhardt's save percentage in the first half was 14 per cent when you see that she had to face shots like this from Valcea's Kristina Liscevic.
16:45|HALF-TIME - SG BBM Bietigheim 12:16 Metz Handball
In the battle of the centre backs, it is Tjaša Stanko five goals and Kim Naidzinavicius five goals, but after 30 minutes in Germany, Metz's stronger finish to the first half has put them 16:12 up.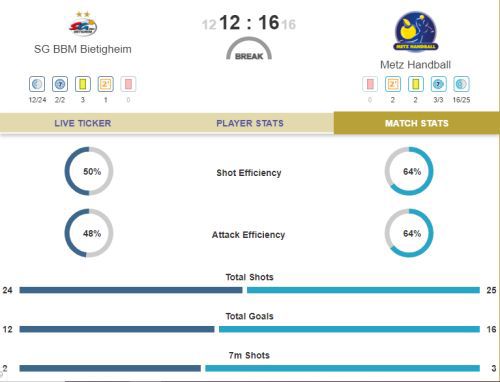 16:41|HALF-TIME - Odense Håndbold 10:13 SCM Ramnicu Valcea
Towards the end of the first half, Odense found some solutions to their problems in front of goal, especially with Nycke Groot contributing valuable goals to break a couple of scoring droughts. But Valcea's scoring percentage remains high and Odense's save percentage – with Reinhardt in goal – has been low throughout the first half.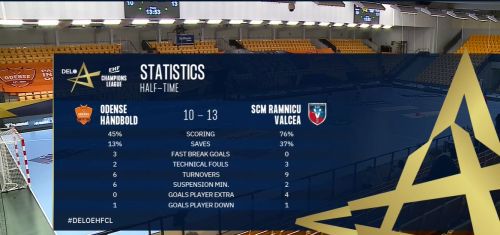 16:32
As Metz take a timeout ahead 13:12, containing Kim Naidzinavicius must be a priority for the French side. The German centre back has scored five goals already in the first half for Bietigheim.
16:30
Take a look at Louise Burgaard finding Olga Perederiy with a perfect pass for Metz earlier in the first half.
16:24
With 20 minutes played, Valcea lead 10:5 against Odense. As per the official statistics, Valcea (10/11) have just missed their first shot. Odense, however, are on 5/18.
Meanwhile, it is tighter in Germany as Metz are ahead 11:9 against Bietigheim.
16:13
Nycke Groot has just an ended a scoreless run for Odense that lasted nearly nine minutes. Valcea currently lead the Danish side 5:3 after 12 minutes.
16:05
There is an added bonus if you speak German and are watching Bietigheim vs Metz on EHFTV.com: German commentary is available for the match. With just over four minutes gone, Metz lead 3:2.
16:00
Whilst our focus will now be on the two matches throwing off at 16:00 CET, EHF journalist Sergey Nikolaev's match review for CSKA's win over Buducnost is available for you to read. 
(The) first half was so nervous. Jan (Leslie) prepared us for aggressive defence from Buducnost. We were shackled in some moments, but our team was better today. We had a good performance today in attack, defence and from goalkeepers.








15:37
Here is confirmation that CSKA are once again top of group B in the DELO EHF Champions League.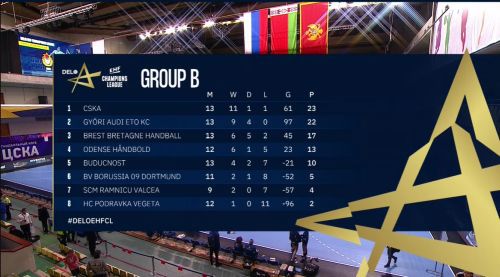 Having been in control throughout the second half, CSKA complete a 27:23 win over Buducnost. The victory takes CSKA back to the top of group B. 
Interestingly, if you look at the statistics from the match, CSKA and Buducnost's scoring percentages were identical – both 55 per cent – so having more shots on goal was the key to CSKA's win.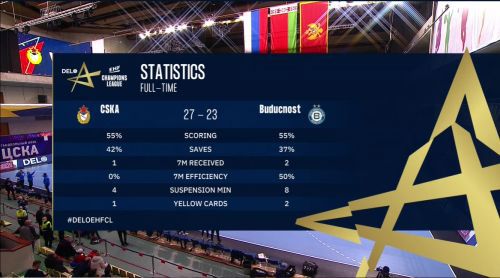 15:18
Chana Masson de Souza has been an important reason why CSKA are in control of the match as we head into the closing stages.

15:12
Kathrine Heindahl has made a big impact for CSKA in the second half. The Danish line player scored the 19th, 20th and 21st goals for the Russian side, who lead 22:17 with just over 11 minutes remaining. 
15:03
Chana Masson de Souza makes her 10th save of the game, stopping a Radicevic wing shot, before Sudakova converts for CSKA at the other end. Given that she was off balance, it is fair to say that Sudakova's finish was very impressive. With the score now 18:13 in CSKA's favour, Buducnost have called another timeout. 
14:55
Buducnost have started the second half with Armelle Attingré in goal. However, there was nothing that she could do to stop Antonina Skorobogatchenko's shot, nor Marina Sudakova's goal from a fast break, and CSKA now lead 15:11.

14:46
With three goals, Itana Grbic was Buducnost's joint top scorer in the first half – and she certainly showed how to execute a hip shot from 9 metres. 
14:36|HALF-TIME - CSKA 12:10 Buducnost
Shortly before the buzzer, Vedekhina's fifth goal of the half gives CSKA a two-lead, 12:10, at half-time. Neither side established a period of sustained dominance during the first half, but as the statistics show, the goalkeepers' save percentages for both teams were high.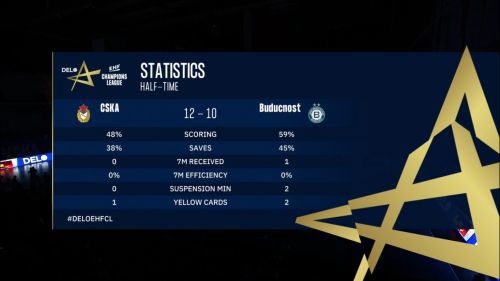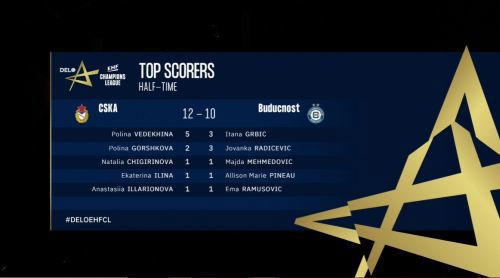 14:32
CSKA opened up an 8:6 lead, Buducnost levelled at 8:8 and now CSKA have restored their two-goal lead at 11:9, which has resulted in Buducnost calling a timeout with just over two minutes left in the first half. 
14:30
As we said, CSKA left back Polina Vedekhina has been to the fore for her side during the first half. She certainly left Barbara Arenhart with no chance with this shot. 
14:19
After a slow start on the scoresheet, the goals are beginning to flow now. Polina Vedekhina has just scored her fourth of the game (from six shots) to put CSKA 6:5 up. 
14:09
A five-minute scoreless period to open the game is ended by a back court shot from Ekaterina Ilina, but CSKA held the lead for no more than a few seconds as Jovanka Radicevic took advantage of the Russian team playing with an extra attacking player immediately from the throw-off.
14:02
We are underway in Moscow for CSKA vs Buducnost. Here are the line-ups from EHFTV.com for both teams.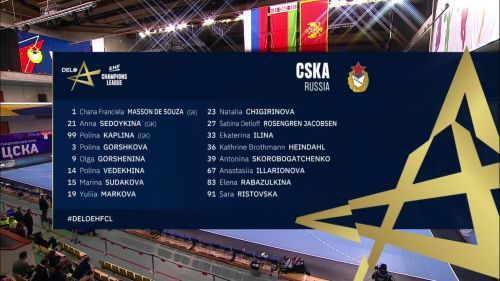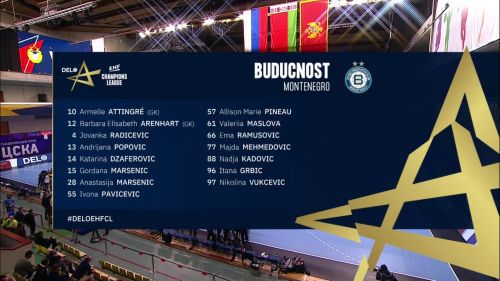 13:51
Live coverage of CSKA vs Buducnost is now underway on EHFTV.com. Can Buducnost end CSKA's perfect start to 2021 in the DELO EHF Champions League? We are about to find out!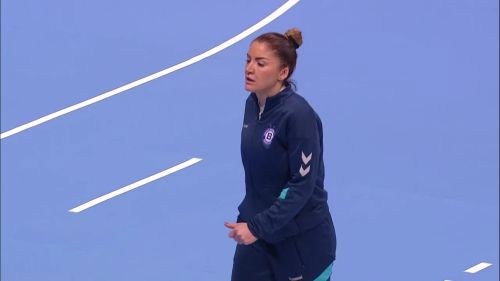 13:40
Whilst home advantage is reversed for Sunday's matches, here are the results from when the teams met each other earlier in the season.
Metz Handball 36:27 SG BBM Bietigheim
SCM Ramnicu Valcea 21:30 Odense Håndbold
13:15
Good afternoon. Welcome to the live blog coverage from Sunday's three round 13 matches in the DELO EHF Champions League.
At 14:00 CET, our first match sees CSKA face Buducnost. The Russian side will return to the top of group B if they win.
In one of our two 16:00 CET matches, first place in group A could also change hands. If Metz defeat SG BBM Bietigheim, who are currently in eighth place, then they will overtake Rostov-Don – at least temporarily. To date, Rostov have played one game less than Metz and third-placed FTC-Rail Cargo Hungaria will meet Vipers Kristiansand on Monday evening in a rescheduled match.
SATURDAY 6 FEBRUARY
20:15
That's all from the blog for tonight. Make sure you tune in on Sunday - we throw off early, as CSKA host Buducnost at 14:00 CET. That match is followed by Bietigheim vs Metz and Odense vs Valcea at 16:00 CET. 








19:55
With five of the eight round 13 matches played, the top two spots in group B are now determined. Györ have retaken top spot after tonight's win and have 22 points; CSKA will overtake them again if they beat Buducnost tomorrow. 
Group A is much closer. Despite Rostov's loss to Krim tonight, they remain top with 15 points after 10 matches. Metz, who are at Bietigheim tomorrow, are second with 14 with FTC third, also on 14 points. 
Vipers are the wild card in the group - they are currently fifth, with 12 points, but have only played eight matches. The Norwegian side have a busy week ahead, with the reverse match against FTC on Monday and the rescheduled match against Rostov-Don scheduled to played on neutral ground in Erd, Hungary, on Wednesday.
19:30 | FULL-TIME HC PODRAVKA VEGETA 15:33 GyörI AUDI ETO KC
Well, that was a hugely confident second half from Györ, who took their half-time lead and just kept extending it. After winning the first half 13:8, the visitors went on to take the second half 20:7. Györ are now unbeaten for 50 straight matches in the DELO EHF Champions League and this, their biggest win of the season, is a great way to mark it.
Podravka could do nothing against the Györ defence and goalkeepers and come out with their worst score of the season, following a 17:33 defeat by Odense in October. 
19:20
Now Györ have opened up a 13-goal lead at 27:14, with around five minutes to go. They could certainly pull out another 15-goal win after all - this is a dominant second half from the record champions.
19:10
Györ are cruising now. They lead 22:11 with 13 minutes left to play, and it's only really Lamprini Tsakalou (six goals from 10 shots) who is finding any success for Podravka. Laura Glauser has taken Amandine Leynaud's place in goal, although not because Leynaud was performing badly.
19:00
A shot into the empty Podravka goal by Györ goalkeeper Amandine Leynaud takes the visitors to 18:10. Eight of Györ's 11 field players, plus Leynaud, have now scored and coach Gabor Danyi is looking pretty relaxed on the bench.
18:55
The match has resumed and Estelle Nze Minko has added two goals to Györ's tally, while Lamprini Tsakalou netted a penalty for Podravka, making it 9:15.
18:35 | HALF-TIME HC PODRAVKA VEGETA 8:13 GyörI AUDI ETO KC
After a quiet period, a 3:0 run sees Györ take a five-goal advantage into the break. It seems unlikely that the visitors will win by the 15-goal margin they achieved back in September, but they are containing Podravka comfortably.
18:30
The match continues to be quite slow. Yuliya Dumanska has found her form in the Podravka goal and the score is now 8:10. Much of Podravka's resurgence is due to Lamprini Tsakalou and Dijana Mugoša, here teaming up for a great goal.
18:20
Some five minutes since the last goal and technical errors are costing both teams. The score is 8:5 to Györ, and Danyi Gabor calls a timeout to tell his team to be more direct.
18:12
Podravka have recovered a little from their poor start, with Lamprini Tsakalou firing a couple of absolute rockets at Amandine Leynaud. Leynaud saves the first but not the second and it's 4:6. 
18:07
It takes Podravka four and a half minutes to score their first goal, with Dijana Mugoša finally finding the net after an earlier failed attempt. Meanwhile, Györ are already rampant with Veronica Kristiansen and Beatrice Edwige both scoring twice and Stine Oftedal once, making it 5:1.
17:50
Nearly time for the last match of the afternoon to throw off - it's Podravka vs Györ. In September Györ won 43:28, so Podravka will be hoping to improve on that poor performance. However Györ are the overwhelming favourites to win this.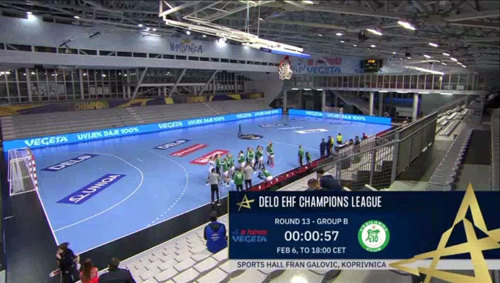 17:33 | FULL-TIME CSM BUCURESTI 28:26 TEAM ESBJERG
In the Match of the Week, Esbjerg played a better second half but were unable to overcome their hosts. Although Cristina Neagu wasn't pin-point accurate, she still netted seven goals from 13 attempts and was the match's top scorer. 
Goalkeeper Jelena Grubisic deservedly takes the Player of the Match award, making 17 saves from 42 shots for a 40.5 per cent save efficiency. She was definitely key to CSM's victory tonight.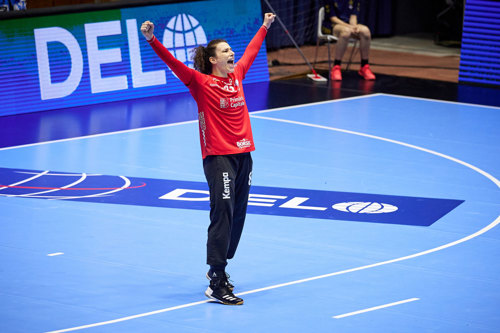 17:30 | FULL-TIME FTC-RAIL CARGO HUNGARIA 30:28 VIPERS KRISTIANSAND
In the first match of their double-header in Budapest, FTC hold on for a two-goal victory over Vipers that puts them into third place in group A.
17:28 | FULL-TIME RK KRIM MERCATOR 28:27 ROSTOV-DON
Rostov's second-half comeback is foiled by Krim in the last minute. Oceane Sercien Ugolin scores to give her side the lead with 17 seconds remaining, and Rostov's attack fails. It's a great victory for Krim.

17:24 | FULL-TIME BREST BRETAGNE HANDBALL 33:33 BV BORUSSIA DORTMUND 09
Brest rescue a point after a better second half, but it's unlikely to be enough to lift them into second place in the group as Györ and CSKA above them still have margins of three and four points respectively, and still have their round 13 matches ahead.
17:18
Rostov now lead Krim, 26:25; Brest have drawn level with Dortmund and even held the lead once or twice.
In Budapest, FTC still lead Vipers by five goals, although with seven minutes remaining the visitors have a slim chance still of clawing that back. 
17:11
In Brest, the hosts trail Dortmund 28:29 with 10 minutes remaining. Is the momentum on their side?

17:10
Jelena Grubisic is actually having a pretty good day, despite her annoyance at letting another goal from Mette Tranborg into the net. But Esbjerg are slowly clawing back the deficit ...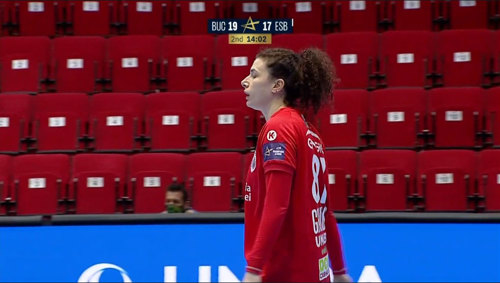 16:58
Rostov have come out of the changing rooms intent on not losing this match, and have drawn level with Krim at 19:19. 
Esbjerg have also found some extra energy, and the gap in the Match of the Week has closed to 16:13.
16:47
An important moment for CSM - this was where they started to break free of Esbjerg in that first half.
16:40 | HALF-TIME CSM BUCURESTI 15:10 TEAM ESBJERG
Some thoughts from EHF journalist Adrian Costeiu on that first half:
"As the worst-ever losing streak in the DELO EHF Champions League - four games in a row - was looming for CSM, the Romanian side look sharp both in attack and in defence and have created a five-goal lead at the break against Team Esbjerg.
"While Cristina Neagu is not in her best form, scoring only four goals out of eight shots, the real star of the show is CSM's defence. With goalkeeper Jelena Grubisic saving nine shots for 47 per cent efficiency, the Romanian side have kept their opponents in check, forcing coach Jesper Jensen to take two timeouts. Yet nothing looks like it's working for Esbjerg, who are missing influential back Sonja Frey in this game."
16:38 | HALF-TIME
BREST BRETAGNE 17:20 BV BORUSSIA 09 DORTMUND
A better scoring efficiency has taken the visitors to a three-goal lead at the break. Brest need to win to stay in the running for one of the top two spots in group B, and will need to up their game in the second half.
RK KRIM MERCATOR 17:15 ROSTOV-DON
Rostov, leaders in group A, have had an uncharacteristically poor start but have pulled back a little of the deficit. Polina Kuznetsova (five goals) and Matea Pletikosic (four) lead the scoring.
FTC-RAIL CARGO HUNGARIA 14:11 VIPERS KRISTIANSAND
FTC go into the dressing rooms with a three-goal lead after an up-and-down first half, in which both sides have held the lead. Kinga Janurik is having a good day in goal for FTC with a 45 per cent save efficiency, which is just as well as she's the only goalkeeper on their roster today.
16:29
Over in Hungary it's still level between FTC and Vipers. This assist earlier on by Anikó Kovacsics for Julia Behnke is worth another watch!

16:26
Mette Tranborg is leading the scoring for Esbjerg with three goals from four shots so far. This is a great 9m effort.

16:24
All four matches on right now are proving to be close affairs. CSM have the clearest lead, now 10:6 against Esbjerg. Krim, perhaps surprisingly, lead Rostov 14:11 - remember their only win this season has been against Bietigheim, although they drew Rostov 23:23 in September.
The lead keeps changing between FTC and Vipers, and it's back to 8:8 after a period where the visitors lagged their hosts. Meanwhile Brest were leading Dortmund, but the German side have fought back to a 13:13 scoreline.
16:18
A few mistakes by Esbjerg have let CSM take a 7:4 lead. While Vilde Ingstad was serving a suspension, Crina Pintea took advantage of an empty goal and that was followed up by a steal and a goal from Elizabeth Omoregie, and a further goal by Martine Smeets. Jesper Jensen calls a timeout to get his team back on track.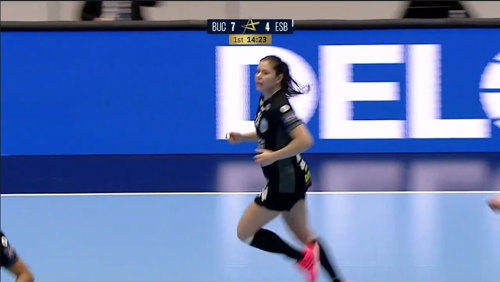 16:12
With 10 minutes down in all four matches, Esbjerg lead CSM 4:3, it's 4:4 between FTC and Vipers, 6:4 to Krim vs Rostov, and 6:5 to Dortmund vs Brest.
16:08
Six minutes into the Match of the Week and it's 3:3. CSM's defence are fighting hard, backed up well by Jelena Grubisic in goal, but the scoring remains even.
16:03
Mette Tranborg and Rikke Poulsen have got Esbjerg off to a good start. Poulsen saves an early penalty from Cristina Neagu, which, coupled with Tranborg's earlier goal, put the visitors up 1:0 after three minutes.
15:50
The warm-ups are well underway now for all four matches that throw off at 16:00 CET. If you're watching on EHFTV remember you can use the split-screen view, and keep an eye on all four matches at once! Geoblocking restrictions may apply.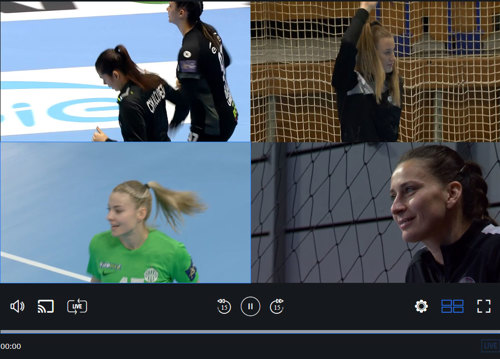 15:20
Ahead of the Match of the Week, a few stats and facts on how the teams are looking. At the moment CSM sit fifth in group B with 11 points from 10 matches (five wins, one draw and four losses), while Esbjerg are sixth with eight points from 11 matches (three wins, two draws and six losses). 
However, CSM have had a worse start to 2021 than their opponents today. They've lost twice, to FTC and Vipers. Esbjerg drew with Vipers and beat FTC and Krim. Nerea Pena, who joined mid-season, has proven helpful for the Danish club - she's scored 15 times in three appearances. 
Esbjerg also travel to Bucharest knowing they won their last away fixture, against FTC, while CSM lost their last home match 22:29 to Vipers. 
In September, CSM beat Esbjerg 30:29 in Denmark, largely thanks to 10 goals by Cristina Neagu. Esbjerg have beaten CSM only once in five previous meetings, winning 25:21 last season in Bucharest.
15:05
Welcome to Saturday's coverage of the DELO EHF Champions League and what a packed afternoon there is ahead! We throw off at 16:00 CET with four matches including the Match of the Week between CSM Bucuresti and Esbjerg, and there's a fifth match at 18:00 CET as Podravka host Györ.
Earlier today Face of the Champions League Hannah Jackson caught up with Crina Pintea and Mette Tranborg before they face each other on court. Click here to watch Breakfast with Champions on Instagram!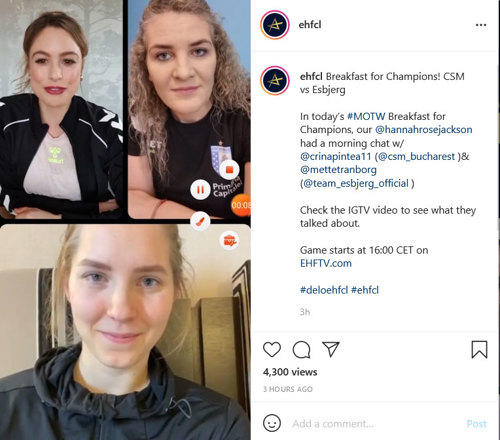 FRIDAY 5 FEBRUARY
17:00
Let's close the live blog for today with the prospect of an incredible record this weekend: if Györ get at least a draw at Podravka on Saturday, it will be the 50th match of their unbeaten run in the DELO EHF Champions League, which started in January 2018. What a milestone!
That's it for now. Make sure to join the live blog again before the action gets underway on Saturday at 16:00 CET!
16:15
Let's have a quick look at group B, where CSKA have already locked up one of the quarter-final spots, with Györ strong favourites to do the same this weekend.
The battle in the bottom part of the table is tighter, especially since Valcea have finally started winning matches in January, beating Buducnost and Podravka for their first points of the season.
In the fight with Podravka and Dortmund for sixth position, the Romanian side now look strong contenders, especially as they will still play ay home against both their rivals.
First, Valcea face a difficult trip to Odense on Sunday. But the Danish side are well aware of the strength of their upcoming opponents:
It is going to be a tough match. Valcea are a Rumanian top team with skilled players on all positions. Valcea have everything to play for to qualify for the play-offs. However, we are focusing on ourselves as a team. We have struggled with injuries and sickness, but we hope we are back on track again soon.
15:30
While CSM have been struggling lately, their opponents in Saturday's MOTW are flying high, coming off a tough start to the season.
Missing star player Estavana Polman was always going to have its effect on Team Esbjerg, but the Danish side have meanwhile found their stride and are unbeaten in 2021. The mid-season arrival of Spanish international Nerea Pena, who joined from Siófok, has certainly contributed to the recent successes.
Apart from that, training sessions like this one on Team Esbjerg's Facebook page have certainly done their part as well...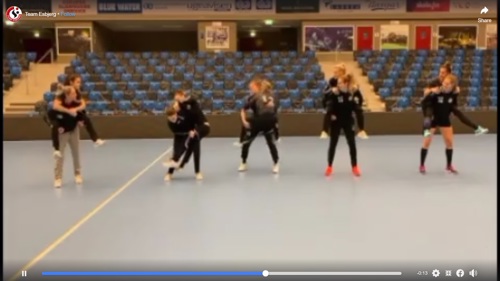 12:45
CSM Bucuresti have lost their last three matches in the top-flight competition and hope to recover from that as they meet Team Esbjerg in the Match of the Week on Saturday. 
During the week, journalist Adrian Costeiu spoke with right wing Carmen Martin, who sees parallels between the current season and CSM's miracle title win in 2016. Check out the feature interview below. 
12:33
Welcome to our live blog coverage of DELO EHF Champions League round 13! Courtney Gahan here getting the weekend started.
From Saturday to Monday, we have eight matches in the penultimate group phase round, plus a rescheduled game. 
Read the preview of everything that's coming up below!