In numbers: look back at EHF EURO 2020 and ahead to 2022
In just a few days, the Men's EHF EURO 2022 will begin – so it is time to look at past data from Kinexon for the top teams and what that says about the upcoming European Championship.
Spain and Croatia: the finalists of the last EURO
Two years ago, at the final of the EHF EURO 2020, Spain defeated Croatia 22:20 to win their second European Championship in a row. They were able to remain undefeated throughout the tournament because they were great on both sides of the field.
While the Croatians were praised for their great defence, in fact Jordi Ribera's team were even better on that side of the court, despite conceding 2.3 goals per game more than the Croatians.
The big difference between the two finalists was that Spain's games were much faster-paced than Croatia's. In fact, Lino Cervar's team had the least possessions per game of all teams at the tournament with just 46.4. Spain had 5.8 more – no wonder they conceded more goals. And just playing faster or slower is of course not necessarily a feature of a good or bad defence.
So, it is much fairer to create an equal basis for everyone. Since the average number of possessions is around 50 (50.3 at EHF EURO 2020) comparing statistics normalised to 50 possessions allows a fair comparison between teams. Applying this, Spain's defence was the best of the tournament in 2020 with just 24.0 goals conceded per 50 possessions – slightly better than Croatia (24.7).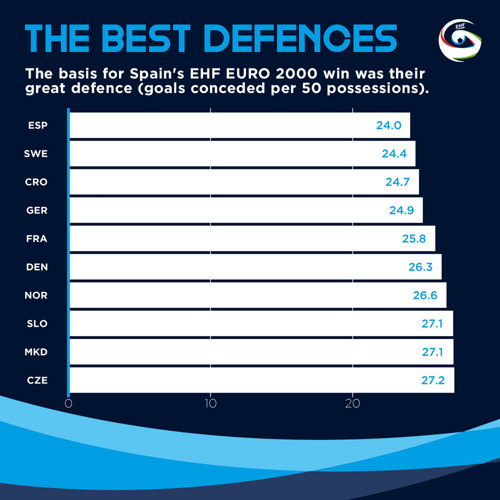 The reasons for these good numbers are that both teams were especially great at forcing technical faults (Spain first with 12.7 per 50 possessions, Croatia second with 12.6 per 50 possessions). Of course, this is also a consequence of the 5-1 defence on which both teams relied. In attack, Spain was great as well. With 29.6 goals per 50 possessions, they had the second-best attack of the tournament.
In contrast, Croatia had some problems in attack. Their shooting percentage (59.3 per cent) and number of technical faults (10.2 per 50 possessions) were around average which resulted in marginally above-average 27.2 goals per 50 possessions. Nevertheless, Spain were the only team they could not defeat.
Even though Spain won in 2020 with the oldest team of the tournament at an average age of 31, the turnover in their team has not been too big. The players that played 69.1 per cent of the minutes then are expected to play at the EHF EURO 2022 as well. They may not be as outstanding as they were two years ago, but they are still clearly among the favourites.
For Croatia the situation is different. Hrvoje Horvat has replaced Lino Cervar as coach and this year's squad includes players who together played just 35.4 per cent of the minutes two years ago. Therefore, any forecast of quality or playing style based on data is difficult, but it seems that they are not on the same level.

Denmark and France: the disappointments of the last EURO
For France and Denmark things did not go nearly as well at the last European Championship. Even though they had decent statistics, the two favourites were already eliminated in the preliminary round.
Led by Niklas Landin (the second-best goalkeeper with a 34.7 per cent save efficiency) Denmark had the sixth-best defence with 26.3 goals conceded per 50 possessions. In attack they were minimally below average (26.9).
For France it was the other way round. In attack they were just not good enough with 26.3 goals per 50 possessions and their defence could not make up for it (25.8). France and Denmark were also the two teams with the shortest own attacks (Denmark 31.0 seconds, France 29.4 seconds) and correspondingly the fewest passes played per game (Denmark 464.4, France 582.7).
Nicolaj Jacobsen's team has not changed too much since 2020. The players that played 69.1 per cent of the minutes back then are on the team again. One big addition is of course Mathias Gidsel. The MVP of the Tokyo 2020 Olympic Games is the perfect addition with his extremely efficient style of play for a backcourt player. For France, the players that played 55.6 per cent of the minutes on the court are back on the team and for Guillaume Gille it is the first EHF EURO as head coach as well.
Since EHF EURO 2020 both recovered pretty well with France winning gold at the Olympic Games and Denmark winning the IHF Men's World Championship 2021 as well as Olympic silver. That makes them once again among the main favourites. As they are, especially in contrast to two years ago, largely injury-free and have added Gidsel, Denmark are perhaps even the main favourites.

Hungary and Slovakia: the hosts
Home-court advantage is statistically proven. However, the only hosts that became European Champion were Sweden in 2002. But four hosts have at least been runners-up and Hungary's goal is to follow suit as far as possible.
In 2020, they finished ninth but missed the semi-finals after losing their last match. They managed to do that as the youngest (average age of 25) and one of the least experienced teams (33 caps on average).
Almost the whole 2020 team are still on the roster, including the players that played 81.2 per cent of the minutes in 2020. With the experience gained since then, the return of the injured star Mate Lekai and the home-court advantage, an improvement can be expected.
They need this on both sides of the field. Offensively, at the EHF EURO 2020 they were just the 16th best team with 25.4 goals per 50 possessions. On the other side of the field, they conceded 27.2 goals per 50 possessions, which is slightly below average. But if they can realise that improvement everything is possible.
For Slovakia, the situation is different. It is just their fourth participation in an EHF EURO and there is not much data available. In each of their three previous stints they finished last, with their most recent appearance 10 years ago. Making it to the main round would be a very big success for them.

Norway, Sweden, Germany, and the rest
Norway played a great tournament two years ago, losing only to Croatia in the semi-finals after double extra time. Led by Sander Sagosen (7.2 goals per game, the best percentage of all the main round teams), Norway had the best attack of the tournament (30.8) but just the seventh-best defence (26.6).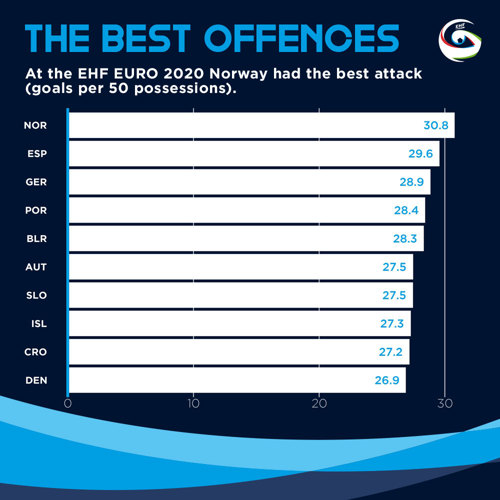 For Norway's Scandinavian neighbours Sweden, it was the other way around. They had the second-best defence (24.4) but were only average in attack (26.1). Germany, in contrast, were good, but just not very good on either side (third best attack: 28.9; fourth best defence: 24.9).
All three have their problems this year. Norway has several injuries but still the players that played 69.4 per cent of the minutes in 2020 are back on the team. Sweden have shuffled their team well, and players that played only 42.4 per cent of the minutes two years ago are still on the squad. For Germany the number is at 51.3 per cent with several new, young, and internationally inexperienced faces.
With superstars such as Sagosen and Jim Gottfridsson, the two Scandinavian teams in particular should not be discounted.
Of course, there will also be many more interesting stories that will play out during the tournament. For example, two years ago Austria's Nikola Bilyk was the second-best field goal scorer with 6.6 goals per game and an outstanding field goal percentage of 71.9 per cent.
Belarus also impressed in 2020, with the fifth best attack (28.3), although they had big problems defensively (29.4, fourth worst). The data at EHF EURO 2022 will show whether they have improved.
Julian Rux is a data analyst and data journalist. More of his work can be found on his website and blog Handballytics.de as well as on social media: Instagram, Facebook and Twitter.