EHF Champions League
SUMMARY: Comebacks galore in Sunday's action
The DELO EHF Champions League round 4 is done and dusted. Here you can recap on how it all went down over Saturday and Sunday. 
This concludes today's coverage of the DELO Women's EHF Champions League round 4. Lots of shocks and, as always, plenty of top-drawer handball. See you next time!
17:53:
17:26
RESULT: BV Borussia 09 Dortmund 28:29 HC CSKA
WOW! What an incredible finish. Team captain, Alina Grijseels (10 goals), who didn't put a foot wrong the whole game, had the ball with 10 seconds left (28:28), takes an underarm shot, hits a defender and CSKA break with the clock ticking down and they net via Marina Sudakova right on the buzzer to take full points. 

This is going to sting for a long time for Dortmund, they played the perfect game for around 50 minutes (+6 goals!) and led from the first whistle.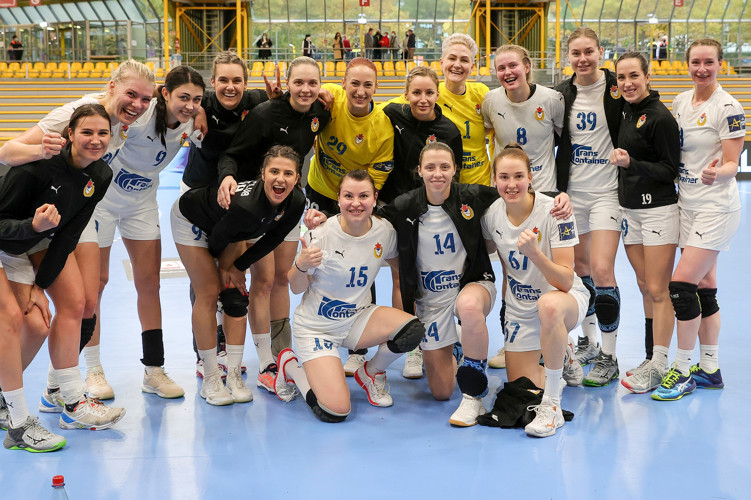 But big compliments to CSKA for sticking in there right until the end, talk about leaving it late!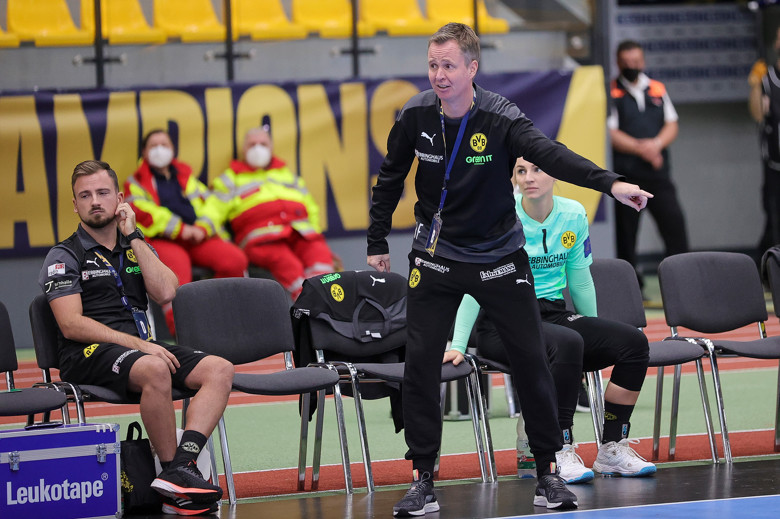 Andre Fuhr (head coach, Dortmund): "It's very hard to find the right words now. For 50 minutes we had a great fight and we didn't expect that at the end. But then our engines were empty. We will go on learning. It's our first season in EHF Champions League. Today, it's a very hard lesson, but we will learn from it."
17:21
Dortmund 28:25 CSKA (56'): What an important goal from Gutierrez! From no angle she nets to restore a three-goal gap for Dortmund.
17:15
Dortmund 27:25 CSKA (52'): Time-out! CSKA are coming out very aggressively in 5-1 now trying to disrupt Dortmund's attack. Gorshenina for CSKA is having a solid second half, she's just scored three in a row from right back. It will be tense for the last few minutes...
17:06
Dortmund 25:19 CSKA (46'): This is enthralling stuff. It seems like it is going to be Dortmund's day, they have played every minute of this tie so far like it is a cup final. Jennifer Gutierrez is having a good second half scoring two nice goals from the left wing.
Isabell Roch had the save of the day for Dortmund when she was one-on-one with CSKA's Gorshkova. 
16:51
We are back for the second half of Dortmund vs CSKA. Watch it HERE.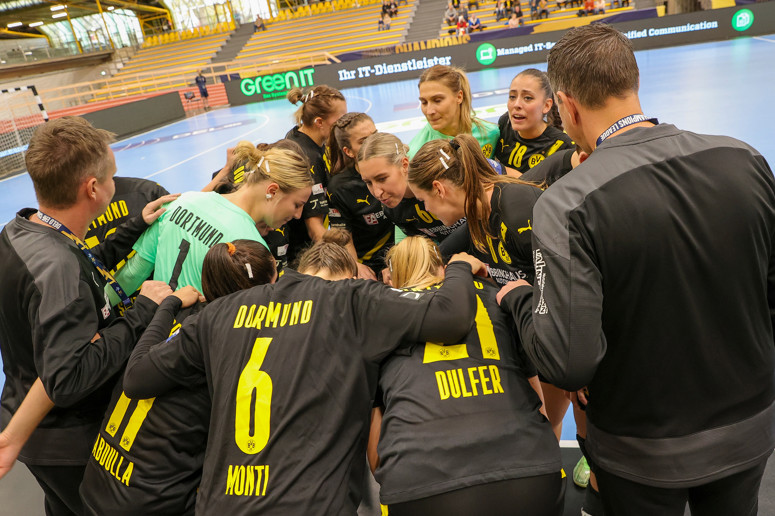 16:40
Whenever someone asks you what a "no-look pass" is, this should be the reference for everyone. 

Maybe one of the best ones ever. Well done, Anna Vyakhireva!
16:34
HALF-TIME: Dortmund 15:11 CSKA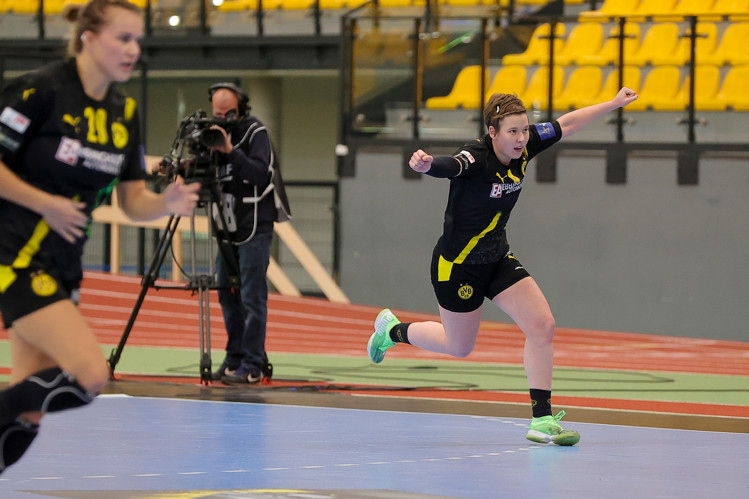 16:31
Dortmund 15:10 CSKA (27'): CSKA will be the happier side to hear the half-time whistle. The German side really have their tails up. After Grijseels (seven goals), Kelly Dulfer has netted four so far.
Is it great to see Ekaterina Ilina at this level on good form too she's 4/5 for CSKA.
16:27
Kelly Dulfer on the ball in the first half!
16:18
Dortmund 10:7 CSKA (16'): Can Dortmund keep up this intensity in defense for 60 minutes? It's bodies on the line here and it is working a treat so far. Grijseels is having the half of her life, she's 7/7 for the German side and making big hits in defence.
16:03
Dortmund aren't messing about here in the opening few minutes, they are 5:1 up after 3 minutes. 
Alina Grijseels for Dortmund with a hattrick!
15:52
BUILD-UP: BV Borussia 09 Dortmund vs HC CSKA
For the last match of the round we have the two newcomers to the DELO EHF Champions League.
While both newcomers have had very different starts. CSKA with five points from three games will be happy with their maiden voyage. The German hosts struggled losing their opening two games but got a boost from picking up a win over Podravka. 
Watch it HERE.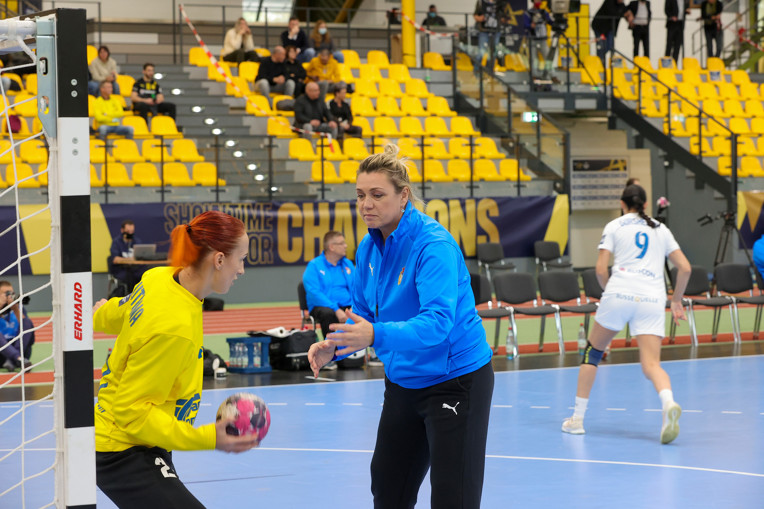 15:47
RESULT: SG BBM Bietigheim 31:32 Rostov-Don
Per Johansson will be breathing a little easier now with his side squeezing out two points in a surprisingly difficult test for his side. Ana Sen was top scorer with eight goals for the Russian outfit.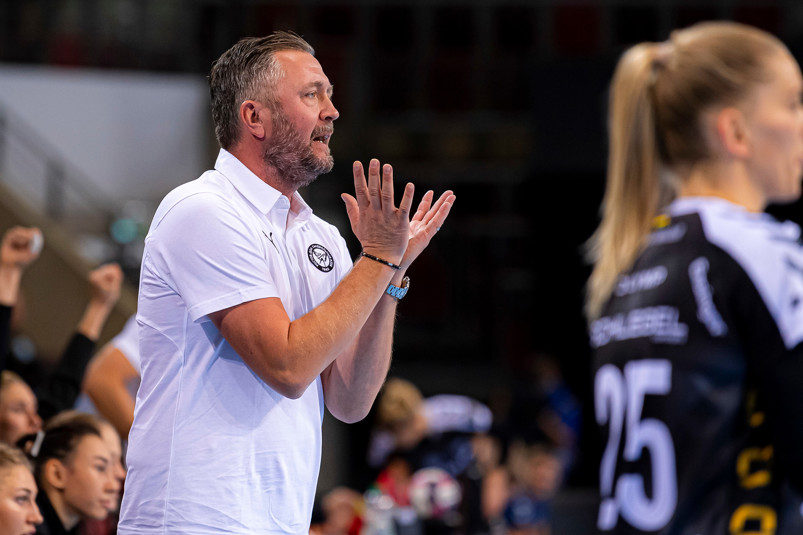 Per Johannson: "It was not the highest level from Rostov, but a very high level from Bietigheim. We met a team with a lot of speed and energy. Bietigheim fought for everything in defense. For us it is pure luck that we won."
RESULT: Team Esbjerg 21:24 FTC-Rail Cargo Hungaria
Handball truly is a game of two halves and the FTC we saw in the second was not to compare with the one of the first. Whatever Gabor Elek said to his makeshift side at half-time worked a trick.
So, after 25 days with no official match FTC pick up a win and their first points of the DELO EHF Champions League season. It will be a sweet victory with them going into the tie with so many players out.
Team Esbjerg will be really kicking themselves that they let the Hungarian side creep back into the second half (15:8).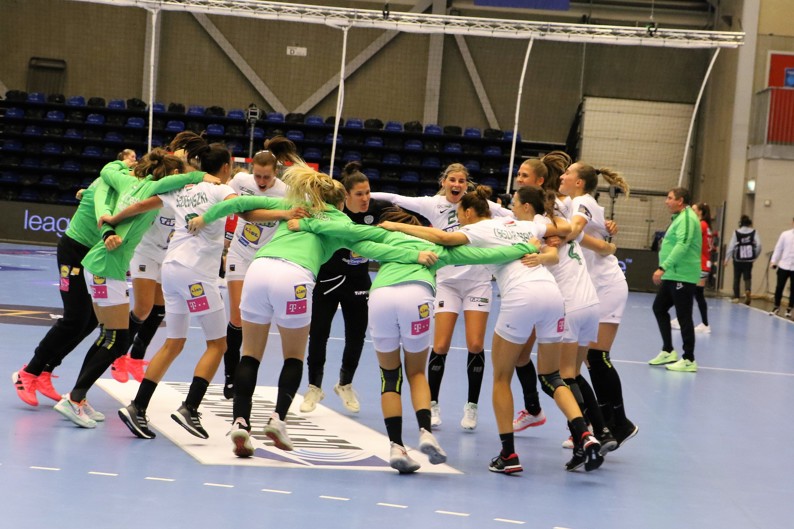 Anikó Kovacsics: "I'm really proud of the team for this result, Esbjerg are a really good team with big shooters. We played a starting lineup like never before, so we had to stick together. We played for those at home and who are unable to play. We play with patience and with smiles, I can't say much else, just really proud of the team."
Below are the players she is talking about, who clearly look pumped after watching that FTC comeback!
15:24
Esbjerg 19:23 FTC (54'): For sure the player of the second half: Aniko Kovacsics. She is causing the Esbjerg's defense huge issues causing them to overcommit; she is very happy to convert the resulting penalties. 
15:11
Esbjerg 17:18 FTC (46'): And look at this, FTC are in the lead thanks to a goal from Schatzl (4/4)! What a different looking team to the first half. More focused, better shooting and opening up the Danish side's defense nicely. 
The last time FTC led in the game was when they went 2:1 up in the third minute. 
15:08
Esbjerg 17:16 FTC (44'): Kovacsic, who is having a much better second half, briefly pulled the game level at 16:16 before Breistol netted at the other end for Esbjerg. 
14:58

Esbjerg 14:13 FTC (37'): We are back with a bang in Denmark! A time-out called by the hosts and it was needed! What an opening few minutes from FTC, they go on a 4:1 run to bring the game back to within one!
Here is an example of the sort of stuff FTC are throwing at the hosts in the second half...
14:40 
HALF-TIME: SG BBM Bietigheim 16:17 Rostov-Don

Julia Maidhof with four goals has been the German side's top scorer, she adds to her 19 of the season so far. While Ana Sen was top for Rostov with four. 
Watch the second half here.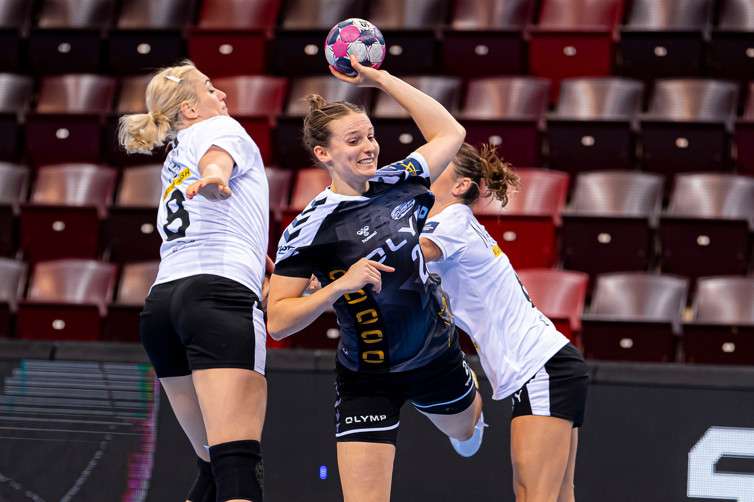 Check out this lovely shot by Kim Naidzinavicius! 
14:34
HALF-TIME: Team Esbjerg 13:9 FTC-Rail Cargo Hungaria
Ingstad nets for the Danish side to give them a four-goal cushion. Sonja Frey is looking very dangerous at times for Esbjerg.

FTC's 39 per cent scoring ratio will need to improve if they are to have any shot in the second half. It is for sure not for a lack of chances.
14:30
Esbjerg 12:9 FTC (27'): Blanka Biro is pulling off some great saves, FTC have her to thank for the gap not being bigger coming up to half-time. 

Poor shot selection at the other end though, with Kovacsics missing four. Esberg are starting to find their flow now with already seven names on the scoresheet. 
14:19
Esbjerg 7:6 FTC (19'): After a tense few opening minutes it seems to be the hosts that are settling into the game better. 
FTC are missing a huge amount of their stars today with Bölk, Klujber, Beneke and Hafra all out. It will be a momentous effort if the Hungarian side pick up some points today. 

For the moment they are still within touching distance: 
14:00
It's showtime for champions! Let's go! 
Join us here for the game we will focus on: Team Esbjerg vs FTC-Rail Cargo Hungaria
And here for SG BBM Bietigheim vs Rostov-Don
13:34
Build-up: Esbjerg vs FTC / Bietigheim vs Rostov
With just 25 minutes until throw-off, let's look at the current situation. This will be FTC's first official game since 16 September (due to Covid-19 restrictions) with them looking for their first win. But the Hungarian side are travelling with a young squad today.
Esbjerg are in flying form sitting at the top of the Danish league (seven wins from seven games). These teams have met twice in the Champions League and both have one win each - this should be a very interesting tie!
And Rostov-Don will be overjoyed that Per Johansson can finally join his side on the bench having resolved his visa issues. They travel to a side that as struggled defensively this season, SG BBM Bietigheim. The German side have the second worst goal difference in the league. Have they patched up some of these gaps? Time to find out...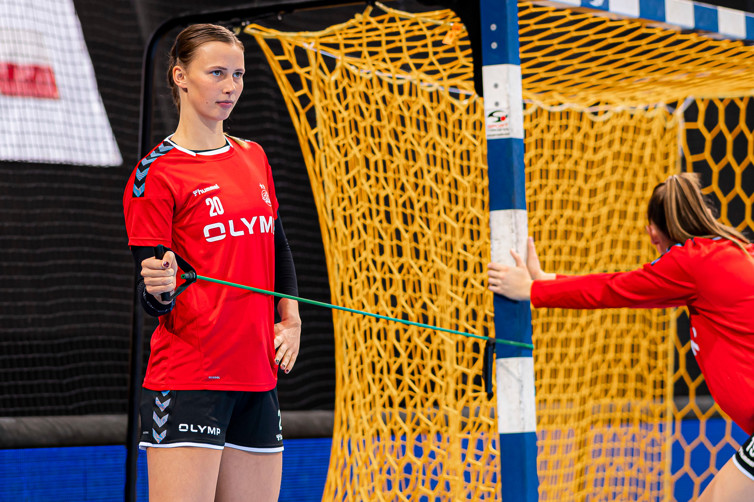 13:01
Another Sunday, another set of important DELO EHF Champions League matches: 
14:00
Team Esbjerg vs FTC-Rail Cargo Hungaria - live on EHFTV
SG BBM Bietigheim vs Rostov-Don - live on EHFTV

16:00
BV Borussia 09 Dortmund vs HC CSKA - live on EHFTV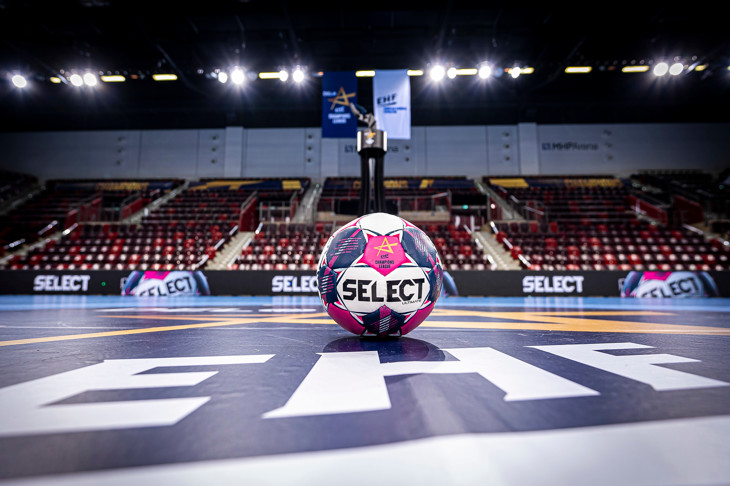 21:15
That concludes Saturday's coverage of DELO EHF Champions League round 4.

Join us again tomorrow for 3 more exciting matches.
21:12
And finally, here is our review of Group B's other match this evening. Find out how Buducnost got their first point in this year's competition as they welcomed Brest Bretagne.
21:00
Head over to our Instagram page to enjoy some of the best photos from an action-packed, record-breaking day of DELO EHF Champions League action
20:47
Read our Group B review of the match between Gyor and Odense, which saw the Hungarian side record another win in the competition, while Odense go back to Denmark without their unbeaten record
20:30
"I knew when I was walking there to shoot the 7m, that I am near to score my 1000th goal, but I was a bit surprised when the referee whistled, so I had to score it really fast. But I am very happy that I could succeed. I am really happy and proud of me because of it, but it could not happen without my teammates and my club."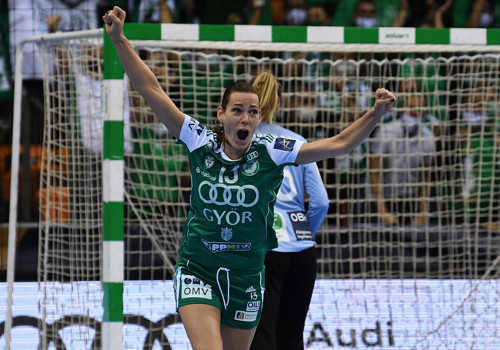 20:11
Congratulations to the Player of the Match for round 4's Match of the Week, presented by DELO...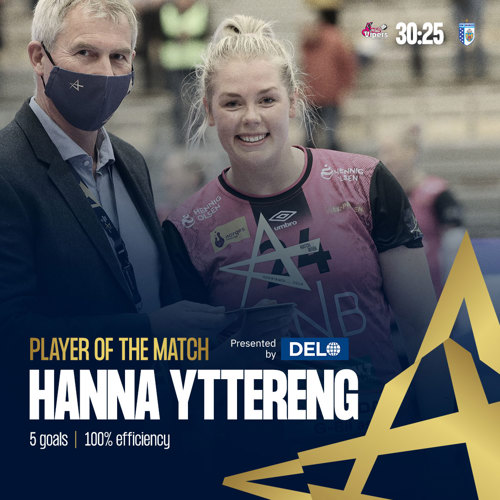 20:00
Two home wins and two away draws in this year's DELO EHF Champions League. Is the Hungarian club's name on the trophy again?
19:47
If you missed any of our Match of the Week coverage, our review will get you right up-to-date.
19:44
Not the result either side was really hoping for, but Djurdina Jaukovic at least had a memorable moment as she returned to her old stomping ground.
19:40
I was hoping I could bring you news of Anita Gorbicz's 1000th DELO EHF Champions League goal today, and thankfully, I can! The goalsoring machine scored 4 times today to take her total (including qualifyers) to 1003! Congratulations on passing the milestone, Anita!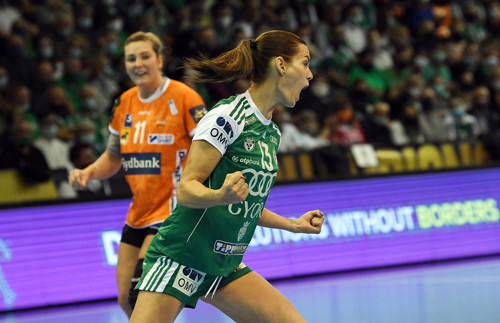 19:38
The Gyor train keeps rolling on! They maintain their unbeaten run and end Odense's in the process.
19:35
< a id="Vipers"> Match of the Week concludes with a 5-goal home win for< Vipers.
They are now the clear Group A leaders with maximum 6 points.
7 goals each for Barbara Lazovic and Elena Crea Pintea was not enough for CSM.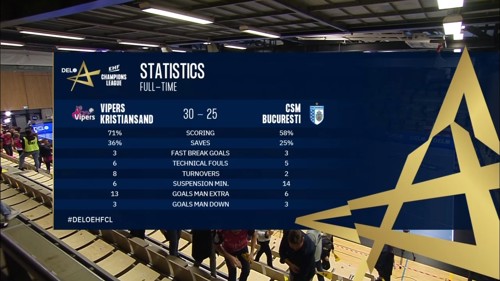 19:30
Full-time in Montenegro. The hosts were the happier of the two sets of players as the final whistle blew, as they get their maiden point on the Group B board.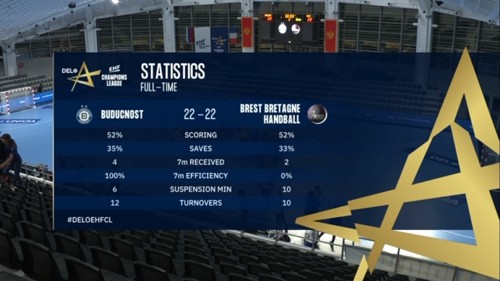 19:24
An empty-net goal has just about sealed Match of the Week for Vipers! They are 29:23 ahead with only 3 minutes to go.
19:14
It's a four-goal game in Match of the Week, and the contest for the game's top scorer is incredibly close. There's no calling this!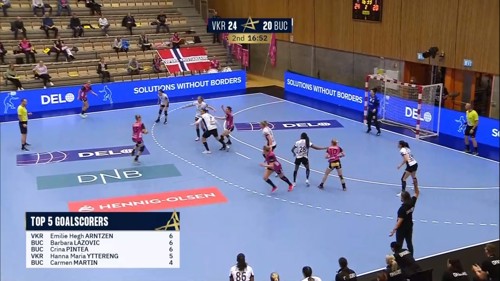 19:03
Latest scores from around Europe, now well into the second half;
Vipers 19:15 CSM (MOTW)
Györ 22:17 Odense
Buducnost 17:15 Brest Bretagne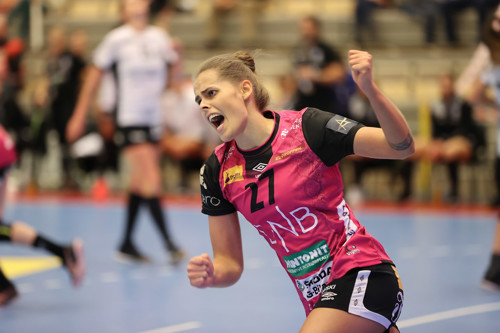 18:54
Györ won't be wanting their unbeaten run to end at 40, and goals like this from Duda Amorim will be just what they need to keep the streak going.
18:50
As a member of the goalkeepers' union myself, I feel for Katrine Lunde here! She's made a strong contribution between the posts so far but there was no stopping this.
18:42
In the Group B matches, Buducnost are holding Brest Bretagne as they search for their first point of the season.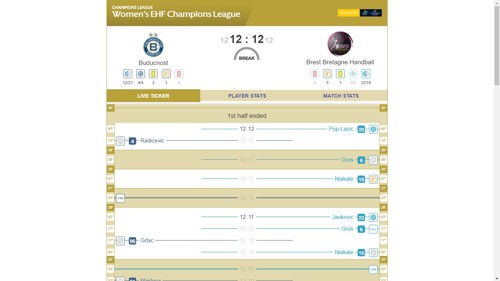 Meanwhile, Gyor have extended their advantage against Odense.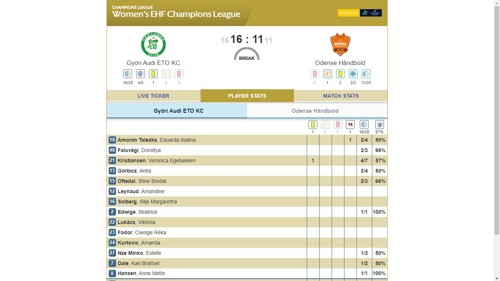 18:37
We have reached the break in round 4's Match of the Week.
Not surprising that neither side will be relinquishing their 100% record without a fight, but it's Vipers who have the lead.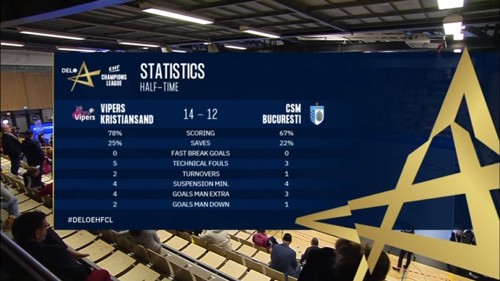 18:35
Emilie Hegh Arntzen knows how to get Match of the Week underway. She has 4 goals in the game so far and this was a great way to start.
18:29
Elsewhere in the DELO EHF Champions League, home sides Gyor and Buducnost both hold narrow leads as we approach to the break
18:22
18 minutes gone in MOTW and the hosts have the edge, 9:6. Nora Mork already has 3 to her name.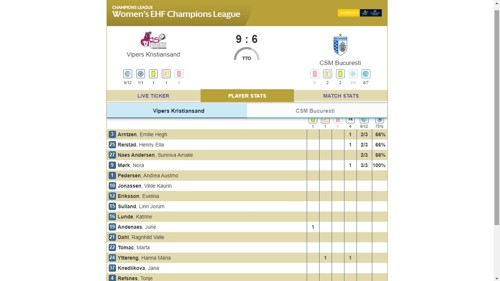 18:14
Krim can take heart from the fact they played some fantastic handball in patches during today's defeat. Branka Konatar's delightful shot from the wing finished off this great attack.
18:02
Metz extended their winning run to 2 matches in Group A, are they serious contenders in the group?

Krim are struggling to make an impact on this year's competition, however.
17:56
Our other 18:00 throw-off is another Group B encounter.

ZRK Buducnost have 3 defeats to their name thus far, and things aren't about to get easier as they welcome Brest Bretagne to Montenegro.

Brest have beaten Valcea and Borussia Dortmund, plus got a great draw vs Gyor
17:50
The final preparations are being done for an eagerly anticipated MOTW. 

CSM Bucuresti will be without Cristina Neagu, but at least we have great coverage on Instagram brought to you by Brian Campion.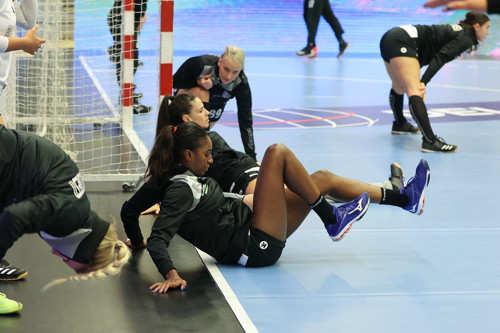 17:46
Ladies and gentlemen, Nora Mørk is BACK! After her knee injuries she is ready to return to DELO EHF Champions League action for her new side Vipers!

To make it extra special, she'll be facing her old side CSM Bucuresti!

And the icing on the cake... it's Match of the Week! Live on EHFTV!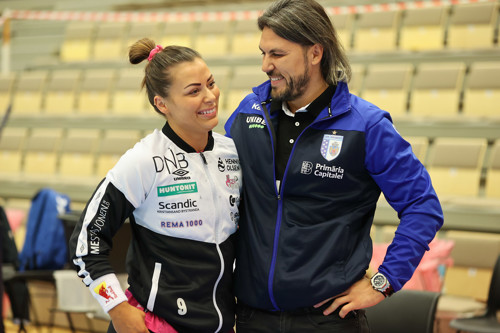 17:38
I wondered whether we'd still be seeing those smiles after the final whistle. 

A perfect 8/8 from Tjaša Stanko made the difference as Metz move on to 4 points.
17:34
All over in our first match! Metz get their second win on the bounce while Krim still await their first 2 points of the campaign.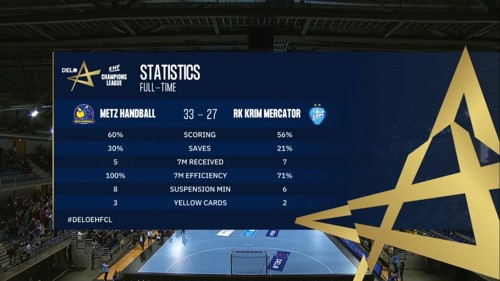 17:23
There is just no stopping shots like this from Orlane Kanor! A "Kanor Cannon", if you will. She has 4 goals so far today, enjoy the pick of the bunch...
17:21

It's a 9-goal lead for Metz as we enter the closing stages, Krim have taken a time-out to rally the troops but surely they can't turn this around?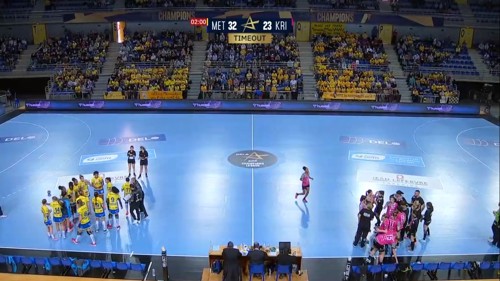 17:12

As well as MOTW, two Group B games are throwing off at 18:00. Odense Haandbold are taking their 100% record Györ. The Hungarians are also unbeaten; 40 Champions League matches unbeaten in actual fact! Once again today, something has to give!


17:02
Is this a metaphor for what's happening today in France? Metz just keeping things out of Krim's reach? The visitors closed the gap to 21:16 but Metz quickly extended that to 23:16, Krim will need more to turn this around.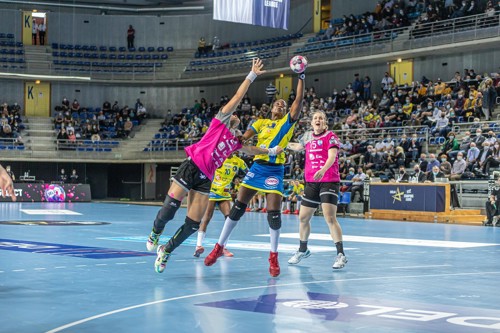 16:53
We are now just over an hour away from Match of the Week! Both Vipers Kristiansand and CSM Bucuresti have 100% records in the DELO EHF Champions League this season... something has to give! You can follow the match right here or watch live on EHFTV.
16:40
Half-time in our first match of the afternoon! Metz Handball 19:11 RK Krim Mercator.
Tjaša Stanko has been the stand-out performer in the opening 30 minutes, scoring 6 goals from 6 attempts, striking from open play and holding her nerve from the 7m line.
Krim have never started a Champions League campaign without a win in their opening 3 matches, that record seems to be in serious danger.
16:34
Metz take a time-out with only a few seconds left in the half, leading by 7. Whatever coach Emmanuel Mayonnade said, it worked, as they quickly score another two to end the half.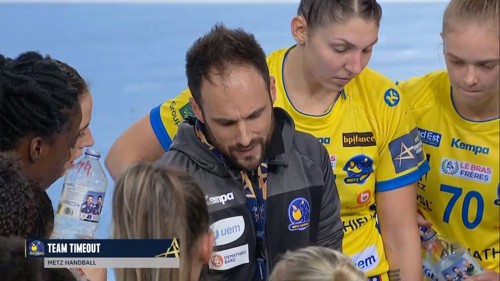 16:25

20 minutes into the match and Metz are starting to build a healthy lead, with 6 players already on the score sheet.


16:11
10 minutes gone in our opener, neither side has been too accurate in front of goal, but Tjaša Stanko's 3/3 has helped Metz into a 6:2 lead. Time out taken by Krim.
15:59

All today's matches are live on EHFTV, and the action in Metz is about to get underway!
15:45
We're about 15 minutes away from throw-off in Metz! It's all smiles on the home side of the court in the build-up, will we be seeing the same smiles in about 2 hours time?

Metz won their only home match of the campaign so far, 36:27 against BBM Bietigheim.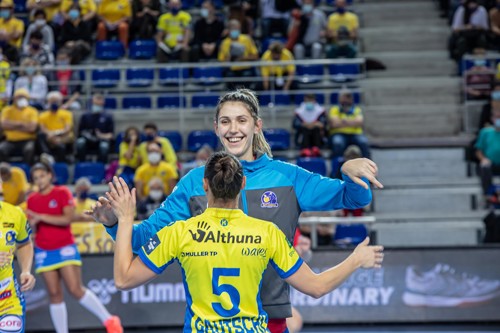 15:40
The calm before the storm! The Krim players looked relaxed earlier today, as they go hunting for their first win of this DELO EHF Champions League campaign.
15:30
There's still time before throw-off to read our round preview
Metz Handball and RK Krim Mercator have met 12 times before, but do you know who has the better head-to-head record so far? The answer (and much more) is in the preview.
15:20
Good afternoon everyone! The first of our four DELO EHF Champions League matches is less than 45 minutes away. I'll be keeping you updated on the Group A match in France, where Metz Handball host RK Krim Mercator.

The two sides have had somewhat inconsistent starts to this year's competition, they'll both be desperate to put that right today.


17:00
We are going to leave you for today with a brief look-ahead to another eye-catching match on Saturday: In Hungary, title holders Györi Audi ETO KC are hosting Odense Håndbold, the group B leaders with the perfect six points from three matches.
On Instagram, Györ are welcoming back Nycke Groot for the first time. The Dutch centre back had four very successful seasons at the Hungarian club before moving to Odense in Denmark in the summer of 2019.
P.S.: The live blog will resume on Saturday at 15:00 CEST!
15:14
Let's take a closer look at Vipers and CSM: prior to Saturday's MOTW, the two teams have met four times in the EHF Champions League. CSM are leading the head-to-head stats with three wins, including both their main round encounters last season.
By the way, can you believe that Cristina Neagu scored an incredible total of 39 goals in those four matches?!
Anyway, Vipers' only win came in an away match in Bucharest, nearly two years ago. Heidi Løke and Co. will be eager to change that on Saturday...

14:22
The standout game this weekend is the Match of the Week in Norway, where Vipers Kristiansand are hosting CSM Bucuresti on Saturday at 18:00 CEST.
The Romanian visitors will be without Cristina Neagu, who scored 22 goals in CSM's first two matches.
On the other hand, Vipers can count on their star player, Nora Mørk. Joining from CSM in the off-season after recovering from another severe knee injury, the upbeat Mørk is looking forward to playing her former club in the MOTW, as she told Adrian Costeiu.
14:00
Good afternoon and welcome to the build-up to round 4 of the DELO EHF Champions League 2020/21! Players have returned from their national-team duties and clubs are ready for another weekend of top-level handball.
The seven-match schedule features several highlights, including the Match of the Week between Vipers and CSM as well as the clash between title holders Györ and group B leaders Odense on Saturday, and the debutants' duel pitting Dortmund against CSKA on Sunday.
Read the round preview from EHF journalists Sergey Nikolaev and Adrian Costeiu for all the details.