EHF Champions League
Summary: Odense draw with Györ in MOTW as round 11 concludes
The DELO EHF Champions League reached round 11 this weekend, with Rostov-Don and Györi Audi ETO KC both looking to stay on top of the ground standings.
SUNDAY 17 JANUARY
18:55
That's all from us tonight - we hope you've enjoyed the weekend's action. There's just three rounds left of the group phase, to be played next weekend and in February, so expect plenty of excitement as teams fight for places in the March play-offs and April quarter-finals! 
18:25
Here's the full round-up of results from the weekend's DELO EHF Champions League action. Rostov and Györ remain top of their respective groups, with Metz second in group A and Brest Bretagne second in group B. CSKA have the same number of points as Brest (15) but, with two fewer matches under their belts, an inferior goal difference at this stage.
Vipers and Györ are the only undefeated sides after Györ snatched a point tonight.
















17:54
There were also celebrations for Mie Højlund tonight - it was the centre back's 150th game for Odense. She joined the club in 2018 from Randers HK. She's still only 23 so can hope for a long career ahead!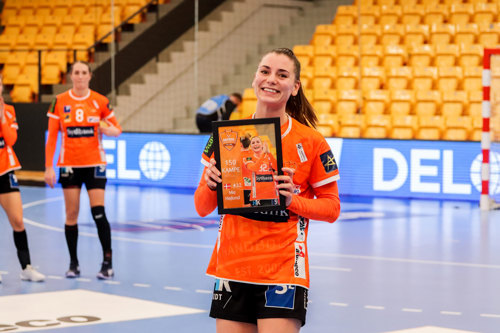 17:32 | FULL-TIME ODENSE HÅNDBOLD 32:32 GYÖRI AUDI ETO KC
Remarkably, the match ends with another direct free throw - this time for Odense. Lois Abbingh fails to net and the match ends in a 32:32 draw. It's a good result for Odense, who can thank their left back Abbingh in particular for much of the success. She's awarded Player of the Match after scoring 11 goals and assisting in several more. 
Györ would have had a better day if their goalkeepers had been on better form. Laura Glauser replaced Silje Solberg later on after Solberg had previously replaced Amandine Leynaud, but none of them made a true impact and overall save efficiency was poor.
FULL-TIME BREST BRETAGNE HANDBALL 28:28 BUDUCNOST
Brest can thank an improved Sandra Toft in the second half and five goals from Ana Gros and Pauline Coatanea for their draw tonight. It was a much better second half from the hosts and they rescue a point.
FULL-TIME HC PODRAVKA VEGETA 25:27 SCM RAMNICU VALCEA
Valcea hold on for a great first win in the bottom-of-the-table clash. Even nine goals by Podravka's Dejana Milosavljevic wasn't enough to give the Croatian club the win.

17:23
Brest have drawn level with Buducnost at 27:27! A remarkable comeback from the French club in the second half. In Odense, it's 32:21 to the hosts ...

17:20
Under five minutes to play and Györ have closed up to 30:32 in this thrilling MOTW! Odense are now battling hard to keep the edge as the clock runs down.
17:16
Here's a moment from earlier in the MOTW as Odense attacked early in the second half.

17:14
Odense are maintaining their lead over Györ with less than 10 minutes to go. 
Elsewhere, Brest have fought hard and now trail Buducnost 25:26, while Valcea still lead Podravka, 23:21.
17:03
Odense have pulled out to a 27:23 lead after a strong period, led by several goals from Lois Abbingh. Althea Reinhardt is in goal for the hosts and has saved all three shots that have come her way too, helping making the difference. Could Odense be on course to surprise Györ?
16:57
The second halves are all underway. It's still close in the MOTW - now 22:22 between Odense and Györ. Brest have a four-goal deficit to make up against Buducnost, and Valcea lead Podravka 19:16.
Here's a lovely in-flight goal by Itana Grbic for Buducnost shortly before the half-time buzzer in their match. 

16:50
Here's that successful direct free throw by Eduarda Amorim - not many of these get past the opposing wall!

16:40 | HALF-TIME ODENSE HÅNDBOLD 18:17 GYÖRI AUDI ETO KC
Odense almost took a two-goal lead into the break, but Eduarda Amorim successfully got a direct free throw awarded on the buzzer over Silje Solberg's head to make it 18:17 to the hosts. At this stage it's impossible to predict a winner in what is proving to be a brilliant MOTW.
HALF-TIME BREST BRETAGNE HANDBALL 11:18 BUDUCNOST
It's not going Brest's way at all. They've closed the gap on Buducnost several times, only for the visitors to re-open the lead. Jovanka Radicevic, Itana Grbic and Nikolina Vukcevic have all scored four times for Buducnost, while Barbara Arenhart is performing in goal.
HALF-TIME HC PODRAVKA VEGETA 13:15 SCM RAMNICU VALCEA
Valcea continue to lead Podravka, although the hosts have managed to close up a bit. Remember Valcea are yet to win a match this season.
16:28
A few shots missed by both teams in the MOTW and a few shots saved - Silje Solberg has replaced Amandine Leynaud in the Györ goal now and has stopped two shots. Györ lead 15:14 after a period of intense back-and-forth play.
16:22
Things continue to go well for Valcea, who lead Podravka 9:5.

16:17
Odense are intermittently playing seven-on-six in attack - it's cost them one goal already when Stine Oftedal took advantage and Tess Wester failed to get back on court quickly enough. But it's also giving Györ a few issues. Lois Abbingh nets a penalty and it's 11:10 to the hosts.
16:12
Odense and Györ have two of the best goalkeepers in the world in the shape of Tess Wester and Amandine Leynaud, but neither of them are having any luck so far. Wester's saved two shots, and Leynaud none at all. It's 8:8 with 13 minutes played.
In Brest, Buducnost have had an excellent start and lead 6:4. Valcea also lead their hosts, Podravka, 6:4.
16:09
Former Györ player Nycke Groot makes it 5:5 at eight minutes and then its's Freja Cohrt with her third goal to give Odense the lead for the first time. Both teams are playing quickly with no time lost.
16:07
And we're off! Györ won an early penalty which Veronica Kristiansen netted, and they now lead 5:3. Eduarda Amorim and Freja Cohrt have both scored twice already - this could be a high-scoring match as less than seven minutes have been played.
15:57
Don't forget you can follow the MOTW on our Instagram story with clips and insight! Check it out - the matches are about to start.















15:37
There are another two matches scheduled for 16:00 CET today - Brest vs Buducnost, and Podravka vs Valcea. Brest lost to CSKA last week and currently sit third in group B behind Györ and CSKA, ahead of Odense, while Buducnost are fifth with seven points after eight matches. These two sides drew 22:22 when they met in Podgorica in October.
Podravka and Valcea have not played each other yet this season - or indeed at all in the last decade. Valcea are yet to win a match this season, with six losses from six games; Podravka beat Buducnost in their opening game but have since then lost every match. So expect both teams to fight hard for the points tonight!

15:20
Our preview of the Match of the Week examines the two sides' strengths and weaknesses. On paper, this is Györ's match to lose - this is only Odense's second season in the DELO EHF Champions League, while the Hungarian club have won more titles than anyone else.
But Odense have won all but one of their home matches, and inflicted CSKA's only defeat. The Danish club sit fourth in group B, with six wins and four losses in 10 matches. 
Györ have played nine matches so far, winning seven, and drawing two. Their wins included a 32:25 victory against Odense in October in the reverse fixture of tonight's game. 
12:55
As part of our Breakfast for Champions series, ahead of Match of the Week between Odense Håndbold and Győri AUDI ETO KC, EHFTV's Marcus Floth caught up with Odense left wing Freja Cohrt and Győr line player Kari Brattset. The full chat can be viewed on Instagram now.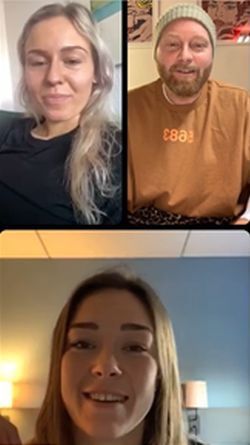 SATURDAY 16 JANUARY
20:15
That's all from tonight - we'll be back tomorrow afternoon at 15:00 CET ahead of the three matches still to play in round 11, including an exciting Match of the Week between Odense and Györ!
19:38
Hatadou Sako never let up throughout the match - she was critical to Metz's victory tonight, with an astounding 19 saves. She's having a great debut DELO EHF Champions League season.

19:29 | FULL-TIME RK KRIM MERCATOR 22:26 METZ HANDBALL
Metz take their sixth win of the season and the two points puts them second behind Rostov-Don in group A with 12 points, ahead of CSM with 11 and Vipers and FTC both with 10. 
19:23
Krim closed the gap to three goals with four minutes left after a penalty from Valentina Klemencic and a goal from Oceane Sercien Ugolin, while Camila Micijevic missed two attempts in quick succession. However Klemencic then earned herself a two-minute suspension and Debbie Bont opened the gap to 24:20. 
Orlane Kanor is now off for the last three minutes or so after her third two-minute suspension gave her a red card.
19:12
A chance for Krim as both Orlane Kanor and Camila Micijevic are on two-minute suspensions at the same time, but Metz regain possession and with a penalty awarded, Tjaša Stanko makes it 23:17.
19:08
With less than 15 minutes to go Metz have a 22:16 lead in a game that remains mostly slow-paced, broken up by little flurries of goals. Krim are not mounting a strong enough fight to challenge Metz's lead significantly.
18:55
Three goals for Metz and none for Krim in the first five minutes of the second half and it's starting to look ominous for the hosts. They need to recover now to stand a chance of staying in the game.
18:35 | HALF-TIME RK KRIM MERCATOR 10:14 METZ HANDBALL
A fairly low-scoring first half, with a few technical errors by both teams. However the scores are largely down to the goalkeepers' performances. Jovana Risovic showed excellent reactions to save this one - although with an efficiency of 30 per cent she's being outplayed by her rival at the other end of the court. Hatadou Sako has saved 12 out of 22 shots, an efficiency of 55 per cent!

18:20
Metz are starting to ease ahead and Krim's coach Uros Bregar has called a timeout at 5:8. The timeout follows three technical errors in a row from Krim.
18:11
Metz have pulled level at 4:4. Olga Perederiy has played a key role for the visitors so far, with two goals as well as a couple of missed shots.
18:07
Six minutes in and it's 2:1 to Krim. Metz's goalkeeper Hatadou Sako has made a superb start, saving four of Krim's six shots including a penalty taken by Harma van Kreij just now after a foul by Orlane Kanor.
17:45
One more match still to go tonight! Fresh from their one-goal victory against Rostov-Don last week, Metz are in Ljubljana to face RK Krim. Krim have won only one match so far this season (against Bietigheim) and when Metz hosted in round 4, it was the French club that won - 33:27. 
The match is live in just under 15 minutes on EHFTV!
















17:30 | FULL-TIME CSM BUCURESTI 22:29 VIPERS KRISTIANSAND
Vipers looked dominant throughout and CSM couldn't make it work today, despite 10 goals by Cristina Neagu and a decent performance in goal from Jelena Grubisic. Katrine Lunde between the Vipers posts with a 38 per cent efficiency, and goals from 11 of the visiting players, made the difference as Vipers win their fourth match out of six.
17:28 | FULL-TIME FTC-RAIL CARGO HUNGARIA 24:28 TEAM ESBJERG
Two points for a thrilled Esbjerg. Jesper Jensen looks happy with a very solid performance from his team, who - ahead of Krim's match against Metz later on - pull themselves into sixth place in the group A rankings. 
17:25 
CSM look like they're going to lose this match, but if they do it's not for want of trying!

17:24 | FULL-TIME CSKA 35:28 BV BORUSSIA 09 DORTMUND
CSKA chalk up their seventh win and again leapfrog Brest Bretagne into second place in the group B standings - Brest play Buducnost tomorrow. Dortmund remain in the danger zone of sixth with only two points.
17:18
CSKA are doing enough to stay ahead of Dortmund, but the German club are battling to stay in the match despite having two fewer players on their squad. It's 32:28 right now.

17:15
A penalty taken by Katrin Klujber brings FTC back within a goal of Esbjerg at 22:23. It's been six minutes since Esbjerg scored. Are they running out of steam?
17:07
One of the reasons Nora Mørk is one of the world's best players is that she is not only a reliable goalscorer, she is also superb at setting up her teammates. Here she combines with Malin Aune as Vipers extend their lead in the first half.

17:04
How quickly things can change in handball! Solid work by Sanna Solberg-Isaksen, Marit Malm Frafjord and Kristine Breistøl gave Esbjerg a 19:16 lead.
Over in Bucharest, CSM have scored just once so far since the match resumed, while Vipers have added five to their tally. The visitors now lead 19:10.
Dortmund have closed the gap on CSKA, bringing it back to 21:26 - they have 16 minutes to try and close up further.
17:00
Into the second halves now and CSKA and Vipers have pretty much picked up where they left off. In Budapest, there have been just four goals in eight minutes - two for Esbjerg and four for FTC, maintaining Esbjerg's one-goal lead.
16:43
Emily Bölk and Katrin Klujber are joint top scorers for FTC after the first half, each with four goals. This back court shot by Bölk is the pick of her shots so far.

16:40 | HALF-TIME
CSKA 19:12 BV BORUSSIA 09 DORTMUND
A strong start by Dortmund has evaporated into a seven-goal lead for the hosts, who look dominant and well on track to continue their run of exciting form.
FTC-RAIL CARGO HUNGARIA 12:13 TEAM ESBJERG
It's nip and tuck in Budapest. Despite Blanka Bíró showing strong in the FTC goal, Esbjerg have kept pace with their hosts and the match is shaping up for a thrilling second half.
CSM BUCURESTI 9:14 VIPERS KRISTIANSAND
Last week's results - a loss for CSM and a draw for Vipers - will have been disappointing for both teams, but it's the Norwegian visitors who seem to have bounced back more strongly. With eight players on the scorecard compared to just three (Cristina Neagu, Barbara Lazovic and Crina Pintea) for CSM, Vipers are looking like a more cohesive unit right now.
16:32
Anna Seydokina is proving invaluable for CSKA, helping stop the Dortmund goals while the attacking players hammer in the shots at the other end of the court.

16:27
CSKA have moved out to a 15:10 lead in Moscow, with a solid performance in goal by Anna Seydokina (40 per cent efficiency so far) and four players netting multiple times contributing to the lead. 
16:22
A large part of Esbjerg's success in the first 15 minutes of the match has been an outstanding start from Sanna Solberg-Isaksen, who is on five goals from five attempts.

16:20
Katrin Klujber gives FTC the lead for the first time at 7:6. The Hungarian club will be wanting to continue the good start to 2021 after beating CSM last week - but Esbjerg, too, seem to be riding high on the MOTW draw with Vipers and are now matching their rivals goal for goal in what is turning out to be a tight contest. It's now 8:8.
16:15
CSM let Vipers streak out to a 5:1 lead but a well-chosen timeout gave them the momentum they needed to bring it back to 5:6 - three of their goals so far by Cristina Neagu. EHF EURO 2020 top scorer Nora Mørk is yet to find the net.
16:05
All three matches are underway: CSM vs Vipers a little slower to throw off. CSKA lead Dortmund 3:2 after a quick 3:0 run from the hosts negated Kelly Vollebregt's goal in the first minute. 
Vipers scored the first two against CSM, who have now clawed one back courtesy of Cristina Neagu; and it's 1:1 between FTC and Esbjerg.










15:40
Build-up begins now for the next three matches. In group A, CSM play Vipers in a bid to get revenge for the 25:30 loss they suffered to the Norwegian team back in October. Vipers have played only five matches this season but are currently unbeaten, with three wins and two draws on their tally.
Also in group A, fourth-ranked FTC host seventh-ranked Team Esbjerg. Esbjerg haven't won a match since round 1, when they beat Bietigheim in Germany, and they lost 21:24 to FTC when they hosted the Hungarian team in round 4.
Meanwhile CSKA host Dortmund in group B. It's both sides' ninth match of the season and it's been a much better start for the Russian club, with six wins, one draw and one loss compared to the German side's one wn and seven losses. Back in October CSKA took a 29:28 victory in Germany.
14:00
We now take a bit of a break as the next matches are not until 16:00 CET. If you need more handball until then, there's coverage of the EHF European League on EHFTV as Storhamar play Astrakhanochka and HC Zvezda host Vaci NKSE. 








13:25 | FULL-TIME ROSTOV-DON 27:21 SG BBM BIETIGHEIM
Rostov cruise to a six-goal win against Bietigheim, adding a further two points to their tally at the top of group A - they're now on 15, ahead of CSM Bucuresti who have 11 points ahead of their match against Vipers later on.
13:20
There's still a seven-goal gap with three minutes to play, but some of the shots Bietigheim's tiring squad are pulling out are astonishingly good.

13:05
Rostov have stretched out an eight-goal lead at 21:13 with 12 minutes played of the second half, and Markus Gaugisch calls a time out to reinforce tactics. It works, and Bietigheim's Trine Østergaard nets her fourth goal of the game - but Rostov don't seem to be in any danger of losing their lead.
12:55
The second half is underway and Bietigheim made a good start with two quick goals to close the gap slightly. 
Meanwhile here's another first-half highlight - a stunning shot from Kristina Kozhokar.

12:45
A first-half highlight for Bietigheim was this lovely fast break goal from Antje Lauenroth, executed without a flaw.

12:38 | HALF-TIME ROSTOV-DON 15:9 SG BBM BIETIGHEIM
Rostov look comfortable now and are surely on track for their seventh win of the season as they take a six-goal lead into the dressing room.

12:30
Rostov's stronger defence is now coming to the fore, backed up by Viktoriia Kalinina who has a save efficiency of 38 per cent compared to 13 per cent for Emily Sando. Anna Sen nets her first of the match to give Rostov an 13:8 lead as the first half moves towards the break. It's her first goal for Rostov since early November and it's good to see her recovered from the injury that kept her out of the EHF EURO.
12:20
A quarter of the match is now gone and Rostov have indeed established a more solid lead, 7:3, with their goals coming from across the squad - six players have scored so far. Polina Kuznetsova is the only Rostov player to have netted twice.

12:09
The first five minutes were pretty even: Rostov's Yaroslava Frolova scored the first goal before Xenia Smits put Bietigheim level. Nele Reimer briefly put the visitors ahead, but Anna Lagerquist has now given Rostov a 4:2 lead after seven minutes and a chance for the hosts to stretch ahead. The goalkeepers, Viktoriia Kalinina and Emily Sando, are both doing a decent job too.
12:00
Throw off! Rostov have by far the stronger squad today, with a full complement of 16 players. Bietigheim have brought only nine field players and their two goalkeepers to Russia.
11:50
Rostov-Don's home, the Palace of Sport, is looking suitably wintry in January snow right now. Inside the teams are soon to throw off and coverage has begun on EHFTV.










11:15
Welcome to coverage of round 11 of the DELO EHF Champions League, with five matches scheduled today and three, including the Match of the Week between Odense and Györ, tomorrow. We'll bring you all the updates beginning at 12:00 CET as Rostov host Bietigheim. The Russian club currently top group A with 13 points from eight matches, while Bietigheim are at the bottom of the rankings with three points from nine matches. 
When the two met in round 4 it was a close battle, with Rostov ultimately winning 32:31. Check out the preview of this game and all the others below.