EHF Champions League
Summary: Barça retain perfect record; group A hots up
The EHF Champions League Men saw a big few days of mid-week action from Tuesday to Thursday, with round 11 taking place along with rescheduled clashes. 










THURSDAY 11 FEBRUARY
23:15
Check out the match reviews from all four of tonight's games. That's all from us; as ever, we hope you enjoyed the EHF Champions League Men action, and see you for round 12!
23:00
The reaction from two top coaches on their teams' performances tonight show the joy of winning and the agony of losing in the EHF Champions League.
For us it was a complicated match, the second one this week. A lot of players are tired from the World Championship and it is hard to play sexy handball. It is good that we have finally won although we were not on a top level
I don't want any excuses. I will speak like a man. I lost this match, my fault, I could not assemble a team after the game with Porto
22:35
Here are the results of all five round 11 matches played today and yesterday. It's been a great couple of days of EHF Champions League Men action, we're sure you'd agree.
22:25
Now that today's four matches are all done, what result surprised you most? Vote now!
22:13 | FULL-TIME
An excellent performance by Zagreb, but ultimately Barça hold on for yet another win - that's 11 victories from 11 matches now and they remain the only side with a perfect record. Tonight showed they can be put under pressure, but also showed they know how to withstand that pressure.
22:10 | FULL-TIME
Veszprém add another two points to their tally - and their seventh win - by beating Celje. The Slovenian club played better than when they met in Hungary, and will surely take that away into next week.
22:04
Rapid reactions such as this helped Zagreb earlier in the second half, although it looks like they've now run out of steam. 

22:00
Inside the last 10 minutes for both games, and Veszprém and Barça now both have more comfortable margins. A 3:0 run for Barça involving Ludovic Fabregas and Aitor Ariño was helpful as they moved out to 30:26, while a couple of goals from Yahia Omar put Veszprém up 27:21.
21:53
Barça have squeaked out to 26:24 again, but Xavier Pascual is not looking especially happy behind his mask. Gonzalo Perez de Vargas has replaced a sub-par Kevin Møller in goal - let's see what difference he can make.
21:43
And now Zagreb are level at 23:23 - we have a proper game on our hands.
21:40
What a terrible start to the second half from Barça! They have squandered much of their lead and allowed Zagreb to close right back up to 21:22, with only a few minutes gone. 
21:35
Lovely, lovely goal by Jorge Maqueda, always an exciting player to watch. The second halves have begun!









21:22 | HALF-TIME 
HC PPD ZAGREB 18:21 Barça 
A little run of goals from Zagreb spurred by Paolo Kraljevic helped Zagreb stem the Barça tide somewhat, but the group leaders hold a three-goal advantage at the break. It would be closer but the Zagreb goalkeepers are having a terrible night, letting far too much through.

21:19 | HALF-TIME
RK CELJE PIVOVARNA LASKO 14:16 TELEKOM VESZPRÉM HC
Rogerio Moraes adds a goal just before the buzzer and Veszprém go into the dressing room two goals ahead. It's a pretty even showing so far from the two sides, both showing a wide spread of scorers and a similar save efficiency.
21:17
Zagreb seem unable to keep up now with their opponents, who are stretching out as the first half progresses. In contrast, Celje are keeping the pressure on Veszprém - it's 14:15 over in Slovenia.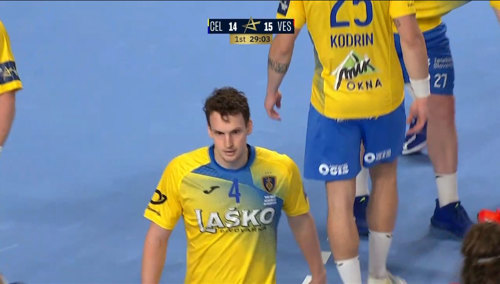 21:06
Barça have now established a 14:10 lead. It's mostly coming from the attack: neither set of goalkeepers are shining right now.
Veszprém maintain a two-goal lead over Celje, 11:9.
20:58
Veszprém are out to their first two-goal lead at 9:7, some 13 minutes in, but it's a good beginning to the match for Celje who are challenging hard. They call a timeout.
20:53
Zagreb have made a confident start against Barça, leading 5:3 a few minutes ago before Barça pulled it back to 5:5. There have been a few technical errors already though from both sides.
20:48
Off we go with the last two round 11 matches. In both, it's 2:2.

20:40
Time to tune in for the group B matches:
20:27
Moving on to group B now! The top two teams, Barça and Veszprém, are both in action away against the bottom two teams, Zagreb and Celje. 
Zagreb are yet to win a match this season and a win against Barça would seem unlikely - although this is the EHF Champions League and anything can happen! Yet it would require a huge turnaround from round 4, when Barça won 45:27 in the Palau Blaugrana.
Veszprém also recorded a big win in round 4 against tonight's opponents, beating Celje 39:24 at home. Celje beat Zagreb by one goal last week to bring their season points to six.








20:15 | FULL-TIME
Alfredo Quintana scores into the empty net with a resigned expression: it's too little, too late. Szeged celebrate their third win of the season (from eight games). Porto just didn't quite have it in them tonight.
Yahor Budzeika scores his only goal of the game to seal a five-goal win for Brest. The Belarusian club took their feet off the gas a little in the closing minutes, having essentially won the match much earlier on in the half. Their better attack paid dividends in the end.
20:08
This Simon Razgor goal about sums up the way Brest have been playing: running away with the match.

20:05
About five minutes left to play and neither of the visiting teams have managed to get back into their matches. Kielce are now seven goals down, but have neither the time nor momentum to overturn Brest; Szeged just look like they're enjoying themselves hugely as they lead Porto 34:29.
19:55
A mini comeback from Porto brought them back to a four-goal deficit, but a goal from Dean Bombac made it 27:22 to Szeged and time is against the visitors.
Kielce now trail by eight goals and can't find a way through Brest's defence.
19:48
They might not be winning right now but there's some good play from Kielce, like this assist.

19:43
Things have pretty much continued as they left off with Szeged and Brest dominating in the opening minutes of the second halves. It's now 23:17 to Szeged, 20:16 to Brest.
19:28
Illustrating the form of the Brest goalkeepers, as mentioned below, we give you Ivan Matskevich:

19:23 | HALF-TIME
MOL-PICK SZEGED 18:12 FC PORTO
HC MESHKOV BREST 15:11 LOMZA VIVE KIELCE
Szeged have eased out their lead even further now; Bence Banhidi is having a superb game with six goals already. Goalkeeper Mirko Alilovic is also on form with a 40 per cent save rate, and Juan Carlos Pastor hasn't needed to put Roland Mikler on court yet.
In Brest, the scoring is more even with no standout players: the home team have simply scored more goals. Andreas Wolff is also not performing perhaps as one would expect (28.6 per cent efficiency), compared to the performance of the Brest goalkeeping duo. 
19:14
The way both these matches are going, Szeged and Brest are on track to avenge their round 4 losses. They both have five-goal leads over their opponents. Kielce and Porto, who remember played each other just two nights ago, may not have the energy to fight back. 
19:07
What a tremendous shot by Mario Sostaric - and a great assist to get there from Richard Bodo. Szeged continue to lead Porto, now 12:9. Porto don't seem to be able to close the gap further.
19:03
Over in Brest, Meshkov recovered from a dreadful start and now lead Kielce 8:6 after nearly 16 minutes. Brest are generally being more aggressive than their opponents and it's paying off.
19:00
Bence Banhidi has scored three times for Szeged and helped them out to an 9:5 lead against Porto. The home team are looking good, much better than when they played Porto in October. 
18:50
And we're off ...
Szeged just have the edge over Porto at the moment, leading 4:2 after six minutes, while Kielce have a 2:0 lead against Brest. Both Kielce's goals have come through penalties.
18:40
EHFTV coverage has now begun for both matches for those fans who are watching via our livestreams. 
18:33
We posted some of the squad lists for tonight's matches earlier, but here are a few more details. Porto have brought an identical team to Szeged as they fielded on Tuesday. Luka Stepancic is out for Szeged, replaced tonight by Dmitry Zhitnikov.
Kielce have taken goalkeeper Mateusz Kornecki out and brought Milosz Walach in to act as number 2 to Andreas Wolff. Brest have also taken out a goalkeeper, Ilya Usik, but replaced him on their squad with centre back Valiantsin Silko - they fielded three goalkeepers last week.

18:00
We're 45 minutes away from throw-off for the first two matches tonight when, as noted earlier, we'll see how well Kielce and Porto have recovered from their match on Tuesday, which Kielce won 32:20. 
Kielce have now travelled to Belarus and meet Brest on their home turf. Brest also played a home game last week, where they lost 26:28 to Flensburg. Kielce are riding an eight-game unbeaten run; they lost 30:31 to Flensburg in round 1 but since then have flourished, with an October 32:32 result in Porto the only draw. On the other hand, Brest have lost their last three games.
Meanwhile Szeged host Porto, with both having lost their last match. Szeged currently sit in sixth place in group A and a win tonight would see them move clear of Elverum, who also have four points.
17:10
Kielce and Szeged have shared their squads for this evening's matches in tweets.
That is all for this afternoon's coverage, but we will be back shortly and will continue the build-up ahead of this evening's early throw-offs.

16:35
Ahead of Telekom Veszprém's match against RK Celje at 20:45 CET, Veszprém head coach David Davis has stated that he thinks that "it is going to be a complicated match."
Veszprém enter tonight's match after two successive defeats against Barça. However, they enjoyed a massive 15-goal win when they met Celje in Hungary earlier in the season, so it is interesting that Davis is expecting a more challenging match this evening.

16:00
Ahead of their EHF Champions League match this evening, Kielce and Meshkov Brest's Twitter accounts have been enjoying a slightly different look at handball.

15:15
Good afternoon. Welcome to our afternoon coverage ahead of Thursday's four matches in the EHF Champions League Men.
In the first matches this evening at 18:45 CET, Pick Szeged face FC Porto and Meshkov Brest host Kielce. One factor that might have some impact on the outcome of both matches is freshness. Porto and Kielce played on Tuesday evening in the EHF Champions League, while Szeged's last game was at home against Paris Saint-Germain on Saturday night. Meshkov Brest's most recent match was also on Saturday – but in the Belarusian domestic league.
If you are confident about your predictions for any of Thursday evening's matches, you can tweet our ehfcl Twitter account.
WEDNESDAY 10 FEBRUARY
22:10
That's our live blog coverage for tonight complete. Be back tomorrow for four more fantastic matches in round 11 of the EHF Champions League Men, throwing off at 18:45 CET as Szeged host Porto and Brest play Kielce. 
We lost a lot of points during the last games. Key games are coming but we know that we can win against any team, and are ready to fight like dogs
23:04
Andreas Holst Jensen's shot to give Aalborg 28 goals tonight was a milestone for the Danish club. In their sixth EHF Champions League season, the club have now scored a total of 2,001 goals, with Jensen's goal in the last second tipping them over.
Here is that historic 2,000th goal.

22:54
Have a read of tonight's match review with all the top facts about the evening's action.








22:37
So that win for Nantes will give them confidence which they may need before facing Barça in round 12, having lost 27:25 to the Catalan club in round 3 back in October. Aalborg, meanwhile, will play bottom-of-the-table Zagreb next week. For the moment, Nantes are level on points with sixth-ranked Celje, while Aalborg remain fourth. There are two more group B matches tomorrow - Celje vs Veszprém and Zagreb vs Barça.
22:26
It will come as no surprise that the Player of the Match tonight was Nantes' goalkeeper Emil Nielsen, who shone with 17 saves and one goal (and looked distinctly unimpressed with himself for missing a couple of other empty goal opportunities). The 23-year-old was certainly key to his team's victory.
22:17
Another clip from that match to share, which demonstrates the confidence with which Nantes were playing.

22:12
Nantes cruise to a very impressive victory over Aalborg. The French club looked comfortable against a tired Aalborg. 
It's Nantes' first home victory in the EHF Champions League for almost two years. Their last home win was a 34:32 victory over Rhein-Neckar Löwen in the Last 16 on 20 March 2019 - they did not play in the Champions League last year, and have lost all their previous home games this season. Their last home victory in any EHF competition was 367 days ago: 34:28 against Ademar Leon in the EHF Cup group phase. It's also Nantes' biggest home victory in a European competition since the 2018/19 group phase.
22:08
Aalborg have lost this game, but some consolation: Andreas Jensen scores their 2,000th goal in the EHF Champions League.
22:04
But just like that the match swings back towards Nantes and they make it 36:26. Only three Nantes field players have failed to score in a really impressive team effort.
22:00
It seems unlikely Aalborg could close back up to win the match, as they trail by seven goals now with eight minutes to play. But at the moment they have the momentum, with no goals for Nantes for several minutes.
21:52
Nantes are really in control now, stretching out to a 31:21 lead. Aalborg have called their third timeout, and have switched back to a conventional tactic of six players in attack after conceding a flurry of goals, including one by Emil Nielsen.

21:42
Nantes got back out to a six-goal lead at 23:17, six minutes into the second half, and reached it again shortly afterwards as Valero Rivera scored his sixth goal to make it 24:18. The hosts have started right back where they left it to go into the dressing room.
Aalborg are playing seven-against-six again in a bid to close the gap. Will the risky strategy pay off?
21:34
The match is about to resume, but before it does, enjoy this lovely in-flight goal put together by a sublime pass from Rok Ovnicek over to David Balaguer. These two have had a real impact on Nantes' game so far, with Ovnicek scoring four goals from six shots and Balaguer three from five.
21:30
EHF journalist Björn Pazen offers his thoughts on the match so far:
"It is quite interesting to see how Nantes rose like Phoenix compared to last week, when they lost against Celje. Funnily enough, the visitors had the same number of goals - 14 - but in contrast to last week, HBC scored 18, not 13.
"The match is much faster, and Nantes' efficiency is higher. But in the end, it is one Dane, who is the key - and this Dane is not playing for Aalborg. Goalkeeper Emil Nielsen, who was the third option at the victorious World Championship in Egypt for the red and white team, saved 13 of 27 shots. That is, after 30 minutes, already more than both Nantes' goalkeepers - Nielsen and Cyril Dumoulin - saved in 60 minutes against Celje.
"And with Kiril Lazarov back on track after the Macedonian missed HBC's first international match in 2021, the hosts have another important alternative in attack."







21:22
HALF-TIME HBC NANTES 18:14 AALBORG Håndbold
Aalborg closed up from a six-goal deficit just towards the end of that half with two quick goals from Sebastian Barthold, but Nantes have looked consistently pretty solid throughout the first half. Emil Nielsen's performance has really helped them, of course, saving nearly half of all shots so far, but equally Mikael Aggefors is playing well with 10 saves from 28 shots - not to be sniffed at!

21:13
Here's a great example of one of Nielsen's excellent saves so far. 

21:07
In the goalkeeper battle, it's Emil Nielsen who's currently winning with an impressive save efficiency of over 50 per cent compared to just over 30 per cent for Mikael Aggefors. Clearly, Nielsen's knowledge of his Danish teammates on the opposing side is paying off. He's reading their shots incredibly well and it's 12:7 to Nantes.
21:00
Aalborg have thrown off their early nerves and are closing up the gap. They're now within two goals of Nantes and the match is much closer.
20:51
Aalborg coach Stefan Madsen has called an early timeout, because Nantes are running wild - they lead 6:1 already and there's only been six minutes of play. He is evidently not happy with his team's start to the match and moves to a seven-on-six tactic.
It has been a great start for Nantes, however, who are looking fluid and confident.
20:49
It was a slow and scrappy start by both teams, but Aymeric Minne, Kiril Lazarov and David Balaguer have suddenly got the home team up 3:0 after about three and a half minutes. Aalborg have had a couple of turnovers and the busy January many of their players had may be showing.
20:45
Squad lists for the two teams - Aalborg are pretty much at full strength in terms of their best players. Nantes are missing a few players due to injury, but crucially have the likes of Kiril Lazarov back on board.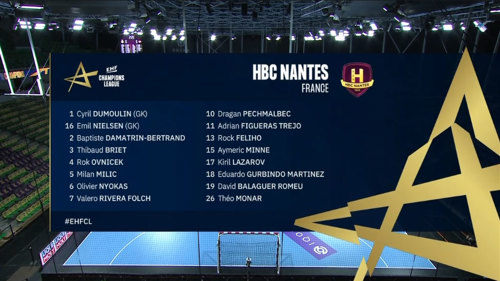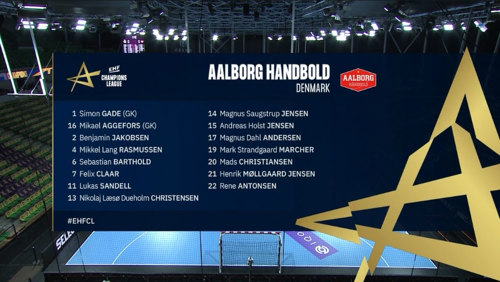 20:35
EHFTV coverage of the Match of the Week is underway and tonight Chris O'Reilly will be providing his usual insightful commentary. Tune in now!

20:25
Nantes are wondering who the Player of the Match will be tonight.

20:15
Before the match gets underway, a few fun facts to share:
if Aalborg score 28 goals they will hit the 2,000 goal mark in the EHF Champions League
Nantes have lost all four home games so far this season
Aalborg won their last away match, 32:30 against Veszprém, and have lost just one away match so far - when Barça beat them 42:33 in October
Aalborg's squad boasts four World Championship gold medallists from Denmark and three silver medallists from Sweden; Nantes have gold medallist Emil Nielsen and bronze medallist Adrian Figueras from Spain
Nantes currently sit seventh in group B with four points; Aalborg are fourth with 10 points
20:00
Welcome to the evening's coverage of this week's EHF Champions League Men Match of the Week, featuring HBC Nantes vs Aalborg Håndbold. They throw off in 45 minutes at 20:45.
To warm yourselves up for the match, why not check out the Breakfast for Champions? Markus Floth hosted Nantes' Emil Nielsen and Aalborg's Nikolaj Læsø to talk about the match and their friendship. Click on the photo to watch the whole interview!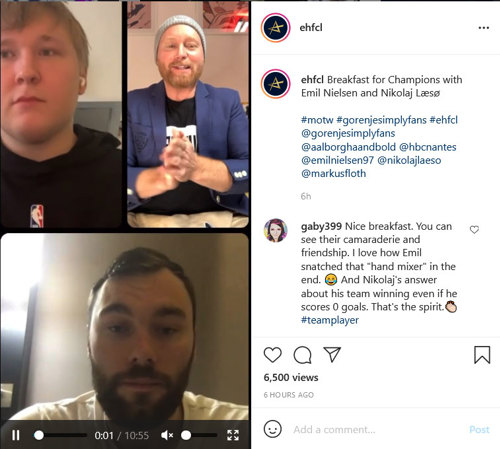 15:20
When Aalborg hosted HBC Nantes in their first duel of the 2020/21 season in October, the Danish side came away with a big win, 32:24. Enjoy the highlights of that round 4 match below! 
14:45
Looking back to last night as the week of EHF Champions League Men matches got underway, which victory stood out to you? Let us know below! 
13:30
Welcome to the final hours before tonight's one and only clash: the Match of the Week, HBC Nantes vs Aalborg! Courtney Gahan here to take you through the afternoon. 
Along with following the live blog, don't forget to keep an eye on our social media channels for extra exclusive coverage, then head to EHFTV.com to catch the match live at 20:45 CET.
The mid-week EHF Champions League Men action concludes tomorrow with another four matches. Check those out below! 

TUESDAY 9 FEBRUARY
23:50
The match reviews below, written by our EHF journalists, are available for you to read. Tomorrow will see Match of the Week between HBC Nantes and Aalborg. Be sure to check the blog throughout the day for build-up coverage!
22:40
With all three matches now played, enjoy the best photos from Tuesday evening's action in our image gallery below. 













22:30
Three matches played and three home wins. Take a look at the overview of the results from Tuesday's matches. We had no shortage of goals, and the first two matches were thoroughly gripping contests until the end. 
22:25
10 wins from 10 matches in group B is as good an excuse as we need to look back at Aron Palmarsson starting the match with a bullet shot for Barça.

22:20
A seventh goal of the match for Rogerio Moraes just before the buzzer was obviously not enough for Veszprém, as Barça record a seven-goal win over their Hungarian opponents. 22 goals scored by Barça in the second half was certainly impressive.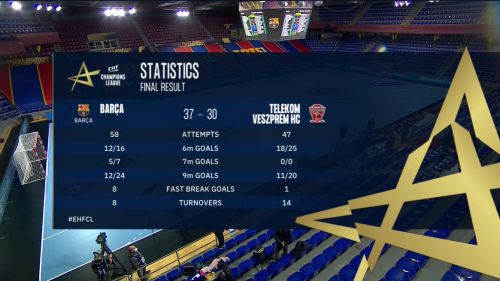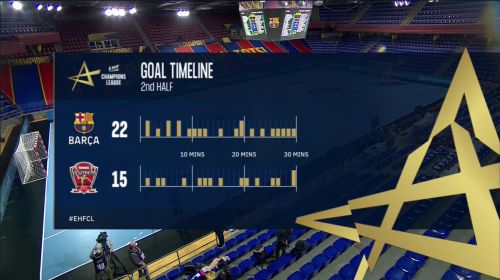 22:14
The most important statistical difference in the match – goals from fast breaks: Barça 8:1  Veszprém.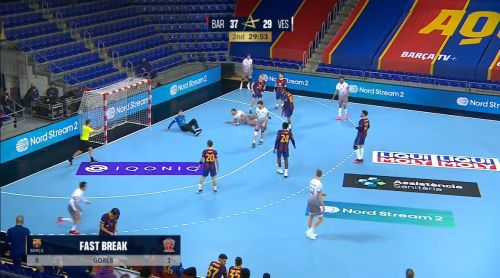 22:10
Aleix Gómez converts a penalty, his 10th of the game, before Alex Pascual scores an empty net goal – and with a seven goal lead, 34:27, with just over three minutes left, we can safely say that Barça have claimed another EHF Champions League home win.
22:07
Barça's combination of defence, saves and fast breaks looks set to be the difference between the two teams. Indeed, check out Perez de Vegas helping to build the lead that now stands at 32:26 with six minutes remaining.

21:59
Veszprém goalkeeper Rodrigo Corrales briefly looked hurt after making his 10th save of the game, but he's just made a stellar stop on a Barça fast break, so I think it is safe to assume that he is fine.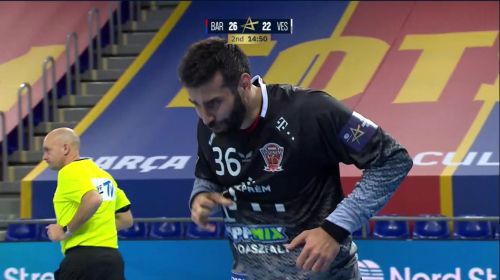 With 12 minutes remaining, though, Barça hold a five-goal cushion – 28:23. 
21:50
The wings are coming to the party for Barça. Aleix Gómez has scored six goals so far while Aitor Ariño has bagged four.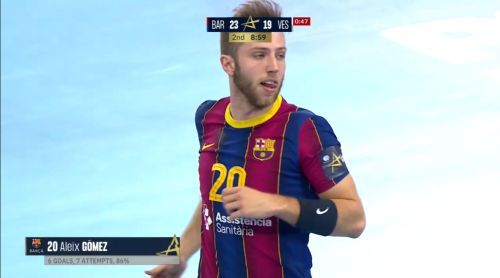 21:45
One area where there is a difference between the teams after 36 minutes: turnovers. Veszprém have made four more turnovers than Barça, who are now on a good run and seemingly moving clear of their Hungarian opponents.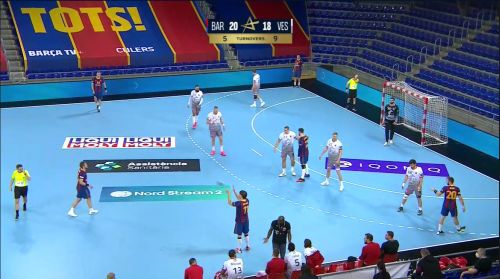 21:40
One shot that Perez de Vargas could not stop in the first half was Danil Shishkarev's spin effort. Understandably so, as it was perfectly timed and placed to beat the Barça goalkeeper.

21:35
As our ehfCL Twitter account rightly noted at half-time, goalkeepers Gonzalo Perez de Vargas and Rodrigo Corrales each made seven saves for their respective sides in the first half. Will either Perez de Vargas or Corrales make the difference in the second 30 minutes? 

21:25
HALF-TIME - Barça 15:15 Telekom Veszprém
Five goals from Nikolaj Markussen in the first half for Veszprém have provided them with a solid platform that they might be able to build on in the second half against Barça. It certainly promises to be an interesting second half in Barcelona. 
21:19
Veszprém have levelled again at 13:13 and 14:14. Whilst there is a long way to go, they are providing Barça with a challenge on their home court. 
21:03
15 minutes gone and a relatively evenly balanced contest so far as Barça lead Veszprém 9:8.
20:45
After the two gripping contests that we've already had in the games at 18:45 CET, will Barça vs Veszprém live up to its billing as Tuesday's feature match? The match is about to get underway on EHFTV, but you can also look at some build-up photos sent ahead of the game in our image gallery below. 








20:35
And in case you were not watching EHFTV.com live or if just want to see it over and over again, here is Mateusz Kornecki's spectacular match-winning save for Kielce against Porto. 

20:26
Here is a taste of Josip Sarac making the difference for Celje against Zagreb.

20:22
With just over 10 seconds left, Matej Hrstic misses a shot for Zagreb that would probably have earned them a point against Celje. Josip Sarac's 10-goal performance for the hosts proved vital!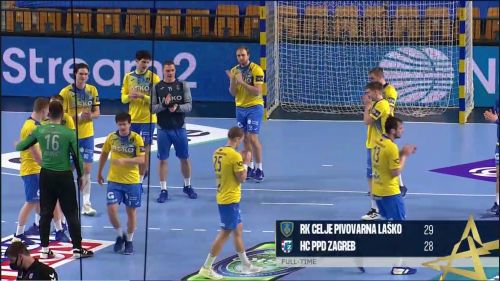 20:15
Kielce hold on to beat Porto. The statistics show that Mateusz Kornecki only made two saves in the game, but his save in the final minute – when the score was 31:30 – was a match-winning save and it clinched the two points for Kielce. 
20:08
Here is Andreas Wolff's huge fast break save from earlier in the second half against Porto. The finish may be tenser than the Polish side would have expected at that point in time, though, as they are now ahead 30:28 with three minutes remaining.

20:05
Zagreb are level at 26:26 against Kielce. Matej Hrstic was pumped up after the scoring the equaliser on a fast break.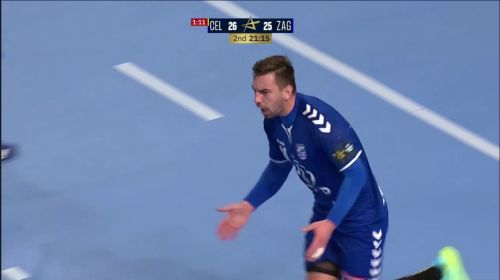 19:59
Porto's timeout appears to have worked – they have fought back to trail by only two goals, 26:24, with 10 minutes remaining. 
Meanwhile, in Slovenia, Celje also lead by two goals.  
19:53 
Alex Dujshebaev has already scored nine goals for Kielce, and Porto have taken a much-needed timeout.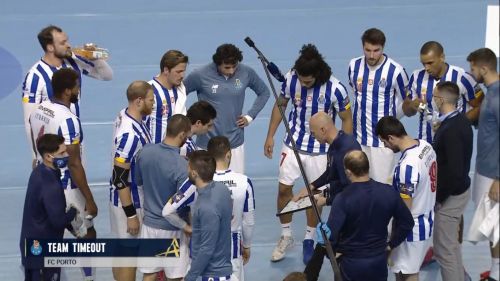 19:43
It is early stages in the second half but Celje extending their lead to 17:13 has prompted a Zagreb timeout.
And a couple of minutes ago in Poland, Andreas Wolff made a huge fast break save for Kielce, who lead 22:16.
19:35
Andre Gomes showed his skills in attack in the first half for Porto, including this pass that was converted by line player Victor Alvarez.
19:30
HALF-TIME - RK Celje Pivovarna Laško 14:12 HC PPD Zagreb
Celje hold a two-goal advantage at the break against Celje. Croatian left back Josip Sarac has led the Slovenian side in attack in the first 30 minutes, scoring five goals.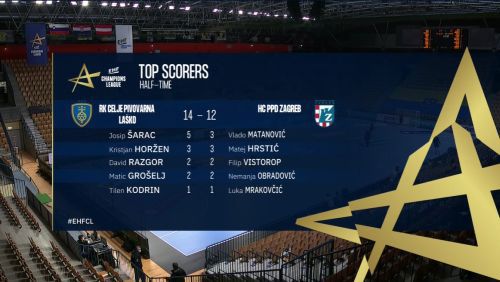 19:28
HALF-TIME - Lomza Vive Kielce 19:14 FC Porto
With a minute remaining, a trademark Andre Gomes goal from the back court reduced Porto's deficit against Kielce to four goals. However, Artsem Karalek scored on Kielce's last attack of the first half to extend their margin to five goals once again.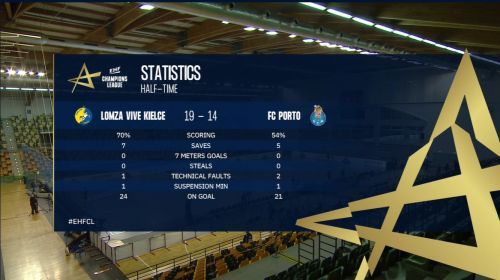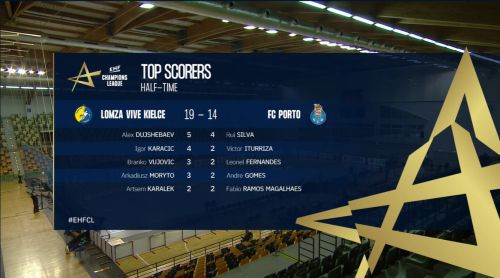 19:16
First signs of truly clear water emerging in the Celje vs Zagreb match, as Celje hold a three-goal lead, 10:7, after 22 minutes, but the Slovenian side have suffered a blow as Vid Poteko has received a red card for a dangerous foul.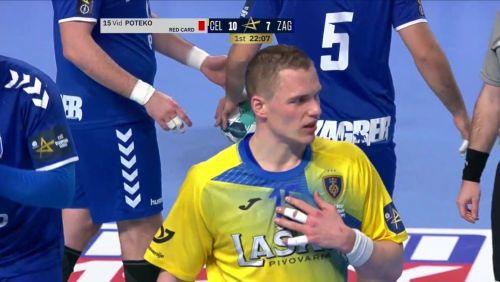 19:12
Alex Dujshebaev has already scored five goals for Kielce and, as you might expect, he has been a pivotal part of their attack in the first half against Porto. Check out how he beat Alfredo Quintana to score his second of the game. 
19:06
22 goals in 19 minutes between Kielce and Porto, with Kielce holding a six-goal lead, but Celje and Zagreb has been less of a goal fest so far: 10 goals in total scored after 16 minutes.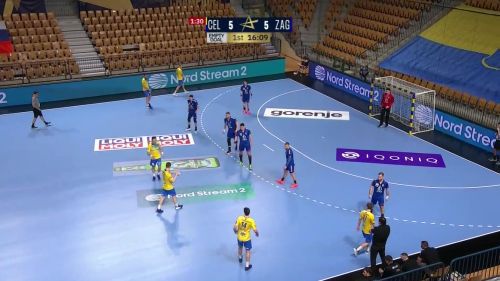 19:02
It is no surprise to see Porto attempting to play with an extra attacking player, but Kielce have already punished them on multiple occasions. Indeed, the Polish side are running at almost a goal per minute – 13 goals scored after 14 minutes played – and they are ahead 13:6. 
18:55
With just over seven minutes played, the teams playing in yellow have made positive starts. Kielce lead Porto 6:2, and the Portuguese side have just taken a timeout, while Celje are 3:1 up against Zagreb.
18:50
We are underway in both of our 18:45 CET games – and here are the teamsheets from both games.
Kielce vs Porto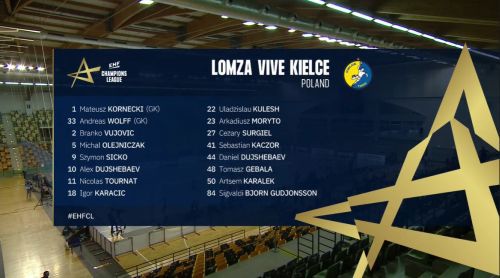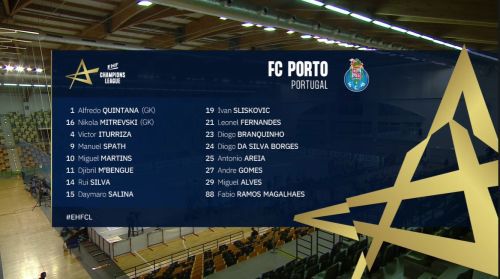 Celje vs Zagreb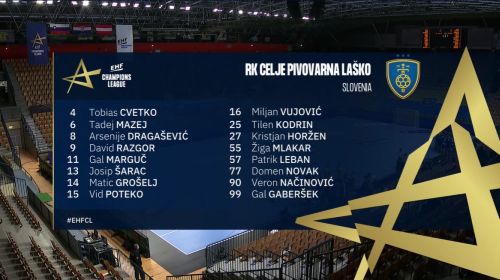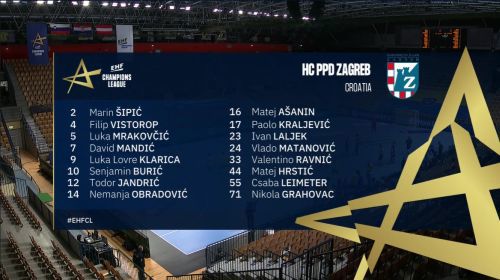 18:40
Coverage for both matches on EHFTV.com is now underway. Direct links for both games are available here:
Plus, check out the build-up photos sent from Celje in the image gallery below. 






18:30
Whilst our focus is about to be on the two 18:45 CET matches, on Veszprém's Twitter account earlier on Tuesday, left back Patrik Ligetvári was quoted ahead of their clash against Barça tonight. "We would like to be the first to defeat Barcelona," he said, which I am sure is an ambition that all Veszprém fans share.
18:15
Welcome to Tuesday evening's coverage of three matches from the EHF Champions League Men. We have 30 minutes to go until the first two matches throw-off at 18:45 CET – live on EHFTV.com – between Kielce and Porto in group A and Celje and Zagreb in group B.
Later on at 20:45 CET, there is, of course, the mouth-watering prospect of Veszprém attempting to end both Barça's perfect start to the EHF Champions League 2020/21 season and the Spanish side's unbeaten run at home in Europe's premier competition.

16:25
While we count down the hours until tonight's games throw off, we have plenty of reading material for you. Alongside our preview of all the matches, you can delve a little deeper into the Match of the Week between Nantes and Aalborg with our featured news on the clash, or check out the interview with Nantes Danish goalkeeper Emil Nielsen. 
Find them all below! 
16:15
Welcome to a brand new week of EHF Champions League Men! We have eight exciting matches coming up this week, with three heading your way tonight. 
Here's Tuesday night's schedule: 
18:45 CET: RK Celje Pivovarna Lasko vs HC PPD Zagreb
18:45 CET: Lomza Vive Kielce vs FC Porto
20:45 CET: Barça vs Telekom Veszprém HC