EHF Champions League
Barça clear group leaders following rescheduled clashes
The EHF Champions League Men returned for the first matches of 2021 on Thursday night, with five clashes – all rescheduled from previous rounds. 
SG Flensburg-Handewitt open the action with a close win over Meshkov Brest
Barça extend their lead in group B (18 points) with a win over second-placed Telekom Veszprém
THW Kiel dominate HC Motor; RK Celje Pivovarna Lasko surprise HBC Nantes with win and FC Porto beat HC Vardar 1961 after tough 30 minutes.
see all group standings here

12:57
That brings our live blog coverage of this bonus day of EHF Champions League Men action to an end! It's time to head over to the DELO EHF Champions League live blog as a big weekend of matches in the women's top flight awaits. 
Don't forget to take a look at all the EHF Champions League Men group standings after important points were decided yesterday. 
12:48
Croatian centre back Domagoj Duvnjak had an exceptional game for the Champions League 2019/20 winners against Motor last night, leading his side with eight goals. 
As the Croatian Handball Federation put it, it was a perfect birthday gift for the German club, as THW Kiel celebrated the 117th anniversary of their founding yesterday.
Friday 5 February
11:45
Good morning! Welcome to the morning after an exciting bonus day of EHF Champions League Men matches, where we enjoyed several rescheduled clashes that got the top-flight competition started in 2021 in style. Courtney Gahan here to round out the live blog coverage. 
At the end of the night we asked your opinion of which win was most impressive. So far Barça are clear and away the leaders in this poll – just as they are clear and away the leaders in group B following last night's victory against second-placed Veszprém. 
Check out the highlights of their win below!
Thursday 4 February
23:08
Thank you for following the Live Blog tonight! Let's close the evening with a poll, have your say! And we will see you next time...
22:15
In the other matches, "Christmas" EHF Champions League champions, Kiel end Motor's winning streak, while Celje pull off a shock by beating Nantes. And It takes Porto about 40 minutes to shake off the Vardar threat. For full breakdowns of each of these ties see the match reports above! 








In the first half we were not good enough, we knew that they run a lot. It is hard to play against them without a good defense because they score a lot of goals. We are focusing on the next game; we will try to improve our game in the meantime.
RESULT: TELEKOM VESZPRÉM HC 34:37 BARÇA
A big shout-out needs to go to the top scorer of the game Aleix Gomez (10/12), he really got Barça out of jail at times from the spot or on the break. The overall balance of this duel is now 15 victories of Barça.
22:09
And just like that, the game it out of touch once again. Barça have so many gears and Dolenec and Fabregas are as cool as cucumbers when the pressure is on. Three goals from the duo opened up the 36:33 gap. 
22:01
What a bizarre bit of action! Jure Dolenec takes a standing shot from nine meters, he bounces it and it gets stuck to the crossbar with the resin on the ball, Cupara picks the ball off the bar launches it to Manaskov, he nets it on the break to pull it level 32:32! That's #Showtimeforchampions!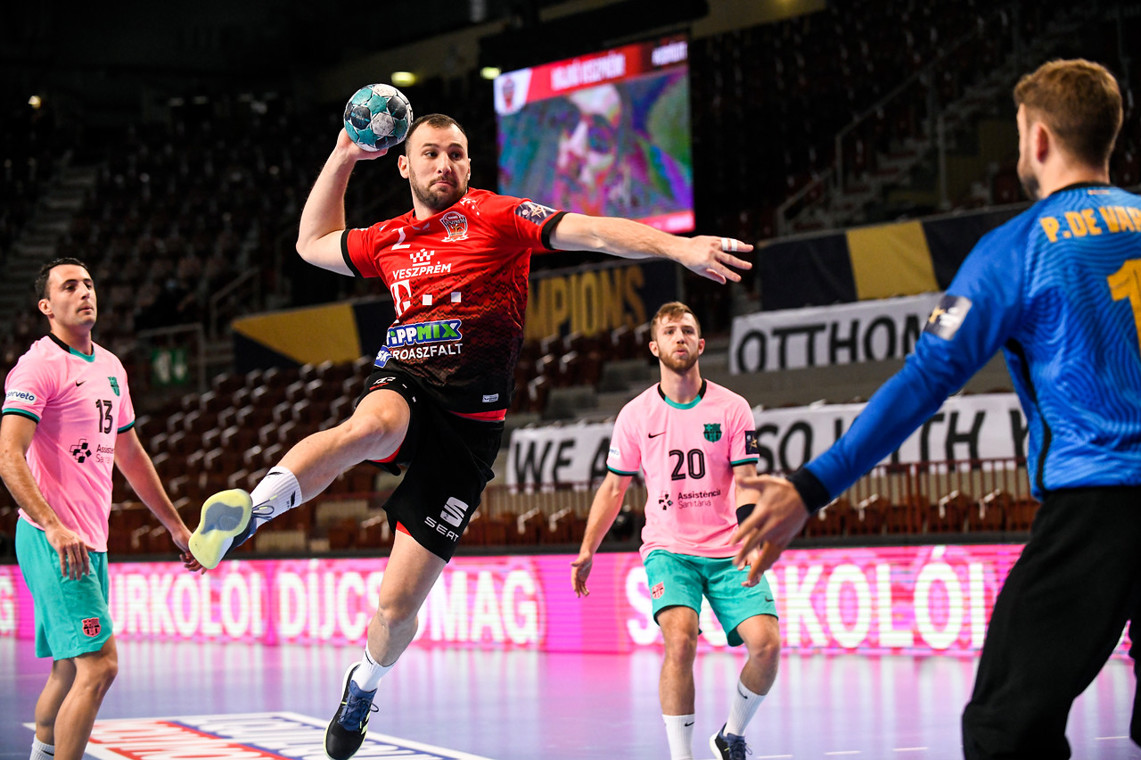 21:45
The comeback is ON! Maqueda is pumped and he has really kicked the hosts to gear, running and defending like it's his last game. He is six from eight and has netted at crucial points. Nilsson nets a fast break to bring it now just to two - 25:27.  
Other half-time results
HALF-TIME: Telekom Veszprém HC 15:19 Barça
Davis will have his work cut out for him at half-time to bring a lease of life back in to this Hungarian side. Jure Dolenec with his four goals is Barça's top scorer, while Vuko Borozan leads for the hosts with the same goal tally. 
21:15
Before the game David Davis stated how February is a difficult month because half the players are tired and the other have are out of rhythm. And that's what it looks like out there for Veszprém - especially in attack. They will have to dig deep to make a game of this... 
21:05
You may have notice Fernando Barbeito on the Barça bench instead of Xavi Pascual. Head coach Pascual couldn't travel to Hungary for personal reasons so assistant coach Barbeito takes the squad for this game.
20:59
Oh boy, David Davis, head coach of Telekom Veszprém HC wasn't happy with the decision making of his team in attack in the last time-out. And it is showing with Barça 8:6 lead. 
20:47
The Barça fast break is the best in the game, just take that made it 2:1 for them. Aleix Gómez had no right to catch that pass to the line, and Arino not right to even make that pass in the first place - absolutely remarkable! 
20:43
Barça have won all eight group matches so far and extended their impressive series to 22 EHF Champions League victories in a row, before they lost the final of the 2019 VELUX EHF FINAL4 against Kiel






20:45 throw-off focus: Telekom Veszprém HC (HUN) vs Barça (ESP)
20:39
I am really hoping for a classic here. Both sides have the best attacks of all teams with 290 goals (Barça) and 276 goals (Veszprém), what does this mean? Will they cancel each other out? Or a goal fest? Join us on EHFTV to find out! 

We are very satisfied with two points and how we played. I first saw my players yesterday when they returned from Egypt. They looked tired but were ready to get this win. We had a good defence in the second half, especially when we changed the goalkeeper. Buric helped us a lot. Now we have a weekend off and can recover a little bit.
RESULT: HC Meshkov Brest 26:28 SG Flensburg-Handewitt
Excellent game management when push came to shove their at the end for SG! They saw Brest's weaks links in attack and often gave them space to shoot (a lackluster Panic being the main culprate). Søgard's clutch 28:26 goal killed it off with just 40 seconds left. SG now move to the top of group A! 
20:06
The SG defence looks like it is slowly figuring out Brest's attack and with Buric in goal making some key saves it seems the tide has turned once again. SG lead 26:24
21:01
Yet another turnover and SG net an easy fastbreak goal via Rød; Brest's top scorer, Marko Panic will need to improve his shooting percentage as it is really hurting them with him only netting 5/11.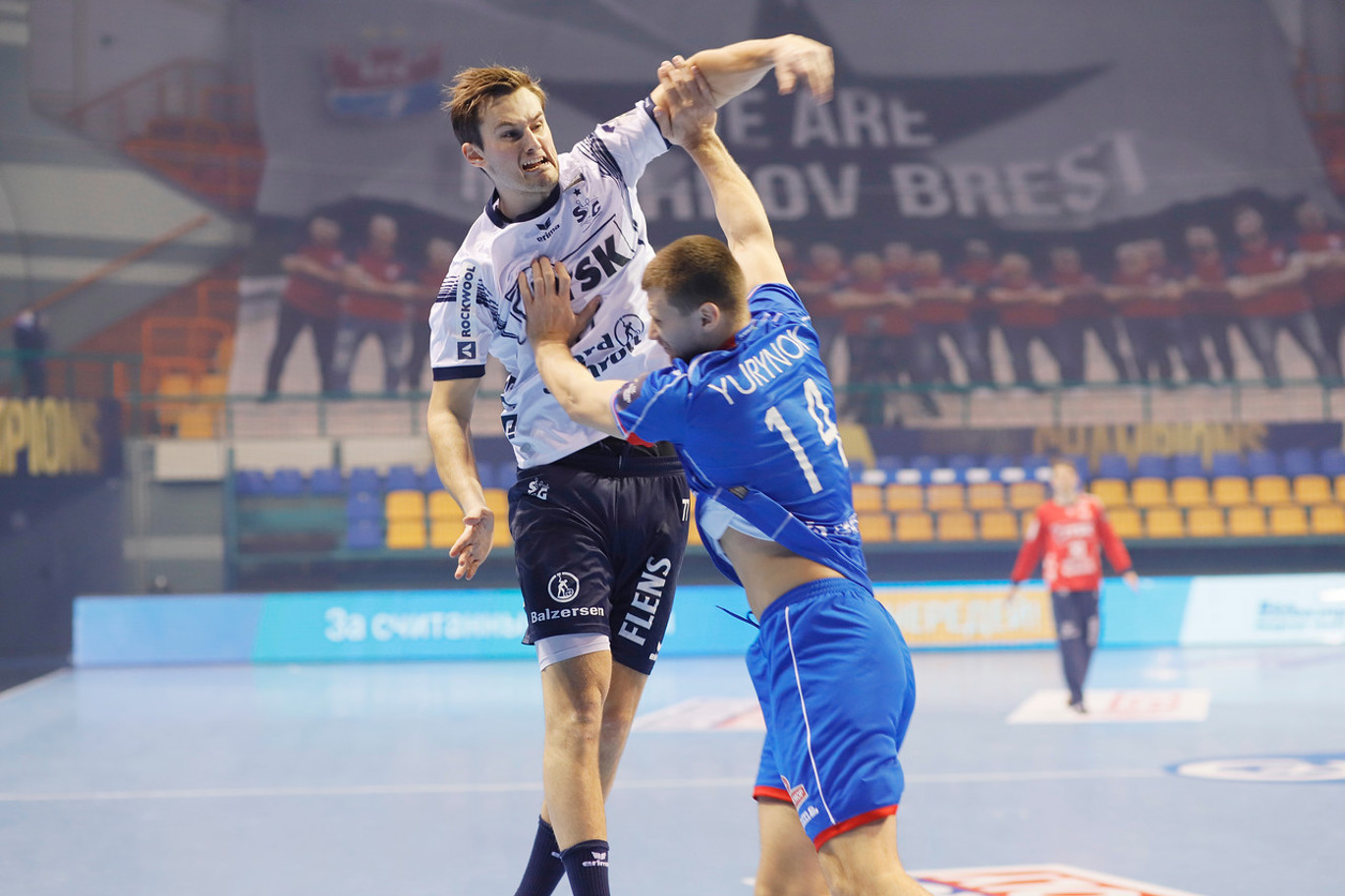 19:57
The heatwave is over for Wanne as he nets the next two chances to give SG a 24:23 lead. 
19:51
Hampus Wanne, who was as cold as ice in Egypt 2021 for Sweden, is feeling the heat here in Brest as he missed the chance to pull it level from the seven-meter spot! Shumak punishes SG at the other end to give the hosts a plus two lead, 23:21!
HALF-TIME: HC Meshkov Brest 15:14 SG Flensburg-Handewitt
19:24
Right on the buzzer! Panic for Brest makes a steal and nets to give the hosts a 15:14 lead going in at half-time! We have a game on our hands folks! 
19:22
WOW! Brest have fought their way right back into this game and what a perfect in-flight goal from Malus to make it 14:14 right before half-time! 


Brest during time-out: "Let Steinhauser shoot, he's missed three so far." 
19:08
No, your eyes are not deceiving you, that is Alexander Petersson who just came onto court for SG Flensburg! With the injury of Franz Semper, SG signed the Icelandic legend from Rhein-Neckar Löwen until June 2021! 
19:03
Søgard is - as always - a joy to behold. He is tearing through the Brest defence as they don't seem to be able to match his speed at all. He drops his shoulder and goes through the Brest defence like butter to make it 8:5 to SG! 
18:56
A lovely standing shot from Brest's Panic marks his third goal and we are all level at 5:5! Brest have calmed in attack and with Panic and Yurinok (2/3) now finding their range - we are set up for a good game! 
18:48
Flensburg making it clear who they find the biggest threat in the Brest attack, with a very high 5-1 defence coming to meet out Skube. The German side leads 4:1 after five minutes.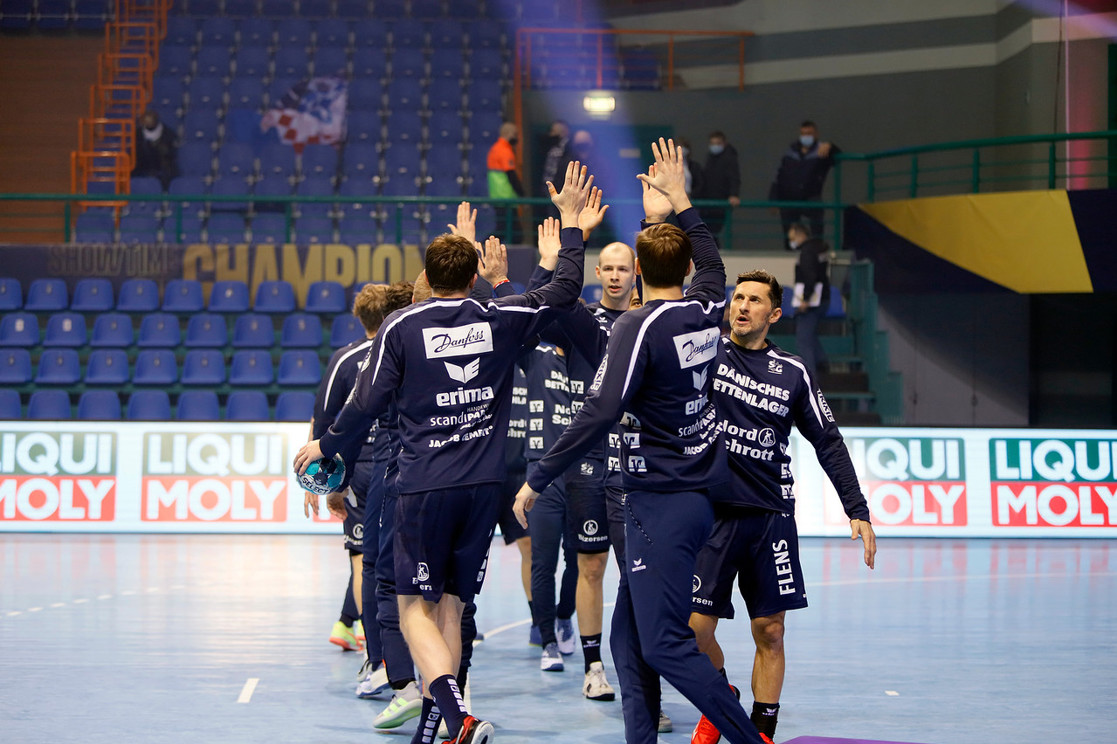 18:45
18:33
Keep your eyes peeled for Marko Panic's name on the scoresheet! The Brest sharpshooter can intermittently move top of the charts tonight! 


18:16
This morning the German side boarded their flight with three Danish players that won the World Championship with their national team last week in Egypt: Simon Hald, Lasse Svan and Mads Mensah Larsen.
Jim Gottfridsson and Hampus Wanne are also silver medalists with Sweden, so lots of battled-hardened bodies returning from their adventures on the world stage. 

18:06
We are just 40 minutes away from the throw-off of HC Meshkov Brest (BLR) vs SG Flensburg-Handewitt (GER)! This group A head-to-head is of course a rescheduled game from round 8 and sees #2 (Flensburg 13 points / 8 games) come up against #3 (Brest 9 points / 9 games). A big chance for the German side to go top of the group or for Brest to close the gap at the top of the table - very important! 

P.S - It's amazing to have the EHF Champions League Men back! 

17:02
27 EHF Champions League Men stars made it onto the podium at the recent Men's World Championship in Egypt, which ended on Sunday with Denmark defending their title from two years ago. 
Read more about how Europe's premier competition was represented on the global stage below! 
16:55
Welcome to the first day of EHF Champions League Men action in 2021! Courtney Gahan here getting the live blog started ahead of an exciting eventing.
Before today's games begin, get all the key facts for the upcoming clashes in the round preview. 
Here's what you have to look forward to:
18:45 CET: Meshkov Brest vs SG Flensburg-Handewitt
20:45 CET: THW Kiel vs HC Motor, Telekom Veszprém HC vs Barça, HBC Nantes vs RK Celje Pivovarna Lasko and FC Porto vs HC Vardar 1961