EHF Champions League
Summary: CSKA go to top of group B as round 5 shakes up standings
Round 5 of the DELO EHF Champions League 2020/21 saw a shake-up in the rankings, as Russian debutants CSKA stunned Brest-Bretagne to maintain their unbeaten streak and go top of group B. Odense's massive win against Podravka means they leapfrog record winners Györ in the standings too, thanks to a superior goal difference.
Vipers remain top of group A with a draw against Esbjerg, while Rostov sit second on goal difference following their decisive victory over Metz.
19:02
To finish off I leave you with the best photos of five excellent, drama-packed matches. That is it for now, make sure you check back in next week for round 6!
19:00
The last match review of the weekend tells the story of Odense's impressive 33:17 win against Podravka, following last week's defeat by Györ.
18:29
A couple more match reviews now:
18:00
I mentioned how good Siraba Dembele Pavlovic was today earlier on - she was this good!
17:46
Missed any of the weekend's results? Fear not, we have them all wrapped up for you in one handy graphic!
17:40
Looking back a bit earlier now to the first batch of games and Buducnost's long-awaited first win, which also denied Dortmund their first home victory of the season. Read the match review for the key details.
17:37
So that's the afternoon's action all done. CSM were the only home team who managed to win their match, so in today's poll we're asking you to vote for the visiting side that impressed you the most - Buducnost, CSKA or Odense?
17:32
This is just gorgeous by Jessica Da Silva Quintino for Odense.
17:29
FULL-TIME: Chana Masson de Souza saves Brest's last shot, but CSKA had already won the match 30:27 and move to top group B ahead of record winners Györ.
Elsewhere, Odense totally dominated in the second half to earn their biggest ever Champions League win, beating HC Podravka Vegeta 33:17. Podravka could only score five times in the second half.
CSM also had a good second half with Siraba Dembele Pavlovic in sparkling form - she netted seven times after the break and nine in total to help her team to a 25:19 victory.
17:16
And here's Elena Mikhaylichenko's fifth goal - powerful and effortless at once.
17:13
CSKA have rallied strongly. Some fine play by Ekaterina Ilina, scoring three times in quick succession, helped get them back up to 26:23, and Elena Mikhaylichenko added her sixth goal of the match to bring it to 27:23. Only nine minutes left.
17:07
Odense are running riot in Croatia. They've stretched out a 26:15 lead against Podravka, and are surely set to take the two points that would put them level with Györ.
17:01
10 minutes into the second half and CSKA are still leading, although Brest have closed the gap to one goal!
16:37
HALF-TIME: What a game CSKA are playing! In front of the Brest fans they are bringing the fight to the French club and have a 17:13 lead at the break.
After a close 25 minutes, CSM Bucuresti eased out to a 12:10 lead, while seven Odense players have contributed to their 16:12 lead over Podravka.
16:33
It's very much an attacking game by both sides, but the defence and goalkeepers are playing their part too.
16:28
With not much left of the first halves, it's 8:8 between CSM and FTC, while Odense have a narrow 13:11 lead against Podravka.
16:21
After a few minutes with no goals, four in quick succession - a penalty from Sara Ristovska for CSKA, followed by a field goal from Pauletta Foppa, and then two more from Ristovska to put CSKA 11:9 ahead.
16:14
It's been a superb beginning for CSKA, who lead 6:5 after just over 10 minutes. Polina Vedekhina has been particularly impressive.
16:05
Polina Vedekhina opened CSKA's account but was answered soon afterwards with a shot from the ever-reliable Ana Gros for Brest. Already this looks like it'll be a hard-fought clash.
16:00
Just ahead of the last three matches throwing off, read our match review from the thrilling tie between Esbjerg and Vipers, which saw the hosts' back line shine.
15:55
A reminder of what's at stake now: Györ currently lead group B after five matches with eight points. If Brest beat CSKA they will also have eight points; but if CSKA beat Brest they will take top spot in the group. It's been a remarkable start for the Russian side in their DELO EHF Champions League debut season with three wins and a draw so far.
Another win for Odense would also put them in contention for one of the top spots in the group as they are currently level with Brest on six points. 
15:50
Just 10 minutes before the next three matches throw off. In our highlight match, Brest-Bretagne play their first-ever European match against Russia's CSKA; Cristina Neagu is back for CSM Bucuresti as they host FTC; and Podravka host Odense.
15:40
There was nothing stopping Allison Pineau in the second half for Buducnost.
15:30
FULL-TIME: Sonja Frey had the ball and there were seconds on the clock, but her shot went wide. Esbjerg and Vipers share the points with a 27:27 draw, and the Norwegian club's undefeated streak is intact.
In Dortmund, a superb second-half performance from the likes of Allison Pineau and Majda Mehmedovic gave Buducnost the lead in the closing minutes. The visitors are thrilled with their victory - it's the first of the season and bumps them up to fifth in the group B standings for now.
15:25
Mette Tranborg's eighth goal of the match levels it again and Vipers call a timeout with 60 seconds left.
15:22
An assist from Nora Mørk finished by Marta Tomac puts Vipers ahead, 27:26 - three minutes to go!
15:16
Inside the last 10 minutes and I'm not sure we can call a winner in either of the current matches. Esbjerg hold a two-goal lead over Vipers, while Nikolina Vukcevic has brought Buducnost level with Dortmund! It's fast and tense.
15:10
Maybe this was where it changed for Esbjerg, with Annette Jensen neatly beating the Vipers' defence.
15:08
The lead keeps changing in our Scandinavian derby. Esbjerg are now up 23:20 after stealing the ball from Henny Reistad; Elma Halicevic finished it off nicely.
It's also 23:20 in the hosts' favour in Germany as Dortmund stay cool against Buducnost's pressure.
15:02
And it's back level in Esbjerg! Kristine Breistøl continues to impress with six goals now.
If Vipers manage to win this match, it will be their first victory against Esbjerg after two losses last season, as well as their fourth win in the DELO EHF Champions League in the current season.
14:57
Vipers have rushed out to a two-goal lead early in the second half with Linn Jorum Sulland scoring twice so far since the match resumed.
14:49
I mentioned the impact Alina Grijseels had had on Dortmund early on - here's the best of her three first-half goals.
14:35
HALF-TIME: A rocket from Mette Tranborg levelled the match at 12:12 on the buzzer - this is a thrilling bout in Esbjerg! The hosts are playing aggressively and it's largely thanks to Katrine Lunde in the Vipers goal with a 39 per cent save efficiency that the Norwegian visitors are in touch. 
In Dortmund, a good team effort takes the hosts into the break 15:13 ahead of Buducnost. 
14:27
There's a high-scoring match underway in Dortmund with, currently, four goals apiece for the hosts' Kelly Dulfer and Buducnost's Valeriia Maslova and Majda Mehmedovic. Dortmund are looking more and more comfortable as the minutes tick away and lead 13:9.
14:21
When you're down, it doesn't hurt to have Nora Mørk on your side playing like this.
14:18
Halfway into the first half now and Vipers have recovered their composure and drawn level with Esbjerg.
14:11
What a start from Alina Grijseels for Borussia Dortmund! The centre back has scored two field goals and a penalty shot already as the hosts pull back an early lead from Buducnost. Kelly Vollebregt's goal 10 minutes in has just put Dortmund ahead for the first time.
14:06
Less than six minutes in and Vipers have called a timeout, because they're trailing 1:4. It could have been level, but a combination of poor accuracy early on and a couple of saves by Rikke Poulsen has got the visitors off to a shaky start.
14:04
Esbjerg are now two goals up. The home team have only nine field players to pick from today so getting out to a lead early could prove crucial as they seek to conserve energy later on in the match. 
14:01
And we're off - Esbjerg get straight down to business with a rapid goal from Kristine Breistøl, answered seconds later by Vipers' Vilde Jonassen.
13:44
For a bit of light reading before the matches start, make sure you check out this fascinating feature on Dortmund's goalkeeper coach Clara Woltering, who is welcoming friends from her former club Buducnost to her current home this afternoon.
13:40
The teams are warming up and EHFTV coverage has started so tune in now!
13:10
Good afternoon and welcome to the second day of round 5 action in the DELO EHF Champions League. The first matches throw off at 14:00 CEST, with Vipers Kristiansand hoping to re-establish themselves on top of the group A standings against Esbjerg, while Buducnost are looking for their first win as they visit Dortmund.
20:30
We end the blog for the night with the best photos from Saturday's three matches. As ever, check them out on our Facebook page. They certainly captured the emotions of a Saturday in the DELO EHF Champions League.
Our live blog will return on Sunday at 13:00 CEST for the five matches scheduled. 
20:24
Estelle Nze Minko's eight goals in the second half for Győri Audi ETO KC eased them past SCM Ramnicu Valcea, who provided the defending champions with a stern challenge in the opening 30 minutes of their group B match.
Read more about Györ's impressive win here: Second-half flurry eases Györ past Valcea
19:40 
Three players produced match-winning performances for in Saturday's three DELO EHF Champions League matches. It is a coincidence that they are all French - but vote for the player who you think stood out the most.
19:29
RESULT: Györi Audi ETO KC 38:31 SCM Ramnicu Valcea
An overwhelmingly dominant second half Györ performance is enough for a seven-goal triumph over Valcea. In truth, once Györ got motoring, the match was put to bed in a very short space of time.
19:14
As Györ call a timeout with nine minutes remaining, with a 33:24 lead, it is clear that the star of the show has been Estelle Nze Minko. The Györ centre back has scored six times in the second period. 
19:06
Anita Görbicz converts from the seven-metre line, scoring Györ's 15th goal of the second half in under 15 minutes, to give her side a 30:21 lead. It has been an astonishing display from the defending champions.
18:58
Leynaud is back in goal for Györ, and their defence and counter attack game is on point at the start of the second half. The Hungarian side's 8:2 run has turned the match around rapidly.  
18:52
The second half is now underway between Györ and Valcea, but a moment should be taken to appreciate Elena Florica's skilful lob that provided Valcea with the impetus to gain the upper hand in the first half.
18:40
HALF-TIME: Valcea lead Györ 17:15 – and 17 goals is the most goals that Győr have conceded in the first half in an EHF Champions League match this season. Another 30 minutes is a long time left for Valcea, but could Györ's famous unbeaten run be in severe jeopardy?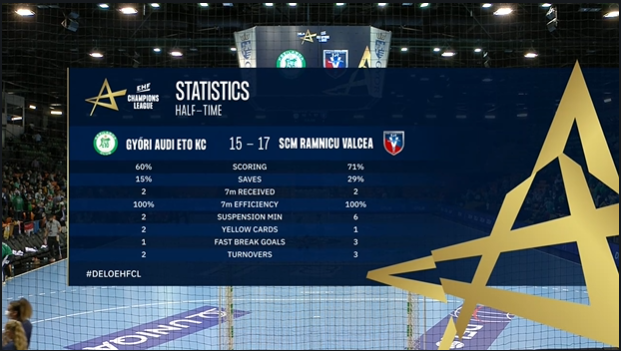 18:33
A combination of RK Krim Mercator producing a magnificent comeback and Bietigheim faltering in the second half for the second consecutive round saw the Slovenian side record their first win in the 2020/21 season. Read more in our match review.
Magnificent comeback hands Krim maiden win
18:20
Silje Solberg has replaced Amadine Leynaud for Györ, but despite her arrival between the posts, Valcea have marched ahead to a four-goal lead 11:7. 
18:12
Mireya Gonzalez has already netted three times in 12 minutes for Valcea, but Györ keep hitting back and the score is deadlocked at 6:6.
18:00
Grace Zaadi's impressive performance for Rostov-Don against Metz saw them sweep aside her former club in a display that would suggest that the Russian side will be hard to beat this season.
Read our review to find out more about Rostov's third win of the DELO EHF Champions League season in group A. 
17:53
Defending champions Györi Audi ETO KC enjoyed wide-margin wins against SCM Ramnicu Valcea in both meetings last season. Will it be the more of the same again this Saturday evening? You will certainly find out via direct match link to EHFTV.com.
Györi Audi ETO KC vs SCM Ramnicu Valcea
17:31
RESULT: Rostov-Don 30:26 Metz Handball
Rostov's lead was reduced by Metz from 29:21 to 30:26 at the end, but as the eight-goal lead would imply, the Russian side's victory was assured a fair while before the final whistle. 
17:29
RESULT: RK Krim Mercator 28:26 SG BBM Bietigheim
From trailing 20:15 at one point in the second half, Krim showed the necessary belief that coach Bregar still had in them and the teamwork required was captured perfectly at the start of their comeback with this goal by Maja Svetik. 
17:21
With less than six minutes to go, Krim are in front for the first time against Bietigheim, 25:24, prompting Bietigheim coach Markus Gaugisch to call a timeout almost immediately.
17:10
45 minutes in, Hatadou Sako still has a save percentage of almost 35 per cent - but Viktoriia Kalinina for Rostov has found her game nicely after a slightly slow start and is approaching 40 per cent.
17:07
Krim coach Uros Bregar believes that they have enough time to fight back against Bietigheim, but he wants his side to be "clever in attack." Is just under 17 minutes left enough time to overturn a three-goal deficit? We'll find out.
17:00
The second half is underway in both matches. Rostov have doubled their lead to 21:13 and look firmly on their way to recording a home win against Metz. Meanwhile, Krim have called a timeout but trail by three goals, as Bietigheim lead 20:17.
16:42
HALF-TIME: Rostov are also leading 16:12 against Metz, who will probably need more moments like this from Meline Nocandy in the second half. 
16:40
HALF-TIME: Bietigheim's strong first half performance in front of goal and a 52 per cent save percentage has placed them 16:12 ahead against Krim.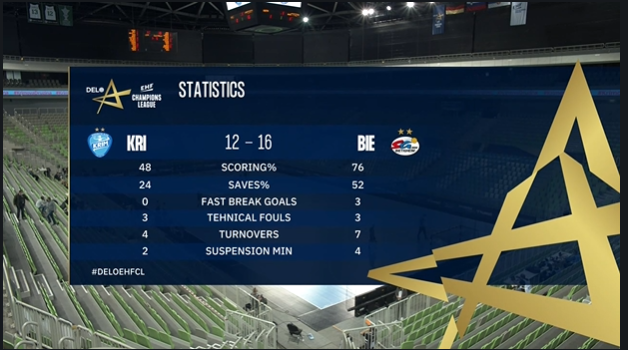 16:35
Finding a way to control Rostov's back court players may be vital if Metz are to launch a comeback. Sen, Vyakihreva and Zaada have contributed 11 of Rostov's 16 goals in the match so far.
16:31
Timeouts taken in both games: Bietigheim hold a 16:11 lead against Krim, while Rostov are ahead 15:11 against Metz.
16:22
Grace Zaadi is on the board against her former club, and her three goals in quick succession for Rostov, along with a Managarova fast break goal, have restored their two-goal lead (12:10). Zaadi's second goal was certainly a sweet back court shot.
16:18
Matches featuring Bietigheim have averaged a staggering 61.75 goals per game so far this season. With just over 17 minutes gone against Krim, they lead 10:8 in what could be another high-scoring encounter for the German club.
16:09
It's certainly early going but Rostov have opened up the first two-goal lead of the match against Metz, 5:3, despite Hatadou Sako recording three saves to Viktoriia Kalinina's none. Three Vyakhireva goals, including one into an empty net, have already helped Rostov's cause. 
15:50
Live build-up coverage of both matches is underway on EHFTV.com.
Find the direct links for both matches below to watch the match of your choice, or you can watch both via our multiscreen option. 
RK Krim Mercator vs SG BBM Bietigheim
15:29
In the second DELO EHF Champions League match at 16:00 CEST on EHFTV.com, Krim and Bietigheim are both looking for their first win in group B to remain in contention for a play-off place. Krim's start to the season has been their worst since 2015/16, when they lost their first three group matches, while Bietigheim have lost four in a row, equalling their 2019/20 start. 
15:19
As was noted in our preview, Metz have an excellent record against Rostov-Don in European club competitions. Metz have won four of their five meetings in the EHF Champions League, including both matches played in Russia on Rostov's home court - and those two wins were recorded by eight and five goals, respectively. Rostov's line-up will know that they will need to be at somewhere close to their best if they are to record their second Champions League win against Metz. 
15:00
Good afternoon. I am here to take you through all three of Saturday's matches in the DELO EHF Champions League: Rostov-Don vs Metz Handball and RK Krim Mercator vs SG BBM Bietigheim throw-off at 16:00 CEST, followed by defending champions Györi Audi ETO KC vs SCM Ramnicu Valcea at 18:00 CEST.  
FRIDAY 16 OCTOBER
17:30
The game between Rostov and Metz is pitting two teams against each other that competed at the DELO EHF FINAL4 in 2019, where the Russian side won their semi-final duel.
A lot will be at stake again when the teams meet on Saturday at 16:00 CEST. Or. like Metz put it on their Instagram account: "Objectiv, première place!" ("Target, first place!")
That's where we leave you for now. The live blog resumes on Saturday at 15:00 CEST, an hour before the party starts!
16:58
In another game on Sunday, Dortmund will host Buducnost, a special occasion for Germany's Clara Woltering.
The two-time EHF Champions League winner with Buducnost is now goalkeeper coach in Dortmund.
Here is what she told Björn Pazen ahead of Sunday's game.
16:02
The only team in the competition yet to drop a point? Yes, that's Vipers Kristiansand!
The surprise pack of the 2018/19 season, when the Norwegian side made it all the way to Budapest and finished third, are back to top form and have won all three games so far.
Their flawless status, however, will be put to a firm test on Sunday, when Vipers visit Team Esbjerg in Denmark for a true Scandinavian derby.
Can Vipers keep their streak going? Find out on Sunday at 14:00 CEST live on EHFTV.
15:30
Welcome to our live blog! The DELO EHF Champions League season is in full flow and we are less than 24 hours from the start of round 5.
We can look forward to an action-packed weekend, with all 16 teams across the two groups in action.
Before we dig deeper into some highlights, here is the round preview to give you a detailed look on what to expect us this weekend.