EHF Champions League
CSM snatch thrilling win, French sides cruise to victory
Following four exciting clashes on Saturday, round 2 action in the DELO EHF Champions League concluded with three matches on Sunday afternoon and the live blog was there to capture all of it. 
Neagu scores buzzer-beater to give CSM a 30:29 victory over Esbjerg,
Metz bounce back from round 1 loss as they cruise to 36:27 win over Bietigheim
Brest in command throughout the 60 minutes as they brush Dortmund aside 41:29
Saturday saw impressive victories for CSKA, Györ and Odense, while Krim snatched a point at Rostov
18:30 SUMMARY
That brings us to an end of our round 2 coverage in the DELO EHF Champions League. Sunday was dominated by the enthralling encounter between Team Esbjerg and CSM Bucuresti, decided at the death by a Cristina Neagu special to give CSM the win and top spot in group A.
Elsewhere, the two French teams picked up comfortable victories, which get Metz off the mark for the season and put Brest top of group B alongside Odense on maximum points.
You will not have to wait long for more European fun as the European League and EHF Champions League Men fill your midweek from Tuesday to Thursday, before the women are back in the spotlight next Saturday.
18:21
eurohandball.com journalist Adrian Costeiu takes a deeper look into the performances from two of Sunday's most impressive players - Cristina Neagu and Olga Perederiy. Both of them hit double figures in goals today as their sides picked up important victories.
18:01
Some nice pics to enjoy from this afternoon's action below.
17:41
Brest's victory brings an end to an exciting weekend of handball, full of impressive performances, but which team impressed you most?
17:29 - Result: BV Borussia 09 Dortmund 29:41 Brest Bretagne Handball
Brest Bretagne become the second team this season to break the 40-goal mark, following Györ yesterday, and their performance justified the one-sided scoreline.
That is two impressive wins on the bounce for Brest and their all-round attacking threat of formidable goalkeeper duo is going to give every upcoming opponent some sleepless nights. This highlight below is a beautiful example of what they are capable of.
As for Dortmund, this is a reality check for them and the lessons from today will need to be absorbed quickly as they prepare to face Podravka away next weekend.
17:20
A real worry for Borussia as this game draws to a close is the sight of Delaila Amega having her knee strapped with ice after falling awkwardly when scoring her fifth goal. Thankfully the young Dutch playmaker is able to support her own weight, so fingers crossed it is nothing too serious.
Five minutes remain here and Brest's lead stands at 37:27.
17:12
This is not the home debut in the DELO EHF Champions League Dortmund would have dreamt of, but that has not stopped them from giving their all in this uphill battle.
Brest have operated as a much higher level throughout the contest and hold a very comfortable and well-deserved 14-goal lead as we approach the final 10 minutes.
16:55
It has been a positive start to the second period by Borussia, even if it is only pride and experience they are playing for at the moment. Two quick goals on the break by right wing Tina Abdulla brings Dortmund within eight goals and livens up the crowd a bit more.
16:34 - Half-time: Dortmund 13:23 Brest
We have reached half-time in Dortmund and while there are some positives for the home side, they are simply being outclassed by Brest Bretagne.
The French side brought up the 20-goal mark after just 27 minutes and things went further downhill from there at Jennifer Gutiérrez received a straight red card for hitting Cleopatre Darleaux square on the face from a penalty.
The points should be in the bag for the guests now, let's see if they can keep that pace up in the second half.
16:21
Brest dominating proceedings at the moment, leading 15:10 at the 20-minute mark, which brings about a raft of changes in the team.
Dortmund are not doing too badly in attack and are creating chances, but just cannot stop the Brest onslaught at the other end of the court.
16:07
Brest have started the stronger of the two teams in our final match of the weekend as Kalidiatou Niakate has hit flying form straight away with three goals. 6:4 to the French side after seven minutes.
15:50
Dortmund all set for their home debut in the competition, taking on one of the best performers from round 1.
15:35 - Result: Metz Handball 36:27 SG BBM Bietigheim
Metz step up through the gears again in the final minutes to claim a suitably comfortable victory. Bietigheim improved in the second half but clearly still have plenty of work to do to compete in this group. Metz's Olga Perederiy was the clear star of the show, scoring 12 goals this afternoon as her side bounced back well from last week's defeat to CSM.
15:32 - Result: Team Esbjerg 29:30 CSM Bucuresti
All of a sudden, nobody can score. Some decent saves and poor misses keep the tension mounting as the teams are stuck level with less than a minute to play.
Jesper Jensen calls his final timeout and sets his stall, but Esbjerg cannot convert, giving CSM the final attack. This time it's Adrian Vasile who calls the timeout and decides to go big with 7 vs 6 in attack.
Neagu tells her teammates that they wait until two seconds remain and that is exactly what she does, firing in the winning goal from 9 metres, her 10th of the day and providing a suitably thrilling end to a brilliant match.
15:21
Five minutes left on the clock in Denmark and there is still no separating the sides, 28:28. Both teams spreading the love in attack and are proving dangerous from every position, making it a nightmare for both sets of defences and the coaches.
In France, Bietigheim have mounted a very creditable comeback but may have given themselves just too much to do as they trail 29:24 with seven minutes remaining.
15:11
Oh, what a game this is turning out to be. 23:23 now, with 12 minutes left to play and we are seeing Sonja Frey tear through the heart of the CSM defence, while Neagu fires past Esbjerg's. Anyone's game at this point.
15:02
Esbjerg vs CSM is developing into a real ding-dong battle as the Danish club have drawn level. The fascinating thing now will be to see whether Bucharest can remain composed and continue producing strong team handball with the score so tight. 20:20 after 42 minutes.
14:56
Metz have resumed their match a bit sluggish, but still look to be cruising towards the two points. It is not proving to be a happy return for Bietigheim's Xenia Smits, who just moved from the French club this summer. 19:12 to Metz after 34 minutes.
14:37 - Half-time
Team Esbjerg 15:17 CSM Bucuresti
A very bright end to the first half from the home side, who go on a 5:1 run in the final seven minutes to give themselves a real chance in the second period.
Technical errors and turnovers have been the source of Esbjerg's problems so far, but once they get through on goal they are putting the ball in the net. Fascinating 30 minutes on the horizon.
14:30
CSM displaying their wide range of attacking weapons now as Siraba Dembele racks up her fourth goal on the fast break. It is very impressive handball from the Romanian side, full of confidence and flair, which has often been missing in their big matches in recent years. Esbjerg finding some rhythm again now, however, and have cut the deficit to 16:13 with three minutes left in the first half.
14:19
Bucharest are beginning to motor now. Neagu is finding her range and Crina Pintea is looking a force on the line. Jesper Jensen calls a timeout for Esbjerg as he tries to set things straight with his time trailing 13:9 on the 19-minute mark.
Meanwhile, Metz are letting loose at home against Bietigheim and currently lead 13:4!
14:12
It is an exciting start to the match in Denmark, with both sides going goal for goal in the opening quarter. A particularly poor start for CSM's Cristina Neagu, who finally gets herself on the scoreboard at the fourth time of asking. Esbjerg 6:7 CSM after 13 minutes.
13:49
We're almost set to go with our first pair of games today, both throwing off at 14:00. While we will keep an eye on both, the focus will be on Esbjerg taking on CSM.
13:30
In case you missed any of yesterday's fun, you can enjoy the highlights from all four matches on EHFTV. You still have time before our first live match today at 14:00.
Also, an important note for all of our readers in Germany, you can catch the two matches featuring German clubs live on EHFTV. Just head over and register for free now.
13:12 - Sunday 20 September
Good afternoon handball fans and welcome to Sunday's coverage of the DELO EHF Champions League. Yesterday, we were treated to a variety of fascinating stories and it looks like we're in for much of the same today. Here is our schedule.
14:00 CEST
Metz Handball vs SG BBM Bietigheim
Team Esbjerg vs CSM Bucuresti
16:00 CEST
BV Borussia 09 Dortmund vs Brest Bretagne Handball
19:51
SUMMARY
When you break it all down, each result has its own crazy storyline. First, we have Györ's incredible second half performance, netting 26 goals. All but one of their court players put their name on the scoresheet. Then we have Krim scoring that last-second goal to pick up a point in Russia against, Rostov. Just re-watch those scenes at the end again and you can see how it felt like a win for them. If that wasn't enough, we see Odense are on maximum points in Group B and are full of confidence. I asked at the beginning if we would see another top performance from Groot? She was 4/4, but their star today was Kyndboel who was 8/8 not putting a foot wrong. And lastly, CSKA made history by taking their first win in European cup competitions, showing that their debut performance last week against Györ (27:27) was no stroke of luck. They could be a real force to be reckoned with...
19:25 

CSKA's defensive really caused Buducnost massive issues in the second half. That combined with excellent perfomances from both CSKA keepers Masson and Sedoykina made the difference today. A shoutout has to go to Dmitrieva, Gorshkova and Vedekhina who netted 15 of CSKA's 15 goals (5 each). It will be a day to remember for the club, which picks up its first-ever win in European club competitions.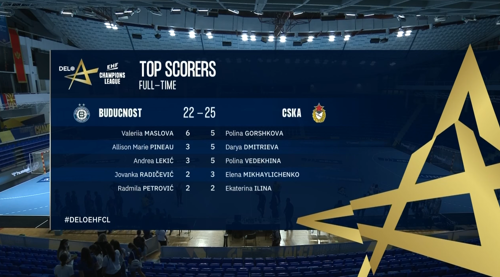 19:12
What a save by CSKA's Masson! One against one with Vukcevic after a fast break and she pulls off the most unlikely of saves. Top drawer stuff by the Brazilian; all of that from the second oldest player in the DELO EHF Champions League. 19:23 to CSKA.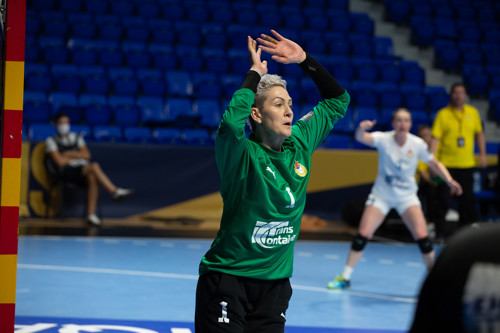 19:09
Buducnost will need to get their shooting together as they have missed 6 of the last 8 shots and CSKA are visually enjoying this, they now lead 22:18.
19:02
Oh no! Pineau loses her head a bit in attack and sends a shot flying into the rafters! They would have needed that as with 11 minutes gone in the second half CSKA are two up at 19:17. The Russian side are flying high with some great saves from their goalkeeping duo.
18:53
What a rocket to open the second half! Dmitrieva scores her first from 3, she will be delighted with that effort. 14:13 to CSKA.
18:43
Like handball from a Hollywood movie scene... Something for you to enjoy during half-time.
18:36
HALF-TIME: Buducnost 13:13 CSKA
Top scorers for both sides are Pineau for Buducnost and Vedekhina for CSKA with 3 goals each.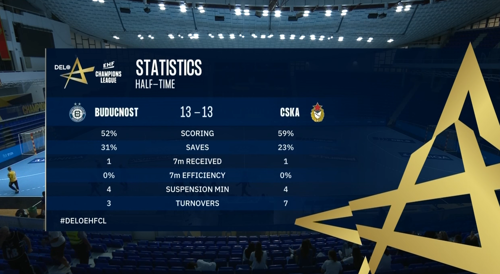 18:34
HUGE penalty save by Sedoykina! And CSKA score through Mikhaylichenko at the other end to make it 13:12 to the visitors. What a last 5 minutes!
18:30
Could this be a turning point? Timeout for Buducnost with 27 minutes on the clock! CSKA pull it level 12:12 after a turnover and a fast-break goal by Gorshkova (2/3). The Russian side have really tightened up their defensive line, it will make for a very interesting second half. Join us here!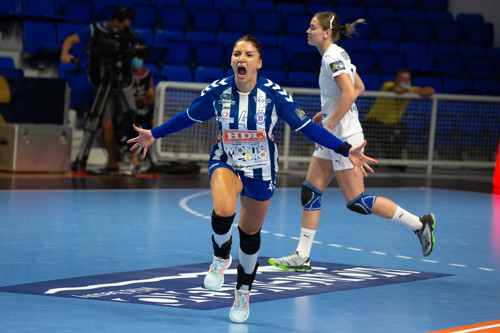 18:22
What an incredible spin shot from the winger Petrovic to make it 11:7 for Buducnost and remember she was retired and stood up to take on the role when they were short on numbers due to injury. Incredible!
18:09
We are 7 minutes into Buducnost vs CSKA and the hosts are 5:1 up. Allison Pineau scored an absolute peach of a goal to put Buducnost 3 up. Lekic fed her the ball off a switch to give her space to shoot from the backcourt and as if she had laser-eye vision she picked out the top right corner, awesome. 
17:55
The action does not stop here. Up now is a top tie between Buducnost & CSKA, join us here.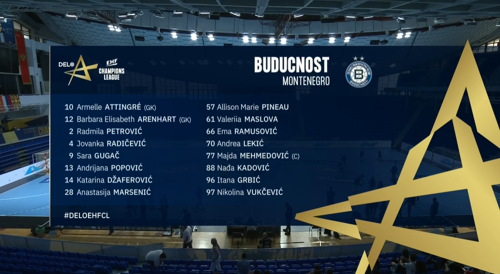 17:30
RESULT: Rostov Don 23:23 RK Krim Mercator
How do you say "drama" in Russian? It went right down to the wire with Krim netting a goal via Maja Svetik right at the buzzer to pick up their first-ever point against Rostov. What Rostov were doing playing without a goalkeeper for the last attack, I'll never know...


RESULT: Györi Audi ETO KC 43:28 HC Podravka Vegeta 
RESULT: SCM Ramnicu Valcea 21:30 Odense Handbold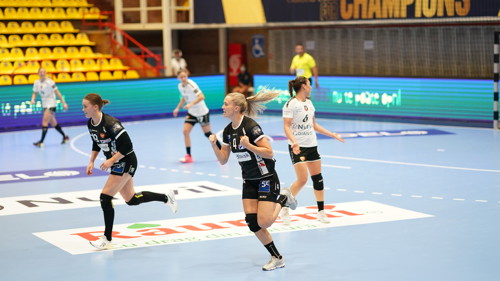 17:21
In Hungary, Györ have steamrolled Podravka in the second half. It stands 40:26 with 3 minutes left. So, the Hungarian side have scored 23 goals in the second half, what a team talk that must have been at half-time.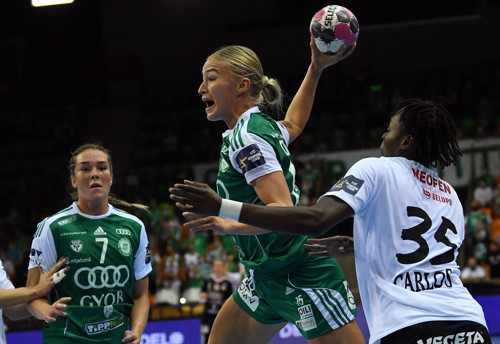 17:08
A woman on fire today! She just made is 21:19 for Rostov and that was her 10th goal from 15 attempts. Ana Vyakhireva folks!
17:02
What has happened in Hungary? Podravka have fallen apart and are being picked apart here in the second half by Györ (25:18). The improvement by the Hungarian side has been huge.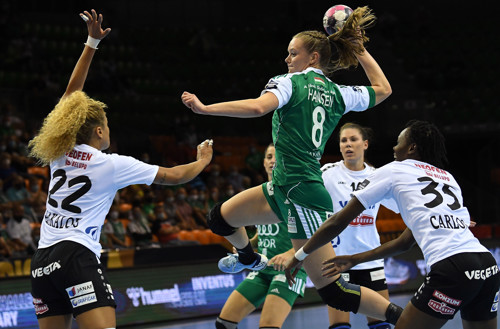 16:57
Ana Sen (3/5) again with the clutch goals! She scores an incredible under arm shot from way out to give Rostov a 17:16 lead. Timeout for Krim!

16:54
And Rostov pull it back level 15:15 against Krim. Pure power from Ana Sen to skip by a defender to pull it level.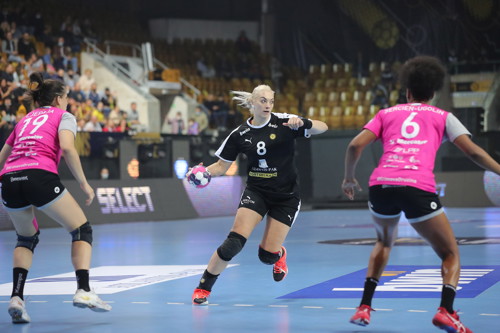 16:50 
We are back for the second half of each tie. If Krim manage to hold on for the win here it would be their first win against the Russian side. What an upset it would be. Watch it here. Can they stop Vyakhireva? She netted 9 in the first 30 minutes. You heard me right!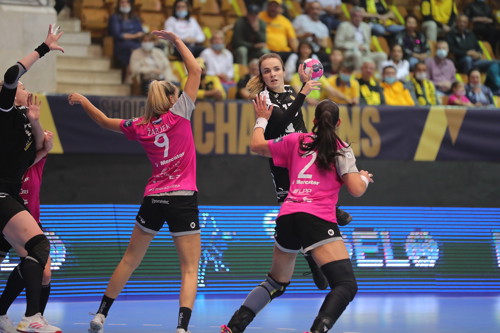 16:38
Well ladies and gentlemen, have we got some games on our hands or what? Here are the half-time scores:
Györi Audi ETO KC 17:16 HC Podravka Vegeta
SCM Ramnuicu Valcea 10:13 Odense Handbold
Rostov-Don 12:14 RK Krim Mercator 
16:33

Dejana Milosavljevic is on fire for Podravka she's 7/7 for the Croatian side, they are only behind by one at 17:16, very interesting. 

16:26

Don't blink! Just as I say the favourites are pulling away, Rostov find themselves feeling the heat from Krim!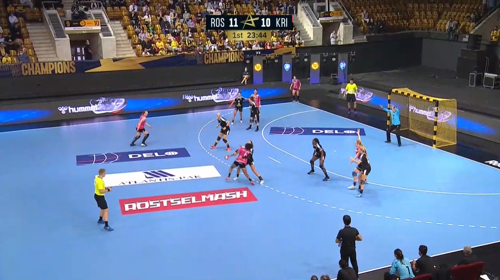 16:23
After a good spell and some quick goals, Podravka force a timeout from Gabor Danyi & Co. Györ are starting to feel the pressure as we are back to within one (12:11). We have a game on our hands in Györ. No scripts needed here just pure drama.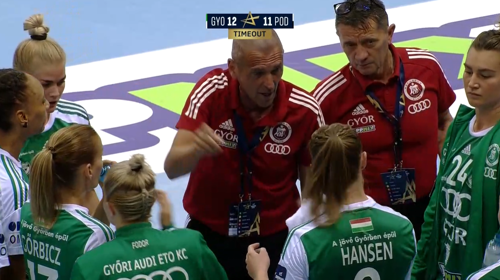 16:22
All three favourites, as in Györ (leading 12:9), Rostov (9:6) and Odense (8:4) are starting to stamp their authority on their ties, but it's very early days yet. Join us for the action here.
16:17
Did you know about the new multi-screen feature on EHFTV? Well, what a perfect time to check it out!


16:11
In Russia Krim have come bursting out of the gates with a strong start against Rostov. They have a 4:3 lead after 9 minutes. Györ are being made to work hard at home but they lead 5:3. A nervous start for both sides with Odense and Valcea scuffing a few shots. But it's Odense with a 3:2 lead.
15:55
It's showtime for champions over on EHFTV! Just 5 minutes away to throw-off.

And what a selection of three games we have: 
Györi Audi ETO KC vs HC Podravka Vegeta
SCM Ramnuicu Valcea vs Odense Handbold
Rostov-Don vs RK Krim Mercator 
Let's GO!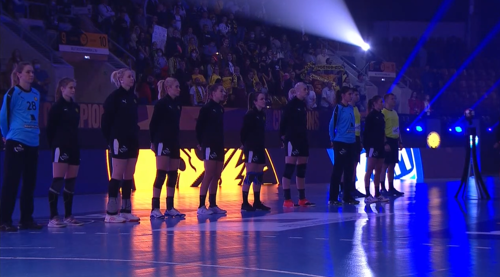 15:36
Rostov have won all four mutual games against Krim, by an average of 7.75 goals per game. Their group A games against Krim throws off in just 20 minutes over on EHFTV.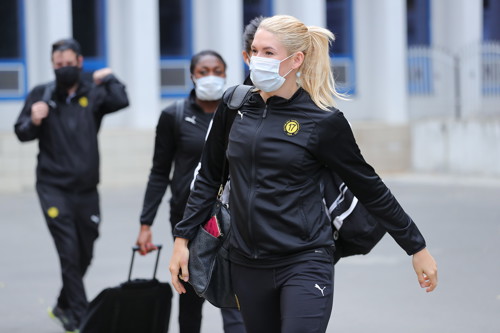 15:00
We are back in action with some very compelling ties coming up in the DELO EHF Champions League. A lot of big questions to be answered today: Can Györ pick up their first win of the season after their tough draw against CSKA last week? It won't be easy as they come up against Podravka who had one of the big shocks of round 1 winning over Buducnost.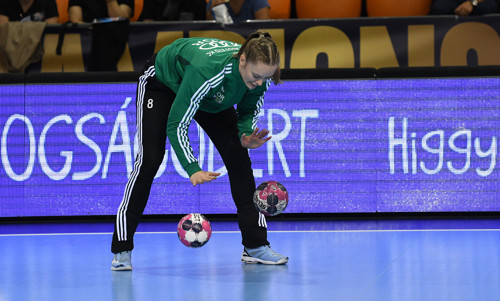 Will we see another big performance from Nycke Groot today (after her 8 goals last week) when Odense come up against SCM Ramnicu Valcea. Fun fact: it will be the first time that these two clubs meet in European club competitions.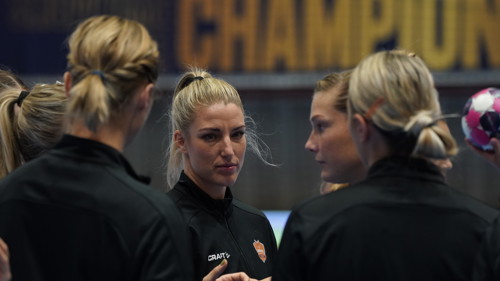 Can Krim cause an upset away to Rostov-Don? It would be a big one if so as they are yet to even win a single point against the Russian side.
And finally, Budunost will be hoping for a boost from some players returning from injury / Covid-19, as they look for their first points against newcomers CSKA, who are flying high after their draw with reigning champions, Györ last week. 

Stay right here to find out the answers to all of these questions! 
SATURDAY REPORTING
17:00
One of the main takeaways from round 1, as Adrian Costeiu wrote here, was the success of the Danish teams, as both Team Esbjerg and Odense Håndbold started their campaign with a win.
Odense travelled to Romania today, set to take on SCM Ramnicu Valcea on Saturday, and shared some impressions of their journey on Instagram.
We are leaving it here for today, with Brian Campion taking over the live blog tomorrow at 15:00 CEST to guide you through Saturday's play.
Thanks for joining and have a great evening!
16:28
One of the standout players of round 1 was Russian prospect Elena Mikhaylichenko. The 19-year-old back was one of the main reasons that debutants CSKA managed to hold defending champions Györ to a 27:27 draw.
EHF journalist Sergey Nikolaev caught up with Elena for our Interview of the Week.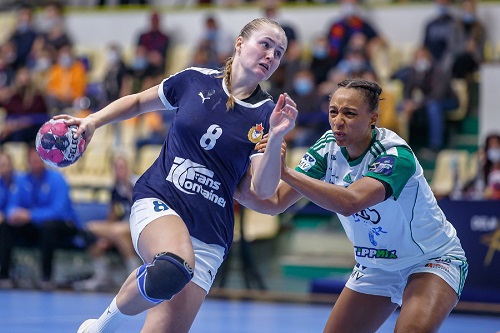 15:42
Do you like records & stats? Then this is something for you! EHF journalist Adrian Costeiu has found out which 10 milestones can be hit this season in the DELO EHF Champions League.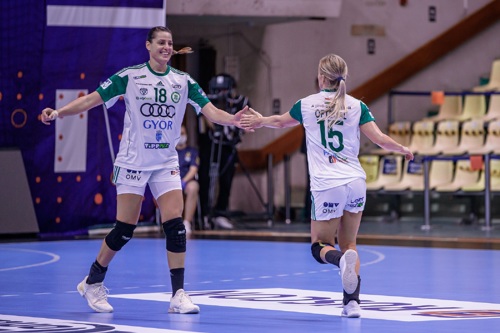 15:00
Good afternoon! After the excitement from the season-opening weekend we are now back with round 2 of the DELO EHF Champions League 2020/21.
Eight matches await us on another action-packed weekend. Check out the round 2 preview from our EHF journalists Sergey Nikolaev and Adrian Costeiu.