EHF Champions League
Summary: Underdogs Nantes and Aalborg shock with wins
The quest for the coveted tickets to the EHF FINAL4 2021 entered its decisive phase, with the first leg of the EHF Champions League quarter-finals coming to a conclusion on Wednesday and Thursday. 
This summary offers insight into all four matches.
23:03
We will leave you with a nice tweet from EHF Champions League commentator Tom O'Brannagain, who felt something special tonight watching this HBC Nantes side.... 
22:51 
When you look ahead to next Wednesday and Thursday you can't help but feel that all of the matches could be Match of the Week, it is really set up nicely for some serious drama!
But next week our MOTW presented by IQONIQ is: Paris-Saint Germain HB vs THW Kiel (20:45 CEST) 

As it stands it would be an EHF FINAL4 consisting of: Barca, HBC Nantes, Aalborg Handbold and THW Kiel, that would make for an interesting mix! But we all know too well, in handball, nothing is as it seems, so this is far from over just yet!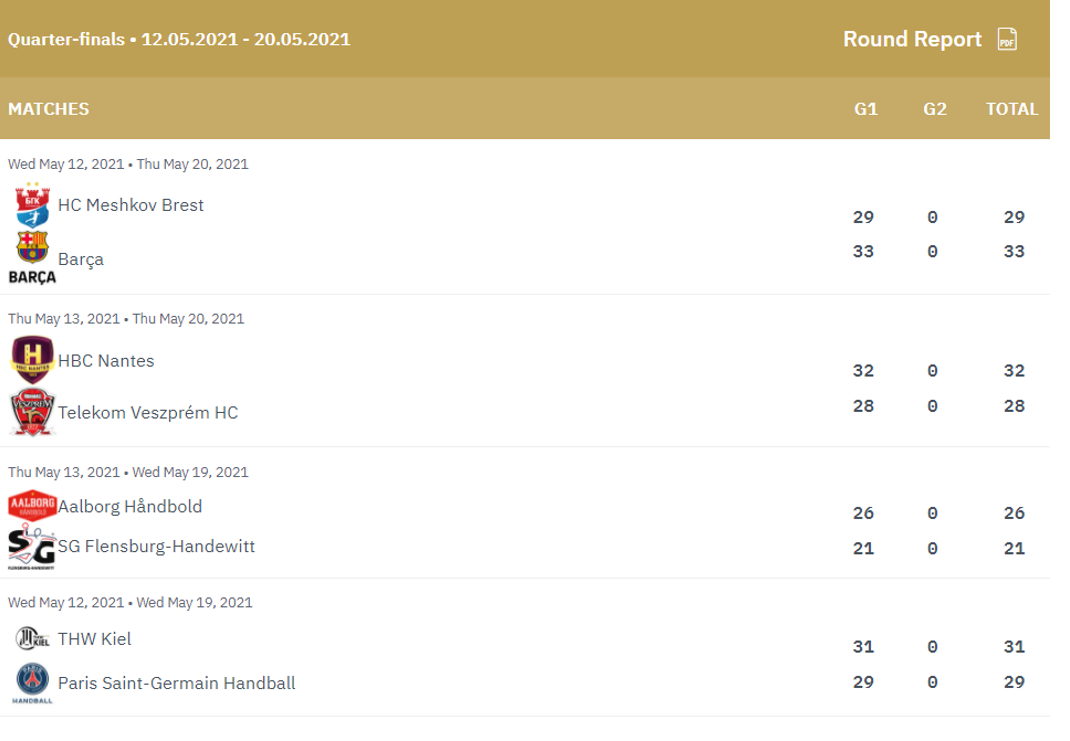 22:19
RESULT: HBC Nantes 32:28 Telekom Veszprem HC
Player of the Match: Emil Nielsen, 15 saves, 42 shots / 35% 
That is Nielsen's second Player of the Match award of the season after picking one up in round 11. 
22:13
You have to be very impressed with how Nantes were set up today, the perfect game plan. Some seriously creative moments by their back court players, giving the likes of Pechmalbec the space and freedom to really shine on the line. That all backed up by the excellent Nielsen in goal. 
The second part of this season has been huge for Le H. 
22:02
WOW: Emil Nielsen catches a shot (15 saves) and floats a pass to the Damatrin-Bertrand who nets his second. 27:23. Veszprem need someone in the backcourt to step and take control of the set plays as it seems to be all solo moments of magic thus far.
21:57
Two important saves by Corralles and a bit more urgency by Veszprem in attack and suddenly we are back to a four-goal game! 26:22. 
21:48
David Balaguer is having a stormer (4/6)! A rare thing when a winger is super dangerous from the backcourt and that last goal just shows you the quality of his shooting. Nantes 24:17 Veszprem
21:45
A more than needed goal from Gaspar Marguc, he rockets it one from the wing to make it 19:14.
21:38
19:12 for Nantes and a time-out called by David Davis. Veszprem are losing their heads in attack. And Davis is letting them hear it "our attack isn't clear". And you can see it.
For Nantes, Rivera is in flying-form and Nielsen in goal has the backcourt shooters in his pocket so far. 
HALF-TIME: HBC Nantes 16:12 Telekom Veszprem HC 
21:15
Three penalties in the space of a minute, the refs have their work cut out for them this evening. 

Nantes now plus three, and Emil "Stabil" Nielsen with a huge save from Kentin Mahe on the wing. Veszprem looking very unsettled in attack.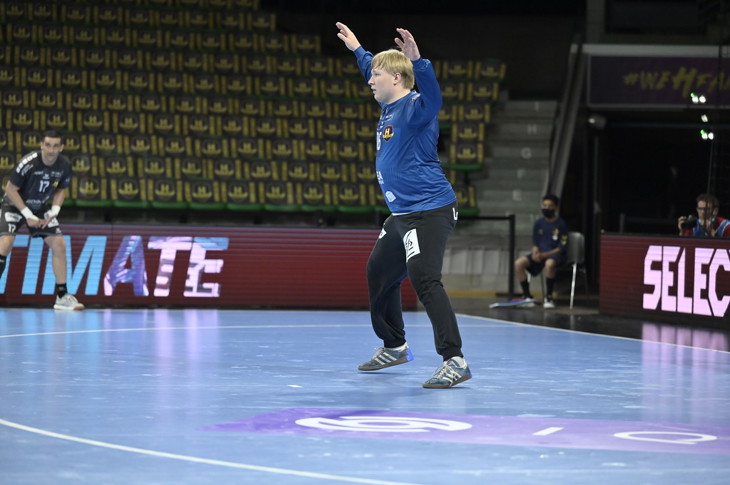 21:12
Veszprem looked to be firmly in the driving seat of tie but a five-goal run in 8 minutes has turned the game on its head! Currently Nantes have a two-goal lead t 13:11.
20:57
Coralles in Veszprem goal is having a great start to the tie with two very important saves. Incredible to think Cupara is sitting in the wings, what a duo!
20:52
Veszprem have come bursting out of the gate, this game started at break-neck speed and have a two-goal led after 8 minutes 6:4. Veszprem have been rotating their bench early, bringing Markussen in already in left back. 

HBC can thank David Balaguer for two of their goals. Good game so far!
20:47
We are off for MOTW presented by IQONIQ: HBC Nantes vs Telekom Veszprem,HC, join Chris O'Reilly now on EHFTV! 







20:30
Now it is Match of the Week time with HBC Nantes hosting Telekom Veszprem HC at 20:45 CEST!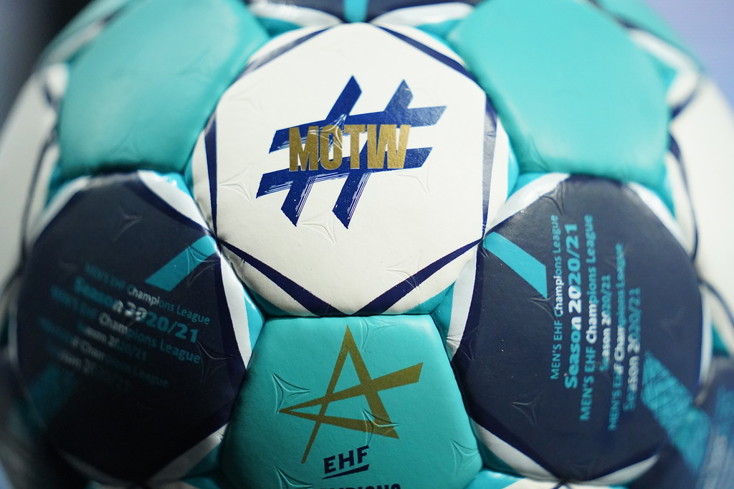 20:25
RESULT: Aalborg Haandbold 26:21 SG Flensburg-Handewitt
It was far from a beautiful game of handball but I am sure that was Aalborg's game plan to put the SG backcourt off their game. That plus 10 2-minutes suspension for SG really made it a very long evening for the German side. 

It was a game to forget for SG, for sure one of the weakest games we have seen from them all season long. A 5-goal gap is a big task and they have a lot to study before next Wednesday.  
Under-arm shot of the game:
20:18
I will say his name once again: Mikael Aggefors with two massive saves. He has SG in his pocket tonight and has been player of the match for sure. 16 saves, amazing! Aalborg 26:21 SG Flensburg
20:14
Sven is down winded. Coming across the court on a switch, he took arm to the stomach, didn't seem on purpose from Saugstrup (who picked up two minutes).
20:11
Aalborg, thanks to two from Claar and one each from Buster-Juul and Mollgaard open the gap to four 24:20! The have found their second wind! SG need to be really careful not to let a big gap open.
20:05
That's two shots in a row that Johannessen has missed the whole frame of the goal. Amazing to think of all the errors SG have made but are still only two goals down. Hasn't been their day at all especially from the backcourt.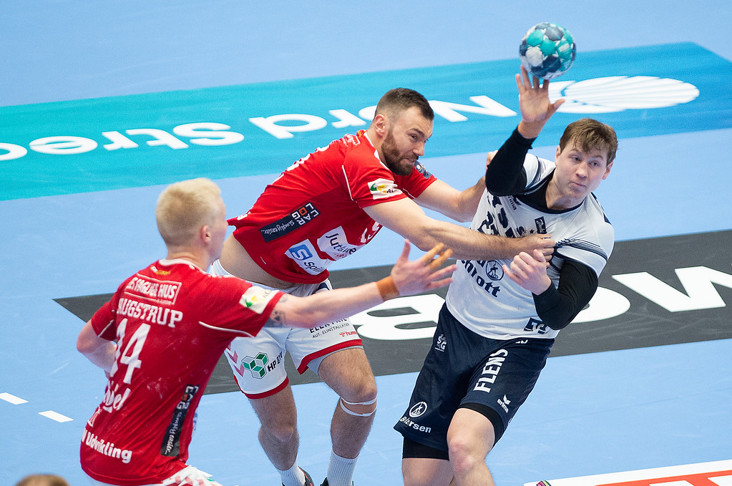 19:52
We are level! For the first time in the game, we are square at 14:14 thanks to a Hampus Wanne conversion from the penalty spot. 
19:46
8 minutes gone in the second half and Aalborg haven't hit in the net in 7 minutes. The hosts now boast a mere one-goal lead 14:13 (keeping it thanks to a HUGE save from Mikael Aggefors from a Golla shot with loads of space on the line).
19:40
SG legend Lars Christiansen is keeping a close eye on the game..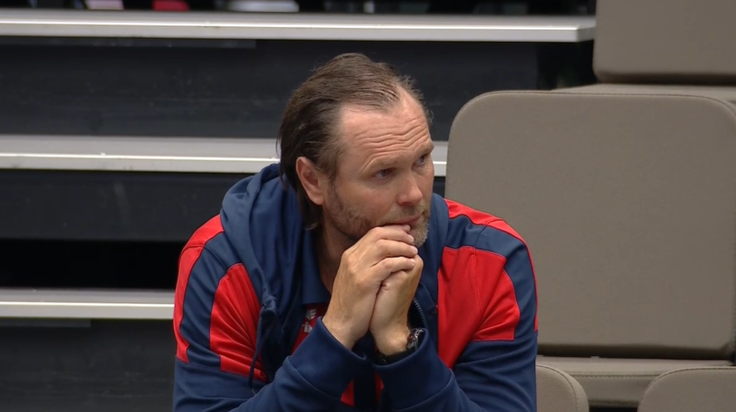 HALF-TIME: Aalborg Handbold 13:10 SG Flensburg-Handewitt
Player of the first half? Lukas Sandell, everything he touches is on fire. Followed by a close second spot to Mikael Aggefors with his nine saves. SG are really finding the physical Aalborg defense really tough; it's causing them to fumble or take poor shots. Let's see can Machulla change things up for the German side. 
19:22
Lukas Sandell 7 from 7 so far, just give him the ball at pace and he is letting them fly from down town, incredible first half from him! 
19:17
SG have switched it up in the backcourt, took Mads Larsen out (1/6) as it really wasn't working, it looked all very laboured. Johannessen now will play CB. Aalborg 11:9 SG Flensburg.
19:07
Buric with a huge save (2 so far) from a Barthold effort from a good angle on the wing. He needed that as he's been very quiet! 
19:01
Advice from SG coach Maik Machulla (who got his All-star nomination today) is that "when the ball is moving well, we have our chances and we are looking for the line too early and it is causing us issues"
18:57
Mikael Aggefors in the Aalborg goal is on fire! Five saves already and we are only 11 minutes into the game! And a very important stop from Wanne's penalty attempt where SG could have pulled it back to within only one. Aalborg 7:4 SG Flensburg.
18:48
3 minutes gone and it's Aalborg 2:0 up, the hosts looking very sharp and SG seem to be feeling things out a little. Sandell opened the scoring followed by a rocket from Claar who sent Buric flying back into the net. 
18:45
And we are off! Join us now for Aalborg vs SG Flensburg-Handewitt!
18:39
If the news of Mikkel Hansen coming to Aalborg in 2022 wasn't good enough, the news of Aron Palmarsson moving next season must have had Aalborg fans dreaming of EHF Champions League glory to come. 

But their current star winger Sebastian Barthold had a great interview with us earlier in the week talking about how this is all this has been building up for some time in the Danish club and they will be a top club for years to come! Hard not be excited for the boys in red and white!


18:29
We are live for the warm-up on EHFTV, join us! 
18:15
But let's now focus on the first match at hand: Aalborg Haandbold vs SG Flensburg-Handewitt! 

Flensburg are for sure the favourites going into this, they really have looked unbeatable over the past few weeks, even some scares in the Bundesliga from the likes of Göppingen (being down but securing a 28:28 when it all looked lost) showing real character and only a few days later on 8 May, they disposed of Wetzlar 32:24 with ease. 


However, Aalborg play from the same music sheet as their north-German counterparts, and their gutsy win over Porto impressed me a lot. When they play their best, they are able to match almost any side for large parts of matches and today they will need a close game / result to stay in the tie, that's what I expect. 
18:09
The team in Nantes have the arena kitted out nicely for MOTW at 20:45 (CEST)! They will be very hard to beat tonight, so Veszprem will have their work cut out. 
Fans were outside the arena earlier today, greeting the players en route to the changing rooms! Nice touch! 
16:50
Let's have a closer look at tonight's MOTW, Nantes vs Veszprém! 
The teams already met once this season, with Veszprém winning 28:24 in Nantes. 
Nantes qualified for the quarter-finals by beating Kielce in the Last 16, while Veszprém easily booked their ticket against Vardar. 
This is the third time Nantes reached the quarter-finals, after 2018 and 2019. They defeated Skjern in 2018 to qualify for their first EHF FINAL4 and made it to the trophy match, where they lost to fellow French team Montpellier. The following season, Nantes lost to Barça in the quarter-finals. 
Veszprém are highly experienced quarter-finalists and have contested the EHF FINAL4 no less than six times. They reached the semi-finals prior to the introduction of the EHF FINAL4 format a further three times. But Veszprém have never clinched the trophy. If they miss the EHF FINAL4 this time, it will be only the second time in eight seasons. 
Nantes Valero Rivera is currently the second top scorer in the EHF Champions League, with 76 goals, while Veszprém's top scorer Petar Nenadic stands in 15th position, having netted 60 times.
16:02
A MOTW day always starts with the Breakfast for Champions series live on the EHF Champions League Instagram. Today, Veszprém line player Andreas Nilsson and Nantes centre back Rok Ovnicek guest starred. 
Check out today's episode of Breakfast for Champions here.
15:28
Before tonight's matches, be sure to check out our special features relevant to these first-leg quarter-finals. 
For the first match at 18:45 CEST, Aalborg vs Flensburg, have a read of our exclusive feature on the Danish side's wing Sebastian Barthold.
"It is a goal for us to be in the EHF FINAL4. We are meeting Flensburg, who are a great team, both now and historically," Barthold told eurohandball.com. "So we are up against a really tough competitor, but I believe we showed last year that we can come up against them and win, so we have a lot of confidence that we can do this, coming into the quarter-final as an underdog. We are really ready."
Read the feature with Barthold here. 
The second match, at 20:45 CEST, is the MOTW Nantes vs Veszprém! Dragan Pechmalbec spoke with eurohandball.com about his role this season following some big departures from the French side, Nantes' 2020/21 campaign and of course, the quarter-finals. 
Pechmalbec said his team aim "to travel to Veszprém with something left to play for. Unlike against Barcelona in 2019, when we shot ourselves in the foot at home in the first leg," referring to the 32:25 defeat to the Spanish champions two years ago.
Read the feature with Pechmalbec here. 
15:05
Hot off the press! A new round of EHF Champions League Men 2020/21 All-star Team nominees has just been revealed. 
Today's 10 names selected from the combined votes of the EHF media team join the 20 already announced based on the coach selection and the choices of All-star Team sponsors Gorenje. 
Read more below and be ready for the All-star Team vote to launch on Friday! 
14:10
Welcome to our second day of live blog coverage for the EHF Champions League Men quarter-finals! Tonight we have two exciting games coming up: Aalborg vs Flensburg at 18:00 CEST and MOTW Nantes vs Veszprém at 20:45 CEST. 
Last night, the quarter-finals opened with two great matches. Kiel and Barça emerged with victories, but neither of their games could be classed as anything close to easy and PSG and Brest could still turn the tables in the second leg. 
23:11
That's a wrap on our live blog coverage for the opening night of the EHF Champions League Men quarter-finals! Who will join Kiel and Barça with advantages after the first leg tomorrow? 
Here's what's coming up on Thursday: 
18:45 CEST Aalborg vs Flensburg
20:45 CEST MOTW Nantes vs Veszprém 
Join us live on EHFTV to watch and visit us here on eurohandball.com for the live blog coverage of day two of the quarter-finals!
22:49
Two very interesting matches got us started with the quarter-finals tonight, with both games close to the end and neither of the winners set to carry an overly decisive advantage into the second leg. 
All four teams were also led by huge scoring games from one standout individual. From Brest, right wing Mikita Vailupau netted 11 goals, followed by right backs Harald Reinkind and Dika Mem, who scored 10 and nine goals for Kiel and Barça, respectively. From PSG, Dylan Nahi contributed eight goals to lead his side in the individual scoring effort. 
Vailupau, Mem and Hansen are all close to the top of the leaderboard in the season's individual scoring race, with Vailupau second behind Kielce's Alex Dujshebaev after tonight's match, with 86 goals total, and Mem third with 80. Hansen is currently sixth with 72 goals this season. 
22:41
With tonight's first-leg quarter-finals all wrapped up, have a read about how they unfolded with our match reviews below!

















It was better in the second half. Our defence was also a little bit better and we didn't do the easy mistakes in attack where they punished us hard in the first half. We had to play our game, to do the things we are good at.
22:21
RESULT: KIEL VS PSG 31:29
Kiel secure the win on their home court and will carry a two-goal lead into the second leg versus PSG.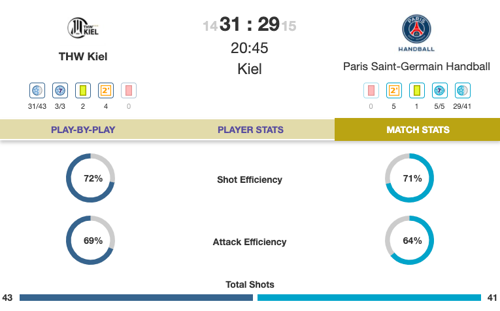 22:15
With just over two minutes to go, Niclas Ekberg nets his fifth goal on a penalty to put the score at 31:28 for Kiel — and it looks as though the German side will take the critical home win and at least a narrow lead into the reverse leg in Paris. 
Here, see the all-important moment Niklas Landin gave the German team the lead for the first time in the game. 
22:10
Well they waited a long time for the lead but Kiel are not willing to let it go now. As the clock shows 55 minutes, the home side have the advantage at 29:26. 
Below, an earlier goal from Kiel back Domagoj Duvnjak as they fought to come from behind. 
22:00
Kiel hit the lead for the very first time in the game in minute 48. It's not so usual that it is a goalkeeper to score the critical shot, but this time it was Niklas Landin with a long-range effort that pulled Kiel to 23:22. 
21:55
What a night of first-leg quarter-finals we are enjoying! As the final quarter of the match begins, the score in Kiel vs PSG is level at 21:21 and we are set for a tight battle to the buzzer. 
Aside from the big attacking games from Harald Reinkind (now eight goals) and Mikkel Hansen (six), we must note the great job from Benoit Kounkoud in front of PSG's 5-1 defence — although the German side have found the way to work against it this half. 
21:45
Kiel were quick to equalise when the second half threw off, before two quick goals from All-star Team best young player nominee Dylan Nahi pulled PSG ahead again, 17:15 as the clock hits 35 minutes. 
Nahi has netted five goals from five shots to lead PSG as the top scorer, just one ahead of Mikkel Hansen. Below, check out an earlier goal from Hansen, who is also nominated for the season's All-star Team as best left back. 
21:29
No individual stood out as much as Harald Reinkind in the opening 30 minutes. The Kiel right back netted seven goals in the first period — half his team's goals as they sit one behind PSG. 
Enjoy one of the best so far below. 
21:23
HALF-TIME UPDATE: KIEL VS PSG 14:15
PSG take a one-goal edge into the break after a stunning first half from the French side. The top scorer of the opening half is Kiel back Harald Reinkind, with seven goals.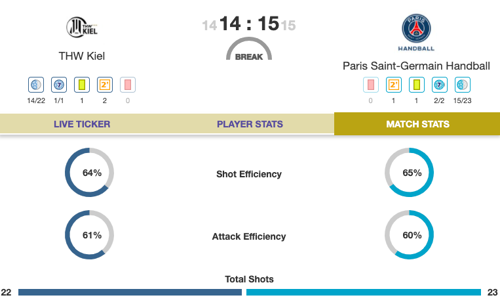 21:18
Just when it seemed PSG were really taking control, Kiel come roaring back. With four goals in a row, the German side have completely turned the tide and now stand level at 12:12. 
PSG are still putting on quite an attacking masterclass however. Check out the play below! 
21:12
Inside the last 10 minutes of the half, the momentum remails with PSG, who lead 12:8 — having allowed Kiel no goals since the timeout. 
The reason for that was keeper Yann Genty, who saved four shots in a row while his team built on their advantage at the other end of the court. 
Below, enjoy one of PSG's best goals from earlier in the match. 
21:05
As the clock hits 16 minutes and PSG have the lead at 10:8, we have our first timeout, called by THW Kiel coach Filip Jicha. 
Kiel have not seemed to find their rhythm so far, with PSG scoring three unanswered goals after Kiel levelled off Niclas Ekberg's goal for 6:6. 
Norwegian superstar Sander Sagosen is absent from today's clash due to illness, and the gap is noticeable as PSG's aggressive defence is working wonders agaisnt Kiel's attack. 
21:00
After PSG's early advantage, Kiel responded with a three-goal run that levelled the game and we now have a tight battle on our hands. 
At the 12-minute mark, it's 6:6. 
20:50
So far, the clash between Kiel and PSG is unfolding exactly as Brest vs Barça did — with the guests taking an early lead. The French side hit a 4:1 advantage before Domagoj Duvnjak smashes in a ground shot to reduce the gap as we hit five minutes (4:2 for PSG). 
20:46
THROW OFF: THW KIEL VS PARIS SAINT-GERMAIN
The second quarter-final has begun! Will the defending champions Kiel take their first step back to Cologne or will PSG secure a coveted away victory? 
Watch on EHFTV or follow the score and statistics on the live ticker. 









20:41
The players are on court and we are just minutes from throw off in Kiel vs PSG! Join us now on EHFTV.com. 
20:35
Earlier we mentioned the upcoming vote for the season's All-star Team, presented by Gorenje. 
From this upcoming clash, eight individuals have been nominated towards the pool of 60 for the final vote so far.
In the coaches' selection: from THW Kiel, goalkeeper Niklas Landin, right wing Niclas Ekbert and left back Sander Sagosen; from PSG, Dylan Nahi as best young player. In sponsor Gorenje's selection: THW Kiel coach Filip Jicha and best defender Hendrik Pekeler, along with PSG right back Nedim Remili and left back Mikkel Hansen. 
20:29
Let's take one last look back at a highlight from the opening quarter-final. While Brest's Mikita Vailupau was the top scorer of the clash, with 11 goals and not one missed shot, Dika Mem was only two behind, with nine strikes for Barça. 
The French right back played a key role in Barça's strong finish and four-goal advantage after the first leg. 
20:25
Time to dive in to some key facts about the second quarter-final encounter, THW Kiel vs PSG — a clash between two of the EHF FINAL4 2020 participants. 
This will be the first time the teams have met in the EHF Champions League since the group phase of the 2018/19 season. In the 11 times Kiel and Paris have played each other, both teams won five games, while one ended on a draw. 
Paris eliminated Celje in the Last 16 by winning both games (37:24; 31:23), while Kiel delivered the exact same result twice against Szeged (33:28; 33:28).
Only one goal separates the two teams' top scorers: Paris' Mikkel Hansen has netted 72 times — once more than Kiel's Niclas Ekberg. 
20:18
We don't have long to wait before the EHF Champions League Men quarter-final action continues! The second and last first-leg quarter-final taking place tonight, THW Kiel vs PSG, is coming up at 20:45 CEST. 




























For us it was a very special situation. It was like climbing Everest with flip flops. The only solution was to put some spikes on it. Congratulations to Barça with a well-deserved victory. The first 10 minutes they were playing emotional and superior, and after that our players proved that they are a very special team. Every club can have such problems, but in these circumstances to play Barça like this is a fantastic effort. We'll try one more time in Barcelona. And thank you very much to our fans — they were amazing as always.
20:13
RESULT: BREST VS BARÇA 29:33
Barça manage to edge further ahead and clinch a four-goal win that sets them in a strong position ahead of the second-leg quarter-final on their home court. 

20:10
A penalty scored by Aleix Gomez seems to decide the win, as Barça hit a 31:28 lead inside the last two minutes. But even if they know the win is most likely to go to their guests, Brest must aim to finish the clash with the lowest possible deficit to keep the best chance for a second-leg comeback. 
20:07
At minute 57, Barça hold a two-goal edge, 30:28, but the match is clearly undecided with Brest highly motivated to keep the score line as close as possible — or level it or take the advantage of course. 
20:03
As the final five minutes of the match approach, we still have a one-goal tussle, at 29:28 for Barça. 
One reason for Brest's strong second half have been the saves from goalkeeper Ivan Pesic. Take a look at one of his best moments below.
19:58
10 minutes remain on the clock and just one goal separates the teams, at 26:27 for Barça. Brest are really pushing Barça to the limit with their crowd behind them, knowing they must make the most of having that support before they face a match without it in the second leg. 
Whichever way the result goes today, it is clear we will not see a decisive leader ahead of the second leg between these sides so we are already promised at least one thrilling return fixture in the quarter-finals! 
19:46
10 minutes into the second period, Barça have reopened a three-goal gap at 24:21 — but Brest are still threatening to close the gap and the Spanish side by no means have the game under control. 
The top scorer of the match, Mikita Vailupau, has reached double digits with 10 goals. 
19:32
The second half of the opening quarter-final is just minutes away, with Barça set to take the court one goal in front, 17:16. Brest were driven by a big game from Mikita Vailupau in the first half, with eight goals at 100 per cent accuracy from the right wing. Enjoy one of his best below!
19:19
HALF-TIME UPDATE: BREST VS BARÇA 16:17
The opening quarter-final certainly started the way Barça wanted it to, but the Spanish side could not maintain their early dominance and Meshkov Brest are well within reach as we go to the break, just one goal behind.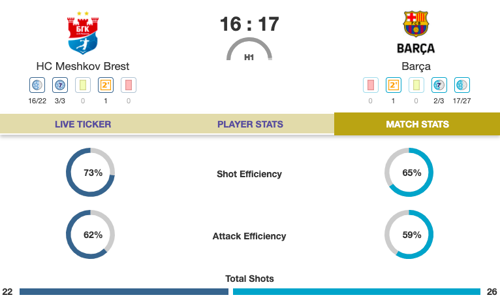 19:15
Three minutes on the clock; three goals for Brest!
Meshkov are the ones to profit from Pascual's timeout, as they score a run of unanswered goals to level the game, 15:15. The 15th goal for Brest was the seventh for wing Mikita Vailupau. 
19:10
A timeout is called by Barça coach Xavi Pascual with his side in front 15:12 in the 23rd minute. Although Barça are holding the lead, the momentum of the match has clearly changed and Brest are right on their visitors' heels. 
19:05
At the 18-minute mark, Brest have closed the gap a touch, 10:13, with the help of an arena full of fans behind them. 
But Barça still hold the upper hand — and the back court continues with a superb performance. Check out this highlight from Aron Palmarsson! 
18:57
15 goals in the first 11 minutes, 5:10, as Meshkov Brest come into the game but are left chasing Barça following the Spanish side's powerful start. 
Barça have carved out one particularly dangerous wedge in their attack, with the trio of right back Dika Mem, centre back Aron Palmarsson and line player Ludovic Fabregas combining for six goals so far. 
18:50
Five minutes in and Barça are charging ahead, already leading 5:1. All-star Team nominee Dika Mem was responsible for two of Barça's five opening goals. 
18:46
THROW OFF: BREST VS BARÇA
The first quarter-final has begun! If you cannot watch live, follow on the live ticker. 
18:37
It's almost time for throw off in Brest! Join us now on EHFTV.com. 
18:31
Let's have a look at some of the key facts for the first match, Brest vs Barça!
The only duels between the sides occurred in the 2018/19 season when Barça won both group matches clearly: 29:21 at Brest and 41:32 in Barcelona. 
To reach the quarter-finals, Meshkov eliminated Motor Zaporozhye in the play-offs, while Barça beat Elverum with an aggregate result of 76:44 — the largest win of the stage. 
This quarter-final tie is one of two duels between Spanish head coaches: Raul Alonso (Brest) will face Xavi Pascual (Barça). Alonso will finish his work at Brest after this season after three years and will return to Germany, where he moved to with his family at the age of 16. Read a special feature on Alonso and his time with Brest here. 
Brest will have to replace two key players: left back Alexander Shkurinskyi and defensive specialists Artsiom Selvasiuk — both are ruled out with torn cruciate ligaments. 
Brest right wing Mikita Vailupau is third in the top scorer list, with 75 goals. Barça's top scorer is Dika Mem, who is fifth ranked on 71 goals. 
18:17
As we enter the business end of the season, the vote for the EHF Champions League Men 2020/21 All-star Team, presented by Gorenje, is not far away. 
Two rounds of nominees have been announced so far: the first selection from the head coaches in the competition and the second from All-star Team sponsors Gorenje. So far, a total of 20 nominees have been revealed. Fans will ultimately have 60 names to choose from.  
Of the teams in tonight's opening match, Barça were heavily favoured by the coaches, with three nominees among the choice: right back Dika Mem, best defender Thiagus Petrus and coach Xavi Pascual. 
In the second round of nominees, Gorenje named Meshkov Brest's Stas Skube as centre back. 
Read more about the All-star Team nominees so far: coach nominees; Gorenje nominees. 


















18:06
Find plenty of reading material to keep you entertained as we count down to throw off in the quarter-finals right here on eurohandball.com. 
Below, check out our facts and figures related to the quarter-final stage, a special look at six rivalries to watch out for in this phase, and an exclusive interview with THW Kiel wing Niclas Ekberg. 
17:51
The first quarter-final clash is less than one hour from throw off, with Brest set to host Barça. 
While Brest are newcomers to this stage of the EHF Champions League, Barça are playing the quarter-finals for the 21st time in 24 seasons. 
Get set for tonight's opening quarter-finals with the preview, where we delve into each of the first-leg clashes in detail. Find it below!
16:14
While the play-offs reduced the field from 16 to eight teams, we will see the number of participants halved once again in the quarter-final: Only four teams will book that trip to Cologne next week.
Read all about the four first-leg matches in our preview:
16:00
Good afternoon, finally the EHF Champions League Men is back! It has been a few weeks since the play-offs but here we are again, and it has been worth the wait.
Wednesday and Thursday will see the first leg of the quarter-final being played - and we could be in for two thrilling nights as the eight teams left in the competition know they are just two more matches away from a potential appearance at the EHF FINAL4 on 12/13 June in Cologne.
Here is the schedule for tonight and tomorrow:
Wednesday:
18:45 CEST: HC Meshkov Brest vs Barça
20:45 CEST: THW Kiel vs Paris Saint-Germain HB
Thursday:
18:45 CEST: Aalborg Håndbold vs SG Flensburg-Handewitt
20:45 CEST: HBC Nantes vs Telekom Veszprém HC