EHF European League
Summary: Füchse, Löwen, Magdeburg & Plock make up EHF FINALS 2020/21
A recap of the quarter-final second leg matches
at 18:45 on Tuesday, SC Magdeburg did the double over IFK Kristianstad (39:31) while Rhein-Neckar Löwen overturned their one-goal loss to Chekhovskie medvedi (37:27) and booked their spot at the EHF FINALS 2020/21
at 20:45 CEST, Füchse Berlin came back from their three-goal deficit against Montpellier HB at home (31:23) and likewise Orlen Wisla Plock managed to do the same task against GOG (31:26)
The EHF FINALS 2020/21 will take place on the 22/23 of May in the SAP Arena, Mannheim with the draw on 27 April at 11:00 CEST in Vienna
IT'S FINALLY OFFICIAL
We will leave you the poll of who you think will take the title. For the men's EHF European League, we now look forward to the EHF FINALS draw on 27 April at 11:00 CEST in Vienna and we will see you again for the live blog on the 21st of May! And don't worry, it only gets better from here...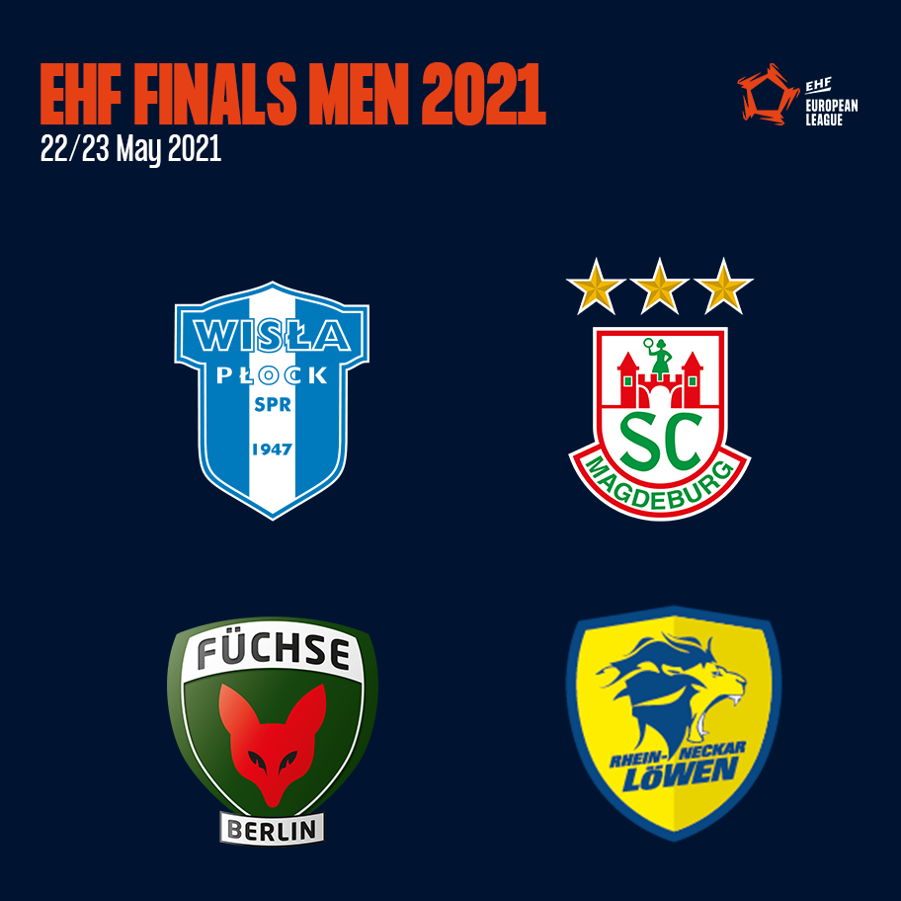 RESULTS
And here you have it, we have three German sides in SC Magdeburg, Rhein-Neckar Löwen, Füchse Berlin and Polish side Orlen Wisla Plock. The EHF FINALS 2020/21 will be hosted by Rhein-Neckar Löwen in the SAP Arena on the 22/23 of May 2021.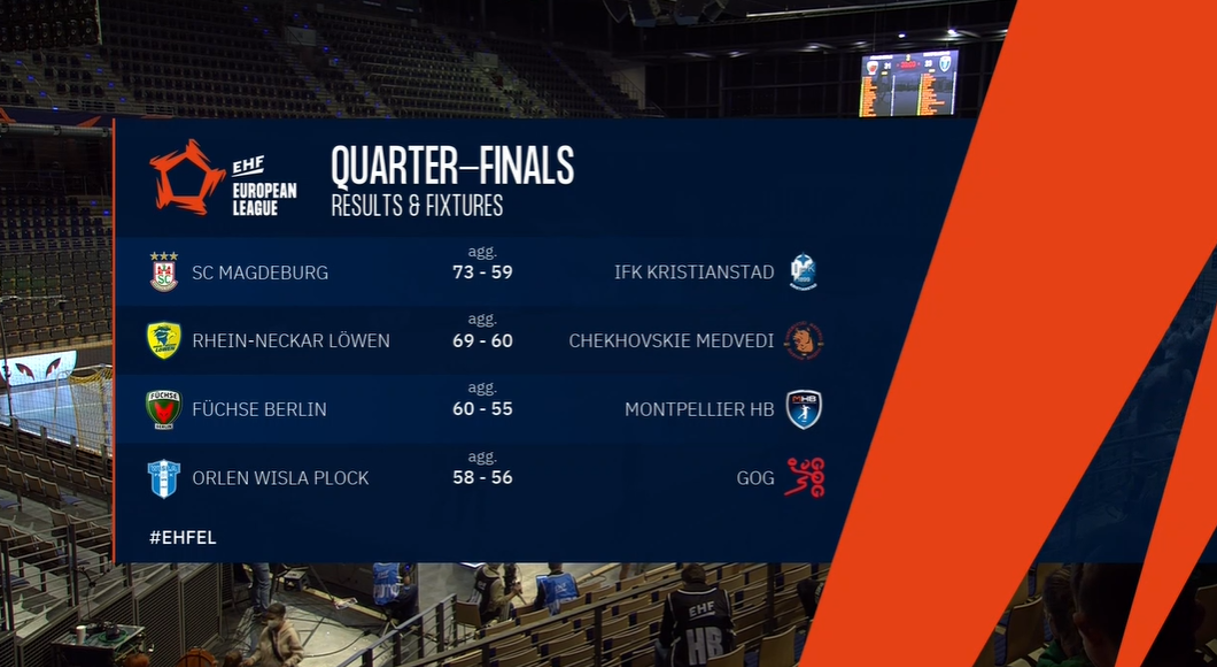 22:14
Pure drama and chaos at the end of Plock vs GOG, Mihic had the ball with Plock being one goal up he drags a foul and a seven meter out of the GOG defence, Mindegia steps up to take it and misses, we go down the other end with just 30 seconds left. Old head Olsen looked very relaxed as the clock ran down, it turns out too relaxed as he was in two minds about what to do and set up this terrible in-flight goal, the pass goes nowhere and Plock net into an empty goal and the buzzer sounds, love it! Pure nerves and congrats to Plock for getting the win and a place in the EHF FINALS!
22:07
Montpellier have really felt the pressure and have been destroyed be 7-meters. Berlin are running away with it. As it stands it looks like we have three German sides and Plock from Poland at this season's EHF FINALS.
And one man who knows when to show up (below)...
22:03
And look at this, Plock are on fire! This GOG side that looked at cool as a cucumber for the whole two legs suddenly are looking nervous and a double save Adam Morawski (11 saves) has the Plock bench on their feet. The score is Plock 27:22 GOG; Plock +2 overall.
21:49
Berlin led by the Hans "his majesty" Lindberg with nine goals from nine shots so far, have pulled away once again. The hosts find themselves 23:17 up after a flurry of goals from Holm and Lindberg.  
21:44
Plock pulled it briefly level on agg. 19:16, but a 2-minute suspension to Plock's Leon Susnja, undid all the good work and GOG were able to find the net though Gidsel, Bergendahl and Andersen and the Danish side pull it back to within one (20:19) and plus 2 overall. 
HALF-TIME 
Füchse Berlin 16:13 Montpellier
Summary: Two very evenly match sides overall. It might come down to something as simple as who can hold their nerve within the last 10 minutes, as the lead had been changing hands like a hot potato (4 times). 
GOG 13:13 Orlen Wisla Plock 
Summary: With their plus three goals from the first leg, GOG took the lead at 5:4 and haven't lost it since. Krajewski is 3/3 for the Polish side while Olsen is 3/6 for GOG. The Danish side don't seem to be feeling any pressure just yet, let's see if Plock can turn up the heat in the second.
21:16
A break through on a fast break from Duarte followed by a gap found by Richardson and Montpellier are back up on agg. As it stands it's Füchse 15:13 Montpellier.
21:08
Oh no what is happening here! Have Montpellier zoned out? Two turnovers gifted Berlin two very easy goals and suddenly the Foxes are 12:8 up, you can't help but feel this won't be the last time the lead changes hand in this tie, you can feel the nerves radiating from the Germany capital. 
21:05
Time-out Montpellier! And just like that we are back level on agg. once again. A fast break goal from Tim Mattes forced the French to re-group. 
20:52
We have two games on our hands in both locations. Hans Lindberg netted his first to briefly bring the Foxes level on agg. (4:1). However, Yanis Lenne killed that advantage. And two quick goals from Descat and again Lenne brought it back to 4:4 and timeout called by Füchse! 

GOG and Plock are stuck 5:5, with GOG being three ahead from the tie in Gudme last week. 
20:42
The action goes on in just under 5 minutes over on EHFTV with our two next quarter-finals: 

20:45 CEST
Füchse Berlin vs Montpellier HB 
Orlen Wisla Plock vs GOG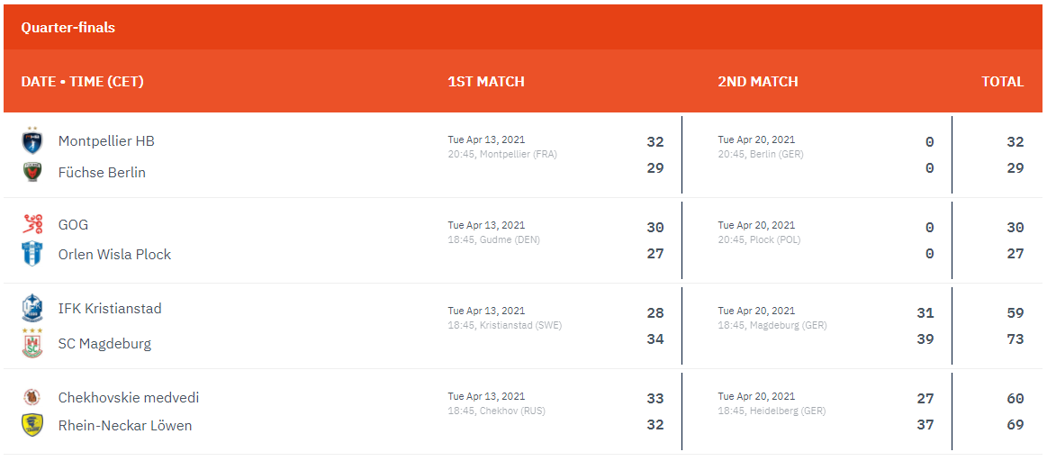 RESULTS
Rhein-Neckar Löwen 37:27 Chekhovskie medvedi (69:60 agg.)
Summary: It was the Andy Schmid show in attack and welcome to the Gislason lair in defense. The hosts never let up and really outclassed Chekhovskie medvedi in all areas of the court. Congrats to RNL for now stamping them name on a spot at the EHF FINALS 2020/21 in their home arena - the SAP Arena.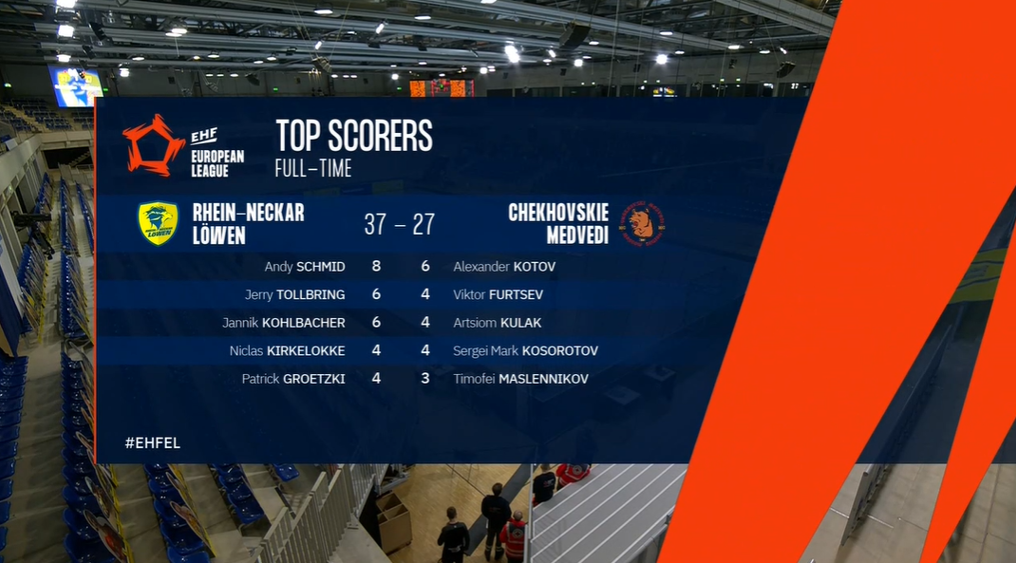 SC Magdeburg 39:31 IFK Kristianstad (73:59 agg.)
Summary: Magnussen is truly SCM's in-form player at the moment, with his nine goals tonight the hosts looked head and shoulders above IFK, who seemed to have really fallen somewhat back from the level they reached in years past. Along with RNL, SCM have now stamped their name on a ticket to Mannheim on 22/23 of May.
19:51
Young 18-year-old David Späth is getting some court time in between the sticks for the hosts and has pulled of some great saves, he is 3/5 and one of them being a super peno save. 
19:39
Any Russian fans hoping for a massive opening few minutes from Chekhovskie medvedi will be sorely disappointed, Ymir Gislason has different ideas in the RNL centre block; he is taking no prisoners and really putting in some massive hits.
19:20
HALF-TIME
Rhein-Neckar Löwen 19:8 Chekhovskie medvedi
Summary: Seems to be lessons learned from leg one and the Lions are fired up. Chekhovskie medvedi look out of ideas in attack. 
SC Magdeburg 23:12 IFK Kristianstad
Summary: SCM want to leave no doubt about their ticket to Mannheim. They now lead by 17 goals on agg. Magnussen with six and Mertens with 5 are SCM's sharp shooters.
19:16
The German sides are out to make statements this evening, two hammerings in the first half. With SC Magdeburg leading 23:11 and Rhein-Neckar Löwen 17:8 up. The lions really showing their extra gears!
19:12
This is already looking like mission impossible for Chekhovskie medvedi, they don't have an answer for Andy Schmid, he is just carving open the Russian side's defense. The Swiss CB is 4/6 joint top scorer along with Jerry Tollbring on the same stats. 
19:05
SC Magdeburg are still in the zone from the first leg, they lead 15:7 after 20 minutes. Just like last week Omar Ingi Magnussen is letting them fly, he is 6/7...
18:57
Excellent start by RNL. Their defense looks rock solid and Palicka (5/8) in goal is as sharp as ever. They lead 6:2 after 11 minutes. 
18:34
Bit of extra pressure on the Lions from Mannheim tonight has they need get past their Russian counterparts to book at spot at their home EHF FINALS 2020/21 in the SAP Arena. 

18:25
Look how much it means to the Füchse fans, they cheer the players going into the Max-Schmeling-Halle for their tie against Montpellier (20:45 CEST); they are down by three, but the Foxes have only ever lost one home game against a French side in their whole European Cup history....
18:23
You can expect fireworks over on EHFTV tonight as all side battle for those four spots in the inaugural EHF FINALS Men 2020/21, always something special about being at the first one!
18:04
We are just under 40 minutes away from our first two matches
18:45 (CEST)
SC Magdeburg vs IFK Kristianstad
Rhein-Neckar Löwen vs Chekhovskie medvedi

We will mainly focus on Rhein-Neckar Löwen vs Chekhovskie medvedi with the Russian outfit boasting a one-goal advantage. However, we will keep an eye on SC Magdeburg vs IFK Kristianstad, should the Swedish side have a comeback up their sleeve. 

17:00
So how can Montpellier extinguish the Füchse fire tonight?
A three-goal buffer to start with is nice, but far from decisive, as Montpellier captain Valentin Porte and head coach Patrice Canayer are well aware, according to EHF journalist Kevin Domas:
16:00
Also starting at 20:45 CEST is the game between two teams that both lifted an European trophy three years ago: Füchse and Montpellier, who won the EHF Cup and the Champions League, respectively, in 2017/18.
Montpellier carved out a three-goal advantage in the last 12 minutes of the first leg last week, when the French side went from 23:23 to 32:29. Füchse's motto tonight: Don't stop when it hurts. Stop when you're ready. Looks like they want to set the Max-Schmeling-Halle in Berlin on fire:

15:00
The two matches beginning at 20:45 CEST tonight have a similar starting point: the hosts trying to recover from a three-goal defeat in the first leg.
First of all, Plock went down 30:27 to GOG in Denmark. Making up that difference against the team boasting the competition's top scorer - Emil Jakobsen with 107 goals - is possible: Plock won three of their six home matches this season by more than three goals (against Fivers, Metalurg, and Leon). However, they have lost their last two games in the ORLEN Arena (against Chekhov and, in the Last 16, Sporting).
Plock are confident and have asked their fans to send videos of them cheering at home:
14:30
The other match that throws off at 18:45 CEST also takes place in Germany - but this time with the hosts trying to make up a deficit from the first leg: Löwen lost to Chekhov 33:32 last week.
Things could have been worse for Löwen, who trailed by four goals (33:29) in the closing minutes in Russia. But they will have to step it up to qualify for the EHF FINALS Men in their own arena on 22/23 May.
For head coach Martin Schwalb, the European League is likely his last opportunity to leave Löwen (and re-join Hamburg) after the season with another title, as EHF journalist Björn Pazen writes:

14:00
The quarter-final with the biggest difference after the first leg is Magdeburg vs Kristianstad, as the German side built a six-goal buffer in Sweden last week. Can Kristianstad hit back tonight?
Kristianstad lost both matches against another German opponent, Füchse Berlin, in the group phase earlier this European League season and they are struggling in the play-offs of the Swedish domestic league. Still, stranger things have happened in handball...
13:40
Four matches, four tickets to the inaugural EHF FINALS men 2021: this promises to be an exciting night of handball!
Get up-to-date on all four matches with our preview:
12:36
At stake tonight is a place at the EHF FINALS Men, which will be played on 22 and 23 May in the SAP Arena in Mannheim.
The first legs of the quarter-finals saw the FINALS' hosting club, Rhein-Neckar Löwen, losing 33:32 to Russian side Chekhovskie medvedi. The hosting agreement for the EHF FINALS Men is valid irrespective of Rhein-Neckar Löwen's qualification.
In the other three first leg matches, Montpellier won 32:29, GOG won 30:27 and SC Magdeburg won 34:28.
12:30
Good afternoon everyone and welcome to a huge day in the European League Men as we bring the quarter-finals to a close.
The four second leg matches are nicely spread across the two timeslots, here's your schedule.
18:45 CEST
SC Magdeburg vs IFK Kristianstad
Rhein-Neckar Löwen vs Chekhovskie medvedi
20:45 CEST
Füchse Berlin vs Montpellier HB
Orlen Wisla Plock vs GOG