EHF Champions League
Summary: Big home victories and shock away wins headline round 2
The EHF Champions League Men 2020/21 is unfolding with drama (and goals) galore. In round 2, we saw records broken in big home wins, upsets from away sides and potential record-breaking move closer. 
12:25
As we say goodbye to round 2, take a look at what lies ahead next week, with another two exciting days of matches.
See all the standings so far here. 
GROUP A

GROUP B

11:55
Speaking of what stood out in round 2, we also have some thoughts...Kevin Domas takes you through our five top talking points of the round this morning. 
One focuses on Mathieu Grebille and Ferran Sole's special activity for France's National Air Quality Day. Check in out below! 
10:47
If you've been following our live blog, you know we love to hear what stood out for you each game day.
On Wednesday night, you voted Flensburg as clear and away the most impressive side from amongst the match winners, with 64 per cent of the vote.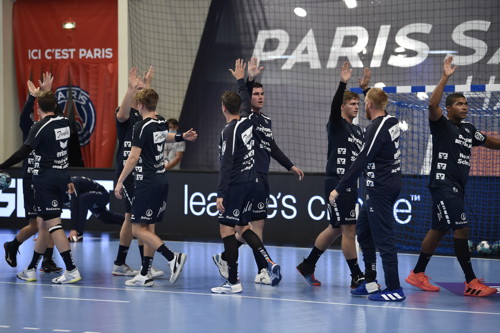 Our poll for Thursday night is still open, so have your say below! We'll lock this one up right before the DELO EHF Champions League matches begin on Saturday at 16:00 CEST. 
FRIDAY 25 SEPTEMBER
9:23
Courtney Gahan with you this morning to wrap up the round of EHF Champions League Men action. 
Let's take a look at what a couple of the teams have to say this morning! Nantes are obviously still pretty happy with their result last night. 
Zagreb are focusing on the positives, sharing a highlight from their young Serbian keeper Todor Jandric. 
THURSDAY 24 SEPTEMBER
23:03
Thanks for joining us again this evening! We are going to leave you for now with this lovely gallery of pictures from the three games tonight.
22:31
Two enjoyable nights, seven exciting matches, one nice graphic: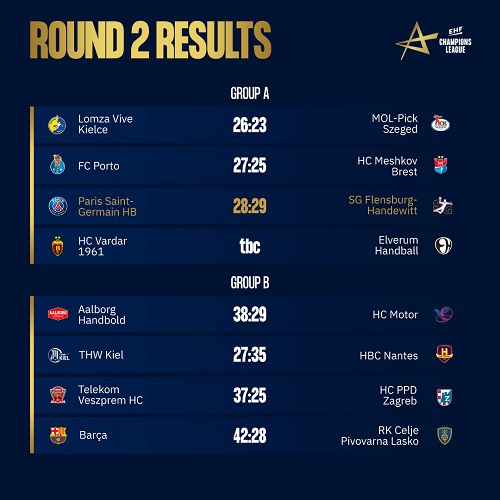 22:29
"One would think that Veszprém's 37 goals against Zagreb or Nantes' 35 goals at Kiel would already be a huge number today, but we are left even more impressed by Barça."
Read Björn Pazen's match review of Barça vs Celje here on eurohandball.com.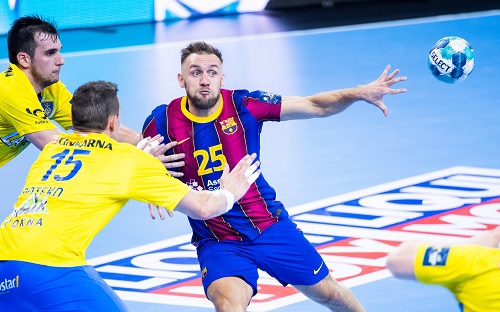 22:12
Barça win both halves 21:14 for a thumping 42:28 victory over Celje in our last match of the night.
The Spanish champions are the first team in the current EHF Champions League Men season to pass the 40-goal mark in a match. However, they still remained four goals shy of their club record from 2009, when they beat KIF Kolding 46:36.
22:03
"Beating Nicosia (in 1993) was the first EHF Champions League victory for Veszprém and on Thursday night, by beating PPD Zagreb 37:25, the team from lake Balaton became the second EHF Champions League side to have 200 victories."
Read this Match Day Extra story by Björn Pazen, who dived into the history of Veszprém and found numerous facts and figures - but no EHF Champions League title so far - from the Hungarian powerhouse.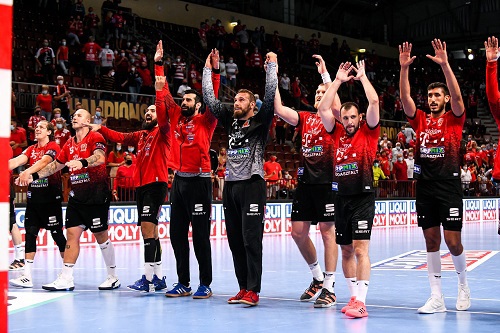 21:57
With today's last match, in Barcelona, slowly approaching the end and the home team leading by more than 10, it is time to present you with our poll:
21:42
Splendid Slovenians! Watch this steal by Jure Dolenec and finish by Blaz Janc for Barça - against Slovenian side Celje:
21:21
Barça are up 21:14 at the break. Is there a way back for Celje into this match, or will it just be damage control for the Slovenian guests in the second half?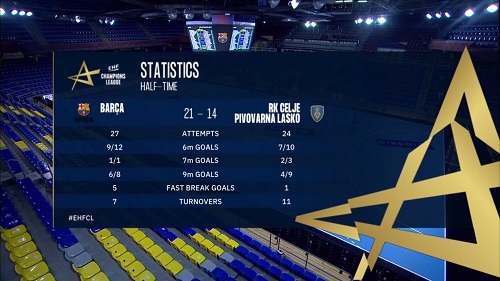 21:15
After that early 6:2 lead for Barça over Celje, the difference has remained four (17:13), with five minutes left in the first half.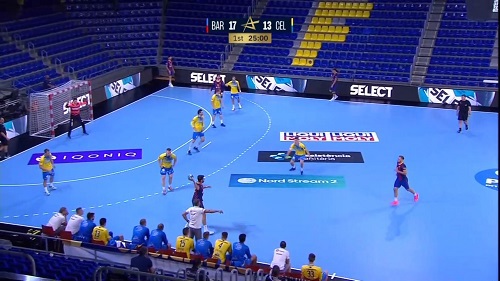 21:07
"For the first official THW Kiel vs HBC Nantes clash, the winner was an unexpected one and the result, clear," writes Björn Pazen in his match review here on eurohandball.com.
21:01
With their spirited 100th European match, Nantes left Kiel empty-handed tonight. And the German champions' coach, Filip Jicha, admitted the 35:27 defeat hurt.
"Today we really got a punch right into our face," Jicha said. "Nothing worked really well, it is hard to find the words. This was really a tough match, it really hurts."
20:52
Wow, Barça not messing around against Celje, building a 6:2 lead in less than six minutes.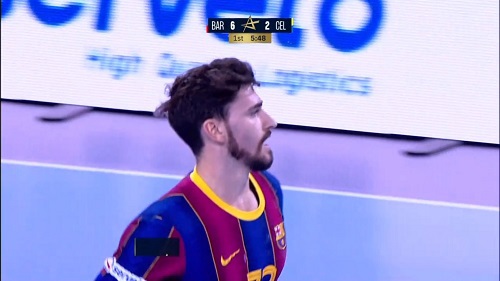 20:46
"Until the 21st minute (13:10 deficit for Zagreb), the guests were quite close, before Veszprém forged ahead..."
Read how Veszprém eased past Zagreb tonight in this match review by EHF journalist Björn Pazen.
20:33
Meanwhile in Spain, Barça and Celje are getting ready for the last match of today. You have a few minutes to get yourself a refreshment; throw-off in the Palau Blaugrana is at 20:45 CEST.
20:29
Needless to say that Nantes are over the moon with this result...
20:21
Well done, Nantes! They make their 100th European match an even more memorable one, upsetting Kiel 35:27 for their first ever win on a German court.
20:15
Result in Hungary: 37:25! Veszprém have wrapped up a 12-goal win over Zagreb to start the season with the maximum four points from two games.
And... this was Veszprém's 200th win in EHF Champions League history. Congrats!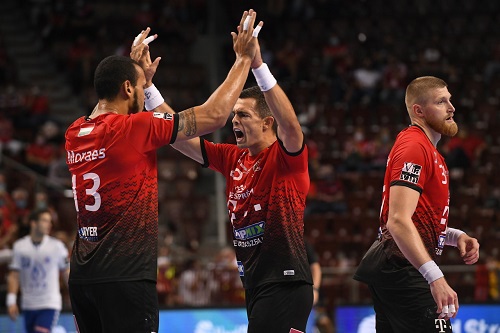 20:11
The difference keeps growing in Kiel, with Nantes leading by seven with seven minutes left, 30:23.
C'est incroyable!
19:59
What a last quarter is awaiting us in Kiel! Nantes are leading by four in minute 45...
... and EHF journalist Björn Pazen just tells me that Nantes have never won a European away game in Germany yet, with two draws in the EHF Champions League as well as three defeats and one draw in the EHF Cup.
Well, there is a first for everything - even in your 100th European match!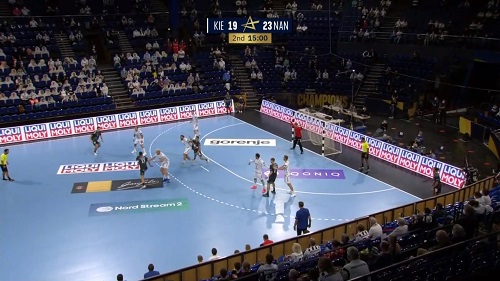 19:53
Veszprém continue their domination in the game against Zagreb, reaching a 10-goal advantage, at 30:20, halfway through the second half.
19:38
Nantes might be playing their 100th European match tonight, but none of the previous 99 was against Kiel.
Can they hold on to their three-goal lead in the second half? 
19:29
"It is the expected hot fight ... Keep on fighting," Kiel say about trailing Nantes by three goals at the break.
19:24
It is half-time in our two early evening matches.
Veszprém have never lost at home to Zagreb - and it does not look like this is going to change tonight, with the hosts comfortably leading 18:12.
However, Kiel are struggling with Nantes in the other game, trailing by three (15:12) going into the dressing rooms.
By the way, have you seen Kiel's audience? A mixture of real fans and cardboard cut-outs!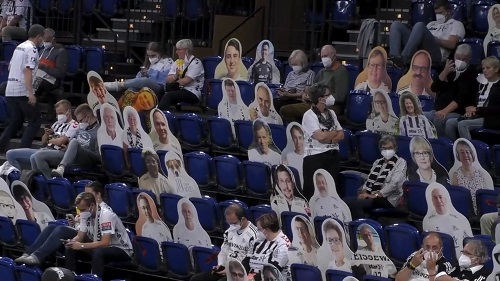 19:13
Exciting game in Kiel where the hosts are playing catch-up with Nantes. The French side suddenly stormed into a 10:6 lead but Filip Jicha's team have meanwhile reduced the deficit to just one thanks to a 3:0 run.
19:05
Igor Vori taking his first timeout as Zagreb are trailing Veszprém by four goals (12:8) in the 17th minute. Time to make some adjustments!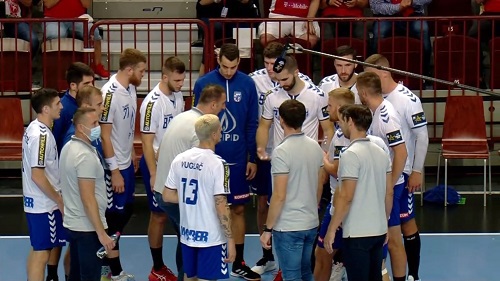 18:57
After the opening 10 minutes, Kiel and Nantes are still perfectly balanced at 5:5. In the other game, Veszprém have opened a two-goal gap against Zagreb, 9:7.
18:51
You can't decide between Veszprém vs Zagreb or Kiel vs Nantes? Or you don't want to switch from one screen to another all the time?
Well, you don't have to!
On EHFTV, you can watch both matches next to each other on one screen.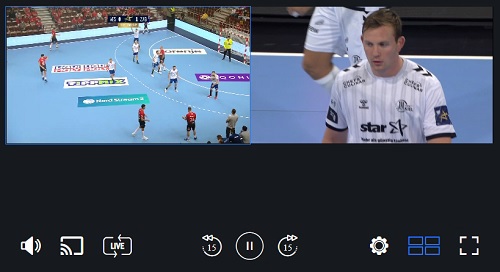 18:40
Handball = fun.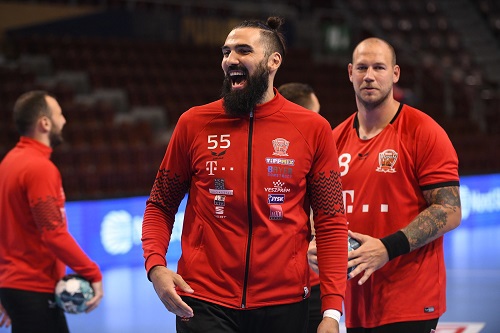 Enjoy the matches, throw-off in five minutes, LIVE on EHFTV!
18:23
So we are starting with Veszprém vs Zagreb and Kiel vs Nantes at 18:45 CEST - and we might see a milestone hit in both matches:
- if Veszprém win, it would be the Hungarian powerhouse's 200th victory (from 294 matches) in EHF Champions League history;
- and there will be a milestone for sure in the other match, as Nantes are playing their 100th game in a European club competition; 54 of them in the EHF Champions League.
18:15
Only 30 minutes now until today's action in the EHF Champions League Men gets underway in Germany and Hungary, while we have a trip to Spain coming up later tonight.
Here is tonight's schedule for you:
16:55
We are now inside the last two hours before tonight's matches throw off! 
After being upset on their home courts last week, can Zagreb, Nantes and Celje turn it around away? It looks like a tough task for all three sides, coming up against Veszprém, Kiel and Barça, respectively. 
Tonight's home sides on the other hand, have the chance to add their second victories and climb to four points on the table. 
16:13
The one and only time Celje won at Palau Blaugrana, many of the players that will take part in tonight's clash with Barça were not even born. That was back in 1997.  
This tie has also been a Champions League semi-final four times, all won by Barça. 
15:50
Did you know that Kiel coach Filip Jicha and Nantes coach Alberto Entrerrios were both on court last time the German side won the Champions League?
Jicha was part of Kiel's 2012 squad, while Entrerrios played for Atletico Madrid. Kiel won the final 26:21. 
Brush up on this and other facts for the upcoming matches in the round preview.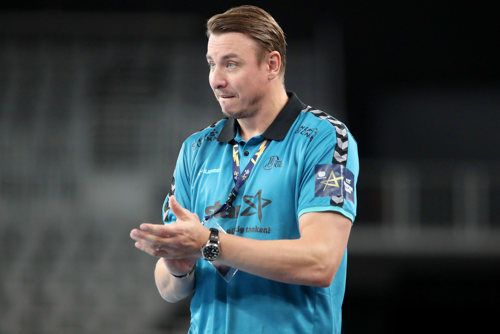 15:06
If you missed last night's Match of the Week between PSG and Flensburg, you missed an unforgettable game. But don't worry, we've got you covered. 
14:35
Tonight's clash between Barça and Celje will be a special one for the two new Slovenian imports to the Catalan side, Blaz Janc and Domen Makuc. Both were formed at Celje, which we ranked as the best talent mill in Europe earlier in the summer. 
Janc will also play against his 17-year-old brother Mitja, who forms part of the Celje squad.
Hear what Blaz Janc had to say about the upcoming clash below.  
12:50
Can we read a lot into head-to-head stats? If so, then Zagreb are facing one hell of a task in Veszprém tonight. Out of their 12 duels with the Hungarian powerhouse since 1995, Zagreb have won just three - but none in the past 20 (!) years and none away from home:

However, handball certainly is not always easily predictable. Ask Flensburg, which had never won in Paris before beating PSG in the Match of the Week yesterday. The surprise 29:28 win for the German side inspired EHF journalist Kevin Domas to this never-lose-hope piece.
Can it also inspire Zagreb tonight?
Toutes nos félicitations!
Their visit to Kiel tonight is a special one for HBC Nantes, as this will be the 100th European game in the French club's rich history.
In their fourth season in the EHF Champions League, tonight's match is their 54th in the continent's top-level competition. The apparent highlight was getting to that all-French final against Montpellier HB in 2018.
But before 2018, Nantes had already left their mark in Europe, getting to the final of the EHF Cup twice, in 2013 and 2016.
Nantes are celebrating their milestone with this must-see video:
11:21
It is all about group B tonight. Three teams that had comfortable away wins last week will play their first home match of the new season: Kiel, Veszprém and Barça.
Just like fellow German side Flensburg, which downed PSG in Match of the Week, Kiel are facing French opposition in round 2, as they host Nantes in the Wunderino-Arena at 18:45 CEST.
"Matchday! Finally at home!", say Kiel, which aim to mirror Flensburg's achievement in group A - starting the season with two wins from two matches.
10:52
Before we turn our attention to tonight's matches, let me remind you that you can still take part in our poll, where we asked you which of the four winning teams impressed you the most on Wednesday.
10:00
Good morning! We are continuing our coverage of round 2 of the EHF Champions League Men 2020/21. The following three ingredients will make for a tasty diner tonight: Veszprém vs Zagreb, Kiel vs Nantes (both at 18:45 CEST), and Barça vs Celje (20:45 CEST).
But as this is the day after the night before, let's first look back at what happened on Wednesday. Talk of the town was obviously Flensburg's win in Paris, with a brilliant Benjamin Buric save in the closing seconds, in our high-profile Match of the Week.
The 29:28 was the German side's first away win against PSG, having unsuccessfully tried to get one each season since 2015/16... No wonder Flensburg are calling their victory "jetzt schon unvergesslich!" ("already unforgettable!") this morning.
23:53
That brings us to the end of our first day of round 2 coverage in the EHF Champions League Men! We return tomorrow with plenty more action. 
Here's your Thursday line-up:
18:45 CEST Veszprém vs Zagreb 
18:45 CEST Kiel vs Nantes
20:45 CEST Barça vs Celje
Brush up on these clashes with our round preview. 
23:46
Tonight, Flensburg took a victory over PSG that will not soon be forgotten. In a special feature, we look at how their persistence paid off, after the German side trailed through the first 45 minutes – not to mention fighting for years to take their first win in Paris. 
Read it here.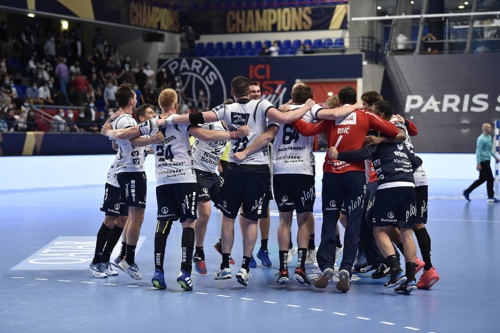 23:37
For Porto, it was the first win of the season. For Meshkov Brest, the first loss after a strong opener last week. Read how Porto secured their first two points here.
23:18
He's been critical for Flensburg's success so many times before, and tonight Hampus Wanne was the deserved winner of the Player of the Match award, presented by IQONIQ. 
It is the first time Flensburg leave Paris victorious, as the German side had never won in PSG's arena before tonight. Kevin Domas takes you through the historic and thrilling victory here. 
23:05
Take a look back at the great night of round 2 action in our photo highlights! 
And here is THAT moment, when Buric stopped the critical PSG shot in the dying seconds to clinch the MOTW win for Flensburg.
It was quite the opening night for round 2. Records broken, tables turned, big individual games. Now we want to know which team stood out for you. Tell us below!
22:22
What a finish to the MOTW! Helped by a big performance from keeper Benjamin Buric, Flensburg took the lead in the last 15 minutes and secured a one-goal away win, 29:28.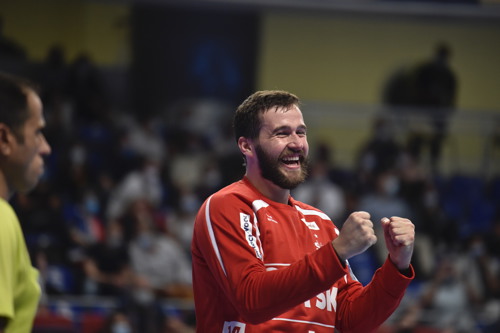 22:17
Porto do not falter this time, and collect their first points of the season with a two-goal win over Brest.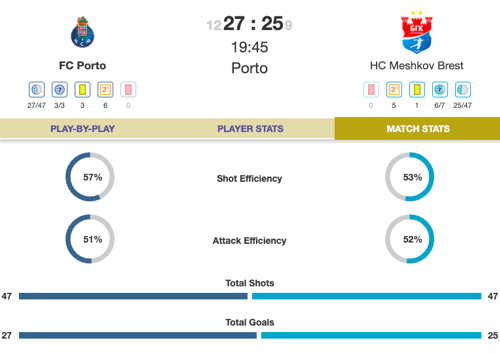 22:15
Down to the wire in the MOTW! Flensburg lead 29:28 inside the last 30 seconds as PSG coach Raul Gonzalez calls a timeout.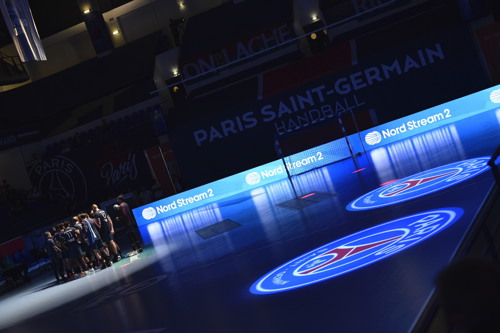 21:59
It's also neck and neck in Portugal. Porto are one goal in front, 19:18, as the last quarter begins.
From earlier in the match, check out this hammer from Miguel Martins. 
21:55
PSG stay in front but Flensburg are not easily shaken. They come within one goal as we enter the last 15 minutes of the MOTW. Head to EHFTV.com now to catch the exciting end!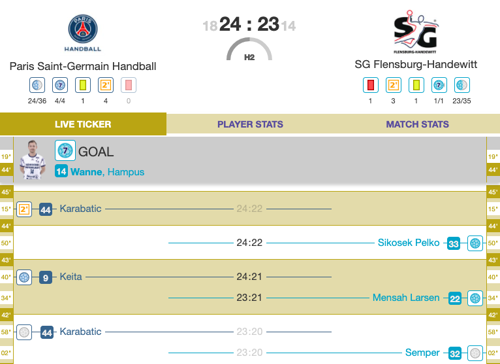 21:30
PSG had a comfortable first half against Flensburg in the Match of the Week, and hold a four-goal advantage at half-time, 18:14.
21:25
Porto have turned the tables and take a three-goal lead, 12:9, into the break against Meshkov Brest. But the story was similar last week before Elverum left Portugal with the points...
21:05
Aalborg are off to a promising season start once again. In 2019/20, they began the season with three straight wins. This season, they have already collected two. Can they continue? 
Journalist Björn Pazen guides you through their encounter vs HC Motor this evening here. 
20:58
Looks like early trouble in Porto! After Elverum snatched the points in Portugal last week, Meshkov Brest are in front 6:2 after 14 minutes. Alexsander Shkurinsky is the main troublemaker, with three goals so far. 
20:57
We're 10 minutes into the Match of the Week and PSG have a three-goal cushion against their German visitors. The French side are not converting as many of their chances, but manage to create more opportunities to take control.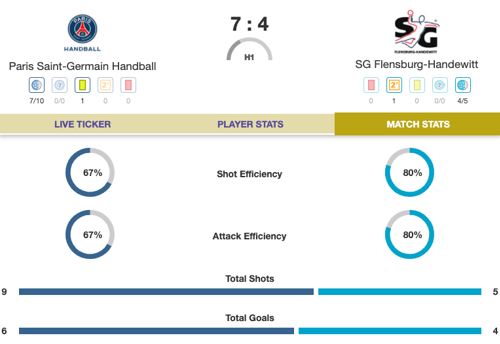 20:40
Kielce displayed impressive form tonight, albeit against a depleted Szeged side. Adrian Costeiu takes you through the ins and outs of the match here.  
20:34
While we wait for the matches to begin, including the game that will mean all 16 teams in the competition have now opened their season, take a look at the head-to-head statistics for the Match of the Week between PSG and Flensburg. 
20:30
15 minutes until throw-off in the second set of tonight's matches, Porto vs Meshkov Brest and PSG vs Flensburg in the Match of the Week! Join us on EHFTV for throw-off at 20:45 CEST.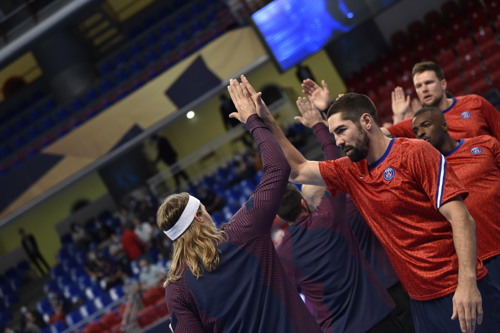 20:21
Aalborg celebrate their second victory of the season as they score their highest number of goals ever in one Champions League match. On the other hand, for Motor, it is the 17th away loss in 22 away games.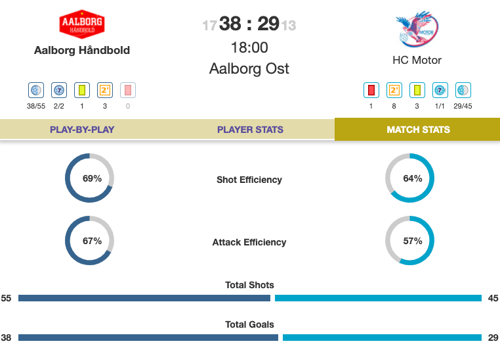 20:19
It's a sweet home victory for Kielce, who welcome Szeged to the 2020/21 season with a three-goal defeat.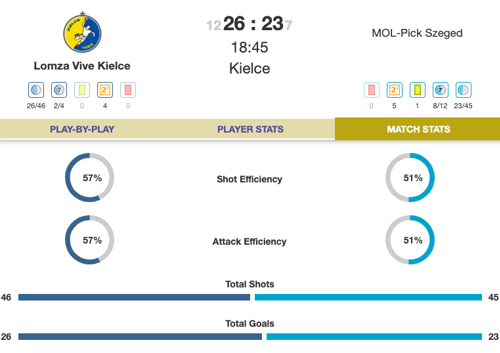 20:13
It's one of those 'how is this happening' Wolff nights. When he's in this mode, there's no getting past him!
The German keeper has stopped a total of four penalties tonight, and here is one of them. 
19:55
The second halves are underway, and both home teams are holding on, but Szeged in particular are inching closer. Kielce still have the advantage at 19:17 as Joan Canellas nets a penalty. 
In Aalborg, the Danish side are in front 28:23 just inside the last quarter. 
19:30
Szeged have recreated some dubious history in the first half vs Kielce. The Hungarian side have scored seven or fewer goals in the first 30 minutes only twice before tonight: 
This fact brought to you by our group A journalist Adrian Costeiu, who will be providing you with a rundown of the game here on eurohandball.com after the full-time whistle! 
19:26
HALF-TIME IN DENMARK
Aalborg have also streaked away from their visitors, taking a 17:13 lead into the break. Here's a rundown of the top scorers of the first half.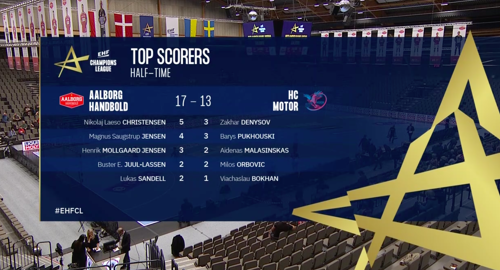 19:21
HALF-TIME IN POLAND
Kielce goalkeeper Andreas Wolff is causing big problems for Szeged, making massive saves on clear chances, including three penalty stops in the first 30 minutes. The home team have little trouble staying in control, 12:7, as we go to the break.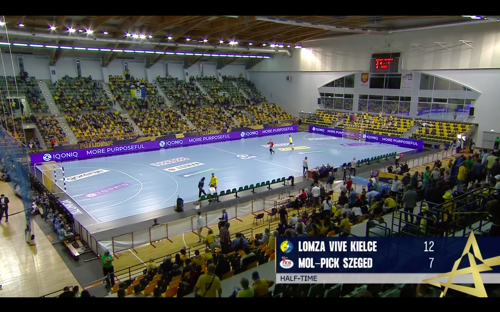 19:09
Over in Denmark, Aalborg have snatched the advantage from Motor to lead 11:7 with just under 10 minutes left in the half. The Danish side are looking at a very valuable two points if they clinch the win here tonight! 
19:01
It may not be full but, after months away from the arenas, it sure sounds great with even the small number of voices creating some atmosphere in Kielce!
The Polish side are keeping their opponents at bay, 6:4 after 14 minutes. Szeged are depleted on the left back, with all their main players in this position out. Will that prove too costly for them to overcome? 
18:51
The first round 2 matches are now underway! Kielce create a 3:1 edge early, while Motor open scoring against Aalborg and lead 2:0.
18:38
While we await the starting whistle in the opening round 2 clashes, Flensburg are making their way to PSG's arena for the Match of the Week.
18:30
Courtney Gahan here to take you through the evening. We are 15 minutes away from throw-off in the first matches of EHF Champions League Men round 2! 
Kielce are hosting Szeged, who are playing their first match of the season after their round 1 game was postponed. Aalborg are looking for their first home win of 2020/21 following an away victory in Celje last week. 
Catch both games live on EHFTV.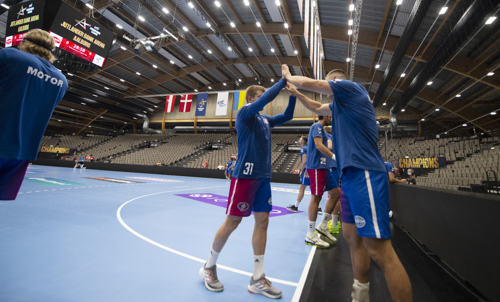 16:52
FC Porto are seeking their first points in group A tonight at 20:45 CEST, and the Portuguese hosts will need many "high flying moves" to overcome HC Meshkov Brest. The Belarusian side started their campaign with a convincing home win over 2019 champions HC Vardar 1961 last week.
15:32
Aalborg showed resilience in Slovenia last week, overcoming Celje 31:29 in the end. For Danish coach Stefan Madsen, tonight's home game against Motor at 18:45 CEST is "the next step in the pursuit of our dream."
14:07
"Grand retour," PSG say about the club's return to EHF Champions League action after more than six months. Their season-opener is the Match of the Week against Flensburg in Paris tonight at 20:45 CEST.
Judged by Luka Karabatic's expression, that means serious business!
12:41
Elsewhere this evening, Aalborg will be aiming to make it two wins on the trot at home to a Motor Zaporozhe side which largely impressed in their defeat to Barcelona.
Kielce vs Szeged promises to be a cracking clash as both go on the hunt for their first points of the season and Porto will hope to bounce back from their shock defeat to Elverum with another home match, this time against the much-improved Meshkov Brest.
11:57
It is a quick trip in and out of Paris for Flensburg today as they and all clubs do their best to remain safe and free of COVID-19 while competing. It has become a regular trip over the years as they have met in each of the last five seasons since 2015/16. In that time, Flensburg only won two of ten matches, both on home court, a record they hope to tear apart tonight.
11:16
Did you know that we're on course to hit the 200,000th goal in the history of the EHF Champions League Men soon?
Or Barça are now 16 wins short of their 250th victory - nobody else has even reached 200 yet?
How about Swedish left wing Jonas Källman playing his 17th EHF Champions League season, aiming for his fourth trophy?
Learn more about these milestones and plenty more right here.
10:28
It was so good to have Europe's top men's clubs back in action last week and although there was some ring rust on show, we were treated to some exciting drama. This will whet your appetite for more of the same over the next two days.
09:45
Tonight will see PSG and Szeged compete in the competition for the first time this season after their game last week was postponed. Their opponents, Flensburg and Kielce, were engaged in a right battle last week and the highlights are well worth a watch.
09:06
Happy Wednesday, EHF Champions League fans. Round 2 of the group phase begins this evening with four matches coming your way from Denmark, Poland, Portugal and Match of the Week in France!