EHF Champions League
Summary: Meshkov win vs PSG a highlight of round 3
Round 3 of the EHF Champions League Men saw some incredible results, with perhaps the standout being Meshkov Brest's win over Paris Saint-Germain on the opening day of the round on Wednesday. In the Match of the Week, Barça made it through their toughest game yet to beat Nantes. 
14:00
So Round 3 is done and dusted. Let's look back with Kevin Domas to some talking points: the five things that we will best remember from this week's games.
We are happy to welcome you back for round 4 on Wednesday 14 and Thursday 15 October!
11:53

On the opening night of round 3, we asked which team impressed you the most, and on night two, we asked which line player stood out to you in Thursday's clashes. 
The results were clear: Meshkov Brest were far and away the team that impressed you the most when round 3 got underway on Wednesday, with 61.5% of the vote. 
Last night, Barça's Ludovic Fabregas was the star in his position, with 57.1% of the vote. 
FRIDAY
10:39
Good morning and welcome to the morning after! What a round it was. 
Let's look at some social media highlights popping up since the round ended last night. 
Celje, back in their pink jerseys for Breast Cancer Awareness Month, shared some photo highlights of their clash vs Kiel. 
Barça relived the great Player of the Match performance from Aron Palmarsson, who led them to victory versus Nantes in the Match of the Week. 
Speaking of the MOTW, Nantes took the time to congratulate Barça for their win and Palmarsson for his performance. 
THURSDAY
23:57
We finish tonight with a look at why Aron Palmarsson was named Player of the Match in MOTW and what he thought about the game against Nantes tonight. 
Hope you enjoyed all the action from round 3. Keep checking in on the website and social media over the week as we look back at these games and look ahead to round 4 of what is turning out to be a superb EHF Champions League Men season!
23:43
As ever, we've picked out the best bits of the three matches of tonight for our reviews, so if you missed anything check out what happened:
23:30

Don't miss these great photos of the night (and decide whether you prefer Barça or Celje's pink kit).
23:20
There were some outstanding performances by the line players on court tonight - but who impressed you most?
23:15
Xavi Pascual is rightly pleased with his team's efforts in MOTW.
22:53
Barça's Aron Palmarsson had a superb game tonight - he wasn't his side's top scorer, as Dika Mem took that title, but with six goals from seven shots plus four assists he was deservedly named Player of the Match, presented by IQONIQ.
22:31
That win pushes Barça to the top of the group B standings after round 3 with a perfect record and 27 goals in their favour, ahead of Veszprém and Aalborg who have also won three matches but have goal differences of 19 and 12 goals respectively. Kiel move clear of Nantes in fourth after their second win.
In group A, Kielce move into second ahead of Brest thanks to a superior goal difference, with Flensburg the only team to have won all three matches so far.
22:16
It's also full-time in the other matches. Led by a strong performance from Hendrik Pekeler, Kiel eased out to a 35:24 victory over Celje. Meanwhile only three of Kielce's field players failed to score as they dominated Elverum with a 31:22 win.
22:13
Full-time in MOTW and the combination of a fabulous Barça attack and great goalkeeping gives the visitors a 35:27 win against a young Nantes side who never stopped fighting in a serious test.
22:09
Incredible reaction from Valero Rivera to make sure this one goes in. 
22:03
Nantes are just missing too many shots now and their lack of accuracy is starting to tell. It's not helping that Kevin Møller in Barça's goal is stopping almost everything coming his way.
22:00
Less than 15 minutes left in tonight's matches, and Kiel and Kielce both seem to have things wrapped up, both leading 25:19. In MOTW Barça have stretched out to a six-goal lead and Nantes are starting to struggle.
21:55
Celje are still down against Kiel, but you can always rely on players like Josip Sarac for moments of sheer beauty.
21:46
The 18-year-old Lukas De la Breteche has scored his first goal of the game and his second of his debut EHF Champions League season. The young centre back is staying cool under pressure.
21:43
Dragan Pechmalbec got the home team off to a great start to the second half with two goals in quick succession and Emil Nielsen is also having another solid game in goal, but Barça are still ahead by two goals seven minutes in.
21:25
It's also half-time in Celje and Elverum, and tonight seems to be the night for the visitors. Kielce have earned themselves a very comfortable 18:11 lead at the break, with plenty of players getting themselves on the scoreboard. 
Meanwhile, Kiel lead Celje 16:13. Hendrik Pekeler stands out with four goals, backed up by Domagoj Duvnjak and Patrick Wiencek with three each.
21:22
Half-time in the MOTW. A very lively game has emerged in Nantes and despite the hosts sitting three goals down at 15:18 it's far from over. Aron Palmarsson and Dika Mem have both scored three times for Barça, while Rok Ovnicek has netted four goals - from nine attempts - for Nantes.
21:21
Both teams playing "gorgeous attacking handball" says Chris O'Reilly on the MOTW commentary.
21:15

Rok Ovnicek is Nantes' top scorer so far - he had a bit of a lapse in the middle of the half and was taken off, but now he's back on he's firing on all cylinders.
21:06
"We need to give it everything!" says Rock Feliho to his teammates as they break up from a timeout as Nantes trail 7:10. A few moments later Kiril Lazarov nets a penalty and it's 8:10. 
21:02
Halfway through the first half in the other two matches it's pretty close, with Celje and Kiel tied 6:6 and Kielce leading Elverum 6:5.
21:00
Nantes pulled out to a 4:2 lead before a four-goal run by Barça took them ahead - only for two quick goals from Nantes' Sebastian Augustinussen and Valero Rivera to get the hosts level once more. So far neither side have really found a consistent rhythm. 
20:47
All three matches are underway. In MOTW Barça got the better start, although a lovely save by Emil Nielsen prevented Luka Cindric's first shot at goal from giving Barça a two-goal lead and it's now 2:2 after just over three minutes of play.
20:40
Minutes from throw off. Chris O'Reilly is handling commentary for MOTW once again as the teams are introduced - Barça debuting their pink and green away kit for the first time this season.
20:20
Less than 30 minutes until throw off in not only the MOTW between Nantes and Barça but also the round 3 matches between Celje and Kiel, and Elverum and Kielce. Coverage begins soon on EHFTV.com and we will keep you up to date here and on social media too.
17:02
The round 3 MOTW will not only see an exciting clash of titans, but a face off between two of the highest scoring players in the Champions League 2020/21 so far: Barça's Aleix Gomez and Nantes Valero Rivera.
Take a look at their head-to-head stats below! 
16:12
The teams are in their final hours of getting ready for MOTW throw-off. Now the question is, how ready are you?
Test your knowledge of the upcoming MOTW clash between Nantes and Barça below!
15:58
The MOTW promises undeniable thrills, but it's not only about Nantes and Barça tonight.
Both Kielce and Elverum will be on the hunt for their second victory of the season when they meet in Norway. It will be the first clash ever between these two sides! 
In Slovenia, Celje hope to collect their first points when they host THW Kiel, who in turn want to recover from a home loss to Nantes in the previous round and add a second victory to their 2020/21 record. 
Read the preview of all round 3 matches. 
15:28
Tonight's MOTW features two teams that know each other very well, with family members, national teammates and players meeting their former clubs galore. Here's a rundown of that side of the game: 
Nantes coach Alberto Entrerrios played one season for Barça (2001/02); his brother Raul has been playing for Barça since 2010 and is one of the team captains
Alberto Entrerrios won the CL three times as a player with Ciudad Real (2006, 2008, 2009); his brother Raul twice with Barça (2011, 2015). In 2011, the two brothers clashed in the all-Spanish Champions League final
Barça have four French internationals: Cedric Sorhaindo, Ludovic Fabregas, Dika Mem and Timothey N'guessan; Nantes have two Spanish internationals: Adria Figueras and David Balaguer
Nantes' squad includes four former Barça players: David Balaguer, Valero Rivera Junior, Eduardo Gurbindo and Kiril Lazarov
Rivera's father, Valero, steered Barça to five straight Champions League titles between 1996 and 2000
Nantes right back Kiril Lazarov played for Barça from 2013 to 2017 and won his sole Champions League title in 20 seasons with them in 2015
Lazarov (40) and Raul Entrerrios (39) are among the four oldest players in the Champions League this season
the squads of both sides include a Danish goalkeeper: Emil Nielsen for Nantes, Kevin Møller for Barça
Read the special feature on the Entrerrios brothers here. 
14:09
Don't forget to follow the @ehfcl Instagram for exclusive Match of the Week coverage, today brought to you by Dr Handball himself, Marcio Menino. Stay tuned!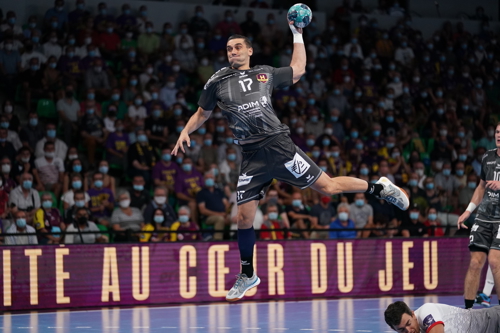 13:33
Courtney Gahan here to take you through the final countdown towards the evening of continued EHF Champions League Men round 3 matches. 
First, let's reflect on the exciting night that was the opening of the round. Tell us who impressed you the most below!
12:15
Speaking of Kevin Domas, he has just been in touch with some team news from tonight's home side. Eduardo Gurbindo will be back after his knee injury, but they will still be without Cavalcanti, Nyokas and Balaguer. This glut of injuries makes Nantes' massive win in Kiel last week even more impressive and it will be quite an achievement to repeat that feat tonight against a Barça side somewhat cruising through the competition so far.
11:50
I'll tell you what could live up to last night and that is tonight's Match of the Week! HBC Nantes vs Barça is a tasty little clash between two teams with recent history on the courts and plenty of shared experiences with four Nantes players previously lining out for the Catalan club and four Frenchman on the Barça squad.
But most interestingly, Barça icon Raul Entrerrios faces his brother and Nantes coach Alberto. Our French reporter Kevin Domas wrote this great piece on the Entrerrios derby.
Thursday 11:00
Good morning and welcome back to our rolling coverage of round 3 in the EHF Champions League.
Thursday has a lot to live up to after last night's antics when we were treated to four back and forth games with one massive surprise. If you missed the fun, do yourself a favour and check out the highlights on EHFTV.
23:17
Don't forget that the live blog will return tomorrow morning to cover the build-up for Thursday's three EHF Champions League matches. If the Match of the Week between HBC Nantes and Barça was not enough, we have THW Kiel looking to bounce back against Celje and Kielce's trip to Norway against Elverum. 
23:03
To conclude the night, read our reviews of the two 20:45 matches: Flensburg's all-conquering attack proved too strong for FC Porto in group A, while Aalborg's superb comeback against Zagreb maintained their excellent start to their campaign in group B.
22:41
It felt like a big night for some outstanding saves in the EHF Champions League Men, and while Flensburg's attack fired in 36 goals, Torbjoern Bergerud's best efforts at the other end did not go unnoticed. 
22:27
In our 20:45 CEST matches, SG Flensburg Handewitt and Aalborg Håndbold both earned their third wins of the EHF Champions League season, albeit by contrasting final margins. Two points is two points, though, and both teams will be thrilled to have made a perfect start to the season after three matches played.
22:21
As is seemingly customary after a Flensburg victory, 'The Winner Takes It All' rang out at the Flens-Arena. Indeed, after tonight's 36:29 win, SG Flensburg-Handewitt have now won all three matches in the EHF Champions League Men this season. 21 goals in the second half is an impressive tally that made the win more comfortable than perhaps was expected at half-time.
22:17
Aalborg nullify Zagreb's attack and clinch a 27:26 win. Whilst Aalborg's good form, both in this season's Champions League and the previous season, means that the result is not surprising, Zagreb had won their last three matches at home against Scandinavian opponents.
22:14
Aalborg are ahead with less than two minutes to go against Zagreb, 27:26. With Zagreb calling a timeout, can the Danish side hold on to claim their third victory from three games this season and leave Zagreb stranded at the foot of group B? 
22:02
The final 10 minutes in Zagreb is set for a thrilling conclusion, as Aalborg have equalised at 23:23 after 49 minutes.
Meanwhile, Hampus Wanne's 7m goal has put Flensburg 26:22 up, leading to Porto calling another timeout. If they are to repeat their win in Germany from last season (over Kiel), it will require a special comeback.
21:58
Just as you could say that Porto were in front, Flensburg's wings have found their stride and goals from Magnus Joendal and Lasse Svan have put them 24:21 up.
21:46
The second half is underway in both 20:45 CEST matches this evening. Porto have taken their first lead (18:17) since they led early in the first half, while Zagreb still hold a three-goal lead, 19:16, against Aalborg.  
21:35
PSG's loss against Meshkov Brest early in the night was disappointing for the French giants. It did, however, contain one notable landmark: Mikkel Hansen scored his 2,000th goal in all competitions for PSG.
21:33
Whilst Matej Asanin's 'double save' in the first half for Zagreb was not as rapid fire as some we see in the EHF Champions League Men, it was certainly impressive and kept his side in contention in the early stages. Zagreb lead Aalborg 15:12 at the break. Could they be on course for their first points of the season? 
21:27 
Well, Flensburg were in control for most of the first half against FC Porto, but a fast break equaliser in the last 10 seconds has the half-time scored locked at 15:15.  
21:17
It is only 13:10 on the scoreboard, but Flensburg's depth in comparison to Porto is obvious after 24 minutes, with nine players already scoring for the 2013/14 EHF Champions League winners in comparison to Porto's four.  
21:11
Meanwhile, after just over 20 minutes between Zagreb and Aalborg, the two sides are all-square at 10:10. There was only one goal between them when they met in Croatia last season, with Zagreb emerging on top. 
21:00
SG Flensburg-Handewitt, chasing their third successive Champions League win in 2020/21, have made the sharper start against Porto, leading 7:4 at the juncture where the Portuguese side called their first timeout of the match. 
20:50
A notable fact from Meshkov Brest's upset win over PSG by Rasmus Boysen, Elverum back and one of handball Twitter's sharpest minds: Meshkov Brest are just the third team to score at least 19 goals in a half twice against PSG since the Parisian club were purchased by new owners in 2012. 
20:40
In just over five minutes, the second set of matches on Wednesday night get underway over on EHFTV.com: SG Flensburg Handewitt face FC Porto and HC PPD Zagreb host Aalborg Handbold. 
20:21
The last time that they met in Belarus in the EHF Champions League Meshkov Brest defeated Paris Saint-Germain by one goal - and they have done it again. In 2018, Meshkov Brest won 29:28 and tonight it was 32:31. 
20:18
In Ukraine, HC Motor's bid for just their second win in seven matches against Telekom Veszprém has fallen short in a high-scoring clash. The Ukrainian side led by a solitary goal at half-time, but the Hungarian champions' stellar attack, led by Petar Nenadic with 10 goals, proved too strong. 
20:04
Meshkov Brest's five-goal half-time lead has been whittled away in the second half by a resurgent Paris Saint-Germain side to just one goal with just over eight minutes remaining, 27:26. The Belarusian side may need more saves like this one from Ivan Pesic if they are to capture the two points.
16:56
Also in group A, Zagreb play host to Aalborg, and on Instagram the Croatian club make no secret how they want the game to finish.
However, it is a duel between two teams who couldn't have had a more different start to their respective 2020/21 campaigns: while Aalborg are yet to drop a point, Zagreb have to bounce back from two straight losses.
16:31
There is something remarkable about the head-to-head stats of Motor against Veszprém. The teams have met on six previous occasions in the EHF Champions League: five times Veszprém took a very clear win: +17, +5, +13, +12 and +10...
... but one time, on 22 February 2014, suddenly Motor ended up winning 26:22!
Can the Ukrainian hosts reproduce something similar tonight (18:45 CEST) in the teams' seventh meeting?

16:02
It does not happen many times that PSG are still on zero points going into round 3 of an EHF Champions League season...
Of course, the French powerhouse played only one game so far - but suffered an unexpected home loss against Flensburg.
So they will be eager to get their first points on the board tonight (18:45 CEST), but the trip to Meshkov Brest is always tricky, and the team around Marko Panic look ready to give PSG a tough ride:
15:16
Following their success in Paris last week, Flensburg are after their third straight win of the season tonight, hosting FC Porto at 20.45 CEST with a limited number of fans allowed into the arena.
According to the German club, Porto are "eine spannende und neue Aufgabe" (an exciting and new challenge) as both teams have not met before in a European cup game.
14:11
In round 3, the top teams in each group face different challenges: While Flensburg have their home match against Porto tonight, Barça will visit last week's surprise team, Nantes, in the Match of the Week on Thursday.
Find out all you need to know before throw-off in the round 3 preview by EHF journalists Kevin Domas and Björn Pazen.
12:30
Good afternoon! The stars return to the court today and tomorrow for round 3 of the EHF Champions League Men season.
We have seven games coming up for you; four of them tonight, nicely divided over the two time slots of 18:45 and 20:45 CEST.
Check the current standings in group A and B, and here we have this week's full schedule for you: