EHF European League
Summary: Full drama and dominance on day one
There will be more handball than ever before as the long road to the Last 16 of the EHF European League Men gets underway.
The group phase of the new second-tier European club competition threw off on Tuesday evening.
The live blog is the place to be for all fans wanting to get up-to-date after Tuesday's games.
the EHF European League group phase started with eight matches 
Kristianstad and Presov suffer their first defeats of the season after their domestic league wins
TUESDAY 20 OCTOBER
We leave you with a poll to pick your performance of the day! Was it Kadetten's last second win, Berlin's second half wonder? Or maybe Nexe who left it late to see off Alingsas; how about Fenix Toulouse and their solid outing verus Metalurg?
Jaron Siewert will be pleased after his Foxes came out of the dressing room like a different side, taking full advantage of the Swedish side's slow start.
With 11 players putting their name on the scoresheet, the side from the German capital showed the depth of their squad, and generally looked a lot more solid than their qualification ties. Milosavljev with eleven saves was once again a key figure for Füchse.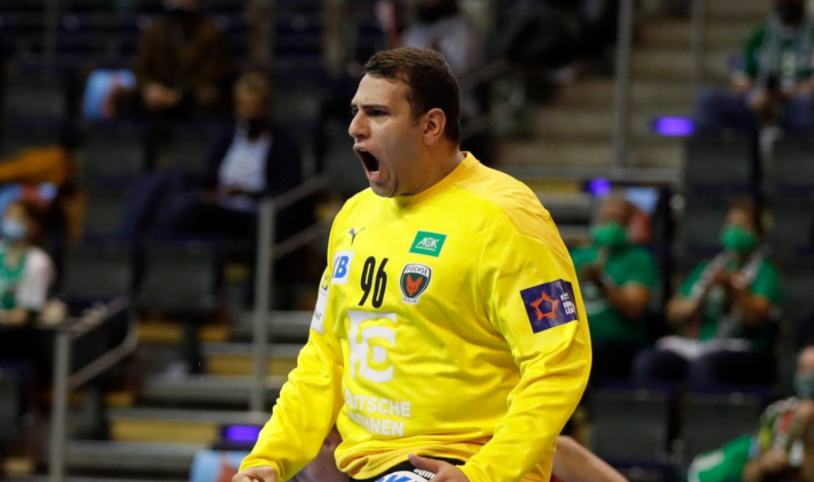 Ljubomir Vranjes (coach IFK Kristianstad): "It was hard for us and we had big problems beating Berlin's defense. They punished every technical fault. We had nearly no chance today. We knew before that it would be difficult but we thought it would go a little bit differently."
Vintage Kavticnik with seven goals helped Nimes put the game beyond reach. The 7-2 run at the beginning of the second half was crucial as was Remi Desbonnet with his 13 saves.
Presov did have issues coming into this tie, they perhaps lack a certain match sharpness which surfaced clearly at the beginning of the second half. However, they will surely improve once they have more regular matches.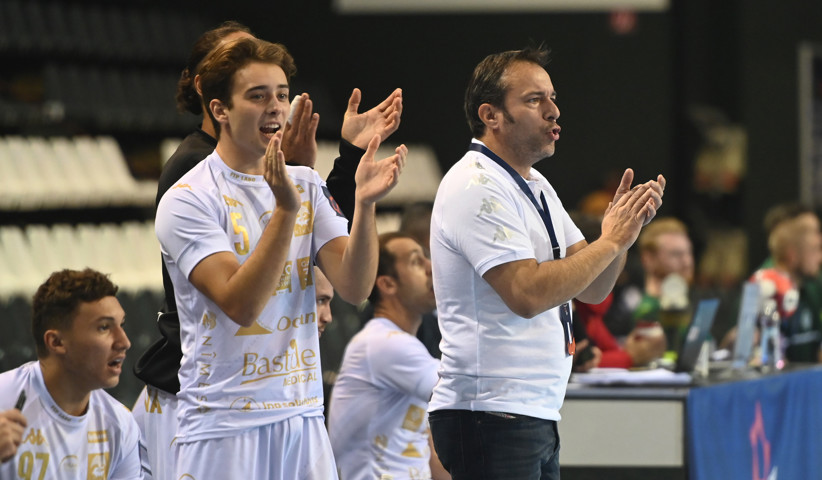 The difference in experience between the two teams was clear to see today as Plock are true veterans of the EHF Champions League while this is new waters for the young Fivers side. The Austrian side will be happy with their first half performance and will have learned a great deal in the deep waters of the second half. 
Xavier Sabate, head coach of Plock: "We knew that Fivers run a lot and run well, so we expect such a first half. It was our first game after a month so we were pretty excited, how the team react for such a long break. I must admit that reaction of our players was fantastic. We needed to build self-confident and I think we did it."
 22:09
Michal Daszek is having another vintage performance for Plock. He is 12/13 at the moment. Proving once again his worth in goals for the Oilers. The Polish side are up by 10 with minutes left...
21:52
The wheels have fallen off Presov and Kristianstad with both sides falling way behind. Vranjes will be fuming with his Kristianstad side, they went 9:0 for the first 11 minutes of the second half and have only netted their first goal of the half (26:13), talk about a meltdown; they are making Milosavljev look like a world beater!
Presov aren't too dissimilar they suffered a 5-1 run at the start of the second only netting four so far. The French side, Nimes are cruising 25:14.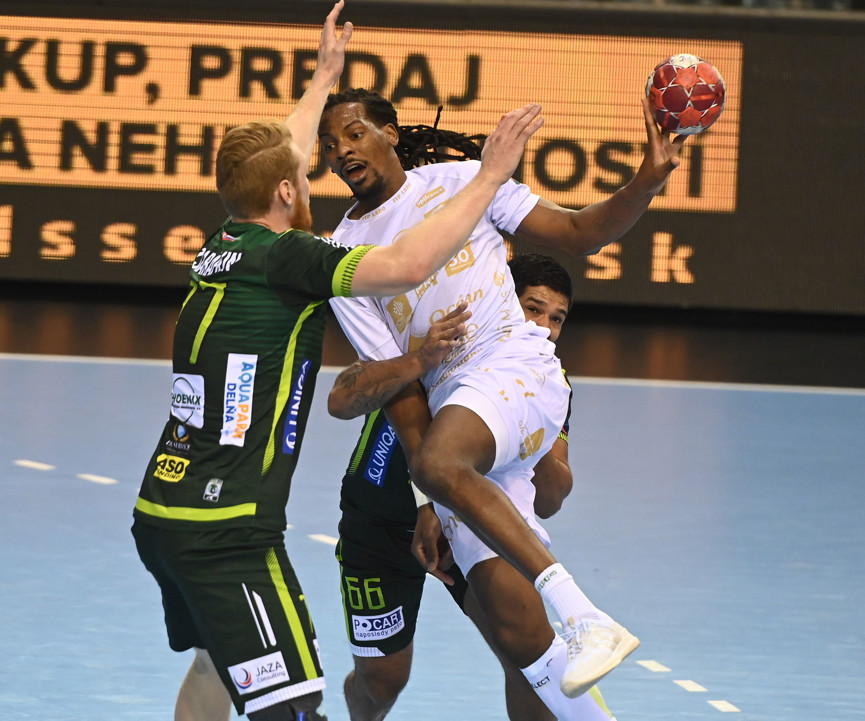 21:45
What a machine Michal Daszek is! He is eight from eight out on the wing as he leads Plock's charge. The Polish side lead 23:19. 
HALF-TIME SCORES
Vujovic with five goals is leading the charge for Berlin as they hold a three-goal lead heading into the second half of their group B tie. Slavko Goluza's Presov are maybe still dusting off some cobwebs as they struggle with a strong looking Nimes defence while Fivers are putting up a good fight in Poland against Plock,who have captain fantastic Michal Daszek to thank for five of their goals.
21:16
In Slovakia, Presov are struggling to breakdown a solid Nimes defence. Kavticnik having a stormer of an opening half with six goals from as many attempts. It stands Presov 9:14 Nimes.
They will need more of this from Chupryna if they can mount a comeback...
21:11
We are 20 minutes into Füchse Berlin vs IFK Kristianstad and the hosts are in control of this tie with a three-goal lead (10:7). Vujovic with three for Berlin and Nyfjäll with three for IFK are the top scorers so far...

What can Vranjes do to rally his troops? Find out HERE.
22:45
And now we head into the final three ties of today! 
TATRAN Presov vs USAM Nimes Gard
Slavko Goluza, coach of Presov: "We have absolute respect for our opponent. They're an experienced team. They come into the game with the rhythm of training and playing matches, which is a difference between us. But regardless of all this, we are fully preparing ourselves and we want a positive result. I don't care about the beauty of the game and handball, I just want to win."
Füchse Berlin vs IFK Kristianstad
Jaron Siewert, head coach of Berlin: "IFK are one of the top teams in Scandinavian handball with a lot of experience in the EHF Champions League. I am expecting a highly dynamic team with a lot of speed in playing and passing. We have to be strong against them but I am positive that we can manage to win our first group phase match."
The French side took the lead in the 5th minute (4:3) through Ben Halima and never looked back despite some good pressure from Metalurg. Top scorer for Toulouse was line player Jakobsen with nine goals from nine shots, not bad at all!
Jakobsen: "We need to find more stability in our game. Our main quality was the defense, we worked harder and we found good solutions in attack."
A comfortable day at the office for the German side! After the score read 4:4 they pulled away for a massive win. Musche was Magdeburg's top scorer with seven goals from as many attempts.
WOW! What a finish in Schaffhausen. It went down to the last throw of the game when Gabor Csaszar stood up to take a peno with no time left. And as cool as anything the Hungarian spins it passed the keeper to take full points, such drama!
Travelling side Sporting will be happy to take full points home with them after a testing and physical 60 minutes. We were all level after 51 minutes (24:24) but goals from Salvador and Veitia Valdez helped see off the Romanian resistance in the final minutes.
We were all square until the 47th minute before the Croatian side turned up the heat and with the help of a Kevic hattrick in the last six minutes to give Nexe the first points of the European League.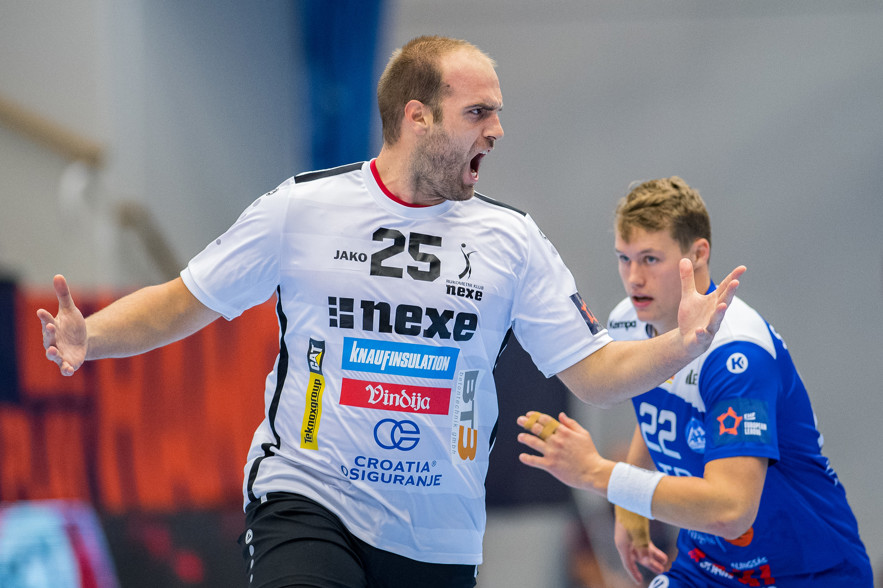 20:05
What a match in Schaffhausen! GOG of Denmark have just opened up a two-goal gap (24:22) thanks to back-to-back goals from Pytlick (6/6), have they finally broken free from Kadetten?

Watch it HERE for more action like this below!
20:00
Top drawer drama in Sweden! With Jaganjac leading the charge for Nexe (five goals) they seem to maybe have the slight upper hand as they have just opened a three-goal lead after a 3-1 run, topped off by Jelinic. 
19:40
Two minutes into the second, Norwegian Henrik Jakobsen (6/6), is finding himself in a lot of space on the line and it having a top game for Fenix Toulouse Handball as the French side keep their three-goal lead over Metalurg.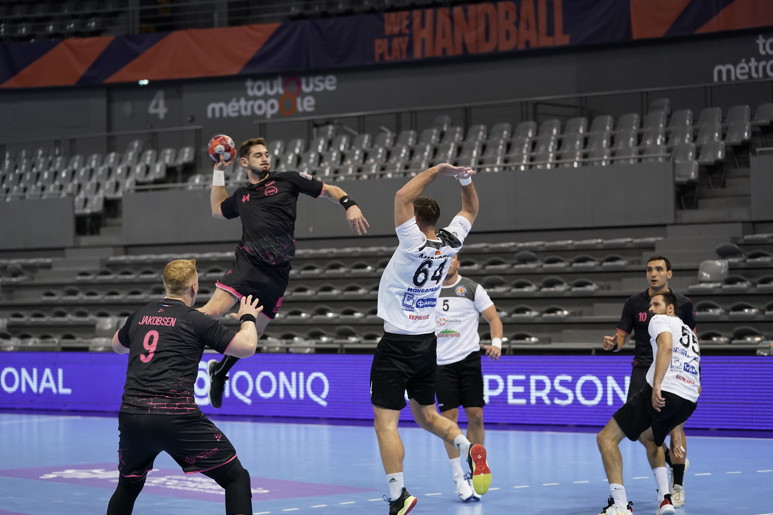 HALF-TIME SCORES 
After the first 30 minutes we have a lot to disect: Magdeburg really making an opening statement here with Matthias Musche scoring five goals from as many chances, as the German side run over their Turkish hosts in the first 30 minutes. 

Sporting edge Dinamo in a very physical first half, Valdez was best for Sporting as he keeps a clean record five from five while Romanian international Ghionea also netted five for the hosts. 

Very little between Kadetten & GOG, Alingas & Nexe while Fenix will be breathing a little easier with their three-goal cushion over Metalurg. 


Join us HERE for the second half!
19:12
In their first-ever tie, Swedish side Alingsas face Nexe and nothing separates them after 26 minutes. It is real run-and-gun with both side trading goals.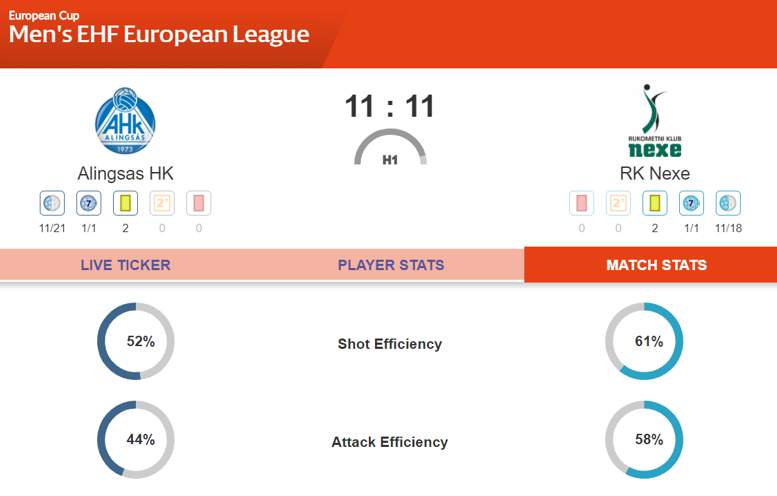 Watch the match HERE to see some more saves like this!
19:05
High tension in Swizerland, with Kadetten and GOG stuck in a deadlock at 5:5, massive penalty save in the 15 minutes from GOG's Hallgrímsson had the Danish side's bench on their feet! 

Watch the tie HERE
19:00
13 minutes into the first half and Magdeburg are off to the best start of all the teams, leading 10:5 over their Turkish hosts Besiktas Aygaz. Winger Matthias Musche is 4/4 in the opening quarter and he is not lacking confidence, check out this cheeky double in-flight goal! 
The German side looking to keep up their good run with the teams also meeting in the EHF Cup 2012/13 season, with Magdeburg winning both matches.
18:45

We are ready for off! Join us on EHFTV now to catch the first European League action of the season!
18:34
We are already up and running over on EHFTV for Besiktas Aygaz vs SC Magdeburg! And good news for handball fans from Germany: the game can be streamed on EHFTV!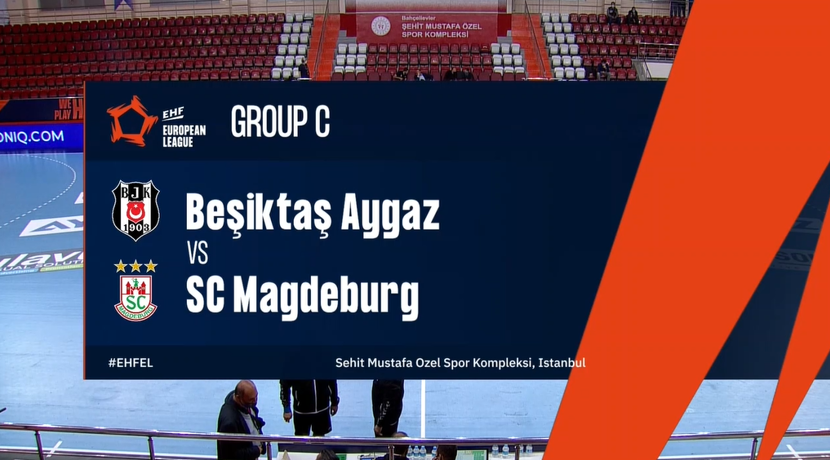 18:20
Adalsteinn Eyjolfsson, head coach of Kadetten Schaffhausen is pumped for his side's first outing against GOG: "We are very happy to start our first game in the EHF European League. We worked very hard and we are willing to put everything into this match. With GOG from Denmark we will welcome a strong team with a long tradition in handball. Danish teams are well known for fast and a technically high-level of handball. To succeed we have to play very well in the defence."
18:12
Up in our first round of matches at 18:45 Fenix Toulouse Handball host Metalurg in Group A in the club's first ever tie.
Pierrick Chelle, captain of Fenix Toulouse Handball spoke ahead of the match: "We are really motivated by the idea of starting this competition which is new for us and the club hasn't played at this level for a long time now. And this first match at home will be crucial!"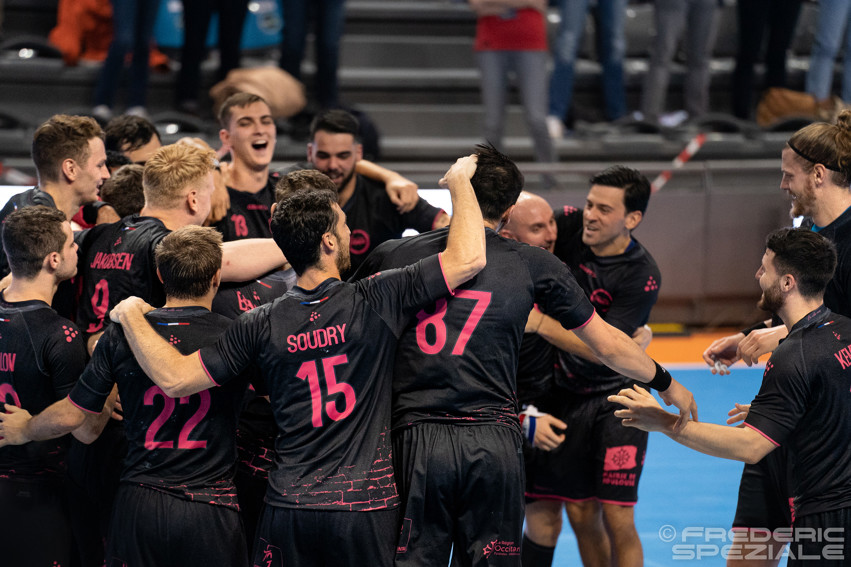 17:00
Wondering how to keep track of everything happening in the group phase?
No worries, here we help you to follow the EHF European League like a pro with links to our live streams, live tickers, social media channels, and much more.
We will be back in just over an hour for the final build-up to tonight's matches in round 1 of the group phase.
16:23
Always interesting to see how teams get ready for their European games. This time the rather unusual match preparation of RK Nexe deserves a mention.
The Croatian team, in Sweden where they play Alingsas HK in just over two hours from now, switched to smaller balls and swapped the goals for holes during a game of footgolf.
Hopefully they remember tonight that kicking the ball is not allowed.
15:49
Also thanks to the new format for the EHF Champions League Men, the EHF European League has got a mouth-watering line-up for the group phase in its inaugural 2020/21 season.
No wonder that interest across the continent is very high, and an extensive list of broadcasters will bring European League action to the TV screens.
So yes, be ready for more handball than ever before!
15:22
Fancy some group phase numbers? Here you go!
Over the four groups, we have 24 teams from 17 different countries, with France and Germany leading the pack with three teams each, while Russia, North Macedonia and Sweden all have two teams in the mix.
However, a lot more countries are represented when we look at where the players come from: 44!
The various squads include 62 French, 49 Swedish and 40 German players - but don't think only Europeans are involved here: Brazil have four players competing.
Here is the complete rundown: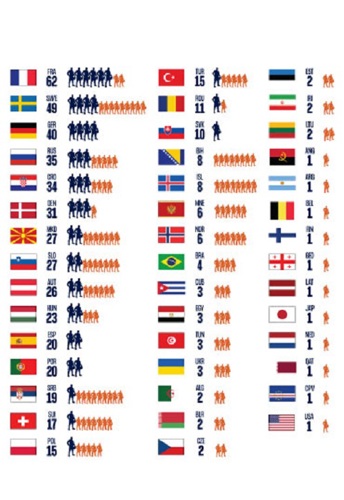 14:56
Round 1 already includes some smoking hot encounters with several top clashes opening the group phase, as you can read in our round preview.
14:30
Just over four hours now and the EHF European League Men 2020/21 will click into top gear... Welcome to the start of the group phase!
Europe's newly created second-tier club competition has already captivated fans around the world with two dramatic qualification rounds in recent weeks, but the real deal is starting right now.
Join me this afternoon as we take a look at what awaits us tonight!