EHF Champions League
Summary: Vipers become DELO EHF FINAL4 champions
The two-year wait to return to Budapest is over! After the 2019/20 edition could not take place, the DELO EHF FINAL4 returns with a bang with two action-packed match days ahead as the title is decided over one thrilling weekend. 


Sunday 30 May
21:20
Simply joyous scenes from inside the Vipers locker room to end things with. We hope you've enjoyed every moment of what has been a fantastic two days of handball to end a unique DELO EHF Champions League season. We certainly have!

21:15
With the weekend at an end, don't miss our match reviews and a feature focusing on MVP Henny Reistad and top scorer Ana Gros. Their achievements were really historic. 
It was amazing. The whole team fought the whole match and we just showed that we really wanted this trophy and I'm so glad that we made it in the end
20:35
The post-final Fan Show has just finished - but don't worry if you've missed it, you can catch up on Twitch, EHFTV or YouTube!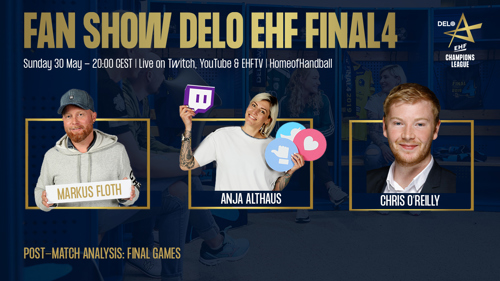 20:10
It's no surprise that Henny Reistad is named Most Valuable Player of the tournament after her performance this weekend - 10 goals yesterday, 12 today, and she's only 22! She's the first Best Young Player to also pick up the MVP award, which was presented by title sponsors DELO.
Meanwhile Ana Gros is confirmed as the top scorer of the season, netting 135 times. 
19:42
Brest pick up their silver medals. It is a great result for what remains a relatively new club. The French side are also saying au revoir to several players, including Isabelle Gulldén who will join Vipers next season. 
19:35
Lots of celebration for Vipers. Linn Sulland is retiring from professional handball and will do so with her second Champions League trophy, after winning with Larvik back in 2011. Other players are leaving, including the outstanding Henny Reistad, off to Team Esbjerg. Nora Mørk, Jana Knedlikova, Katrine Lunde and Heidi Løke as well as Sulland have all won the Champions League previously, but clearly this victory means a huge amount to the team even for these experienced players.
19:28 | FULL-TIME
BREST BRETAGNE HANDBALL 28:34 VIPERS KRISTIANSAND
Vipers are the DELO EHF FINAL4 2021 champions!
They took control early on and never let go, holding firm when Brest fought back. They've barely played a match at home but they have taken their first-ever Champions League title. 
19:25
Henny Reistad is handed a suspension with just over two minutes left; Ana Gros scores the penalty, but it's 32:27 to Vipers and Brest have run out of time. 
19:18
Brest are showing belief. A beauty of a goal by Isabelle Gulldén is followed by a successful Ana Gros penalty, awarded to Pauletta Foppa who earlier on scored a great shot off a Cleopatre Darleux save. Chris O'Reilly on commentary notes that Foppa is securing plenty of penalties for Brest, keeping them in the game. It's 24:28.
19:14
Another timeout by Brest. "It's possible," says Laurent Bezeau, speaking in French and English almost at the same time. His words are brief. Brest have six goals to make up and just over 11 minutes in which to do it.
19:06
"She just can't stop scoring," says the arena announcer, as Henny Reistad nets her eighth goal of the game, and unfortunately for Brest this is true. Vipers are now up 25:18 and looking comfortable and pacy. 
This was her first shot in the second half.
19:00
Well, that was unusual. Katrine Lunde saves a penalty shot by Djurdjina Jaukovic, but on the rebound Hanna Yttereng fouls Jaukovic and Brest are promptly awarded another penalty. Ana Gros takes it and scores. 
18:54
Brest's Kalidiatou Niakate starts things off with her first goal of the game. With Hanna Yttereng serving a suspension from the end of the first half, Brest have the power play advantage, although Ragnhild Dahl doesn't leave it long before she puts Vipers ahead by four once more.
Remember you can watch the match on EHFTV, although it may be geoblocked depending on your location.

18:48
Ana Gros is so essential to Brest - making it a four-goal gap before the break rather than five may yet prove crucial.

18:43 | HALF-TIME
BREST BRETAGNE HANDBALL 14:18 VIPERS KRISTIANSAND
EHF journalist Courtney Gahan sums up the first half:
"What a half from Vipers! The Norwegian side powered to a five-goal lead in just nine minutes and the situation immediately looked dangerous for the French side. A timeout from Brest coach Laurent Bezeau helped his team stop that momentum and start slowly decreasing the deficit, and we had a closer game on our hands for a short while — but Vipers have really reopened a more decisive lead as we go to the break.
"After both Cleopatre Darleux played an important role in her side reaching the final, Brest have not had a standout performance between the posts so far. Darleux was replaced by Sandra Toft in Brest's goal after making one save in roughly 17 minutes on court, but the Danish keeper has added only one since.
"For Vipers, Henny Reistad has really stepped up once again, particularly in the strong opening from the Norwegian side, while more experienced stars such as Nora Mørk, Emilie Arntzen and Jana Knedlikova have also been important so far.
"Once again, Vipers' fast counter attacks and restarts are serving them well, as Brest have had trouble stemming the flow of those goals. The Norwegian side's defence has also improved as the clock has ticked on, with Lunde starting to save — a lot. On the other hand, Brest's defence seems to have hit a stumbling block.
"Although four goals is far from insurmountable or Brest, Vipers will be feeling very confident at half-time. Defence is always the key in these matches, and that absolutely rings true here, as the main question seems to be whether Brest can improve this part of their game and find a way to control the increasingly in-rhythm Vipers."

18:30
Vipers' defence and attack are generally performing a little better than Brest's at the moment, and it's given them a 16:12 lead. Katrine Lunde saves a penalty by Isabelle Gulldén and keeps it that way.

18:25
A 3:0 run by Vipers have given them back the lead at 14:11, but the match is swinging both ways. There is clearly pressure, with even some of the most experienced players on court such as Isabelle Gulldén making small errors.
18:19
Here's Ana Gros, adding a few more goals to her score. The only female player to have scored more goals across an EHF Champions League season is Anita Görbicz, with 133 in 2011/12. 
Brest are now back level with Vipers at 10:10!
18:14
Henny Reistad scored more goals than any other player yesterday (10) and with three in the first 10 minutes so far is on track to do so again today. 
Brest have found a bit more efficiency in attack and have closed the gap to 6:9.

18:10
"You must run faster," Laurent Bezeau tells his players at their first timeout. Indeed, with Henny Reistad already running amok with three goals, Brest need to pick up the pace.
18:06
Just over five minutes in and five Vipers players have scored. An Isabelle Gulldén penalty makes it 2:5 but Brest are on the back foot.
18:02
Two swift attacks by Vipers give them a 2:0 lead, with Heidi Løke scoring first. 
18:00
Here. We. Go!
17:50
Laurent Bezeau says his team needs to counter the Vipers' fast attacks and not lose the ball. He adds it will be an odd experience - again, several team members including himself are set to leave the club at the end of the season.
Ole Gustav Gjekstad coached Larvik to their EHF Champions League title in 2011 so he knows what is needed to win, but he seems to be focusing very much on the here and now as the teams prepare to take to the court. 
Here are the squads!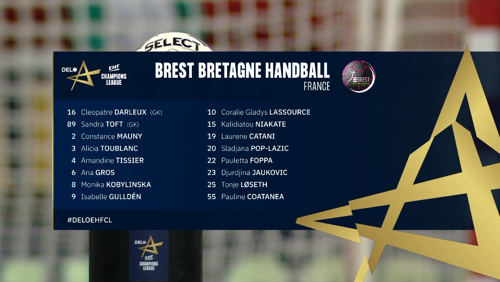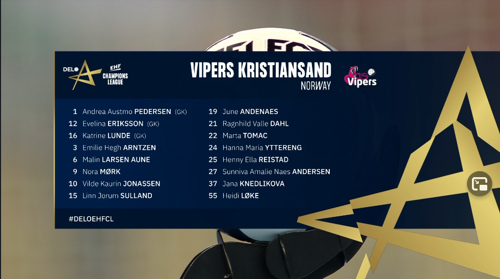 17:37
We've been polling our Twitter followers all afternoon on who they think will win the final, and so far it's Brest with 57 per cent of the votes. Yesterday's polls correctly predicted both results, so it'll be interesting to see if our followers are right again!
Vipers look pretty relaxed, though.

17:25
Ahead of the final, Courtney Gahan is back with some more pre-match thoughts.
"I love a brand new title winner! Today, we will get to see one team celebrate their first ever trophy in the DELO EHF Champions League, and we can be sure that will be a magical moment to witness.
"So will it be Brest of Vipers? Both teams have shown huge mettle to reach this final — not only in yesterday's semi-finals, but throughout the season. Vipers made it through an especially mentally challenging season to reach their second DELO EHF FINAL4, but were rewarded yesterday with having less of a battle in their semi-final. The Norwegian side were extremely impressive, hardly allowing CSKA to feel any hope past the 20th minute, as they delivered on the exact game plan expected by both sides — fast with plenty of counter attacks and quick restarts.
"Unfortunately for the French side, it is very likely that Vipers will enter this game with more energy, as they played 'only' 60 minutes and were comfortably in control throughout their semi-final while Brest had far more of a challenge, plus extra time and penalties – although Brest played the earlier match on Saturday, so they will have had a couple more hours of rest.
"One key question is what Brest will do in goal. Yesterday, the somewhat surprising decision to start with Cleopatre Darleux instead of the notoriously decisive Sandra Toft proved absolutely right, as Darleux was very important in Brest finding their game after a nervous opening. Toft played her role towards the end of the match, and we have to wonder whether coach Laurent Bezeau was saving the Danish keeper as an ace up his sleeve for today or whether we will see Darleux starting again.
"Meanwhile, Brest right back Ana Gros is set to leave Budapest with at least the top scorer crown. The Slovenian sharpshooter has notched up 127 goals this season and is the clear leader, so anyone passing her is essentially impossible, but we cannot state this as fact until the final buzzer.
"If Gros can also help Brest clinch the trophy, it will be her first DELO EHF Champions League title — and the first for the majority of her teammates. Only Isabelle Gulldén has raised the trophy before, while Sandra Toft played and lost the final with Larvik in 2015. Djurdjina Jaukovic is the only other Brest player to have participated in an EHF FINAL4, losing the semi-final with Buducnost twice.
"If Brest win, they will be the first French side to clinch the women's Champions League trophy, and it will cap a hugely successful season for the country's club teams after Nantes took the European League Women trophy earlier in May. If Vipers are the victors, they will be the second Norwegian team to raise the trophy after Larvik in 2010/11.
"In that Larvik team were three current Vipers players: Nora Mørk, Heidi Løke and Linn Jorum Sulland. Alongside Katrine Lunde and Jana Knedlikova, they are the only previous title winners in the Vipers lineup. For Mørk, Lunde and Løke, today could mark their fifth Champions League title win with a third different club."










17:03
The win clearly meant a lot for Györ and they celebrated properly on court. Attention now turns to the big match of the weekend, at which either Brest or Vipers will win their first DELO EHF Champions League title!
16:47 | FULL-TIME
That is the biggest win ever in a DELO EHF FINAL4. 
It is an emotional finish for both teams. Several players are moving on and of course Anita Görbicz is now retiring, having equalled Nycke Groot's record as the top scorer in an EHF FINAL4 tournament (57 goals). 
CSKA can still hold their heads up high, after making their DELO EHF Champions League debut this season. There is plenty more to come from the Moscow club, who have confirmed that SCM Ramnicu Valcea coach Florentin Pera will take over for the coming season. 
16:42
CSKA are still not finding a way past Györ, who now lead 32:20. The team in green look very happy right now, clearly enjoying the match. It might not have been the sixth title they wanted, but third place will obviously help soothe yesterday's hurt.
Györ right back Laura Kürthi, who like Elena Mikhaylichenko is only 19 and a member of the EHF's Respect Your Talent programme, has just scored her first goal in her first appearance at a DELO EHF FINAL4.
16:34
After a little run by CSKA that has closed the gap to 28:16, Ambros Martin calls a timeout, instructing his players to try and shoot from the centre of the court. Something which Eduarda Amorim demonstrated to perfection earlier!
16:28
Györ lead 28:13. We're heading towards the biggest DELO EHF FINAL4 win - the previous record was in 2015, when Buducnost beat Vardar 27:17.
16:17
After nearly seven minutes of this half Elena Mikhaylichenko scores a penalty for CSKA, their first goal since play resumed. She was lucky as Laura Glauser just got her hands on the ball, but it slipped out of them and went past her into the net.
16:10
The first goal of the second half is scored by Veronica Kristiansen - a penalty, awarded after Ekaterina Ilina collided with Viktória Lukács as the latter went to score. The second is Anita Görbicz's third goal, into an empty net with Anna Seydokina unable to get back in time after a turnover.
16:04
While we wait to see if CSKA can find a way past Györ, enjoy this goal by Anita Görbicz. She really will be missed by fans of handball generally, not just fans of Györ.

15:54 | HALF-TIME
Györi Audi ETO KC 18:8 CSKA
After a dominant first half from the record champions, here's some thoughts from EHF journalist Courtney Gahan:
"We are seeing a more familiar Györ today! The five-time winners are proving nothing short of unstoppable for CSKA so far, and there are two main elements that catch attention in comparison with the semi-final against Brest: turnovers and goalkeeping.
"In the first half against Brest, Györ seemed to feel the pressure even more than the DELO EHF FINAL4 debutants from France, with six turnovers in the opening 30 minutes. Today, they have made only two as we go to the break.
"Looking to the goal, in yesterday's semi-final, Amandine Leynaud did not find her game as well as we have seen her in past crunch matches, saving at 21 per cent in the first half. It was the entry of Silje Solberg that turned the game against Brest around for Györ, after they trailed by three goals at half-time. It is therefore of little surprise that coach Ambros Martin decided to start with Solberg today, and she has proven the choice right with a 50 per cent save rate after 15 minutes and 42 per cent at half-time.
"Györ are finding plenty of ways to break through CSKA's defence, and the result is the clearest difference between the sides at half-time out of all their mutual clashes so far (previously 14:14 in Russia and 14:13 in Hungary). It is also a record-equalling half-time result at the DELO EHF FINAL4, after Györ themselves had a 10-goal advantage against Vipers in the 2019 semi-final. 
"It seems Györ are well on their way to third place here at the DELO EHF FINAL4 2021 — which would be their first time finishing with this position — but let's see what solutions CSKA coach Olga Akopian can come up with during the break."
15:50
A big loss for CSKA early in the season was the injury of their 19-year-old left back Elena Mikhaylichenko, who burst on to the DELO EHF Champions League scene after transferring from Lada in the summer. She played five group phase matches before injuring her knee - but she seems to be recovered, and scored her first open field goal a bit earlier, going through Silje Solberg's legs in a beautiful shot.

15:46
Anita Görbicz scores her first goal after a few missed opportunities and heads off for a rest with a big smile on her face. 
15:45
Silje Solberg is proving very effective today, saving five out of 12 shots so far (41.7 per cent). Here's one of her best. 
Györ now lead 13:8.

15:35
Estelle Nze Minko has made several breaks after stealing the ball from CSKA and although not all have gone in the net, it's taken the French player up to three goals so far as Györ lead 11:4.
15:30
CSKA checked Györ's run a little and held the score at 6:3 for the last couple of minutes; Ekaterina Ilina scoring her team's first open field goal. However Györ have broken free once more and re-established a five-goal lead at 8:3 thanks to Kari Brattset and Estelle Nze Minko.

15:20
Wow. Györ have stormed into a 5:1 lead after less than six minutes. CSKA coach Olga Akopian has called a timeout. At the moment her team can't keep up with Györ's pace and the CSKA defence is struggling to contain the Hungarian club's attacks.
15:17
That was quick - Stine Oftedal scored twice in the first minute and Györ have the perfect start.
15:15
Throw-off!
Here are today's squads.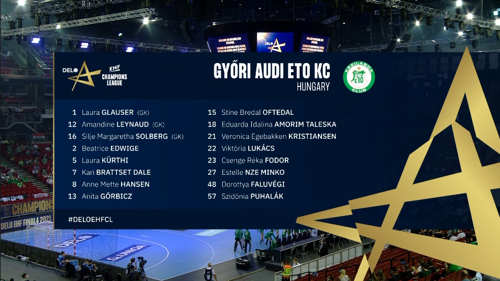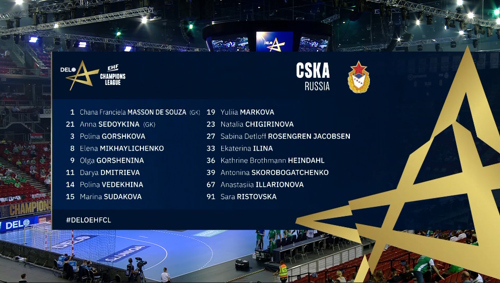 15:10
It's nearly time for throw-off!
14:55
EHFTV coverage of the 3/4 placement match is about to begin and the teams will be well warmed-up.
14:40
On the Fan Show Anja Althaus and Markus Floth are recognising Anita Görbicz's achievements with cardboard crowns in honour of the queen of handball. A reminder of her amazing statistics - 1,013 goals in the EHF Champions League, and 185 matches. Doubtless she will notch up a few more goals tonight.
14:25
Here's EHF journalist Courtney Gahan with some thoughts on the 3/4 placement match.
"The final day of the DELO EHF Champions League 2020/21 gets underway with Györ and CSKA aiming to recover from their disappointment in losing Saturday's semi-finals and attempt to finish the season on a high note.
"In such a situation, usually it is hard for the teams to find the same fire they had for the semi-finals, but we may see a highly motivated Györ due to two big reasons: Anita Görbicz and Eduarda Amorim. For the two ETO stalwarts, it will be the final Champions League match in the Györ jersey — Görbicz's illustrious career in the top flight will come to an end with the final buzzer, while Amorim will move to Rostov-Don for next season.
"Görbicz has played for Györ since 1997 and scored over 1,000 goals in the Champions League. Amorim joined the Hungarian powerhouse in 2009. Both have been with the team for all five title wins. Plenty of other stars have come and gone, but Görbicz and Amorim are synonymous with the club, so whether you are a Györ supporter or not, it is impossible not to acknowledge the huge contribution of these two to our enjoyment of the Champions League over the years."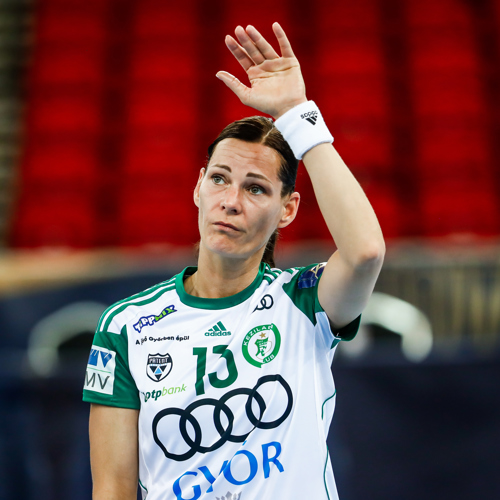 "Györ will be looking to start another unbeaten streak with a victory today, after their 55-game run of no Champions League losses came to an end in yesterday's semi-final against Brest. It was also the first loss in a DELO EHF FINAL4 semi-final for the Hungarian club, who had reached the final on all five participations prior to this current edition. Plus, it was the second time out of two penalty shoot-outs lost by Györ at the DELO EHF FINAL4.
"No doubt Györ do not like to be associated with any such statistics, and, if for no other reason than to send Amorim and Görbicz off with a positive memory, we can probably expect to see a highly motivated ETO take the court.
"And what about CSKA? The Russian club, playing their very first DELO EHF Champions League season, must still count this DELO EHF FINAL4 participation as a success. The fact they have the chance to take their first win against Györ, following one draw and one defeat in the previous two encounters between the sides — both occurring this season — will surely help the Russian team find some serious motivation. After all, everybody likes to beat Györ."
14:00
Right, not long to go now until today's action throws off - we start with the 3/4 placement match coming up at 15:15, with Györ and CSKA both hoping for a winning end to the season. The Fan Show is now live on Twitch, EHFTV and YouTube!

12:00
We're taking a break now until 14:00 CEST, when we'll bring you all the build-up to the matches. In the meantime, enjoy the trailer for today's action!

11:45
This is a nice gesture! The French under-21 football team are also in Budapest playing in the 2021 UEFA European Under-21 Championship and they have sent Brest Bretagne a jersey from their hometown football club, Stade Brestois 29, signed by all the team. 
11:35
Did you miss last night's post-match Fan Show on Twitch? Just click here to watch (it's also on EHFTV and YouTube). 
Anja Althaus, Markus Floth and Chris O'Reilly will be back at 14:00 CEST to preview the 3/4 placement match and the final, and will be live again at 20:00 CEST with a wrap-up after the champions have been crowned. Set a reminder now!


11:15
Welcome to finals day at the DELO EHF FINAL4 2021!
At 18:00 CEST Brest Bretagne and Vipers will take to the court, both hoping to win their first ever DELO EHF Champions League title. Six players - Vipers' Nora Mørk, Jana Knedlikova, Katrine Lunde, Heidi Løke and Linn Jorum Sulland, and Brest's Isabelle Gulldén - have all won the title before with different clubs and if Vipers win, Mørk, Lunde and Løke will be lifting the trophy for the fifth time.
Find out more about the clash ahead in our preview.






Saturday 29 May
21:15
We leave you with the full penalty shoot-out from the first semi-final. Enjoy! The blog will be back tomorrow at 11:00 CEST for coverage of the build-up to the final (18:00 CEST) and 3/4 placement match (15:15 CEST).

20:42
Time to wrap up tonight's action - check out the match reviews below, and watch the highlights of both matches via YouTube.
19:35
Vipers celebrate their win while CSKA contemplate what might have been.

19:32 | FULL-TIME
For the second time today the team in pink have won - Vipers are through to the DELO EHF FINAL4 final. It's another extraordinary story, as the Norwegian club have played very few matches this season due to Covid-19 restrictions at home, and played most of the European season away from home. But superb performances by Henny Reistad and Katrine Lunde have seen them through to a final against Brest Bretagne tomorrow!
19:28
Jana Knedlikova earns herself a suspension, and in the power play Yuliia Markova scores to make it 32:29. But there's less than two minutes to go. Vipers are killing time.
19:25
Vipers' victory now looks fairly certain, with a 30:26 lead and less than five minutes to go - although a turnover has just given CSKA a sniff at a comeback.
19:18
As Vipers stretch out to a five-goal lead again, CSKA coach Olga Akopian calls a timeout. She's looking quite intense. With just over 10 minutes to play, it's critical her team get back on terms now. 
However, they're facing formidable opposition and a key part of Vipers' current success is Katrine Lunde who is looking extremely dangerous.

19:15
Having said that, a 3:0 run from CSKA brought them back to 24:21 very rapidly and it's now Vipers who must rally. Emilie Hegh Arntzen makes it 25:21, but CSKA keep on attacking.
19:10
CSKA are not making a decisive dent in Vipers' lead. They've brought it back to five goals but Vipers are repeatedly then finding a way through the Russian club's defence to score again. Both sides currently have a suspended player.
19:03
Vipers had stretched out to a 22:14 lead, but two goals within a minute from a fast-moving Yuliia Markova puts it back to 22:16. The pace has picked up with fast play from both teams but not a huge number of goals.
18:55
Off we go for the second half, and although CSKA's defence is tough against the first Vipers attack Henny Reistad breaks through for her seventh goal of the game.

18:50
Marta Tomac's goal just before the buzzer demonstrates how confident Vipers are looking at the moment. However, CSKA have repeatedly shown this season they are fighters and it would be rash to rule out a comeback in the second half.
18:44 | HALF-TIME
VIPERS KRISTIANSAND 18:12 CSKA
Some half-time thoughts from Courtney Gahan as Vipers head to the dressing rooms looking composed and in control:
"After the shaky start we saw in semi-final one, it seems Vipers and CSKA are handing the DELO EHF FINAL4 pressure better than Györ and Brest did in the early stages of their game. The match is calmer and both teams have found their rhythm and efficiency in positional attack.
"One element that was expected to be key to the game — counter-attacks — has been exactly that so far. Vipers had expected to rely on their ability to run fast counter-attacks and quick restarts, while CSKA knew they would need to halt that.
"The Russian team have quietened that weapon a little so far, making few errors and rapidly retreating to the defensive line. But when CSKA did leave space for the Norwegian team to run, they were punished swiftly, and Vipers scored some easy goals this way.
"Unlike in the first semi-final, the goalkeepers did not had such an important role early on, despite both being highly experienced — Katrine Lunde for Vipers and Anna Sedoykina for CSKA. That was until Chana Masson came on for CSKA, making two saves in her first minutes on court to initially curb Vipers' momentum at a critical moment, but the Norwegian side are still well in command at the break.
"All-star Team best young player Henny Reistad has been having a big game for Vipers, while Emilie Arntzen and Marta Tomac have also been in super form. For CSKA, 22-year-old Antonina Skorobogatchenko goes to the half as top scorer, but Darya Dmitrieva has the most important role for her team and is delivering once again as the top-class playmaker."
18:36
As we head towards the end of this half, things have calmed down a bit. There have been a handful of technical errors from both teams but few from this woman, Antonina Skorobogatchenko, who is CSKA's key weapon so far.
Ole Gustav Gjekstad has called a timeout at 16:12, perhaps just to reassure his players all is going well.
18:30
The momentum has swung in Vipers' favour and they now lead 14:10. Henny Reistad, as she has all season, is playing really well with five goals already.

18:21
Katrine Lunde has had the bigger impact between the posts so far for Vipers, but if Anna Sedoykina can produce a few more saves like this against the Vipers fast breaks things will look good for CSKA. Currently, the Russian club are leading 8:7 about halfway through the first half.

18:12
According to our Twitter followers, Vipers will win this game. Currently Vipers have the slight upper hand, going 4:2 up after Katrine Lunde saves and Vilde Jonassen scores on the fast break. 
18:08
We're underway in the second semi-final and it's 2:2 inside two minutes. Already it looks as though this will be a much faster game. 
17:50
The second semi-final will throw off shortly between Vipers Kristiansand and CSKA, and here's some pre-match thoughts from EHF journalist Courtney Gahan.
"The fact that we have no idea what to expect in the clash between Vipers and CSKA makes it all the more exciting. This semi-final will be the first meeting ever between the teams, as CSKA only formed the women's handball team in 2019 and this is their very first DELO EHF Champions League season. Will we see the CSM Bucuresti fairy tale repeated this weekend?
"In addition, CSKA, Györ and Brest all came from group B, while Vipers played what was a challenging season for the Norwegian side in group A.
"One interesting element of this match is the battle of the coaches. The season's All-star Team coach Ole Gjekstad has noted some impressive changes in CSKA's game since Olga Akopian, who won the Olympic gold medal with Russia in 2016 as a player, stepped into the role as head coach before the quarter-finals. 
"'Olga's influence on the team is clear to see and there have been some changes in CSKA since she took over from Jan Leslie,' Gjekstad told eurohandball.com. 'There have been quite a few changes in their defensive play and they were very impressive in the Russian league finals, where they beat Rostov. They are also very fast and move well in attack, particularly Darya Dmitrieva and Ekaterina Ilina.'
"Speed has been highlighted by all as a key element of this game, particularly as an important weapon for Vipers. CSKA Danish line player Kathrine Heindahl is fully aware what to expect.
"'I think I can help CSKA with my experience and knowledge of the Scandinavian style of handball in the first game against Vipers,' said Heindahl in Friday's media call. 'Vipers will be fresh and will run a lot, so the task will be to control the speed of the game.'
"Aside from tactics, experience at the DELO EHF FINAL4 could be critical. Vipers have been here once before, taking third place in 2019, but Gjekstad said the situation is very different now: "Two years ago, we arrived in Budapest and were happy to have come this far, to participate, so we were unable to really challenge Györ. This time around, we are not here just to take part."











17:30
Isabelle Gulldén was critical when CSM Bucharest won the EHF Champions League back in 2016, and she stepped up again tonight to score the winning penalty. 

17:27
"This was a crazy game," says Djurdjina Jaukovic. She adds that she does not care who Brest play in tomorrow's final - it's time to regroup and rest after an intense match.
17:24 | FINAL RESULT
What a match. That was amazing from both sides - let's hope the second semi-final matches up!
17:20 
Bella Gulldén has the last penalty for Brest and scores. Brest are through to their first DELO EHF FINAL4 final, breaking Györ's unbeaten streak after winning 27:25 after penalties.
17:18
Kalidiatou Niakate scores. Beatrice Edwige faces Cleopatre Darleux and Darleux saves it - giving Brest the advantage.
17:16
Veronica Kristansen also misses as Sandra Toft saves. Then Alicia Toublanc steps up against Amandine Leynaud, and scores; Anita Görbicz beats Toft to make it 1:1.
17:15
Ana Gros takes the first penalty for Brest against Laura Glauser - who saves it!
17:11
Penalties time after extra time ended 23:23!
17:03
Halfway through extra time, it's 22:22 ... 
Here's Djurdjina Jaukovic's equaliser in normal time.

17:00
If the score is still level at the end of two five-minute periods of extra time, we will have penalties. 
16:58
Sandra Toft's save was key to Brest forcing the draw. The goalkeepers have been critical to this match, keeping the scoring incredibly low.

16:51 | FULL-TIME
GyörI Audi ETO KC 20:20 Brest Bretagne Handball
Drama! Djurdjina Jaukovic equalises for Brest and Györ then run out of time to score. It's 20:20 - yet another draw between these two sides - and we're into extra time. 
16:48
Eduarda Amorim earns a penalty and Anita Görbicz takes it - but Sandra Toft saves and Brest have possession. Laurent Bezeau calls a time-out, telling his team they have time to equalise and keep their chances alive. He seems very calm. 
16:47
Focus on Ana Gros, says Ambros Martin as he calls his last time-out with a minute to play and Györ up by one goal.
16:45
Sladjana Pop-Lazic closes back up for Brest at 20:19, and Estelle Nze Minko is handed a two-minute suspension for a foul, giving Brest the power play advantage - but time is swiftly running out.
16:42
Györ have stepped up their defence but Brest have stepped up in attack. Ana Gros's eighth goal of the game makes it a level game once more at 18:18 as Sandra Toft comes in between the Brest posts.
16:40
Another time-out. Ambros Martin tells the team to go to the left and make the most of their attack.
16:37
Here's that equaliser from Faluvégi. A penalty taken by Anita Görbicz and a goal from Kari Brattset Dale gives Györ a two-goal lead now, with eight minutes to go. Brest's amazing start has run out of steam and they're struggling to find a way back in against the record champions.
16:30
Györ level at 15:15 with a lob from Dorottya Faluvégi! Do we have another draw on the cards?
If the match ends level there will be extra-time, before penalties if needed.
16:25
Sandra Toft might have been the obvious first choice in goal tonight for Brest, but Laurent Bezeau's decision to choose Cleopatre Darleux is really paying off. Brest still lead, although Györ are back to a one-goal deficit once more at 14:15 after a period of intense attack, making the most of a suspension for Sladjana Pop-Lazic.

16:20
Ana Gros is fouled by Eduarda Amorim and goes down hard after being hit in the face. As Amorim goes off for a suspension, Gros gets up and play resumes. 
16:18
Györ have come out fighting and pulled it back to 11:12 - the largely Hungarian crowd have woken up and are getting louder. 
But Kalidiatou Niakate, who was nearly ruled out of the DELO EHF FINAL4 through injury, scores to make it 11:13. Brest's defence need to step up again now.
16:11
As we prepare for the second half Chris O'Reilly on the EHFTV commentary is noting the effectiveness of Brest's defence, which has meant Cleopatre Darleux has faced only 13 shots - saving 46% of them so far.
Amandine Leynaud wasn't quite so effective for Györ, but made a potentially crucial save right at the end of the first half.

16:00 | HALF-TIME
GyörI Audi ETO KC 8:11 BREST BRETAGNE HANDBALL
Few would have expected Brest to be leading by three goals going into the break, but that's what has happened. Here's Courtney Gahan with some half-time thoughts:
"One of the biggest differences between Györ and Brest prior to throw-off was obvious: the wealth of DELO EHF FINAL4 experience on the title holders' side against the fact that Brest are debutants. The DELO EHF FINAL4 has a history of overwhelming debutants after strong seasons otherwise, so the question of whether Brest could handle this element was a big one.
"We definitely saw some nerves at play in this half, with some uncharacteristic errors and inaccurate shots in the opening — and surprisingly, it was mainly Györ succumbing to nerves, as they caused six turnovers in the first 30 minutes.
"In the first time-out of the game, Györ coach Ambros Martin implored his players to relax and we also had a sneak peek into one key tactical area as Martin said to avoid passing to the line player as the Brest defence was expecting Györ to favour that option.
"Despite the shaky moments for both teams, the French side have fought their way to the lead and once they claimed that advantage it certainly helped them settle into their game. One key to Brest grabbing the upper hand was the performance of Cleopatre Darleux in goal. With Darleux winning the battle between the posts, her side saw less punishment for their mistakes than Györ.
"With Brest in the lead at half-time, Györ are in the unusual position of having to mount a comeback — but we have seen them do it, and against Brest in particular. So Brest have settled and a nervous Györ are focused on fighting back, and it seems this clash is only going to become increasingly exciting as the minutes tick on!"
15:54
Coralie Lassource has a chance to give Brest another four-goal lead, but Amandine Leynaud saves it!
15:53
Of the eight goals scored by Györ so far, Veronica Kristiansen has netted half of them. Her team are now fighting back hard and it's 8:11. It's aggressive handball from both teams with several penalties conceded at both ends of the court.

15:47
It's this sort of aggressive team play from Brest Bretagne that have given them the early lead - although currently Györ are back on the attack and have narrowed the gap to 7:9.
15:44
The time-out doesn't work. Amandine Leynaud has come out from the goal, and Sladjana Pop-Lazic spots the opportunity and scores a long-range goal that gives Brest an 8:4 lead, 20 minutes in. 
15:43
We have our first time-out as Brest hold a 7:4 lead. It's the first time to hear from Ambros Martin, who has come in very recently as Györ coach. He tells his team to relax and to remember what they need to do and to attack in the centre of the court.
15:37
Ana Gros was always going to play a big role for Brest Bretagne today and so it's proving already - with the score 4:5, she's netted three times including this goal. This was her 120th of the season so far, and she's pretty much got top scorer wrapped up.

15:31
After a period of back-and-forth play with no goals and a few errors from both teams, Ana Gros scores her second goal and Brest's third, and the French club go into the lead. But Veronica Kristiansen is quick to respond with a powerful hip-shot to equalise at 3:3.
15:25
Technical issues fixed, we're back underway. Brest's attack fails with Coralie Lassource hitting the post, but Cléopatre Darleux saves and Ana Gros scores Brest's first-ever DELO EHF FINAL4 goal.
15:20
Györ's Csenge Fodor scored the first goal after about a minute, but the match is currently paused - there appears to be a technical issue. The fans don't seem to mind, and there's a group of green-clad dancers in one corner having a great time despite the pause.
15:15
Throw-off! Buckle up, it's going to be a great ride!






15:05
Here are the squads for the first match. Both teams have pretty full squads to draw on, full of star names.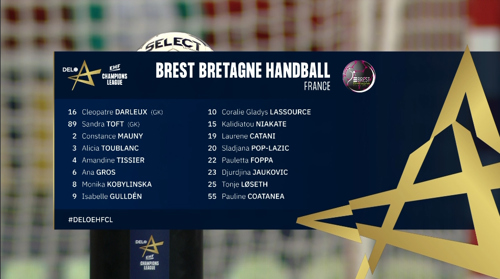 14:55
Who will win the first semi-final? Vote now in our Twitter poll ...

14:45
Here's a reminder of the broadcasters across Europe showing the DELO EHF FINAL4. If you live in a country not listed below, you can watch all the games live on EHFTV, with coverage starting at 14:55 CEST ahead of the 15:15 CEST throw-off.

14:30
EHF journalist Courtney Gahan has sent in her thoughts on the first semi-final. It is not impossible that this one will end in extra-time, which would be pretty exciting!
"After draws between Györ and Brest in three of their last four mutual clashes — the other of which ended in just a one-goal win for the Hungarian side — we are sure to see the semi-finals open with a fiery 60 minutes… or more.
"This recent history has been a big topic of discussion leading up to the DELO EHF FINAL4. Last week, when the HomeofHandball Twitch channel launched with the first DELO EHF FINAL4 show hosted by EHFTV commentator Chris O'Reilly, we heard from Estelle Nze Minko and Djurdjina Jaukovic — and the opinions on what those past draws mean for this semi-final were very different.
"Although confident in Györ's chances, Nze Minko found that the fact there were two draws between the sides this season meant that Brest must surely be viewing her team as beatable. On the other hand, Jaukovic said that Brest saw these draws as a big success rather than an indication of anything further.
"But do not doubt Brest's confidence coming into this match. If anything, it seems the French team prefer to label themselves the underdogs so they play without pressure, but they are quietly assured.
"Györ coach Ambros Martin said in yesterday's media call that his extensive experience at the DELO EHF FINAL4 has shown him that the past means absolutely nothing. So perhaps these draws do not tell us anything about what is to come, but it's more fun to think they mean we are sure to see a close and possibly extra time battle, isn't it?!"
14:25
Two players to keep an eye on in the first semi-final are Györ's Stine Oftedal and Brest's Isabelle Gulldén - two stars of the game, both in great form. Oftedal was named All-star centre back this year and is one of her team's top scorers this season, and has two DELO EHF Champions League titles already. Gulldén won the title in 2016 with CSM Bucharest, scoring a memorable 15 goals in the final - can she spur Brest on to their first win this year?

14:10
There's just over an hour until throw-off and things are building up - the Fan Show is live right now.
The last of the Bubble Buddies clips is also now up. Find out who knows most about each other when Vipers' Jana Knedlikova and Vilde Jonassen face the questions.

12:00
We're taking a break now until 14:00 CEST when we'll be back with the last bit of build-up ahead of the first match at 15:15 CEST. Before then, watch the second Breakfast for Champions (Anja Althaus and Markus Floth will definitely have drunk plenty of coffee today) with CSKA's Sabina Jacobsen and Vipers' Heidi Løke. 
And set a reminder for 14:00 CEST, when the Remote Fan Show will be live on Twitch and EHFTV to preview the semi-finals!

11:45
We've been quizzing players from all the teams in our 'bubble buddies' series - this time it's the turn of Brest's Bella Gulldén and Coralie Lassource, answering key questions such as which songs they sing in the shower and their dream jobs as children.

11:35
The teams are also busy building up the matches and showing some glimpses of life behind the scenes in Budapest - here's a few snaps from CSKA's morning stroll. They seem to be pretty relaxed ahead of their first-ever DELO EHF FINAl4.
11:25
Already today there's plenty of new content on our official EHF Champions League social media channels, starting with Breakfast for Champions. Anja Althaus began her day by chatting to Györ's Anne Mette Hansen and her Danish compatriot Sandra Toft of Brest Bretagne Handball to find out how they are feeling ahead of the big game later on. 
Watch the whole chat here!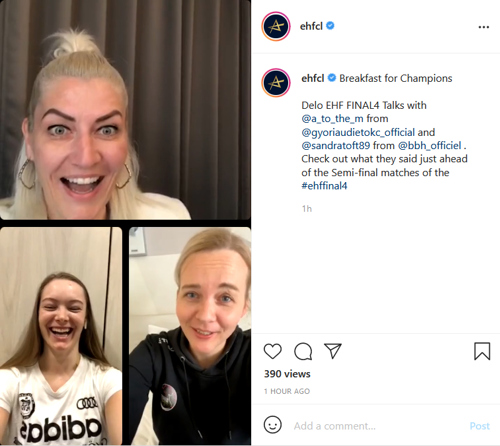 11:10
Semi-final day is here! In just a few hours the action will get underway and we will find out who will fight for the trophy in tomorrow's final.
The four teams in Budapest have vastly different histories with the DELO EHF FINAL4, and EHF journalist Courtney Gahan has examined how their prior experience might influence today's results:
"Let's take a quick look at one element that could be key today: experience on the biggest stage.
"Györ are the only team at the DELO EHF FINAL4 to have won the trophy before. No other team in Budapest has reached the final before, with Vipers having clinched third on their maiden participation in 2019. For Brest and CSKA, reaching the semi-finals is a club record, but neither of these ambitious sides are satisfied with that.
"We have seen in the past that experience at the DELO EHF FINAL4 can be key. Sure, CSM Bucuresti took the title in 2016 in their maiden season in the top flight, but no other side has repeated that feat since. Rostov-Don, Metz Handball and Vipers all lost the semi-finals at their first DELO EHF FINAL4. It will be interesting to see what kind of factor this experience is this weekend."






Friday 28 May
20:30
That's all from the blog for today but we'll be back tomorrow from 11:00 CEST for more build-up to the semi-finals!
Don't miss our Instagram live tomorrow morning: Anja Althaus will be live with Anne Mette Hansen and Sandra Toft at 09:30 CEST, and with Heidi Løke and Sabina Jacobsen at 11:00 CEST. Essential viewing before the big matches later on.
19:38
We continue our look at what the teams had to say in the media calls with semi-final number two: Vipers vs CSKA. Below, EHF journalist Courtney Gahan shares her thoughts on what the teams had to say in their media calls:
In the second semi-final, we see Vipers returning for their second attempt to reach the trophy match while CSKA take the DELO EHF FINAL4 court for the first time. And what did these sides have to say? Both agree about the unique elements that stand out in this clash: match and physical fitness.
It has been a tough season for all teams, playing during a pandemic that has meant disruptions and constant readjustments, but none have had a harder road than Vipers. They ended up playing away from their own court no less than 13 times this season and did not have much time on court over the past months due to restrictions in Norway.
"Due to the health measures in Norway, the team couldn't play many matches this season, which is not the best situation. However, it also means there have been only a few injuries lately," said Vipers coach Ole Gjekstad in Friday's media call, highlighting that his team are in physically great shape due to their situation — but CSKA line player Kathrine Heindahl pointed out that the Russian team will likely be more in match rhythm.
"I expect our opponents to be in good shape because they have not played too many matches this season. On one hand they are less exhausted physically — probably they had time to practice a lot. On the other hand, we are in better game shape — we played many tough matches lately," said the Danish line player.
Vipers goalkeeper Katrine Lunde said her team will rely on their fast counter attacks, and Heindahl commented her team will be ready for this tactic. So will the fewer matches played this season come back to haunt Vipers or will the fact they may arrive with more energy be a key to their success?
In less than 24 hours, we will find out!
19:30
The teams have arrived in Budapest and we are well inside the last 24 hours before the DELO EHF FINAL4 2021 throws off! Today, all four sides took part in media calls — and while they are of course secretive about their tactics for tomorrow's games, there was still some interesting info shared.
Here we hear from our journalist who will guide you through the weekend here on eurohandball.com, Courtney Gahan, with some analysis after the media calls:
First up tomorrow, we have Györ vs Brest — the defending title holders and five-time champions versus debutants at the DELO EHF FINAL4.
This season, we have seen two draws between Györ and Brest, so the stage is certainly set for an exciting semi-final to get the weekend started. But there is one big difference comparing the last meetings with this one: Ambros Martin.
The Spanish mastermind returned to the Györ bench earlier than expected following a shock loss for Györ to domestic rivals FTC in the Hungarian league, which led the club to replace Gabor Danyi initially with Anita Görbicz before Martin agreed to lead the team to Budapest. In the Györ media call, Stine Oftedal spoke about how she thinks that if anything, this has only given the Hungarian side an extra boost.
"To have Ambros in as well, it always gives some kind of boost quite naturally. Some of the players already know him a lot; others are eager to know him even more. I really feel that now within the team, with Ambros, with everything, we have a very good feeling together, and that's what we want to try to push into this weekend as well," said the Norwegian centre back, who was named in the All-star Team for the third straight time on Friday.
So Györ say the change at this stage in the season does not have any negative impact, but what does Brest centre back Isabelle Gulldén think, as an outsider? "I have been, not in exactly the same situation, but in CSM we changed a lot of coaches so I know that it can bring you a lot of energy, but of course it's hard in such a short time to change a lot. But I really think that this change can bring some energy and put some more confidence in the players."
So, it seems everyone agrees Martin's presence could end up being something highly favourable for Györ. But Brest fans have no fear, Gulldén and her teammate Coralie Lassource expressed only confidence in their side's ability to take the win.
18:25
We asked, and you voted: the All-star Team has been named! Click below to read all about the team, and watch their best moments from the competition so far.
17:30
Don't forget to head over to Twitch in just 30 minutes for the first episode of the Remote FAN SHOW, live from Budapest! Markus Floth is hosting and there'll be plenty of guests to talk you through the weekend to come, as well as the All-star Team announcement! It goes live at 18:00 CEST, and you can also watch the show later on EHFTV.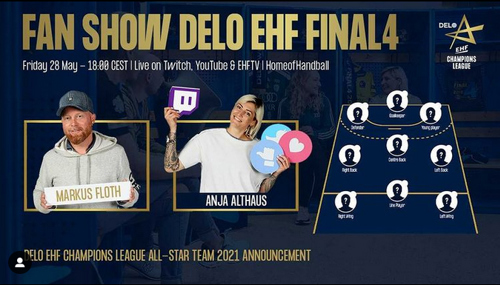 17:00
On the eve of the throw-off in Budapest, the four DELO EHF FINAL4 teams have been talking to the media today. And so did CSKA and Vipers, who will contest the second semi-final on Saturday.
Asked about her team's chances, CSKA captain Darya Dmitrieva said:  
"As a team captain I encourage my teammates to believe in themselves because I have seen how far we can get when we believe. CSKA performed very well during the season and I absolutely think we have the chance to get into the final."
Also, Vipers head coach Ole Gustav Gjekstad stressed the importance of - at least some - fans being allowed into the Papp László Sportaréna this weekend:
"The players are fresh and they are in good shape physically. In addition, we will be driven to have spectators in the stands, it doesn't even matter which team they are supporting. We are excited to have them in the arena again."
16:32
What a season it has been for Vipers Kristiansand so far. The Norwegian side have been hit hard by the coronavirus pandemic, but overcame all obstacles to book a second trip to Budapest after their debut in 2019.
EHF journalist Chris O'Reilly asked head coach Ole Gustav Gjekstad about his season... that is not over yet: 
15:52
Of course, the DELO EHF FINAL4 is much more than 'just' the four matches. Off the court, a lot is happening in Budapest as well...
...and you will find out in two hours' time on Twitch, the streaming platform where the EHF last week launched its Home of Handball channel. Our Twitch channel will feature the all-new Remote FAN SHOW with a preview episode hosted by Markus Floth and a bunch of high-profile guests live from Budapest at 18:00 CEST.
Further episodes of the Remote FAN SHOW are scheduled for Saturday and Sunday at 14:00 and 18:00 CEST, respectively, as they look forward and back to each of the four matches.
So make sure you tune in to Twitch at six!
14:30
No matter how the DELO EHF FINAL4 pans out this weekend, no matter who will hold the trophy on Sunday night, one of the big surprises of the season has been CSKA.
Playing only their first ever European season, the Moscow-based club has made it all the way to Budapest. EHF journalist Björn Pazen caught up with CSKA defender Sabina Jacobsen. The Swedish left back has been part of the CSKA project for two years, and this is her story ahead of the DELO EHF FINAL4:
12:58
As we gear up for the semi-finals, dive deeper into the encounters with our previews! Check them out below. 
12:41
The eve of the DELO EHF FINAL4 sees the teams participating in media calls. Today it was Györ's Stine Oftedal, Eduarda Amorim and coach Ambros Martin who opened the day, speaking to journalists about their goals (to win of course!) and much more. 
About the semi-final against Brest, coach Ambros Martin said: "It's going to be a really tough match. In the last two years I think the level of Brest increased a lot, and it showed in the previous games. But my experience says that here in the EHF FINAL4, everything you played before does not count. So we say it's a new weekend, a new match. 
Commenting on whether Györ are under pressure as the title holders, Stine Oftedal said: "I think ETO is always under this pressure, but I also think that pressure in this way is a good thing because, being the favourite, there is always a reason for it. In this way, I see it as a positive thing because we have those big goals ourselves."
For Eduarda Amorim, it will be the last EHF FINAL4 with Györ. About that, the Brazilian back said: "I just try to focus on the game itself, because if I think of all the history I will be crying! So now I just try to focus on the match but of course it's really special. The feeling I have now is just that I'm really grateful to be here, even if we played a lot of times at the EHF FINAL4, it's just good and a happy moment to be here and as I said I want to enjoy it."





12:20
We have plenty of recently published features focused exclusively on the DELO EHF FINAL4 2021 for you to enjoy before the weekend gets fully underway. 
Below, check out a feature with Györ's returning coach Ambros Martin, an interview with Isabelle Gullden as she prepares to lead Brest in their first DELO EHF FINAL4, and our latest installment of the This is me series, featuring CSKA's own influential centre back, Darya Dmitrieva. 
11:10
The four semi-finalists have arrived and checked into the hotel ready for their final preparations ahead of tomorrow's games. 
Masks may be necessary, but we can still detect plenty of smiling faces — and some great nails. 



































10:35
Good morning and welcome to the live blog coverage of the DELO EHF FINAL4 2021! While the match action does not begin until tomorrow, the teams have arrived in Budapest and the excitement for what is sure to be a thrilling weekend is building. 
Let's get started with the most important info — a reminder of the match schedule: 
Saturday
Semi-final one: Györi Audi ETO KC (HUN) vs Brest Bretagne Handball (FRA) 15:15 CEST
Semi-final two: Vipers Kristiansand (NOR) vs CSKA (RUS) 18:00 CEST 
Sunday
Final 18:00 CEST
3/4 placement match 15:15 CEST
And where can you follow it all? Read the article below to find out each and every way you can keep up with all the upcoming action.