EHF European League
Summary: Plock remain top of group A; GOG close round with another win
An absorbing final full round of action in the EHF European League in 2020 ended on Wednesday with GOG securing their second win over Tatabanya, albeit in a rescheduled match from round 5.
On Tuesday, Montpellier, Orlen Wisla Plock and Ademar Leon all secured valuable wins in the race to reach the knockout stage.
Wednesday
19:40
And that is it! The result graphic for the rescheduled match from round 5 concludes our coverage of round 6.
19:07
Read journalist Björn Pazen's review of the second meeting between GOG and Tatabanya. 
18:37
It was narrow once again but GOG have recorded their second win over Tatabanya in two days - this time 30:28.
18:30 
Morten Olsen feeds Anders Zachariassen, Zachariassen converts and GOG are once more up by three goals, with under three minutes to play.
18:25
GOG are ahead by three, 26:23, after Pytlick fires another into the Tatabanya net with just over seven minutes remaining. 
18:11
Zero from four from the seven-metre line no more – Morten Olsen, who was unhappy with a call a few minutes ago, steps up and coverts to put GOG back in front 20:18.
18:05
Just over nine minutes gone in the second half and the lead has changed hands a few times, but GOG and Tatabanya are now tied at 20:20. 
17:45
The highlight of the first half? Possibly. Simon Pytlick has certainly produced the goods from the back court for GOG so far.
17:35
Veteran right back Zsolt Balogh scores his fifth of the game for Tatabanya, levelling the score once more at 15:15.
17:28
GOG are zero from three from the seven-metre line. They now lead 11:10 after 21 minutes as Mathias Gidsel, Tuesday night's top scorer with 11, nets his first of the game. 
17:15
Fast break opportunities aplenty for GOG in the first nine minutes, but it was a goal from the right wing, scored by Kasper Kildelund, that put them up 7:4, prompting a Tatabanya timeout.
16:57
Preparations are almost complete as GOG prepare to take on Tatabanya for the second time in 24 hours in Denmark. Tuesday evening's match did not lack for excitement, with the Danish side winning a pulsating match 35:32.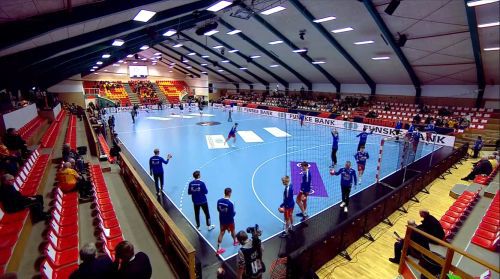 Tuesday
23:35
As ever, we conclude the live blog with the best photos from all of our matches. There is a good selection across the board tonight to enjoy! 
23:27
You can click on the links below to read the reviews from our expert journalists on all five of the 20:45 CET games. 
In the first half we played very good in defence and Ivan Stevanović did an amazing job in the goal. After the break we had some problems in attack. Fenix forced us to make mistakes in positional attacks. In the end we had more luck, but this is also part of the game.
23:18
Orlen Wisla Plock and Montpellier now have four wins from four matches in their respective groups. Rhein-Neckar Löwen also still have a 100 per cent record, having won three from three in group D.
Our poll question tonight is whose winning run do you think will last the longest? 
23:00
Here is the full overview of Tuesday night's EHF European League Men results.
22:55
Rounding up the 20:45 CET matches, Eurofarm Pelister's win over Trimo Trebjne will provide them with a massive confidence boost in group D as 2020 draws to a close in the EHF European League.
SC Magdeburg again defeated RK Nexe, meaning that the German side remain the most logical challengers to Montpellier in group C.
IFK Kristianstad's away win at Presov will delight coach Ljubomir Vranjes. Kristianstad have earned as many more points away from home (four) as at home, which is not something that many would have expected before the group phase commenced. 

22:22 - FULL-TIME
USAM Nimes Gard 27:24 Sporting CP
SC Magdeburg 28:23 RK Nexe
TATRAN Presov 22:27 IFK Kristianstad
Orlen Wisla Plock 27:25 Fenix Toulouse Handball
HC Eurofarm Pelister 33:26 RK Trimo Trebnje
22:20
Nimes are more than satisfied with their 27:24 win against Sporting.

Meanwhile, Plock can celebrate their hard-fought 27:25 win over Toulouse.

22:12
Entering the final two minutes in our two main matches: Nimes lead 27:24 against Sporting, while Plock are 27:25 up against Toulouse.
22:08
What a passage of play! Another Nimes penalty is saved by Matevz Skok, Romain Tesio's rebound is saved too, before Benjamin Gallego scores at the third attempt.
22:02
Michal Daszek times a breakthrough move to perfection for Plock, taking them to a four-goal lead, 24:20, post a timeout. 
22:01
Nimes' back court shooters, however, have made an impression on the scoreboard in the last five minutes. They lead 23:18 with 10 minutes remaining.  
21:54
Meanwhile, Nimes' penalty woes continue as Michael Gigou misses their third penalty of the match. Of course, credit goes to Matevz Skok for making the save, and he followed it up with a save from a fast break.
21:49
A glimmer of hope for Toulouse? Well, in fairness, there is still more than 20 minutes to go, but Philip Stenmalm has been shown a red card for Plock. Nemanja Ilic scored the rebound from the resulting penalty to reduce Plock's lead again to two goals, 17:15.
21:41
Do not forget to read our match reviews of the three 18:45 CET matches. 
21:33
Toulouse need to up their scoring rate in the second half against Wisla Plock, but their right wing Romain Giraudeau look composed in front of goal in the first half, scoring three times.
21:27 - HALF-TIME
USAM Nimes 16:12 Sporting CP
SC Magdeburg 17:10 RK Nexe
TATRAN Presov 11:15 IFK Kristianstad
Orlen Wisla Plock 12:9 Felix Toulouse
HC Eurofarm Pelister 20:14 RK Trimjo Trebenje
And from those scores at half-time the one that immediately leaps out is Eurofarm Pelister's six-goal lead against Trimjo Trebenje. The Macedonian club lost 28:24 last week but have come out firing at home this Thursday evening.
21:23
Quentin Minel's powerful finish here also shows how Nimes have kept the ball moving as much as possible in the first half.
21:15
28 shots in 25 minutes gives an indication of the pace that Nimes are playing at against Sporting. If not for two penalties missed, Nimes might be further ahead than the current 14:11 score line.
20:55
10 minutes gone in our FIVE 20:45 CET matches. Nimes have opened up a 7:5 lead over Sporting and Wisla Plock lead 4:2 over Toulouse in the two matches that we think will be the most competitive.
20:40
After their loss against CSKA, Besiktas are still on zero points. However, they have provided some splendid photos of the match for everyone to enjoy, which we certainly appreciate.






20:30
It was always going to be a night where the results of the unbeaten teams would provide the overall backdrop.
So far, Ademar Leon have extended their unbeaten run in group A to five games: two wins and three draws.
Montpellier have now won four from four in group C, while Füchse Berlin also remained unbeaten but dropped their first point in group B against Dinamo Bucuresti.  
20:22 - FULL-TIME
Here are the results in our three 18:45 CET matches. Abanca Ademar Leon hold off a valiant effort from Fivers, CSKA cruise past Besiktas and Montpellier produce a professional performance against Alingsas to claim an eight-goal win.
Abanca Ademar Leon 30:28 Fivers 
Besiktas Aygaz 23:35 HC CSKA
Alingsas 25:33 Montpellier HB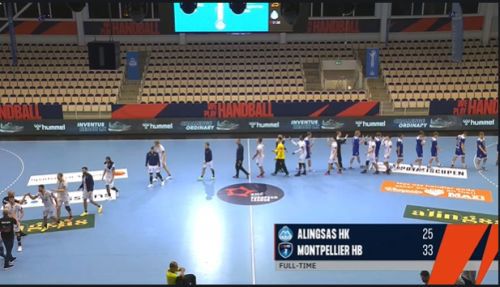 20:08
Fivers reduced Ademar Leon's lead to just one goal (21:20), but the Spanish side have enjoyed a 6:2 run and will now feel a little more comfortable about proceedings – although you could not tell from looking at coach Manolo Cadenas's face.
20:01
Montpellier's lead against Alingsas is six goals as they head into the final 10 minutes. Centre back Kyllian Villeminot has stood out for the French side, scoring six himself in the match so far.
19:55
Pavel Atman has played for many clubs in Europe, but his ability to produce skilful moments and assist his teammates has never been in doubt - as this assist for CSKA shows. The Russian side are firmly on course for a resounding win this evening as they lead 26:13 after 44 minutes.
19:35
If Ademar Leon are to collect their second win in group A tonight and remain unbeaten, more blasts like this from Croatian centre back Tin Lucin will certainly help.
19:26 - HALF-TIME
Half-time scores in our three 18:45 CET matches are:
Alingsas 13:19 Montpellier
Ademar Leon 13:10 Fivers
Besiktas 11:17 CSKA
The fast tempo mentioned in the game in Sweden may be bringing about Alingsas's undoing, while Ademar Leon have battled their way to a three-goal lead against Fivers.
CSKA are in control against Besiktas. 
19:22
You can catch-up on what happened in the two early throw-offs with our reviews during half-time.
19:11
In a match appearing not to lack physicality in Spain, Ademar Leon have their noses in front, 10:9, after 21 minutes. 
19:05
Just over 17 minutes gone and Alingsas have taken the lead for the first time against Montpellier, 11:10, in a match that is being played at a good tempo.
18:47
The three 18:45 CET matches are now underway on EHFTV.com
Besiktas Aygaz vs HC CSKA
Alingsas HK vs Montpellier HB
Abanca Ademar Leon vs Fivers
Our focus will primarily be on the games in Sweden and Spain, but we will keep you updated on events in Turkey, too.

18:43
RESULT: Grundfos Tatabanya KC 32:35 GOG
In a match which had saves, fast break goals and 67 goals in total, GOG defeat Tatabanya 35:32 to earn their second win in group D. The good news is that if you enjoyed the match, both teams will do it all again tomorrow evening at the same time.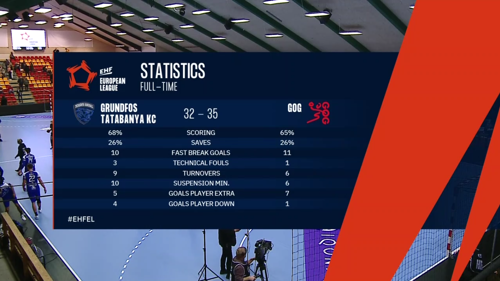 18:30
Take a look at some of the best photos from the Dinamo Bucuresti versus Füchse Berlin match. An action-packed match certainly provided the photographer with plenty of opportunities to take pictures of the goalkeepers in motion.





18:20
Morten Olsen buries a back court shot for GOG, and the score is now 28:28 between Tatabanya and GOG heading inside the last 10 minutes. A tense finish is in store in Denmark.
18:01
RESULT: C.S. Dinamo Bucuresti 26:26 Füchse Berlin
A technical fault is called against Paul Drux with no more than four seconds remaining, but Dinamo Bucuresti do not have enough time left for the counter attack and the match ends 26:26. 
It is the first point that group B leaders Füchse Berlin have dropped so far from four matches played.
17:58
Oh, hang on.... Dinamo Bucuresti score three unanswered goals and now Füchse Berlin call a timeout inside the 30 seconds as they need to find a winner. 
17:55
Trailing 23:26, Dinamo Bucuresti have called a timeout with less three minutes remaining. They have certainly stretched their German opponents in the second half - but it does not look it will be enough.

17:50
Was Hans Lindberg's spin shot in the first half for Füchse Berlin better than Emil Jakobsen's goal for GOG? Watch both and decide yourself.
17:46
HALF-TIME: Tatabanya 16:17 GOG
A high-scoring first half between Tatabanya and GOG has finished with GOG ahead 17:16. With the teams playing again tomorrow in Denmark, let's hope that the goals continue to flow like they did in the first half.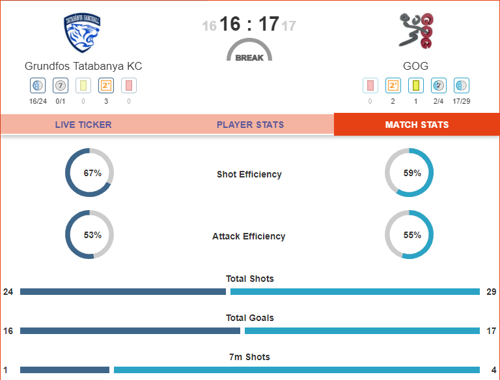 17:28
Tatabanya got off to a good start against GOG, leading 6:3, but the Danish side have hit back in style and are now in front 13:10. With four goals, scoring machine Emil Jakobsen is near the top of the charts for GOG but he's just had a penalty saved.
17:18
We mentioned that right wing maestro Hans Lindberg was in good form for Füchse Berlin in the first half - and that might have been an understatement. Five goals from five shots, including this stunning spin shot.
17:09
Füchse Berlin are ahead 14:12 against Dinamo Bucuresti after 30 minutes. The lead is narrower than could have been expected from the early stages in the first half, but with Hans Lindberg and Jacob Holm in good form, they can be confident of extending their 100 per cent record to four wins from four matches.
We are also underway in the 17:00 throw-off between GOG and Tatabanya, where we have seen 10 goals in seven minutes.
16:50
Three goals from Jacob Holm inside the first quarter have provided Füchse Berlin with a 9:5 lead after 17 minutes. It has been relatively smooth sailing so far for the visitors.
16:30
The first build-up pictures from Bucharest have arrived just before throw-off. Check them out below and, of course, we will be sure to update you with other pictures from the other nine matches taking place this evening.



16:20
Good afternoon. The first of our two early matches is only 10 minutes away. Unbeaten group B leaders Füchse Berlin face C.S Dinamo Bucuresti in Romania and if the familiar surroundings of being at home can help the Romanian side, then they may stand a chance of reversing last week's 33:29 loss.
12:02
This round features a number of reverse fixtures from last week, so many of the teams will know each other all too well. Always interesting to see how teams will adapt their approach based on what happened the week before.
If you can't remember what happened last week, maybe the top five goals will ring a bell.
11:30
Good morning one and all and welcome to round 6 of the European League. 10 games on the way today and one tomorrow, so there's plenty to keep you entertained. Here's what we have planned.
16:30 CET
Dinamo Bucuresti (ROU) vs Füchse Berlin (GER)
17:00 CET
Grundfos Tatabanya KC (HUN) vs GOG (DEN)
18:45 CET
Abanca Ademar Leon (ESP) vs Fivers (AUT)
Besiktas Aygaz (TUR) vs HC CSKA (RUS)
Alingsas HK (SWE) vs Montpellier HB (FRA)
20:45 CET
Orlen Wisla Plock (POL) vs Fenix Toulouse HB (FRA)
Tatran Presov (SVK) vs IFK Kristianstad (SWE)
USAM Nimes (FRA) vs Sporting CP (POR)
SC Magdeburg (GER) vs RK Nexe (CRO)
Wednesday 17:00 CET
GOG (DEN) vs Grundfos Tatabanya KC (HUN)